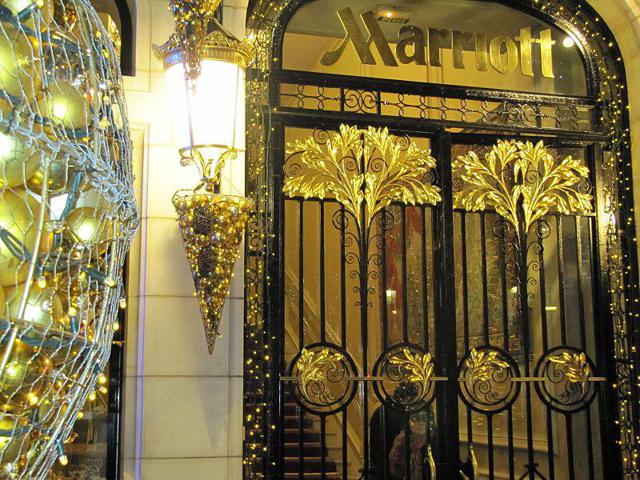 Marriott's (NYSE:MAR) earnings announcement this week gave investors every reason to be confident in the brand, despite the company missing 2015Q4 estimates. Longer-term investors like pension funds and insurers should be long Marriott as the soon-to-be dominant market leader in the hospitality industry.
2015Q4 Results
Revenue per available room (RevPAR) increased by 5% on a constant dollar basis for the full year, with the average daily rate up 4 percent. (While RevPAR is an inadequate measure of performance, particularly with respect to profitability, it is, nevertheless, among the few most readily available metrics to measure relative performance in the industry.) New group bookings for future business increased 10% year over year.
Marriott showed strong 7% revenue growth among business travelers outside the manufacturing and energy sectors, and at 4% for all business travel. Likewise, group bookings increased 6%.
Transient bookings increased 2%, even in the face of challenging Q4 weather.
Tapping The Chinese Middle Market
News last week that Marriott will partner with China's Eastern Crown Hotels to build 100 hotels under its middle-market "Fairfield" brand represents a great opportunity to build the Marriott brand in the country and among its growing middle and investor class. Between Starwood (HOT) and Fairfield/Eastern Crown, something like 250 hotels will be operated under Marriott management
While there are justifiable concerns about China's slowing economy and obvious currency headwinds for the yuan, the knowledge derived from franchising the Fairfield brand to middle-market Chinese travelers be leveraged into other East and South Asian markets to develop a strong middle-market brand presence throughout Asia.
Moreover, if Marriott were to build the new Eastern Crown hotels to comply with the more stringent building codes found in the US (which I consider to be a critical, and only marginally more expensive, element of Marriott's China brand strategy), it would make Fairfield a veritable "luxury" brand among middle-market Chinese travelers used to Chinese hotel competitors. This would involve relatively simple and inexpensive upgrades to the country's building code standards for things like fire-rated doors, smoke alarms, sprinkler systems and "U" joints in sinks and shower drains. These standards are often missing, particularly in the older Chinese hotels that dominate the country's middle market, because China has had, and still has, relatively lax building codes compared to the US.)
Building out Marriott/Fairfield as a high-quality hospitality brand in China will foster the development of brand loyalty among the growing number of group and transient Chinese travelers, a critical segment of 21st century hospitality industry guests in both the US and other countries. Combined with Marriott loyalty programs, achieving a high-quality middle-market Chinese Marriott brand will make the company's hotels the preferred destination of Chinese travelers around the world.
The Path Ahead
Marriott's "asset-light" business strategy will continue even with its Starwood acquisition. Although company management could not give any insights on the earnings call last week with respect to how the two brands and sub-brands would be integrated, investors can expect that the elimination of duplication and economies of scale from the merger should add additional EPS.
Marriott expects to return to the shareholder repurchase market as soon as allowable after the Starwood merger is completed. Proxies for that vote are out, and the vote is scheduled for March 28th.
For the time being, Starwood will be managed on its own existing property management system. Prospectively, however, the systems will be integrated into a single platform. Once the transaction occurs, Marriott is looking at $1.5 billion to $2 billion in cash coming from Starwood asset sales.
The company anticipates that RevPAR will grow at 3% to 5%. That is a decline from guidance in the prior quarter, but most of that decline is driven by macroeconomic factors beyond management's control. Marriott expects that even a flat GDP would still yield a 2% growth in RevPAR. Since RevPAR correlates with GDP, there is significant upside potential whenever a stronger economy returns.
I expect that Americans, who can now drive further, cheaper on a single tank of gasoline than at any time in recent memory, will likely pursue weekend and short holiday overnight travel even in a flat economy. That should boost transient and resort travel, particularly if Marriott were to create strong incentive programs built around three-day and other major holidays, when business and group occupancy tends to be lower.
The Case For Earnings And Value Growth
Four factors, then, support a bullish view on Marriott by longer-term investors.
First, most obviously, the company intends to return $2 billion to shareholders in dividends and share repurchases just from the legacy Marriott business in the next 12 months. But Starwood could improve that return "once the dust settles". Given Marriott CEO Arne Sorenson's view that the company's shares are "significantly undervalued", it seems that the share price will not only be supported, but boosted, by its buyback strategy once SEC restrictions on share repurchases related to the Starwood merger are lifted.
Second, central banks around the world are likely to continue monetary accommodation for quite some time. That means continued lower borrowing rates and greater profitability for franchisees paying off construction, remodeling and real property loans. That, in turn, will allow franchisees greater pricing flexibility in low-traffic periods in all four travel markets - Business, Transient, Group and Resort - to build Marriott occupancy, market share and profitability.
Third, Marriott and Starwood are positioned to realize significant savings from operational consolidation and economies of scale. Even just eliminating obvious duplicative corporate functions should yield considerable savings in G&A and other costs once the merger is accomplished. But an even more aggressive cost control exercise, like Zero Base Budgeting and Lean management, could turbocharge those savings substantially, increase system-wide efficiencies and boost EPS and returns of cash to shareholders.
Finally, Chinese investors - who had made a play for Starwood before Marriott stepped in - are showing more interest in hotel brands and their cash flows than in hotel "trophy" properties like the Waldorf that they have acquired in recent years. Building out a high-quality Marriott brand in the country will likely lure even more demand for Marriott shares among Chinese investors, and over the longer term, might even induce a takeover attempt by China's sovereign wealth fund.
I look to see Marriott at $75 by this year's end, and then into the $90-120 territory within three to five years, all the while throwing off growing EPS and cash dividends. There's obvious beta for regulatory and tax issues on the Starwood merger and for the initial build-out of the Fairfield brand in China, but they should be minimal given the relative strength of the rest of the company. (On the other hand, there may even be some upside tax implications on the Starwood merger that have not yet been explored.)
I rate Marriott a strong "buy and hold" for long-term, institutional and pension fund investors. More risk-averse investors may want to avoid the beta and step in a year or two from now (albeit at a price about 20% higher than today).
Disclosure: I/we have no positions in any stocks mentioned, and no plans to initiate any positions within the next 72 hours.
I wrote this article myself, and it expresses my own opinions. I am not receiving compensation for it (other than from Seeking Alpha). I have no business relationship with any company whose stock is mentioned in this article.
Additional disclosure: The views expressed are the opinions of the writer and do not represent, and should not be considered to be, investment advice. Before making any investment decision you should consult your own business, legal, tax, and financial advisors.