Hope And Denial: 2 Sides Of The Same Coin expressed my concerns about world equity markets. I encouraged investors to screen through their holdings and, depending on their circumstances and tax status, to raise cash and use options to protect their portfolios. I followed up with the reasons I believe gold and iShares 20+ Year Treasury Bond ETF - TLT will increase in value as the market works it's way lower. All of this gloom and doom might have given readers the impression that I am a ferocious bear. Actually, I prefer to be compared to Baloo the Bear in Disney's Jungle Book. Although I have had better than average investing success, choosing to avoid an expensive lifestyle and enjoying the Bare Necessities were the critical elements allowing us to enjoy early retirement. For that reason I would like to review the recent market rally in a more whimsical way.
Music speaks to us in ways that other media can not reach. We often generate a visual memory of a particular place and time when we heard a song for the first time. When we want to teach our children the ABC's we sing it to them. Music becomes part of our identity. One surgeon I worked with loved opera. He insisted on sharing his passion during his cases. It was rarely appreciated.
My father was a big band enthusiast. My mother loved musicals. My sister liked R&B. My brother enjoyed avant-rock. I liked it all. I worked as a DJ starting with high school dances and, when I was old enough, nightclubs. In the OR, I would let the team decide what we would play. Until streaming radio became available, nurses and techs would bring in mixed CD's that we all could enjoy. It made working together a lot more fun and could even be construed as a team-building exercise.
In this spirit, let's start on a "Magical Mystery Tour" - Beatles - of recent market activity and see where it leads us. If you click the links you should be able to listen to the playlist as you read along.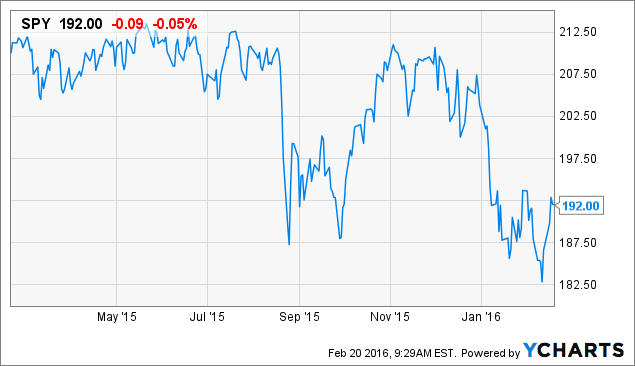 This Friday the market was singing "I got Knocked Down, But I Get Up Again" - Chumbawumba. Money managers are feeling relieved as they order "One Scotch, One Bourbon, One Beer" - George Thorogood. Investors are checking their balances and telling their spouses about the "Good News" - Michael Reno Harrell.
After staring down a 10% loss on the S&P 500 eight days ago, the index closed out this week with a 4% loss year to date. It is possible that this volatility is over? A lot folks are "Looking for Answers." - Susan Tedeschi.
Future S&P 500 earnings continue to get downgraded. A note from Kevin Cook at Zacks Investment Management observes that Q1 ex-energy earnings forecasts were supposed to be +1.5% and are now down to - 3.2%. Even worse, Q2 earnings forecasts are projecting a -2.9% further drop. If that proves to be accurate it would be the fifth consecutive quarter of S&P earnings declines. Bullish analysts kept pointing to growth in earnings ex-energy. Now these estimates are falling too. If you are a fundamental investor and believe the reason to own stocks is to participate in the future earnings of a company, falling earnings might make you reassess. Even if you aren't a bear, you would have to agree "Times They are a Changin' " - Bob Dylan. Of course we should have known that when we started seeing my favorite lyric writer in IBM commercials.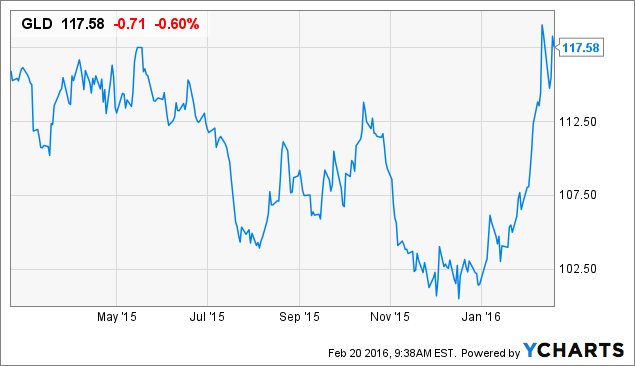 Despite the partial recovery of the markets, fear put "Gold on the Ceiling" - The Black Keys. It doesn't look like it's coming down. Based on the amount of call buying I was watching in the GLD it seems more likely they will "Raise the Roof" - Public Enemy.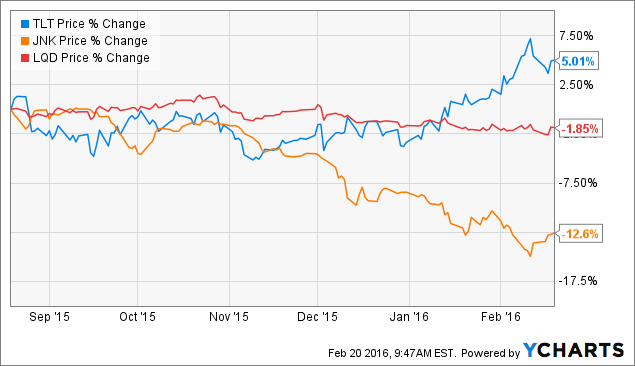 The other "Safety Dance" - Men Without Hats - was a surge in interest in the TLT. Given the equity market improvement, it is very concerning that the SPDR Barclays Capital High Yield Bnd ETF - JNK and especially the iShares IBoxx $ Invest Grade Corp Bond Fd - LQD - continue to trend down.
If you move your perspective away from the DOW and the S&P 500, "It's Dangerous Out There" - Bill Morrisey. The small cap stocks - Russell 2000 index ETF IWM - and the financials - Select Sector Financial SPDR XLF - have not left their downward channels.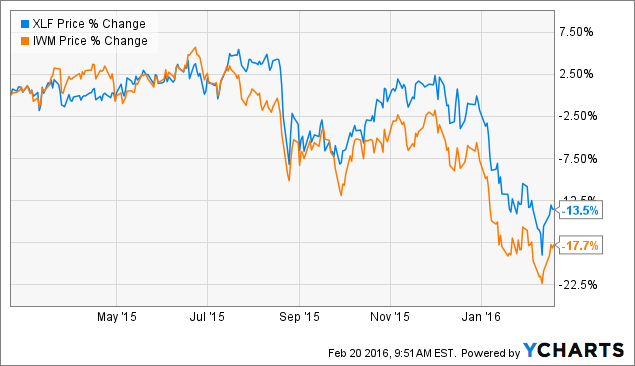 Given the relative weight of the financials in the S&P, and their importance to economic growth, the large cap index is trying to swim with an anchor around it's neck. The continued decline of the small caps also reflects an aversion to risk, despite all the talk about the consumer having more money in their pockets. It appears investors are approaching the "End of the Innocence" - Don Henley (I apologize to the purists for not linking to Don's Version but this Jackson Browne, Bonnie Raitt, Shawn Colvin, Bruce Hornsby version is amazing)
Hopefully this weekend you go outside to "Take a Walk" - Passion Pit (Listen to the lyrics) Reflect on the people you love and on Monday be ready for more volatility. Fibonacci analysis indicates that the S&P 500 should head for 1950. If we are that fortunate, consider protecting your portfolio. If you choose to courageously "Carry On" - Avenged Sevenfold, you may end up thinking "I'd Like to Have That One Back" - George Strait
It is always possible that the US consumer is going to start spending, if they weren't paying so much for their affordable health care. The Chinese could manage to save their companies from default by lending them more money. As for me? I am going to listen to those prophetic words of Creedence Clearwater Revival.
I see a the Bad Moon Rising
I see trouble on the way
I see earthquakes and lightnin'
I see bad times today
I hear hurricanes a blowin'
I know the end is coming soon.
Of course, CCR released this song in 1969, so perhaps their predictions were a little early. Mine might be early too. I am not a financial advisor. All financial decisions should be made considering your own circumstances after careful analysis. Consult with advisors you trust. I continue to own stocks and use options and other instruments to decrease my risk of loss and increase my probability of profit. Most importantly, enjoy your life, have fun, and be a Calm Investor. If you enjoyed this article, please let me know in the comments. I would love to hear from you.
Disclosure: I am/we are long TLT AND GLD.
I wrote this article myself, and it expresses my own opinions. I am not receiving compensation for it (other than from Seeking Alpha). I have no business relationship with any company whose stock is mentioned in this article.
Additional disclosure: I am long and short options in the SPY, VB (equivalent of the IWM), GLD, TLT among other stock and bond positions.