Imperial Oil reports in CAD; unless otherwise noted all prices quoted are in that currency.
Imperial Oil (NYSEMKT:IMO) is an integrated Canadian energy company, in effect Exxon Mobil's (NYSE:XOM) 69.6%-owned Canadian subsidiary. During the continued oil price decline, at least in comparison with other producers, it has not done badly, partly because its size, balance sheet and huge parent have made it appear to be among the "safer" bets, and partly because the support it has received from its downstream operations has offset the declining returns on production. Over the past year, its share price has declined only by about 15%, among the larger Canadian producers a figure only slightly bettered by Suncor (NYSE:SU), a company that would also fall into the category of one of the "safer" plays.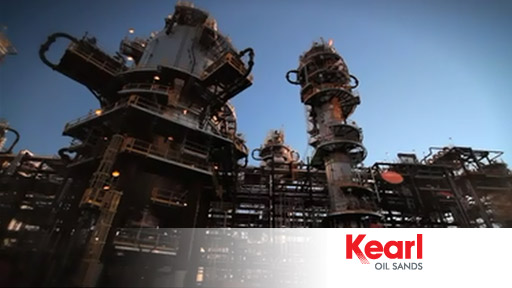 Kearl Oil Sands operation (Imperial oil photo)
Q4 and 2015 Results
On February 2, Imperial reported its Q4 and preliminary 2015 results. Although there were some brighter spots, given the expectations, its results were at least disappointing. The financial results especially were mixed. Although the company earned $1.1 billion for the 2015 year, only $102 million of that was in the fourth quarter. In fact, as compared with Q4/14, the latest quarter was down by a full 85%, even with support from downstream operations. Total earnings for the year were down from $3.8 billion the year before.
Obviously, the major contributor the decline in earnings was Imperial's low realized pricing for its crude. A comment from CEO Rich Kruger observed:
With both large upstream assets and downstream businesses, Imperial is a leader across the full energy value chain. Our integration results in resiliency across a range of market conditions, including the current low crude price environment.
In fact, for Q4, refining and marketing operations earned net income of about $352 million, offsetting Imperial's loss of $289 million on its production for the same period. Yet even the $352 million was lower than the $397 million the company had earned from its downstream operations in Q4/14. The Weekly Refining Indicators Report now provides some general indications that current Q1/16 crack spreads have dropped sharply from earlier Q3/15 highs, in some cases even approaching a 50% decline. With any higher crude pricing in the future, there is even more likelihood that there will be less downstream support to the integrated producers than there has been in the recent past.
For the 2015 year, Imperial had reduced its capex to $3.6 billion, far less than the $4.7 billion it had spent in 2014. It was also able to reduce operating costs, especially in the second half of the year.
Imperial Oil's overall production figures for the fourth quarter were up considerably with the coming on stream of Kearl Phase 2, but the new production from the Nabiye expansion (Cold Lake) seemed to have come in below expectations. Total gross production averaged 400,000 boe/d, a 27% increase over the same period a year earlier and a two decade high for the company. Kearl produced an average of 203,000 boe/d gross (144,000 net; Kearl is a j.v. with XOM) that contrasted favorably with the 137,000 boe/d gross (97,000 net) produced in 2014. This reflected the continuing ramp up of Phase 2, which produced an additional 22,000 boe/d (gross) as compared with the previous quarter.
The Cold Lake total production figure for Q4 averaged 155,000 bbls/d, up from the 152,000 bbls/d output of Q4/14. This raised some eyebrows, since it was just a 3,000 boe/d increase. The Nabiye expansion had come on stream in January and has a nameplate capacity of 40,000 bbls/d. This should have been in addition to the average 150,000 bbls/d that Cold Lake had been producing before. In fact, Nabiye had produced 20,000 bbls/d in May and had been expected by Imperial to reach 40,000 bbls/d by the end of 2015. Imperial spoke of "cycle timing of the base operation", but the Q1 figures for Cold Lake will be closely studied.
The production from Syncrude, which is operated by IMO/XOM personnel, as also down from the previous year. Imperial netted an average of 64,000 bbls/d, which contrasted with the 73,000 bbls/d in Q4/14. Syncrude put previously scheduled maintenance forward into December, but the Syncrude production figures have been anemic for some time and again bear close watching.
Imperial's production of conventional crude for the quarter averaged 15,000 boe/d, about the same as the year before. Gas production was down from 159 to 122 Mmcf/d, due to natural declines.
The downstream operations for the quarter were healthy, with a throughput of 390,000 bbls/d, up from 373,000 a year earlier. Moreover, Imperial's refining capacity was 92% utilized.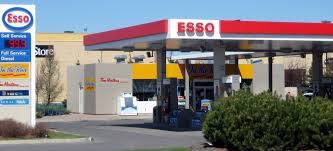 Esso service station (Imperial Oil photo)
2016 Outlook
Since Imperial has now completed both Phase 2 of Kearl and the Nabiye extension, it currently has no major upstream projects underway, although the potential Aspen project will require some start-up capital. Without providing details, the company did project that its 2016 capital expenses budget would be $1.8 million, just half the amount it spent in 2015. Since the company requires about $1.2 million a year or so in sustaining capital, this leaves about $600 million for future improvements, including perhaps Aspen and the Strathcona diluent recovery unit it is proposing.
Cold Lake/Nabiye will obviously require some attention, since year end production was perhaps 35,000 bbls/d below nameplate capacity. So will Syncrude, where Imperial is the operator. The results for the last several years were at least disappointing and certainly trending lower. Before it was taken out by Suncor, Canadian Oil Sands Management had suggested that the situation had stabilized, but almost immediately a turnaround scheduled for 2016 had to be pushed up to last December. Whether Suncor will now make a greater contribution to Syncrude operations is also a question.
Imperial Oil had earlier announced its intention to sell its 500 company-owned service stations (of a 1700 total), and had begun to solicit proposals in mid-year 2015. It may be that a sale is now close. Some rumored potential buyers were said to be Alimentation Couche-Tard (OTC:ANCTF), Parkland Fuel (OTCPK:PKIUF) and CST Brands (NYSE:CST). Some estimates are that a sale could realize $1 billion or so.
Future Plans
While Imperial currently has no major construction projects underway, it does have two projects that are under active consideration for future capital spending. The first of these is a novel solvent-assisted, steam-assisted gravity drainage (SA-SAGD) in situ project called Aspen, for which a pilot has been completed. This project would involve the Cold Lake play and could produce upwards of 55,000 bbls/d; it would have a 25-30 year life. No firm investment decision, however, is expected before 2019, although production might begin as early as 2020.
Perhaps more immediate is the company's proposal for a new diluent recovery operation connected to its Strathcona (Edmonton)refinery. This would remove the diluent required for pipeline transmission from heavy crude before it is transferred to rail cars, where diluent is not needed. Regulatory approval has been sought and economic feasibility studies are being undertaken.
It should be noted also that Imperial has be considering a potential LNG project in connection with its Montney/Duvernay gas assets although the status of this is indeterminate.
Some Considerations
Imperial's record has (perhaps apart from Syncrude) been good. Focusing on Canada's oil sands, its reserves are vast. Over the past several years, it has grown its production consistently. Cash flow should grow commensurately, although how much will depend on crude pricing.
It also has the advantage of size, as Canada's second largest energy producer by market cap, as well as the backing of a still larger parent. Its own financial position is sound, and its payout is on the very low side.
It has clearly benefited from a "flight to safety" in the oil patch. Especially in Canada, where energy holds such a large position in the economy, sector and index allocations often require some investment in energy. Here Imperial's size and conservative position make it a "go to" name in an energy downturn. This position is enhanced by its downstream operations, which benefit from low crude pricing.
The company is in a position where it has just completed major capital expenditures, and is not currently obligated to large future capital expenses.
Although perhaps reflecting its parent's attitude toward climate change issues, Imperial did not join other energy leaders in endorsing the new Alberta carbon tax policies, these, and the results of the royalty review, are very beneficial to the company.
Some of the reasons, however, that have made Imperial a relatively attractive investment in a pricing downturn may make it relatively less attractive should oil prices increase.
IMO will certainly remain a major vehicle for the conservation of capital within the energy sector. However, there are other companies that have been hammered perhaps disproportionately, including some with much more generous yields than Imperial's relatively low dividend. In an increasing crude price environment, these companies might attract funds that are becoming less concerned with safety and more with growth and income.
Two other factors may also be operative in that situation. The first is that Imperial will have no new major projects coming on stream in the near future. The second is, of course, that Imperial's nature as an integrated company will be far less attractive as refining margin spreads decline with higher costs for crude feedstock.
Analyst Recommendations
As one might expect of a long established dividend payer, Imperial Oil is widely covered by analysts. Here, however, are included only analyst recommendations since January 1, since earlier recommendations and consensus target prices do not always take into account current levels of oil pricing. Prices here are in Canadian dollars for IMO on the TSE. The closing price on February 19 was $42.46 (NYSE $30.82).
| | | | |
| --- | --- | --- | --- |
| Date | Institution | Recommendation | Target Price |
| | | | |
| February 4 | FirstEnergy Capital | Sell | $42.00 |
| February 3 | RBC Capital | Market Perform | $42.00 |
| January 12 | Barclays | | $43.00 |
| January 12 | Raymond James | Market Perform | $45.00 |
| | | | |
DISCLAIMER: The information provided above is not a recommendation to buy or sell a stock. It intends to increase investor awareness and to assist investors to make smarter decisions. Prospective investors should always do their own further research, and take into account their own current financial holdings, their risk levels and their shorter or longer-term outlooks.
Disclosure: I/we have no positions in any stocks mentioned, and no plans to initiate any positions within the next 72 hours.
I wrote this article myself, and it expresses my own opinions. I am not receiving compensation for it (other than from Seeking Alpha). I have no business relationship with any company whose stock is mentioned in this article.