Kinder Morgan's (NYSE:KMI) equity has been all over the news this past week as Warren Buffett took a sizeable stake in the company. As a KMI shareholder, I was pleased to see an immediate 10% boost to the stock. As I've discussed previously, KMI's unusual correlation to oil prices leads me to believe that a recovery in KMI's equity is synonymous with a recovery in oil. Now, equity considerations aren't everything, naturally, thus I am shifting the focus of this article to fixed income to see if any of the company's bonds are attractive. Fixed income can be an incredibly useful tool in a down or volatile market and with KMI having a less than ideal credit rating, the bonds are worth considering.

Debt Lineup
First and foremost, you know a company has an overwhelming amount of debt when the maturity lineup takes up five separate Terminal screen grabs. Their latest maturity date is in March of 2098 with a coupon rate of 7.45% with an issuance amount of $150 million. I will not be putting all five of these as I am only concerned with particular, more pressing issuances from Kinder Morgan, but you are welcome to inbox me for the full lineup. Below are the closest maturities: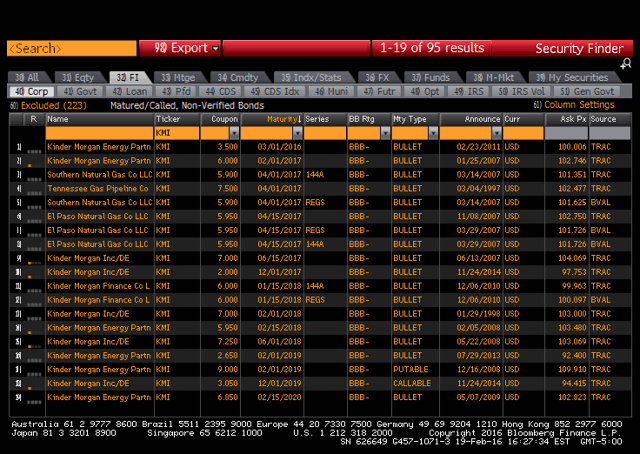 Source: Bloomberg
Kinder Morgan's debt is particularly interesting because of its low credit rating. While still investment grade, the company has a Baa3 from Moody's with a stable outlook, a BBB- from S&P with a stable outlook, and a BBB- from Fitch with a stable outlook. What you can see immediately from the Ask Price columns is that very few of the bonds aren't trading at a premium. In this article, I will be discussing the December 2019 callable bonds, the February 2019 putable bonds, as well as the Tennessee Gas April 2017 and the March 2016 notes, due imminently.
March 2016 3.5% Notes
The current YTM on these bonds is 3.139% with the principal repayment being $500 million. This is down from a spike earlier this month of nearly 8%; for the life of me I do not know why as no major credit event took place. Now these bonds have been fluctuating around a YTM of 1-2% and have only recently breached 3%. Given the imminent maturity of these bonds, they likely don't present an attractive option for retail investors; nonetheless, the quotes are below.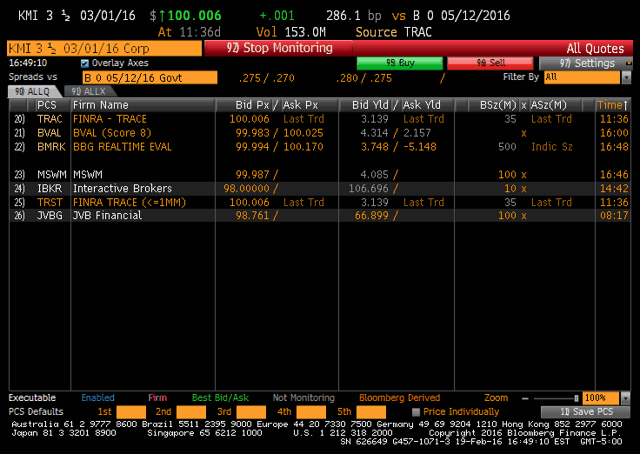 Source: Bloomberg
This issuance is the company's only maturity this year, which should give equity investors some relief in reference to the LT debt burden. That being said, the interest expense is still incredibly high at $530 million per quarter. The principal repayments, which usually present larger headwinds when commodity prices are low, are well-denominated over several decades, so Kinder Morgan has actually done a really incredible job of managing their long-term liquidity.
April 2017 7.5% Notes
Now, this senior unsecured issue is particularly interesting given that the notes are not Kinder Morgan-named. They are from Tennessee Gas Pipeline and were issued back in March of 1997. While the coupon is not going to be favorable to investors, the current YTM on these is 5.159%, which is decent considering that the maturity is only 14 months out. The size of the issuance is $300 million.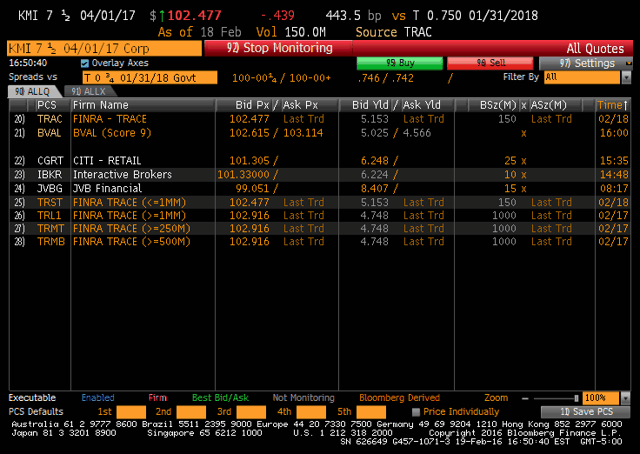 Source: Bloomberg
Considering that the bonds were issued at 99.144 and are now trading over 101 for most bid quotes, there hasn't really been much of a shift in pricing, even with all the restructuring that Kinder Morgan has gone through. A decent YTM, but arguably not the best use of capital in the current market.
February 2019 Putables
This is one of three issuances due in 2019, and one of two due in February of 2019. The bonds were issued with a 9% coupon rate, which is the highest coupon of any of KMI's LT debt. The obvious unique feature about these bonds is that they are putable, meaning that the bonds inherently have put options within them. All that means is if you own the bond you can demand for early repayment of the principal - which could be useful depending on what you viewas the price trajectory for the bond as well as the stability of the company's LT debt.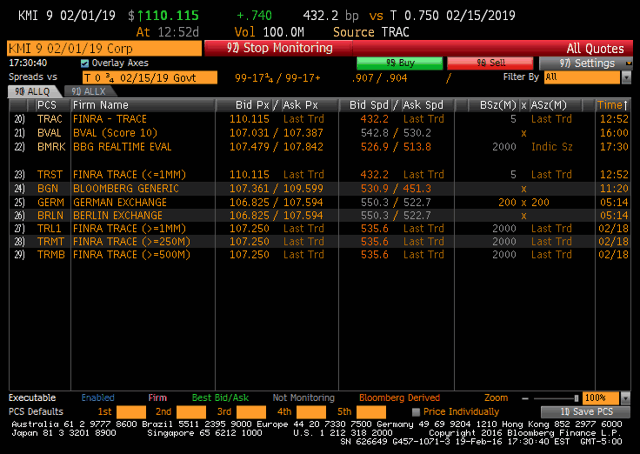 Source: Bloomberg
This means that these bonds are going to trade a large premium absent of any major credit event, as you can see with the bid/ask currently fluctuating around 107. The YTM is actually stable around the low 5.0% region, with the current YTM being 5.236%. A decent candidate to put in your portfolio, especially with the unique putable component. With Kinder Morgan's large amount of debt, this could be an issuance that'll receive a lot of attention over the coming years considering that operational headwinds could create repayment problems and you could recall the principal after collecting a few periods of coupons. The size of this issuance is $500 million.
December 2019 Callables
These bonds were issued rather recently, back in November of 2014, with the first coupon payment occurring back on June 1, 2015. This is the other issuance that is due in February of 2019, also with a unique feature. This bond is callable, meaning that it has an embedded call option. The only real difference here is that Kinder Morgan has the right to call back the bonds for a pre-determined price (usually at a premium), which in this case is just par value.
Trying to gauge the likelihood of Kinder Morgan calling these bonds back is decently difficult, but we have to remember that given the pressure they're under to start paying down some of their $40.6 billion in LT debt, they'll likely be paying down the closer maturities as to run into future liquidity problems. Furthermore, this is one of the larger principal repayments they'll have to make at $1.5 billion.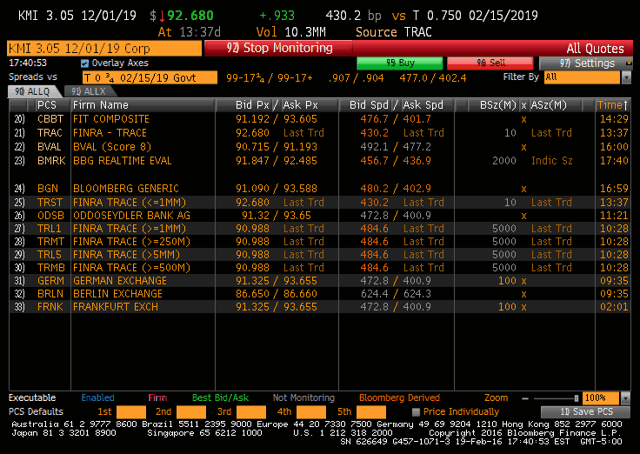 Source: Bloomberg
The YTM on these is also fluctuating in the low 5% region, currently at 5.213%. This is down from a spike back in December of 7.544%. The coupon rate on these bonds is 3.05%. Given that the YTM is decently high relative to its other debt, the time frame is only a few years out, and that the company still has an investment grade rating, this looks like one of the more attractive issuances. Right now, the make whole call provision is at 25 until November 1, 2019.
Conclusion
Despite Kinder Morgan's low investment grade rating, the bonds aren't necessarily attractive to retail investors from a risk/reward standpoint as many investors have started to take an interest in high yield debt on companies that have an abnormally high amount of core assets that can be divested. This isn't something I necessarily expected to see, but am rather continually observing. Naturally, if operating troubles persist and Kinder Morgan gets downgraded to a non-investment grade rating, the fixed income situation becomes high yield and our considerations as investors change dramatically. That being said, I believe the February 2019 putables are the best out of the above detailed group.
Disclosure: I am/we are long KMI.
I wrote this article myself, and it expresses my own opinions. I am not receiving compensation for it (other than from Seeking Alpha). I have no business relationship with any company whose stock is mentioned in this article.