If you're an investor in Williams Partners (NYSE:WPZ), the market just breathed a sigh of relief on your behalf. Earlier this week Williams Partners gave its full-year results, and talked about some of its strategic challenges. Markets responded by boosting the stock by some 8% on the day of the conference call.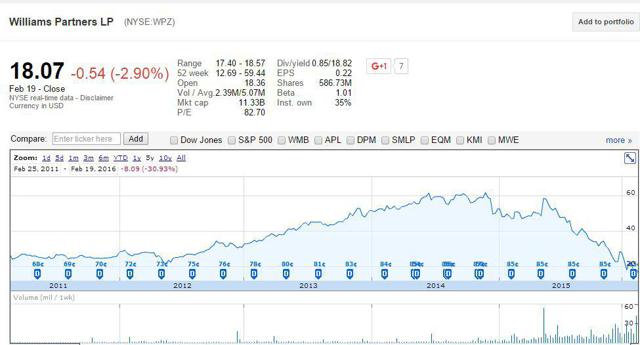 Click to enlarge Courtesy of Google Finance.
As you can see, shares of Williams Partners have dropped precipitously over the last year. Shares are now worth less than a third of what they were at their 2014 highs. There were a couple reasons for this. First, parent entity Williams Companies (NYSE:WMB) cancelled its merger with Williams Partners. Second, the rumors are swirling about the bankruptcy of the partnership's largest single producer customer, Chesapeake Energy (NYSE:CHK). This last quarterly earnings call did assuage some fears, however. This article looks at Williams Partners' latest quarter, and more specifically, some concerns facing this partnership.
Results
In 2015, Williams Partners did a lot to improve its coverage ratio. In 2014, for example, distribution coverage was typically in the low 90s or even the high 80s. For full-year 2015, however, Williams Partners managed a coverage ratio of 0.97 times, and that was originally supposed to increase to 1.07 in 2016, although that prediction is almost a year old and much has happened since.
Distributable cash flow, or DCF, is steadily increasing. In 2014 DCF was $1.7 billion, and it increased to $2.8 billion in 2015 thanks in no small part to an acquisition of Access Midstream. However, the connection of Keathly Canyon underwater pipe, and the reconnection of the Geismar olefins plant in Louisiana also led to increased DCF.
But next year will bring some big challenges. First will be the challenge of raising capital, second is the Chesapeake issue, and third is a possible ratings downgrade.
For this let's look first at the credit rating. Management said that it wants to protect its credit rating, but that balancing act is getting harder. Last month Moody's downgraded Williams Partners to Ba1. In order to keep its investment grade rating, the partnership has greatly reduced growth capital expenditure to just $2.1 billion, 70% of which will go to demand-driven northeast dry gas projects.
That lower capex might save Williams Partners from another downgrade, but it begs the question: Where will that money come from? Most likely it will come from debt, because equity prices are too low. If debt markets aren't friendly, then the partnership might have to cut distributions to pay for those projects. It's also possible that lower capex will slow distribution growth substantially. Originally, Williams Partners expected double-digit DCF growth. I doubt that will be possible with this new capex regimen, especially in this environment.
The Chesapeake issue looms even larger, in my opinion. Williams Partners' largest customer is in a bad spot: Its cash flow is shrinking under falling gas and liquids prices, and Chesapeake also has a big pile of debt, with $500 million coming due in April. If Chesapeake wanted to, it could just put that all on its credit line, but I'm not sure how much lenders will reduce the credit line's capacity. Even though Chesapeake says it isn't going to go bankrupt, there's a fair chance it will happen anyway.
If it does happen, then Chesapeake's contracts will go to bankruptcy court. Which Chesapeake acreage is dedicated to Williams Partners? Well, almost all of it will have to do with Chesapeake's core territory in the Utica and the Marcellus. I suspect that, even if acreage changed hands, this acreage would continue to operate under someone else, if that's what it came to. Nevertheless, Chesapeake contracts account for about 18% of Williams Partners' EBITDA. A Chesapeake bankruptcy could easily effect the distribution in the short term.
Conclusion
For now, however, the market seems to like Williams' higher coverage ratio and lower capital spending program. Unfortunately, with all this uncertainty, management didn't give forward guidance. I see DCF growth slowing, as capex in 2016 is less than half of what it was originally predicted. Accordingly, I think DCF growth will drop to mid single digits, and dividend growth will halt so that Williams can build its coverage ratio. Most of Williams' growth projects are dry gas demand driven, so the growth story is still there, but only if Williams can secure the funding.
Is Williams Partners a buy? No. Between Chesapeake and the credit ratings agencies, there is just too much uncertainty here. Both or either of these events could trigger a distribution cut, so I can't recommend this one until we have more clarity.
Disclosure: I am/we are long WPZ.
I wrote this article myself, and it expresses my own opinions. I am not receiving compensation for it (other than from Seeking Alpha). I have no business relationship with any company whose stock is mentioned in this article.