Introduction
I have exposure in my portfolio to three of the largest American banks: Wells Fargo (NYSE:WFC), Bank of America (BAC) and JPMorgan (NYSE:JPM). In addition, I also own shares in an insurance company, Aflac (NYSE:AFL), and two asset management companies: T. Rowe Price (NASDAQ:TROW) and Ameriprise (NYSE:AMP). In the financial sector, I lack exposure to insurance, where I considering Chubb (NYSE:CB) and Travelers (NYSE:TRV), and I also lack exposure to investment banks. In this article, I will analyze two of the industry leaders, Goldman Sachs (NYSE:GS) and Morgan Stanley (NYSE:MS).
So far I have refrained from buying the stocks of investment banks. I cannot really explain why. I just ignored this sub-sector as it seemed too risky for me, especially after the financial crisis. As I was looking to diversify my dividend portfolio, I decided that I must take a closer look. It might seem unjustified to other investors, but until recently I was just uncomfortable with this sub sector. In this article I am going to look at two of its leading names.
Morgan Stanley and Goldman Sachs are financial institutions that operate in the institutional securities sector, which includes capital raising and financial advisory services, global wealth management and asset management, which provides a range of equity, fixed income and alternative investments. They are both leaders in the financial sector, and have brand names which most people are familiar with.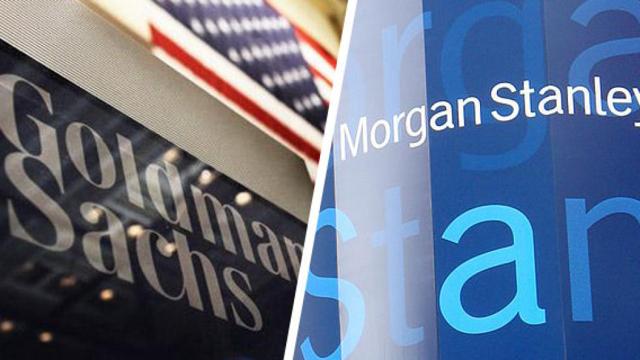 Fundamentals
The first comparison should concentrate on the fundamentals of both companies. I am interested in their revenue and EPS growth, dividend growth and their buybacks, which are another form of returning money to shareholders. I will look at the past five years as I am not interested in information before, during and right after the financial crisis. Since the crisis, the whole market is different, new regulation is in place, and therefore, the past five years will give me a clearer picture of the trends in motion.
The revenue is interesting, as GS actually suffered from declining revenues. On the other hand, it actually saw its revenue climbing after the big dip in 2012. MS has been more consistent over the past five years, and managed to grow its revenue significantly. It is interesting to see that the total revenues of both firms are almost the same even when GS is much larger in market cap. It means that MS is having more trouble in turning sales into earnings.
EPS might seem like a slam dunk in favor of MS as it managed to grow earnings at a much faster rate. However, consider the outlook of both companies. While MS is forecast to increase its EPS at around 7% annually in the coming years, GS suffered this year from EPS decline, though it is forecast to increase from $12.14 in 2015 to around $19 in 2016. Such tremendous growth will put GS in a much better position. However, as the market is volatile, forecasts should be taken with a grain of salt, and GS will have to prove that it can deliver higher quality EPS even when the markets are not constantly climbing.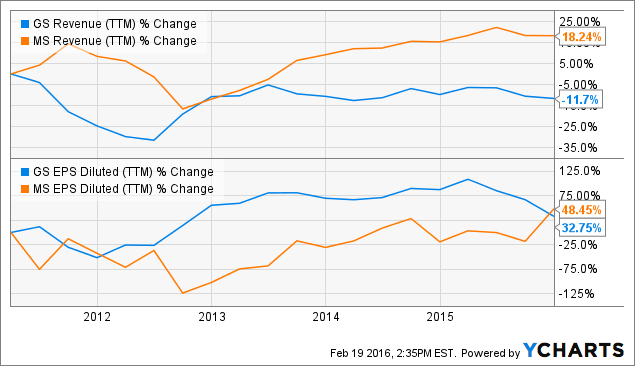 GS Revenue (NYSE:TTM) data by YCharts
For my dividend growth portfolio, I usually try to look for stocks with a long history of increasing distributions. However, I make exceptions for companies that have wide moats, and which I believe are capable of becoming dividend aristocrats. Such companies, for example, include Disney (NYSE:DIS), Visa (NYSE:V) and Bank of America (NYSE:BAC).
Both MS and GS have been raising dividends very quickly over the past several years. MS, which used to pay only 5 cents every quarter just two years ago, is now paying 15 cents. Both companies enjoy a very low payout ratio, and have a lot of room to boost distributions. If GS reaches an EPS of $19, it can achieve a payout ratio of less than 15%, with a lot of room to expand. Both companies are in a great position to raise dividends, given their low payout ratios, and boost yields to their highest levels over the past five years. However, it is important to note that both are SIFIs, and therefore will have to pass the strenuous stress tests by the Fed in order to increase their distributions.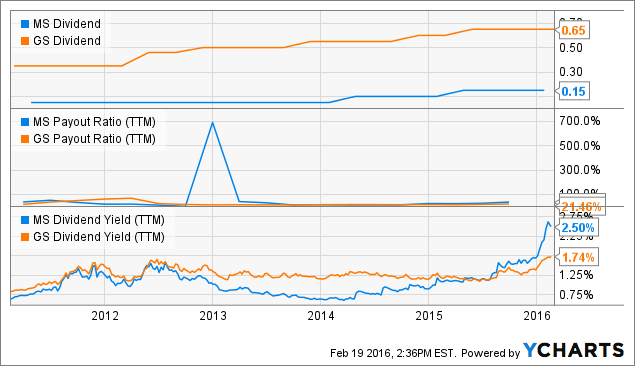 MS Dividend data by YCharts
Buybacks are another essential method for companies to return money to shareholders. American banks take buybacks very seriously because during the financial crisis they had to issue many new shares that diluted ownership. While MS isn't really lowering the share count, as it only bought back the amount of shares issued at the beginning of the year, GS has done an amazing job in this area, and actually managed to buy back one of every six shares. GS also stated that it is important for them to keep reducing the number of shares outstanding, which is fantastic.
GS Shares Outstanding data by YCharts
When I look at the fundamentals, I think that MS has the edge here. They manage to constantly increase EPS, revenue and dividends. GS also manages to boost its dividend and buy back shares, but its superb growth in EPS is still a forecast, not a fact. I must note that although I believe that MS has better fundamentals, they look good for both companies.
Valuation
The first metric I look at when I want to see the valuation of banks is the P/B ratio. Over the past five years GS always traded at a premium over MS. I think the reason for that is the higher profitability of GS. MS finished 2015 with ROE of 7% -- 3% less than anticipated. The gap today is larger than it used to be since 2014, and it is due to a massive sell-off in MS. The lower ROE and weak trading results in 2015 justify the gap, but I am not sure it should be that big.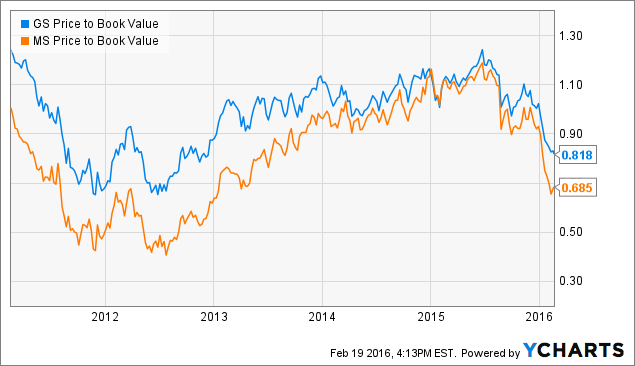 GS Price to Book Value data by YCharts
The PE ratio of both companies for 2016 outlook is almost the same. It doesn't reflect the edge GS has in terms of its ability to turn revenue into profit. When I take into consideration the fundamentals and profitability of both companies, I understand why MS should be cheaper, but I don't think it should be so cheap in terms of P/B, and therefore I think it has a more favorable valuation at the moment.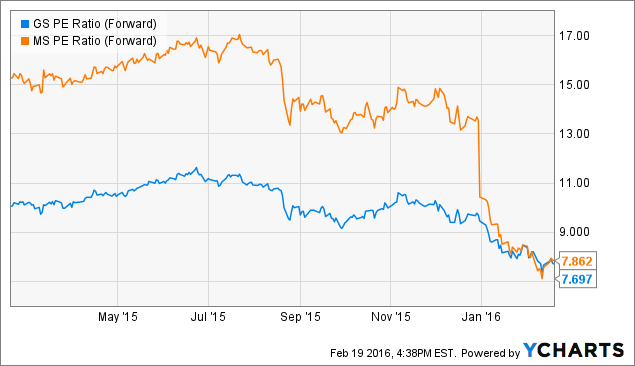 GS PE Ratio (Forward) data by YCharts
Opportunities
Both companies are well positioned to deal with the new regulations imposed by the Federal Reserve. They both passed the 2015 stress tests, have sufficient liquidity and are not too leveraged according to the latest guidelines of the regulators. With that being said, they are more than ready to return more money to shareholders through buybacks and dividends that are more likely to be approved by the Federal Reserve.
Another advantage that both these companies have is their strong brand and the trust they get from clients. At a time when European banks are struggling, American investment banks can increase their market share. When we see Deutsche Bank (NYSE:DB) and Credit Suisse (NYSE:CS) losing the confidence of their clients, MS and GS can step in.
When I try to find the difference between opportunities for MS and GS, I believe that MS has an advantage over GS with its huge wealth management sector. As the American population is getting older and the baby boomers are retiring, they will need more financial services and wealth management. Baby boomers lived through periods of very high economic growth just after World War Two, and many of them managed to save a lot of money.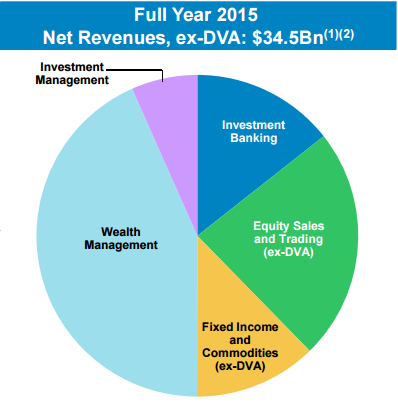 On the other hand, GS has an advantage over MS because it is more diversified, and doesn't take almost 50% of the revenues from one business segment. It gives GS more flexibility if one of its segments isn't functioning properly. When none of its segments is larger than 25% of its revenues, it can invest in any of them according to management decisions, without having to worry about rocking the boat in a segment the company will relies on.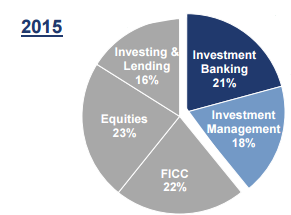 The biggest advantage that GS has over MS is its profitability. In my opinion, that's what puts GS in a better position to grow its earnings in the coming years. While MS fails to meet its goal of a 10% return on equity, GS manages to display a high return on equity and much higher operating margins. While margins for MS will be around 26%, GS will show margins closer to 36%, and that is a big advantage for the firm.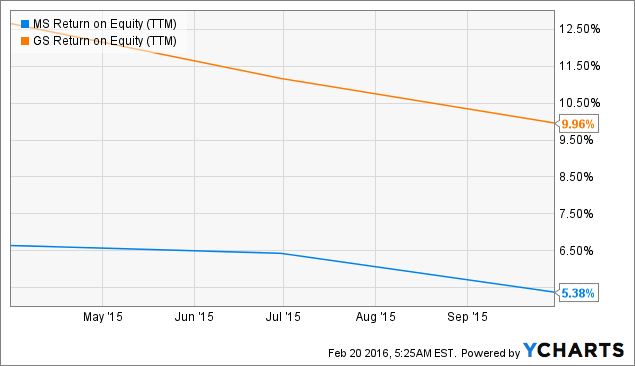 MS Return on Equity (TTM) data by YCharts
Risks
Both companies did very well over the past several years. However, this was done in one of the biggest bull markets that we have seen, with a lot of M&A activity and growth in revenue and income for most Dow Jones companies. 2016 on the other hand started off a little bit shaky, and no one can predict how the market will do in the next 12 months. However, a volatile market and declining indexes might reduce investors' appetite for investing, and that might challenge both GS and MS.
Another risk for the companies is the competition, especially from firms that offer very cheap funds that allow investors to pay less in management fees. Vanguard is a great example, as it allows investors to buy cheap ETFs. MS and GS will both have to offer premium service that will justify the higher fees, especially for wealthy investors. Moreover, their investment managers will also have to bring alpha to investors to justify the fees.
Another risk is regulation. The financial sector is probably the most regulated sector in the economy besides the utility sector. If a decade ago I had told investors that the Fed would run annual stress tests and closely regulate SIFIs, they would have said that I was totally crazy. The regulation may become tighter still, requiring more capital and further limiting dividends and buybacks. As these companies have to keep more and more capital, their ability to bring returns is reduced, therefore posing a risk to investors.
The most important risk here is for MS, as it already has low ROE, and it was much lower than anticipated. In 2015 it suffered from weakness in its trading segment, and a harsher year in 2016 could really drive ROE lower. GS has some more room for error and therefore I believe that it is better positioned to deal with the current market volatility and risks.
Conclusion
I like them both, the smaller MS that has slightly better fundamentals and better valuation, and the larger GS with its very high margins and great profitability. I believe that at the moment GS offers a better risk-reward ratio, and it will bring higher returns going forward. However, it is hard to pass on MS, which lost almost 50% from its peak.
I think that the best course of action is to buy GS as long as it is under $150, and at the same time I can sell January 2017 MS put options with a $20 strike price. This strategy would give me close to $200 in premium, which would allow me to buy additional shares of GS, and in the worst case scenario I would have to buy MS for $20 which I believe is a good price for that company. I must note that in case of a massive sell-off you might find yourself buying MS for more than the market price, so take it into consideration before selling any options. I wouldn't try doing this strategy with GS as it would require much more capital if I am forced to buy it. If you do try it, go for a $130 or $135 strike price, as that is close to its 52-week low, and offers high premium.
Disclosure: I am/we are long AFL, AMP, BAC, DIS, JPM, TROW, V, WFC.
I wrote this article myself, and it expresses my own opinions. I am not receiving compensation for it (other than from Seeking Alpha). I have no business relationship with any company whose stock is mentioned in this article.