When Plug Power (NASDAQ:PLUG) reports Q4 financial results in March, investors will be greeted by another year of 50% revenue growth. Plug Power has already put out a $150m target for 2016, which represents another year of 50% annual revenue growth.
My last two Plug articles were focused on Plug's customer diversification efforts and emerging anchor customers including Home Depot (NYSE:HD). However, one of the most intriguing and incredibly positive developments occurring over the course of 2016 is the fruit that will come to bear from Plug's vertical integration strategy.
As a quick reminder to all investors, Wal-Mart (NYSE:WMT) accounted for 60% of Plug's GenDrive shipments in 2015 and will account for less than 50% of Plug's GenDrive shipments in 2016.
Wal-Mart will finish 2015 with 10 infrastructure deployments in 2015 and is expected to account for 11 infrastructure deployments in 2016. Overall, Plug will deploy 15 infrastructure sites in 2015 and 25 in 2016 with Wal-Mart's share of deployments dropping from 67% in 2015 to 44% in 2016.
Despite Wal-Mart units and infrastructure deployments remaining relatively flat year over year, Plug still anticipates growing revenue by 50% in 2016. The reason why Plug is guiding for another year of 50% revenue growth comes down to vertical integration and operational leverage.
As a company's revenue base gets larger, it becomes more and more difficult each year to grow revenue at the same pace as the previous year. To take a quote from a former CFO: "As the ship gets bigger it becomes more difficult to move at the same speed."
Revenue growth can come from multiple sources, including mergers and acquisitions, new customers, new product or service offerings, organic growth from within a company's existing customer base or expanding into adjacent market opportunities. Plug's growth over the past several years has been fueled by organic growth, new customers and new product or service offerings.
In January 2014, Plug Power launched GenKey, a new offering that combined GenDrive fuel cell units, GenFuel hydrogen fuel and infrastructure and GenCare maintenance service into one soup to nuts offering. GenKey is so popular that in 2015 over 90% of Plug's customers chose GenKey for their deployments.
By the end of 2016, I expect Plug to begin generating hydrogen onsite and perhaps Plug will call it GenPro. Plug's GenPro product offering will lower the cost of hydrogen for Plug's customers and create another revenue stream for Plug as the company continues to go vertical and generate additional revenue for each GenDrive unit placed into the field.
I had an update call with Plug's CEO Andy Marsh after the annual business update meeting in January. I had spent several hours listening to the business update and taking notes and going over the numbers. Plug's guidance for 2016 revenue and GenDrive units shipped was $150m and 4,400 units, up from $100m and 3,600 units in 2015, respectively.
My first question for Plug's CEO was focused on Plug's operational leverage and the relationship between GenDrive unit growth and revenue growth. In FY14 and FY15, Plug grew GenDrive shipments and revenue at a nearly a 1:1 ratio. In other words, for Plug to grow revenue 50% in a year, the company would need to grow GenDrive shipments by 50% as well.
The images below depicts quarterly GenDrive unit shipments and total revenue between Q1 2013 and Q4 2015, Plug's annual GenDrive unit growth percentage alongside annual revenue growth percentage for FY14 through FY16. Quarterly data including revenue and shipments was sourced from Plug's conference call transcripts provided by Seeking Alpha.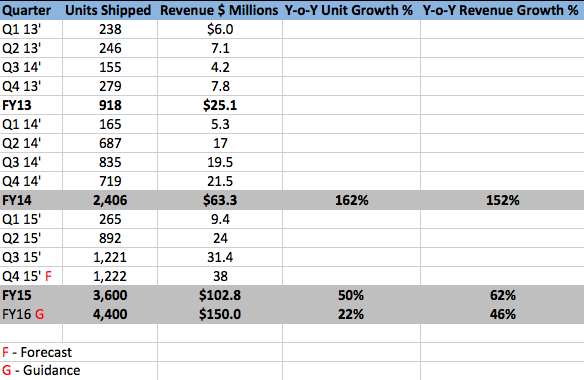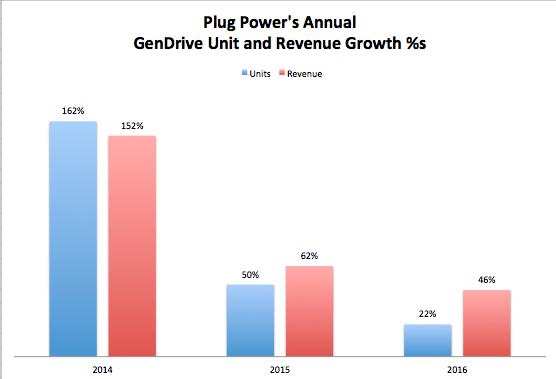 In 2016, Plug's operational leverage is expected to nearly double to a 2:1 ratio. What this means is that for every percent of growth in GenDrive units sold, Plug will generate 2x the amount of revenue growth. This also means that Plug can achieve 50% revenue growth in 2016 by only growing GenDrive deliveries by 25% or less.
The image below depicts Plug's operational leverage, which is defined as its annual revenue growth % divided by its annual GenDrive unit shipment growth rate for FY14 through FY16.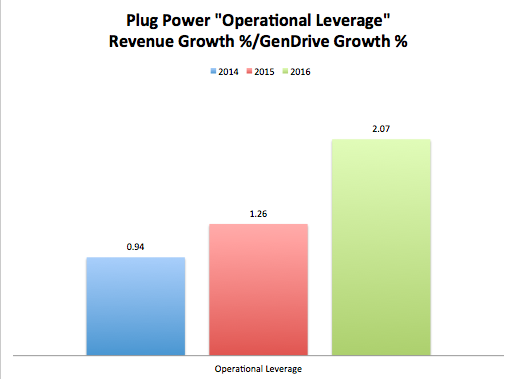 Plug's business model is focused around the GenDrive, and as a result of going vertical over the last several years, Plug has captured additional revenue from multiple offerings. These offerings include infrastructure and service and will soon include hydrogen generation, which all surrounds Plug's core GenDrive offering.
Plug bears continue to go after Plug's inability to post a profit or breakeven. Plug's decision to go vertical over the past few years has cost the company an opportunity to post a profit or breakeven. Each new product or service offering came with additional revenue, but costs that exceeded revenue. As a result, Plug's targeted breakeven of $75m in annual revenue in 2014 is now hovering around $175m in my current model. However, the long-term bulls will end up with the upper hand as Plug's vertical integration strategy begins to bear fruit in 2016.
In 2016, investors will witness how quickly a vertically-integrated Plug Power can leverage operations and grow overall revenue at a pace that far exceeds GenDrive unit growth rates. Plug's ability to grow revenue at a growth rate 2x the unit growth rate of GenDrives is the calling card of a phenomenal long-term diversification growth strategy.
On the flip side, Plug's vertical business strategy requires all interwoven parts to perform in order for the company to produce a profitable business. Plug has demonstrated over the past several years that the GenDrive can be produced for modest gross margins; however, service margins continue to be plagued by stack performance issues that are currently being remedied.
For Plug to reach profitability on an annual revenue run rate of $175m the company needs product gross margins in the mid-30% with service gross margins in the low-20% range coupled with minimal operational expense increase of 3-5% annually.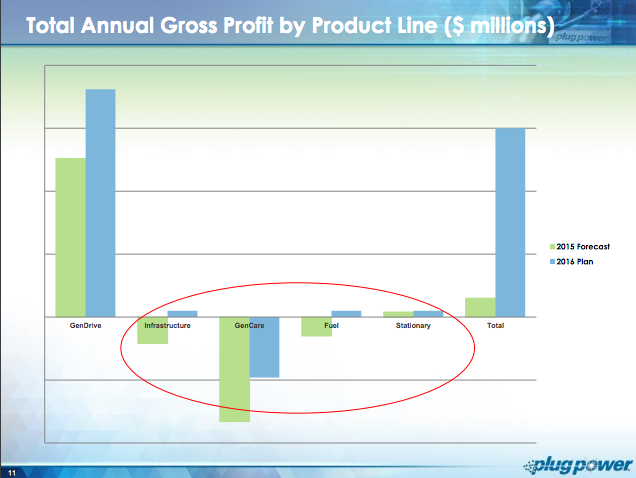 Source: Plug Power 2016 Business Update
Slide 11 (above) from Plug's January 2016 business update displays Plug's anticipated gross profit by line of business. In 2016, management expects GenDrives, along with fuel and infrastructure, to produce gross profits, which is very positive. However, the biggest risk with respect to Plug's ability to produce an overall profitable business is turning the service (GenCare) business, which produces about 40% of the company's revenue, into a money maker and not a drag on the overall business.
I expect the 2x operational leverage trend to continue over the next several years, which makes Plug's goal of reaching $500m of revenue over the next three to four years that much more believable and achievable.
The biggest headwind impacting Plug's business results in 2017 and beyond remains the extension of the fuel cell FTC beyond December 2016. The failure to extend the bill should shave Plug's overall growth rates by 20-30%, which would reduce Plug's growth rate from 50% down to 35-40% over the next three to five years. Although I continue to expect the passage of the FTC in the coming months, any delay may force Plug's management team onto the offensive to lobby legislators and convince current and future customers as well as GenFund investors that the fuel cell FTC bill will be extended beyond 2016.
As Plug's gross margins across all verticals continue to mature and improve, investors will see Plug Power post a profit in 2017 and witness a rapid profit expansion in 2018 and beyond, assuming Plug's business results continue to stay on a path to profitability. Right now, that's my focus as a long-term shareholder, who believes in the company's ability to leverage operations and continue to mature gross margins across each vertical.
Disclosure: I am/we are long PLUG.
I wrote this article myself, and it expresses my own opinions. I am not receiving compensation for it (other than from Seeking Alpha). I have no business relationship with any company whose stock is mentioned in this article.