SolarEdge (NASDAQ:SEDG) continues to increase its grip on the rapidly growing module-level power electronics (MLPE) industry with a stellar fiscal Q2. The company reported a revenue and GAAP gross margin of $124.8 million and 30.9% respectively, beating analyst expectations on both these fronts. In addition, the company reported a record net income of $24.11 million, showcasing its rapidly growing profitability.
With a revenue growth rate of 70.3% YOY, SolarEdge clearly has a great deal of momentum going for it. SolarEdge is well-positioned to outcompete traditional string inverter companies and other competitors like Enphase (NASDAQ:ENPH). As SolarEdge is producing some of the industry's most cost-effective solar inverter and optimizer technology, the company will likely grow its market share. SolarEdge also continues to excel on innovation front, which should allow the company to stay ahead on the technological front.
Strong Innovation Capabilities
SolarEdge has catapulted to the top of the MLPE industry largely due to its success on the innovation front. The company's inverters, power optimizers, and other MLPE-related services are increasingly dominating the MLPE sphere. In fact, the largest rooftop solar companies disproportionately utilize SolarEdge's products due to their cost-effectiveness and overall superior quality. SolarEdge's rise from relative obscurity to market dominance in the MLPE sphere has much to do with the company's emphasis on innovation.
SolarEdge has recently made another massive innovation on the inverter front with its HD-Wave technology. This new digital processing technology is set to "significantly decrease inverter size and weight and achieve record efficiency." This new inverter technology should allow SolarEdge to cement its presence in the rooftop solar markets by widening the technological gap between itself and its main competitors.
Robust Competitive Position
The MLPE industry has grown at an incredibly fast pace due to the rise of distributed generation. This has naturally led to a significant increase in competition over the past few years. Despite the ramping competition in this arena, SolarEdge continues to stand out as a premier MLPE company. SolarEdge's technology has enabled it to differentiate itself from Enphase and traditional string inverter companies.
The company's recent quarter clearly shows that it is increasing its competitive lead over its rivals. As Enphase needs to reduce its microinverter costs by 50% in two years just to remain competitive, SolarEdge appears to have little to no competitive headwinds in the near-term. While SolarEdge will still face larger than average technology threats given the early-stage nature of the MLPE industry, the company is far better positioned than its rivals.
Risk of a Slowdown
The residential solar industry has recently undergone a major slowdown, which was made only more pronounced by Nevada's anti-rooftop solar decision. Top rooftop solar companies like SolarCity (NASDAQ:SCTY) and Vivint Solar (NYSE:VSLR) have significantly reduce their near-term guidance as a result of such industry headwinds. As these large residential solar companies make up a disproportionate percentage of SolarEdge's business, SolarEdge may also be susceptible to this slowdown.
Fortunately for investors, SolarEdge is growing its exposure to other markets such as commercial solar. This should make a potential slowdown in the residential solar market less impactful. As SolarEdge's products are set to become even more attractive with the introduction of HD-Wave technology, the company should be able to further diversify its customer base and subsequently mitigate the impact of individual markets slowdowns.
The recent slowdown in the residential solar sector could be problematic for SolarEdge.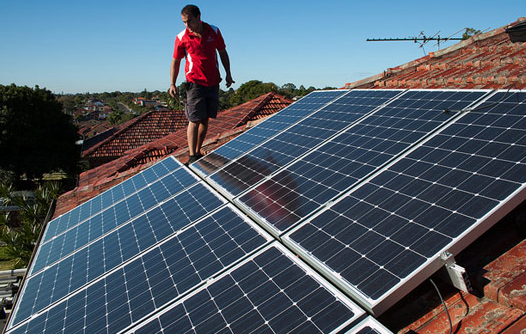 Source: cleanenergyauthority
Conclusion
SolarEdge still has far more upside at a market capitalization of $1.1 billion and a forward P/E ratio of 11. Given SolarEdge's technological edge and growth momentum, the company will likely increase his dominance in the MLPE industry. While SolarEdge may face near-term headwinds due to residential solar's slowdown, the company's long-term prospects remain strong. SolarEdge is differentiating itself from an increasingly competitive field and successfully capitalizing on the distributed solar growth trend.
Disclosure: I am/we are long SEDG, SCTY.
I wrote this article myself, and it expresses my own opinions. I am not receiving compensation for it (other than from Seeking Alpha). I have no business relationship with any company whose stock is mentioned in this article.
Editor's Note: This article covers one or more stocks trading at less than $1 per share and/or with less than a $100 million market cap. Please be aware of the risks associated with these stocks.