When it comes to Apple's (NASDAQ:AAPL) iPhone, there has been a lot of debate on Seeking Alpha and elsewhere about the current sales slowdown. I am of the opinion that one quarter doesn't make a difference, but in the short term the stock trades on current results. Next month, the company is expected to release an updated 4-inch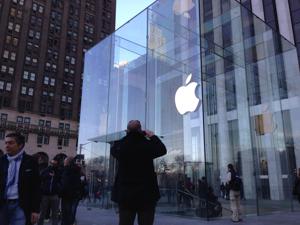 smartphone, which could spark a number of upgrades from the roughly 60% of iPhone holders who haven't gone to a larger screen model. But the key to the phone's future may lie in management's decision on where to place this device in the overall phone market.
It's been a couple of years since Apple launched the iPhone 5s, the company's only 4-inch smartphone currently on sale. Phone hardware has improved dramatically since then, so the 5s looks like a dinosaur now. In the table below, you can see a few of the main differences between Apple's three main phone lines available.

Click to enlarge
Source: GSMArena specs pages for 5s, 6, and 6s
In one of my recent Apple articles, I discussed how going smaller (in terms of screen size) could be a big move. Apple management on the most recent conference call stated that 60% of the iPhone base had not upgraded to a larger screen phone yet. I've heard from a number of consumers and Apple investors that like the 4-inch size of the 5s, but are waiting for new hardware. That's what we're hoping to see the launch of next month.
I believe that this launch could provide some insights into the future of the iPhone, and it depends on what Apple decides to do with this phone's hardware (and thus pricing). We've heard a million rumors about the device, but until the phone is launched, that's all just speculation. Does Apple give this new phone a hardware base that's similar to the iPhone 6, and price it a bit lower, or does the company make it similar to the iPhone 6s line, and keep up the notion of a premium product?
For example, does Apple give the new phone 1GB of memory as seen in the 5s and 6, or does the company double it to 2GB like seen in the 6s line? There's also a big question about how much of a camera upgrade this line will get. Also, a key point to pricing depends on whether Apple starts this device at 16GB of storage like current models, or if the company finally moves the base model up to 32GB. As you can see in the image below, there's a huge price difference among the iPhone lines, so what hardware goes into this device will determine where it is placed in terms of price point.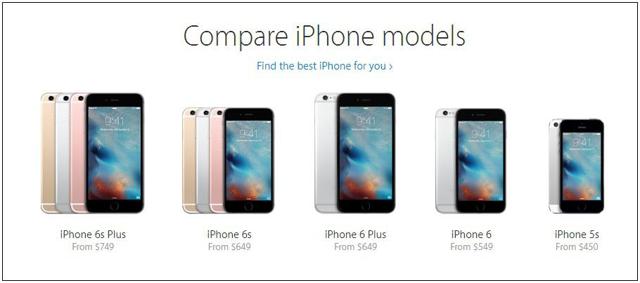 Click to enlarge
Source: Apple iPhone page
If Apple goes all-in with this new device and gives it a lot of the backbone of the 6s line, I could see the phone starting at $599 or more (if it starts with 32GB of storage). This would be Apple management keeping up the model of a premium product. On the other hand, if Apple just makes a few minor tweaks, you could be looking at a $499 price point or maybe even lower if the company can get its hardware costs down enough.
Obviously, the lower Apple goes with the device's starting cost, the more consumers around the globe it will be able to reach. I'm not arguing here that the company launch a dirt cheap phone to reach the masses, but a mid-level phone that can help the company increase its market share a bit and send annual iPhone sales towards 300 million. Getting holders of older models to upgrade is key to this goal as well.
In the end, I believe the potential launch of the new 4-inch iPhone will have a lot to tell us about management's view of the smartphone's future. A top of the line model will keep things in the premium zone, while a more budget friendly version should be able to attract more buyers. One must believe that Apple will ultimately need to come down the pricing ladder if it hopes to really increase market share and yearly iPhone sales. Since the stock currently trades on how well the company's biggest product is doing, a return to iPhone sales growth could send the stock higher in the long run.
Disclosure: I/we have no positions in any stocks mentioned, and no plans to initiate any positions within the next 72 hours.
I wrote this article myself, and it expresses my own opinions. I am not receiving compensation for it (other than from Seeking Alpha). I have no business relationship with any company whose stock is mentioned in this article.
Additional disclosure: Investors are always reminded that before making any investment, you should do your own proper due diligence on any name directly or indirectly mentioned in this article. Investors should also consider seeking advice from a broker or financial adviser before making any investment decisions. Any material in this article should be considered general information, and not relied on as a formal investment recommendation.