Cigarette giant Philip Morris (NYSE:PM) has always been an investor favorite due to its tremendous capital return plan. The stock has featured an ever growing dividend, and for a number of years, a very strong share repurchase plan. Management took on a lot of debt in the past to reward shareholders, and in 2015 that resulted in the suspension of the buyback as currency issues hurt cash flow. Recently, the company issued a new set of bonds, and I'm here today to analyze this offering.
Philip Morris took out another $2 billion in debt, a three part sale, with the highlights below:
2019 Notes: $500 million, 1.375% coupon
2021 Notes: $750 million, 1.875% coupon
2026 Notes: $750 million, 2.750% coupon
August 2015 was the most recent comparable offering, and you can see the details of that here. At that time, the company issued notes for 2017, $500 million, with a 1.250% coupon, and $750 million of notes for 2025 with a 3.375% coupon. The only direct comparison we have here is the 10-Year maturity bond at each sale, which turned out to be the same principal amount.
You will notice that this time around, the coupon for the 10-Year bond was a bit lower. That is primarily due to the decline in US interest rates since then, with the 10-Year US Treasury rate chart seen below. The company also achieved a lower spread to Treasury, 110 basis points in 2016 versus 128 basis points in 2015. That's mostly a reflection of the lower Treasury rate, but there probably is some improved investor sentiment in there as well.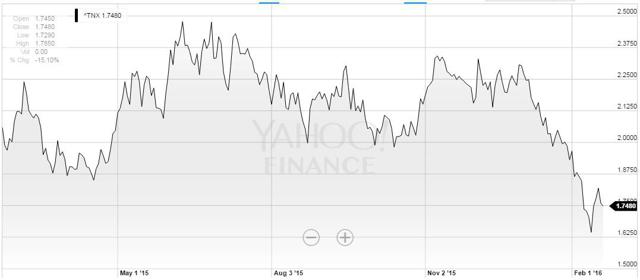 Philip Morris used the standard lingo when talking about the use of proceeds, mainly working capital requirements, potential debt refinancing, etc. When we look at the company's debt page, you'll notice that a $1.25 billion issue comes due this May, so paying back that could be a likely possibility. I should also note that the May 2016 issue was a 5-year note with a 2.500% coupon, and the most recent 5-year note (albeit less principal) featured a 1.875% rate.
Philip Morris investors closely watch the US dollar's movement, which has been a steady headwind for the company in recent years. Recently, the dollar has weakened a little, primarily thanks to the strength of the Japanese Yen. Unfortunately, the dollar has remained at elevated levels against a number of other currencies, so headwinds are likely to persist throughout 2016. At the most recent earnings report, management actually increased its currency hit forecast for this year.
In the end, it is nice to see Philip Morris catch a break, this time in terms of lower interest rates. Refinancing debt at a lower coupon can help cash flow over time, which can lead to more capital returns for shareholders. I still don't believe we'll see the buyback restarted in the next quarter or two unless the dollar weakens substantially. Investors have been piling into Philip Morris shares recently, and a new 52-week high was hit Friday. However, as seen in the chart below, things look a bit overextended technically, so for those that want to really take advantage of the good news, wait for the next pullback.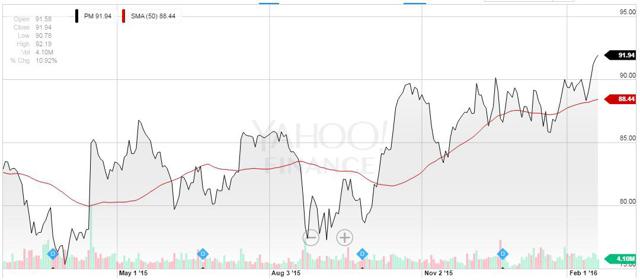 (Source information: Both charts taken from Yahoo! Finance)
Disclosure: I/we have no positions in any stocks mentioned, and no plans to initiate any positions within the next 72 hours.
I wrote this article myself, and it expresses my own opinions. I am not receiving compensation for it (other than from Seeking Alpha). I have no business relationship with any company whose stock is mentioned in this article.
Additional disclosure: Investors are always reminded that before making any investment, you should do your own proper due diligence on any name directly or indirectly mentioned in this article. Investors should also consider seeking advice from a broker or financial adviser before making any investment decisions. Any material in this article should be considered general information, and not relied on as a formal investment recommendation.