Long Way Down... Still Can't Party Like It's 1999
Wi-Lan (NASDAQ:WILN) is somewhat of a rare bird in the technology sector. It's mostly profitable and its stock currently trades for less for about 70% of what the company is actually worth ("book value" in accountant-speak.), according to morningstar.ca. In my early days, when I was attempting to be a value investor, the stock was trading at a similar ratio. So I bought it in the summer of 2013. I purchased the shares for 3.38 and sold them for 3.88 about 5 months later, plus a couple of dividends. I was happy with the return that I got on it, especially after I learned how dicey Wi-Lan's business is.
The company started out as an important innovator in the dot.com boom of the 1990s. Yes, Wi-Lan was one of those companies. Two Canadian entrepreneurs developed the technology, Wideband Orthogonal Division Multiplexing (WOFDM),[11][12] and Multi-code Direct-sequence Spread Spectrum (MCDSSS), which when combined with the Institute of Electrical and Electronics Engineers' (IEEE) 802.11 standard bandwidths (themselves in development for decades prior) gave us the ubiquitous and indispensable wireless technology we have come to rely on today. While this is an impressive contribution to a breakthrough technology, it was not that important relative to the rich valuation the company had been assigned post IPO (1999). You can see how much of the run-up in the company's stock was part of the rampant speculation at the time on anything to do with tech. In that sense, the company was a victim of its own success, as it got bid up alongside the notorious no-profit high-fliers of the time like phone.com and pets.com. When the bubble collapsed and the dust settled, Wi-Lan was still standing, but for many investors who had got fat and happy during the boom, the survival was a bitter pill to swallow.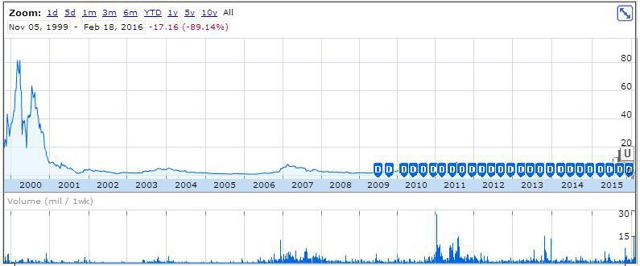 (Source: googlefinance.com)
In fact, sometime after I got out of Wi-Lan, I read something that made me shudder at just how lucky I had been. A seasoned, middle-aged senior financial professional who was appearing in Larry MacDonald's "Me and My Money" section of the Globe and Mail answered one of the questions of the feature that asks you to detail your worst investment move. His was... you guessed it... Wi-Lan in the late 1990s.
I wouldn't be surprised if he stopped following the company to avoid being reminded of that unpleasant experience. And the negative emotion experienced looking at that chart might mirror the one that a company feels when it gets served with that notice of litigation from Wi-Lan. Because the phoenix that rose from the ashes of Wi-Lan's fall from grace is a group of patents, or a "portfolio" which has been added to and leveraged over the years, just like an investment portfolio. Wi-Lan is now a player in the intermediate industry of "intellectual property" monetization, as it calls it, or "patent trolling" as the Wi-Lan's critics call it.
Wi-Lan is A Great Canadian Tech Success Story. Why Doesn't The Market Care?
The company is obviously a strong believer in its business mode,l and when the company has come under fire from opponents of the industry, the "raison d'être" typically cited is allowing inventors to profit from their works. It also believe it creates value for shareholders. This quote from its website makes it sound like it has just the solution for you:
Our licensing methodology involves a multi-disciplinary approach involving teams of engineers, technology researchers, patent agents, legal professionals and market researchers with industry leading knowledge, skills and experience. Wi-Lan's licensing track record demonstrates that our team-based methodology can successfully and efficiently monetize patented inventions." (Source: wilan.com)
It sounds great. Unfortunately, Mr. Market has not bought into this story at all. The stock has provided opportunities to the extremely patient and high risk trader as it has vacillated between $0.75 and $8 twice in the past ten years. It is unlikely many people committed their capital for this long, and with a 135M market cap, Wi-Lan is not optionable:

(Source: googlefinance.com)
One interesting things that happened is management changed track in the depths of the 2009 crash hangover and started a dividend. Now Wi-Lan was an "income portfolio" stock; investors could just let the royalties off the inventions roll in as if they had invented them. The CEO said as much as recently as Q4 2015 about the "clients" it "manages portfolios" for. That story peaked about two years later and it's been nothing but horror ever since. The five-year chart is particularly horrendous: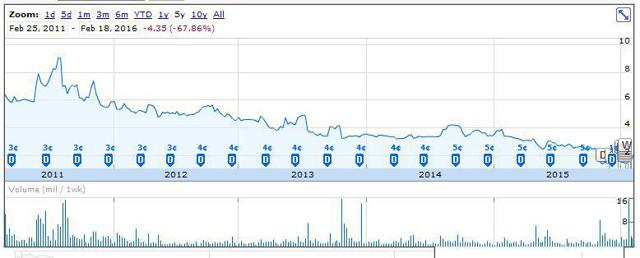 Rising dividend, 5% insider ownership which is not huge but not insignificant, and nobody cares. Q3 earnings came out last November, and the dividend is cut, which means the stock that was yielding almost 10% at $2.50 is now yielding 3.5% at $1.30. All sounds bad, right? The company did get knocked around a lot the last couple years. Especially in fall 2013, when A Texas court ruled against it on a lawsuit it has against Alcatel-Lucent (ALU) and others, less than three weeks after a case against Apple (NASDAQ:AAPL) it had sunk $14 million into went against it. Patent trolling, it seemed, came with plenty of downside risk, and the US justice system and legislative bodies are fearsome entities to get in the crosshairs of, to say nothing of one of the biggest companies in the world against a $100 million outfit from Ottawa. Full or partial sales of the company and the dreaded "strategic alternatives" verbiage started to swirl in the media. It was noise in the end but there is a risk of that type of negative attention recurring in this type of business.
You can see how volatile cash flow is from this Nov 4 2015 accounting filing posted on the Wi-Lan website and SEDAR. This is not a stable cost business to be in.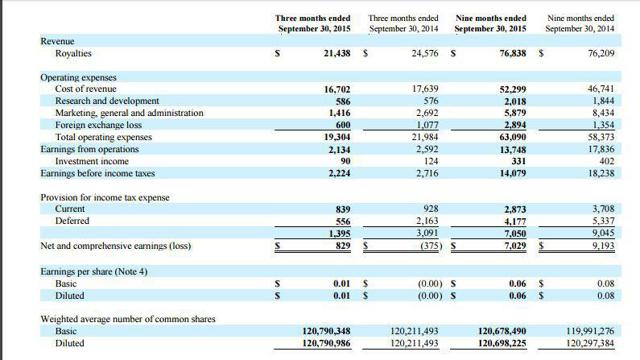 On the Mend Or Don't Feed The Trolls?
Last October's earnings miss and dividend cut appeared to be the final straw until... wait, what's this? Wi-Lan up exactly 50% in three months as of today? I don't want to be one of those financial pundit, too numerous, who plays to our reptile brains' worst impulse and tells you to wait and see before dipping your toes. This is a classic error; the stock has just had a 50% run. Nonetheless, CEO Jim Skippen did say all the right things in a CEO interview at the beginning of December that is posted on midasletter.com. I know that's his job but they are the right things: growing revenues, low EBITDA to enterprise value ratio (2.5), rising cash flow, and a good relationship ("partnership") with Samsung. There were 14 cases on the go at that moment, but he also said something about Wi-Lan's lawyers being on a pay as you go basis now (maybe they ditched those upmarket corporate tech lawyers and are now using the personal injury guys who advertise on local TV stations). On February 6th, the TSX approved a normal course issuer bid (up to 10% buyback of shares) this year. Things maybe just are looking up....
..Except the most this company can probably do is muddle through. Yes it has 15,000 patents, it manages portfolios of them for others in addition to this, but litigation can and sometimes doesn't go its way, even resulting in losses as was the case in Q1 2015. It remains an under-followed and somewhat obscure business.
My takeaway? At least two sources (the book value right now and the takeover speculation from two years ago) place the enterprise's value at around $4. I think a patient shareholder could wait until one day someone gets fed up enough and takes these guys out, including one of its slightly bigger stateside competitors. This might merit a small position (like $1000 you could afford to lose). Then again, maybe it'll just keep annoying enough companies to keep occupying its niche. It does have lots of cash ($93 million for a $135 million market cap company) to do it. As internet wisdom tells us, don't feed the trolls...
(Note - I discuss the historical data from the Canadian Wi-Lan listing in this article, which goes back to the 1999 IPO. The US Listing has traded on the NASDAQ since 2011)
Disclosure: I/we have no positions in any stocks mentioned, and no plans to initiate any positions within the next 72 hours.
I wrote this article myself, and it expresses my own opinions. I am not receiving compensation for it. I have no business relationship with any company whose stock is mentioned in this article.