Tel-Instrument Electronics
Tel-Instrument Electronics Corp. (NYSEMKT:TIK) designs and manufactures avionics test and measurement instruments. Its customer base is commercial air transport, general aviation, government/military aerospace and defense markets. Additionally, the company provides instruments to test, measure, calibrate, and repair, a range of airborne navigation and communication equipment.
TIK's products include AN/USM-708 and AN/USM-719, which are communications/navigation radio frequency avionics flight line testers. Additionally, the company TS-4530 is an Identification Friend or Foe (IFF) test set. Moreover, TIK is the industry leader in developing and producing field-tested, rugged avionic flight line and bench test sets for demanding military and commercial customers.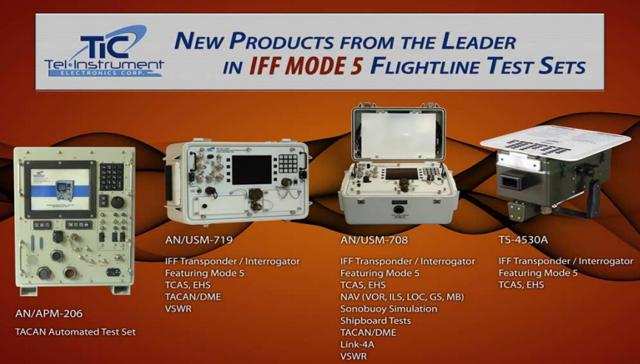 Click to enlarge
(Source: TIK's Recent Investor Presentation)
TIK was founded in 1947 and has been providing avionic ramp and bench testers to both commercial and military customers for the last 35 years. The company's historical design emphasis has been to provide the customer with user-friendly, rugged, reliable, and affordable units.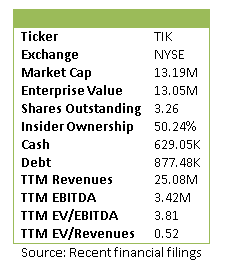 Investment Thesis
Currently, there is an overhang on the share price due to a pending litigation suit. I believe that this litigation suit is overblown and will provide an upside catalyst, when taken care of. Additionally, the company controls the majority of the market share for its core offering. Further, it should experience margin expansion from higher priced follow-on orders. Moreover, TIK should grow its top line at a high-double digit rate in the near term. Finally, the company has a high chance of getting bought out by its main competitor, Aeroflex (OTCPK:CBHMF) (the company that is currently suing TIK).
Potential for Further Sales and Profitability Growth
TIK has been losing money the last few years, as the mode 5 test set market took longer to get into commercial stage. Now that the company has produced five straight quarters of increasing revenues, with solid profitability and several years of mandated mode 5 work to come in the future, it seems there is a market disconnect, with TIK trading at 3.81x EV/EBITDA.
Furthermore, mode 5 test sets are mandated to be used by all 28 NATO countries, with a drop-dead decertifying date of January 2020. Also, the U.S. is currently at the forefront, issuing over $60mm in mode 5 orders to TIK thus far. In fact, the company is expected to have more major follow-on orders to come from the US government.
TIK has also shipped small quantities of their test sets to 18 allied countries, with the bulk of these very large orders expected in the next 1-2 years. Moreover, it has also just released a new commercial test set, which puts the company back in a market that Aeroflex currently dominates and opens a new revenue stream.
Not to mention and most important, are the company's soon-to-be-released radio test sets. The radio test set market, which again Aeroflex currently dominates, is a several hundred million-dollar market. These encrypted telecommunication test sets have many applications in both the commercial and military markets. In my strict opinion, they could very easily be a game changer for TIK.
Recent Earnings
TIK released its 3rd-quarter earnings on Tuesday, February 16, 2016, and again delivered a quality report. The company reported sales of ~$6.0mm and adjusted EPS of $0.24/share. For the first nine months of 2015, revenues were ~$18.6mm versus ~$11.7mm YOY. Adjusted EPS was $0.70/share versus a loss of $0.09/share YOY.
Investors should note that the difference in TIK's GAAP versus non-GAAP earnings is an all NON-CASH expense.
Another area of importance to investors is gross margins. TIK's gross margins, historically, have been in the 50% range. However, in recent years, competitively bid initial orders were around 30% gross margins. Now that all follow-on orders for its full rate production F-35 work, all future international orders will be in the 50% gross margin range.
CEO O'Hara has now mentioned twice that Sikorsky Helicopters, now owned by Lockheed Martin (NYSE:LMT), has asked the military to use TIK test sets in all their Sikorsky products. Looking forward, we have a clear picture of what revenues and earnings should look like, as the CEO has been open and honest about the big three contracts and quarterly shipments.
For 4Q15, I expect the company to ring in around ~$6.6mm in revenues. Going forward, for the first and second quarters of 2016, I am estimating that revenues will be in the ~$7.2-7.0mm range. In my opinion, all top line improvements will come from the 4530 test set hitting full rate production and the $1.5mm F-35 order shipping in the 1st and 2nd quarter.
TIK also sports ~$15mm in NOLs that will offset its income tax expenses and will continue to do so, at least for the next six years or more. In addition, the company has a relatively fixed cost basis, as its SG&A has been steady at around ~$1.3mm per quarter, including R&D. Thus, as sales go up, more money drops to the bottom line.
Aeroflex Litigation
Perhaps the only item holding many investors back from buying TIK is the pending litigation with Aeroflex. In a nutshell, Aeroflex claims TIK stole its IP to produce the current mode 5 test sets. It appears to most, though, that Aeroflex was angry that TIK protested and then won a $44mm 4530 order.
Interestingly, not one, but two GAO lawyers from the military denied Aeroflex's claims. This was due to the fact that TIK had proved to the government that it had a working mode 5 test set. Furthermore, the company had already been active in navy contracts with the same mode 5 technology (actually, one full year before the dispute).
Aeroflex, in my opinion, was trying to bankrupt the tiny and underfunded TIK in order to regain the contract. The case is finally winding down, with a court date set for October 24th, 2016. Furthermore, the resolution of this case will act as a catalyst for TIK and free up cash flow from legal fees.
A Potential Buyout Candidate
In doing my homework on the board members and insiders, one thing was evident - they are older than the typical board members. The reason I bring this up, is it appears TIK is a perfect - and I mean a perfect - buyout for Cobham/Aeroflex.
The company is a perfect fit for Cobham, as it would give the latter a virtual monopoly in the test set market (remember, TIK owns >90% of that market). Not to mention, Aeroflex has potential to get hit by millions in legal fees and punitive damages. It's not only conceivable, but a no-brainer for Cobham.
I would also think there is no way in the world TIK's management is going to sell the company anywhere near the current ~$12mm market cap. Especially when they are about to expand the company's revenue base and with the stock trading at 0.52x EV/Revenue and 3.81x EV/EBITDA. Not to mention the significant skin in the game management has.
Finally, looking at a 5-year chart, TIK is trading far below its historical price patterns despite tremendous growth and profitability.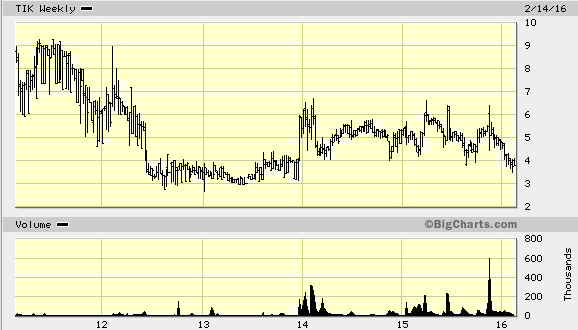 Valuation
No matter what metric you use, TIK is very cheap, with little downside risk and significant amount upside potential. Furthermore, there are multiple catalysts on the way in the next few months (litigation drop, a high amount of follow-on orders, analyst recognition and top plus bottom line growth/expansion).
With an EV/EBITDA ratio of 3.81x, even a mild expansion to 4.25x-4.50x would generate a decent amount of alpha for the patient investor. I believe that a multiple expansion could come from continual business improvements, analyst recognition (there are zero analysts covering the stock) and the lifting of the litigation. Additionally, as follow-on orders start rolling in (expected in the current year), gross margins should expand, from ~30% to the historical 50% (as explained above).
Remember the company has a significant amount of NOLs, which will help the company generate a high and solid amount of net income/cash flow for the next few years.
Also, there is a huge opportunity for TIK in its international market, which is expected to start rolling over in the year 2017. Likewise, the company recently partnered with Blue Star Engineering. Blue Star Engineering will handle the company's business interests in countries such as India, Nepal, Sri Lanka, Maldives and Bangladesh. I believe this is a huge opportunity for top line growth.
Overall, if the company can roll out follow-on orders, increase gross margins to ~50%, gain some analyst recognition, grow its top line at a double-digit rate and free up this ligation suit, there is significant upside. Sounds like a lot of work, but in reality, it is all very possible.
Due to the fact that TIK controls ~90% of the market share (in its core offering), I believe there is little downside risk. Furthermore, the company is the perfect buyout target post the ligation settlement.
| | |
| --- | --- |
| EBITDA | 4.5 |
| Multiple | 4.5 |
| EV | 20.25M |
| +Cash | 629.05K |
| -Debt | 877.48K |
| Total Equity | 20.00M |
| Shares Outstanding | 3.26M |
| Estimated Equity Per Share | 6.13 |
I believe EBITDA has a good chance of expanding to $4.5mm due to forward gross margin increases (for follow on orders) and rising revenues (SG&A will stay relatively lower). Additionally, a multiple expansion should occur when the litigation is through. Finally, I believe my price target of ~$6.13/share is conservative given the company's dominance in its market and the potential of a buyout by Aeroflex.
Risks
If the litigation goes south, the company may have to fork out additional cash. However, I believe this would be considered an anomaly given the points I provided above.
TIK derives the good majority of its revenue from the US government. Thus, revenue concentration is a risk in and of itself. Budget cuts could also affect the company's forward revenues. However, I would find this risk to be far-out given the need and low competition for its products.
The company has a history of negative earning and negative cash flow. Furthermore, it has diluted shareholders in the past to fund short-term working capital needs. If the past dictates the future, low working capital and unprofitability are potential risk.
Conclusion
TIK is an under-the-radar microcap with the potential for generating alpha. Further business improvements (top and bottom line growth), coupled with the ending of the litigation suit will act as upside catalysts. Additionally, I believe there is potential for a buyout in the near to mid-term due to the company's majority market share and undervaluation. Overall, a small investment in TIK has low downside and potential for high upside.
Disclosure: I/we have no positions in any stocks mentioned, and no plans to initiate any positions within the next 72 hours.
I wrote this article myself, and it expresses my own opinions. I am not receiving compensation for it (other than from Seeking Alpha). I have no business relationship with any company whose stock is mentioned in this article.
Editor's Note: This article covers one or more stocks trading at less than $1 per share and/or with less than a $100 million market cap. Please be aware of the risks associated with these stocks.