Home Depot (NYSE:HD) announces 4Q15 earnings before the open on Tuesday, 2/23. We are bearish into the print, as we believe the estimates are too high. A revenue miss coupled with a premium valuation could mean downside for shares post-ER.
For most of the quarter, FX headwinds intensified for HD and only eased towards the end of January. The Canadian Dollar continued to weaken against the USD until mid-January, as was true for the Mexican Peso. For the majority of the quarter, FX headwinds intensified for HD, so we actually believe the Fy15 revenue guidance for 5.7% growth is aggressive. The guidance assumed FX rates remained at November levels, but the USD has strengthened against the Canadian Dollar and Mexican Peso since then, so the $1.4 billion full-year FX sales impact management guided for in Q3 is likely low.
The problem herein is that analysts are looking for 6% sales growth this year, 30 basis points higher than the FX-rate-fixed management guide. Unless there was an unexpected surge in consumer spending on HD-related goods, we think it very unlikely the company hits its 5.7% revenue growth target for this year given intensified FX headwinds in Q4. Because the analyst estimate is 30 basis points higher than the guide, we are fairly certain HD will miss revenue estimates. Despite SG&A leverage, we expect this revenue miss to flow through to the bottom-line and cause an earnings miss as well.
On top of our expectations for an earnings miss, we believe shares are unattractively valued at these levels. The current market cap of ~$154 billion plus net debt of $17.8 billion gives the company an enterprise value of $171.8 billion. This means the company is trading at ~23x EV/OCF and ~27x EV/FCF. Neither of these multiples are particularly attractive, especially heading into an ER which we believe will disappoint.
On an EV/EBITDA and P/B basis, the stock is trading at a richer valuation that it historically has traded at. According to YCharts, the 12.7x EV/EBITDA multiple and 20.3x P/B multiple are both near 10-year highs and seem due for a pullback.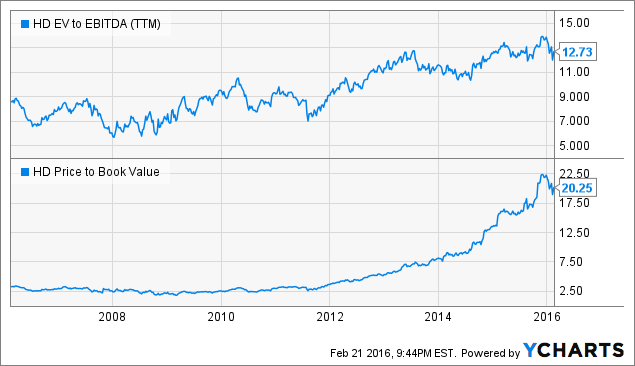 HD EV to EBITDA (NYSE:TTM) data by YCharts
The P/B multiple inflation can be attributed to increasing leverage on the balance sheet. Long-term debt has dramatically increased while book value has almost been halved. BVPS has fallen from above $11 to under $6 while long-term debt has grown from just over $10 billion to $17.2 billion.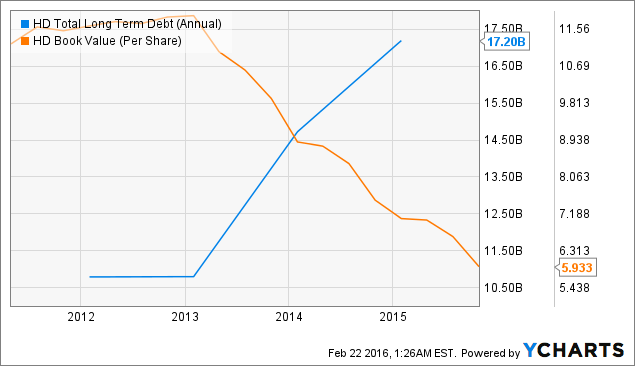 HD Total Long Term Debt (Annual) data by YCharts
The company is guiding for $101 billion in sales by Fy18 and a 14.5% operating margin on those sales. That equates to roughly $14.65 billion in Fy18 operating income. Taking out an estimated $500 million in interest and other expense and taxing the remainder at 36%, this equates to net income of right around $9 billion by Fy18. The stock is currently trading at ~23x trailing earnings on 11.5% net income growth through the first 9 months of Fy15. That is a PEG of 2. If Fy18 earnings come in at $9 billion, that would be a 9% CAGR from Fy14 ($6.3 billion) to Fy18. Applying a PEG of 2 to that earnings growth gives us a P/E of 18x. That is a Fy18 market-cap of $162 billion, or only 5% higher than the current market-cap. Looking at the graph below, we can reasonably see Fy18 earnings getting a 20x multiple, which would equate to a 5% market-cap CAGR over the next 3 years.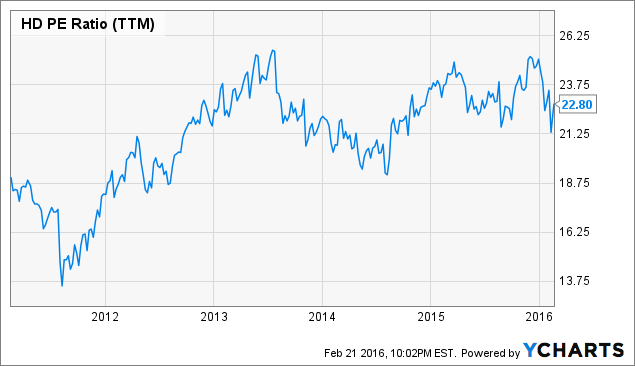 HD PE Ratio (TTM) data by YCharts
Overall, we believe the estimates for Q4 are too aggressive. We further believe the valuation is unattractive and that even in a long-term window, the upside is limited. We believe shares have an unfavorable risk-reward profile at these levels, especially entering what we expect to be a top and bottom line miss.
Disclosure: I/we have no positions in any stocks mentioned, but may initiate a short position in HD over the next 72 hours.
I wrote this article myself, and it expresses my own opinions. I am not receiving compensation for it (other than from Seeking Alpha). I have no business relationship with any company whose stock is mentioned in this article.