Oil prices gyrated on February 18th after news broke that oil inventories for the prior week rose higher, dashing earlier hopes by the API (American Petroleum Institute) that inventories dropped by an estimated 3.3 million barrels. Although the official data provided by the EIA (Energy Information Administration) was a let-down compared to the API's forecast, the fact remains that some very positive indicators for crude were just reported. In what follows, I will look into this data and show that, although investors have every right to feel less optimistic than they were feeling previously, the picture for those invested in the United States Oil ETF (NYSEARCA:USO), as well as other oil ETFs and in companies like Linn Energy (NASDAQ:LINE) / LinnCo (NASDAQ:LNCO), Breitburn Energy Partners (NASDAQ:BBEP), Memorial Production Partners (NASDAQ:MEMP), and Approach Resources (NASDAQ:AREX) is gradually improving here in the U.S.
Inventories rose for the most part
According to the EIA, oil inventories for the week came out to 504.1 million barrels. This represents a gain of 2.1 million barrels compared to the 502 million that the EIA reported previously and shows that the level of barrels held in commercial storage is extremely high, especially when you consider the fact that "normal" inventory levels should be around 359.8 million barrels. This compares unfavorably to the 3.3 million barrels decline forecasted by the API but is still much better than the 3.9 million barrel build previously forecasted by analysts. In the graph below, you can see the trend that crude oil storage has taken over each of the past 52 weeks.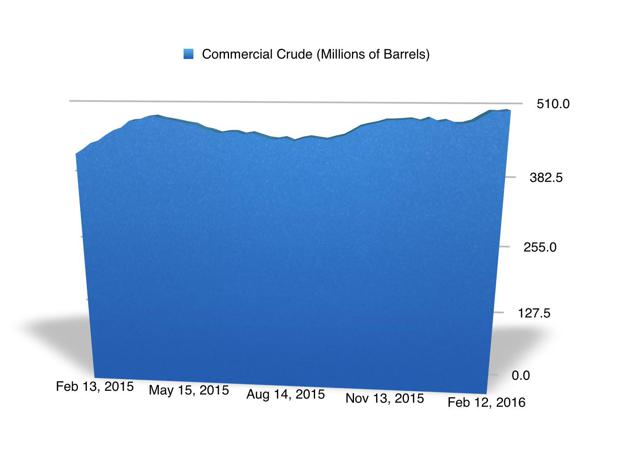 Click to enlarge
Unfortunately, crude wasn't the only category to see an increase for the week. Based on the data provided, motor gasoline saw stocks climb by 3 million barrels, rising from 255.7 million to 258.7 million. This compares to the 243.1 million barrels seen the same week a year ago. Distillate fuels also managed to post an increase, climbing by 1.4 million barrels from 161 million to 162.4 million, while residual fuels popped up 2.1 million barrels from 45 million to 47.1 million.
Thankfully, not all indicators for the week were bad. According to the EIA's data, propane/propylene inventories for the week came in at 70.5 million barrels, down 4.3 million barrels from the 74.8 million barrels seen a week earlier. Meanwhile, the "other" category of petroleum products came out to 234 million barrels, down 0.9 million barrels week-over-week. In spite of these improvements, however, the total amount of crude plus petroleum products for the week came in at 1.3414 billion barrels, up 3.5 million barrels from the 1.3379 billion barrels seen last week.
Production and demand data is very encouraging
Although the storage side of the equation was fairly bad for the week, there was some very encouraging data related to production and demand. According to the EIA, domestic output for the week came in at 9.135 million barrels per day, down 0.6% from the 9.186 million barrels per day seen last week. This is the largest decline (and the largest move period) that domestic output has seen in a single week since last October and it implies that aggregate oil production in the U.S. dropped by 357,000 barrels week-over-week. Most of this drop came from the lower 48 states, which seems to indicate that fracking output is finally falling again. In the graph below, you can see the historical output for each of the past 52 weeks.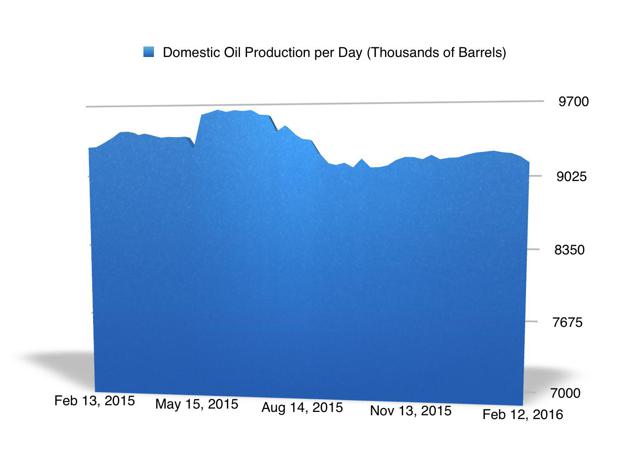 Click to enlarge
In addition to seeing oil production drop materially for the week, data also points to strong and growing demand on a year-over-year basis. Data provided by the EIA suggests that motor gasoline demand for the week came in at 9.203 million barrels per day, an increase of 0.9% from the 9.122 million barrels seen a week earlier and up 4.5% from the 8.809 million barrels per day experienced one year ago. Using the four-week average for motor gasoline demand, which is likely more realistic given the volatility of usage, we've seen an increase of 3.1% year-over-year, climbing from 8.636 million barrels per day to 8.902 million.
The rig count is tanking again
The other really positive news this week came out on February 19th. According to Baker Hughes (NYSE:BHI), the U.S. oil rig count fell by another 26 units to just 413. This stands in stark contrast to the 1,109 units in operation seen the same time last year for a drop of 59.5% year-over-year. The largest chunk of this drop came from the Permian, which reported a decline of 7 units for the week. Meanwhile, in Canada, the rig count inched down by 9 units to 109. This represents a fall of 40.8% compared to the 184 units reported the same week a year earlier. Ultimately, this massive drop in rig count is bound to have a material impact on crude production in the U.S.
Takeaway
Right now, the picture for oil from a storage side looks worse than it has ever been, a sign that is certainly bearish near-term. Having said this, however, we are finally seeing some sizable falloffs in oil production, something that I suspect will be volatile but that will show a gradual decline over time, and we are seeing robust demand compared to last year's data. The one issue this week that drove inventories up was the net import number, which came in at 7.520 million barrels per day, up meaningfully from the 6.725 million barrels per day seen a week earlier, so we should keep an eye on that moving forward. Absent that, though, the picture looks fairly decent long-term and I suspect that this could be reflected in the price of oil in the weeks and months to come.
Disclosure: I am/we are long BBEP, AREX, MEMP.
I wrote this article myself, and it expresses my own opinions. I am not receiving compensation for it (other than from Seeking Alpha). I have no business relationship with any company whose stock is mentioned in this article.
Editor's Note: This article covers one or more stocks trading at less than $1 per share and/or with less than a $100 million market cap. Please be aware of the risks associated with these stocks.