Click to enlarge
Prospect Capital's (NASDAQ:PSEC) stock has been one hell of a beaten security in 2016. In the first five weeks of the year, which weren't that kind to income stocks in general, the bottom fell out from under Prospect Capital, and the stock slumped from one 52-week low to the next. With China's economy slowing down, and the (perceived) risk of a U.S. recession growing, investors rushed to sell high-yield income stocks, including Prospect Capital.
The meltdown in the energy markets in 2015 and expectations of lower NII and a lower Net Asset Value due to unrealized depreciation charges primarily weighed on Prospect Capital's stock. The business development company eventually released second quarter results in early February that sent mixed signals to shareholders. The positive takeaway from the earnings release was that Prospect Capital beat on net investment income, which was reported at $0.28/share and compared favorably to a consensus estimate of $0.25/share in NII. That is a huge deal in 'BDC world'.
On the negative side, unrealized depreciation on investments took down Prospect Capital's Net Asset Value 5.1%, or $0.52/share, compared to the September quarter.
Prospect Capital said that its unrealized depreciation on investments was caused by "volatility in the capital markets rather than fundamental credit issues". That was an important point to make in order to reassure anxious investors. In fact, a full 74% of the markdown related to what the company called "macro changes in the capital markets".
Are analyst ratings starting to help Prospect Capital?
There is no reason to fool ourselves here: Prospect Capital has been a lousy investment in 2016, but things are starting to look much better.
A few days ago I penned a piece on the business development company in which I called for an end to the massacre in light of Prospect Capital's good financial results, given the circumstances in the financial and energy markets. At this point, Prospect Capital's shares had lost a quarter of their value in just about five weeks.
The better-than-expected second quarter earnings release has truly been an inflection point for the stock, and created some vital momentum for PSEC.
Prospect Capital has now recovered nearly all of its losses it sustained in 2016: PSEC is still down 2% on a YTD basis, that's true, but it is a hell of a difference compared to just two weeks ago when PSEC was ~25% in the red.
Very strong rebound.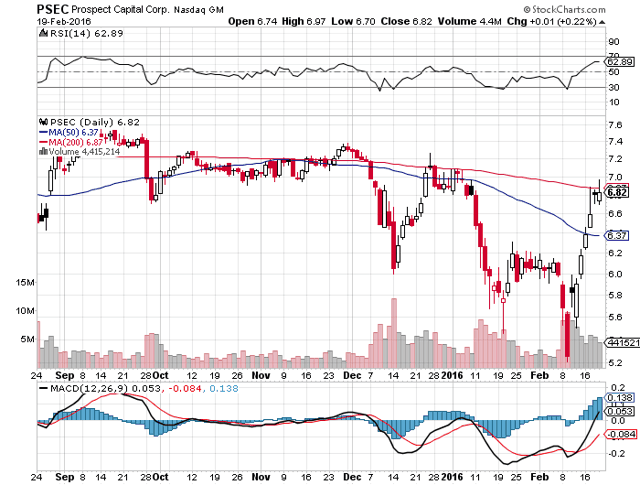 Click to enlarge
Source: StockCharts.com
Without a doubt, investors have begun to realize that Prospect Capital is simply too cheap. At some point during the early February market panic, PSEC sold for half of its Net Asset Value...and that really didn't make any sense.
Analysts might also have played a role in PSEC's strong post-earnings rally.
Analysts at Deutsche Bank, for instance, reiterated their 'Buy' rating on Prospect Capital after the business development company reported Q2-16 earnings, but marked their price target down to $8.50 from $10.30. Deutsche Bank wasn't alone in its assessment of Prospect Capital. FBR & Co. reissued its 'Outperform' rating and a price target of $9. According to rating consolidation website MarketBeat, the consensus price target for Prospect Capital sits at $8.44, implying ~24% upside.
Your Takeaway
Investors had turned against Prospect Capital in January/February for fear of NII underperformance and severe Net Asset Value contraction on the back of the energy price crisis and tumultuous financial markets. But Prospect Capital's second quarter results were much better than expected, especially in terms of NII. Further, some analysts have reaffirmed their Buy/Outperform ratings after Prospect Capital released earnings, which has helped the stock, too. So far, PSEC has recovered nearly all of its YTD losses, but still sells for 71 cents on the dollar. Speculative 'Buy for Income.'
Disclosure: I am/we are long PSEC.
I wrote this article myself, and it expresses my own opinions. I am not receiving compensation for it (other than from Seeking Alpha). I have no business relationship with any company whose stock is mentioned in this article.