Fitbit (NYSE: FIT) reports earnings for its fourth quarter ended December 31, 2015 after the close of trading Monday. The stock has been sold down significantly since topping out at $51.90 intraday on August 5, 2015. Several issues have factored into that, including a change in the overall investment environment working against emerging growth stocks, increasing competition in Fitbit's product category, the expiration of share lockup post IPO, critical reviews of a new product, and a big build of short interest in the stock. Nevertheless, several tangible signs point to a very strong holiday season for the company's sales. Thus, I believe, and the whisper number and history indicate FIT should exceed analysts' estimates this quarter significantly. Given the stock's deeply discounted valuation to its growth outlook due to skepticism, and the excessive short interest in the stock, the earnings data could catalyze a strong move to the upside. However, investors will require evidence of good market share defense so far this year, and they will pay close attention to forward guidance and the conference call before they heed any call to buy. If the company is pressed on competition and the limits of its current product profile, it is not well served. But if it can tangibly speak to expanded health care applications and interest and adoption by health care providers and insurers, the stock could soar. Anything is possible, and everything depends on data and discussion, so count on a significant move of some sort in the stock Tuesday. I have taken a modest long interest in the stock, as may aggressive investors understanding the risk, but I cannot yet recommend long-term investment in FIT generally to risk-averse investors.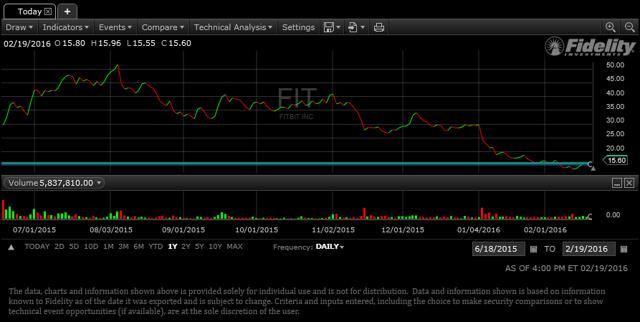 Click to enlarge
FIT Chart at Fidelity.com
Fitbit's stock chart since its IPO shows an eventful and mostly difficult short history, but how has the stock fared against like firms?
| | |
| --- | --- |
| Security | 06-18-15 to 02-19-16 |
| Fitbit | -47% |
| Vanguard Total Stock Market (NYSE: VTI) | -11% |
| iShares Russell 2000 (NYSE: IWM) | -21% |
| SPDR 600 Small Cap Growth (NYSE: SLYG) | -14% |
| Technology Select Sector SPDR (NYSE: XLK) | -4.3% |
| GoPro (NASDAQ: GPRO) | -79% |
*Some adjusted for dividends & splits
What is revealed is that it has been a poor period for stocks generally, and an exceedingly poor period to own small cap and small cap growth stocks. But that could serve the stock now if it can show operational strength Monday. Fitbit falls within the Scientific & Technical Instruments Industry within the Technology Sector, but because of its consumer electronics aspect, it is often compared to GoPro. GoPro has had a substantial fall from grace and may have contributed to risk being taken off of Fitbit due to similarities in investor perspective around the company's early hardware success and broader perceived opportunity. But is the comparison deserved?
While I respect the opinions of critics like this one published on Seeking Alpha, there are some important differences between GoPro and Fitbit. Though it is important that Fitbit begins to illustrate its value add, and that we be careful not to project too much for Fitbit ahead of that. I admit to doing that for GoPro, and unfortunately, that company's management team has so far failed to live up to my expectations. In fact, I would go so far as to say that I could immediately add significant shareholder value to GoPro shares via my own operational direction and strategy for it if I were running it. But when we project on a company, we expand its P/E undeservedly.
Fad product producers like Crocs (NASDAQ: CROX) can be mystifying for their rises, and their falls can be late in coming, or in the case of GPRO, fast in coming. But thanks to my professional analytical coverage of the producer of the George Forman Grill, a company I inherited from a predecessor analyst, I'm not without respect for the positives and negatives of these types of stocks. It's important we understand the opportunity for Fitbit and also realize it will require execution and vision from management and not our own projections in order to succeed.
That said, if this company can execute, there is a broader opportunity available to it. Fitbit's products carry broader appeal than GoPro's gear to date, and it is not recognized by many critics. The aging population and the broad appeal of fitness reaches far beyond GoPro's current niche market within extreme athletics (I'll have more to say on GoPro near term). Fitbit's wearables carry preventative health care appeal to health insurers. Preventative health care measures help to reduce the likelihood of expensive health care procedures and long-term hospitalization. Anything that reduces the hospitalization stay of patients is en vogue today. Thus, Fitbit's very mobile health monitoring wearable technology today or future products could eventually fall under the umbrella of health insurance coverage, making their widespread use more likely. They could eventually allow for more viable offsite monitoring of patients, and prove a cost reducer to health insurance companies. Fitbit's products are more likely than peer products to be first to gain such adoption due to their current health care focus and future developmental direction.
Another factor contributing to the decline in FIT since topping out on August 5th is the important and substantial entrance of new competition. The most notable is Apple (NASDAQ: AAPL) among Fitbit's competition, with its heralded new product category launch via the Apple Watch. Competitors to Apple have not fared very well in the past and so Apple is rightly seen by many critics as a serious threat to Fitbit. Apple's wearable should also carry special appeal to iPhone owners because of coordination capabilities between the two products incorporated for users. However, Apple's Watch is more expensive and less focused on health monitoring so far, and it is unclear if Apple will stick with the Watch if it proves a non-starter for the larger company. Apple could exit the category like Google (NASDAQ:GOOG) (NASDAQ:GOOGL) paused on Google Glass, or Apple could acquire Fitbit as it did Beats by Dre.
Fitbit has introduced a new product targeted to compete more effectively against rivals offering a watch with broader than fitness appeal, but reviews have been critical of this extension beyond Fitbit's core competency. Garmin (NASDAQ: GRMN) produces serious competition as well because of the appeal of GPS in applications for runners and others. Finally, Microsoft (NASDAQ: MSFT) has a product in play as well. Even so, Fitbit has first mover advantage and continues to carry the greatest brand strength for those interested in just the health tracking aspects of the wrist wearable. You'll note that it is Fitbit's health monitoring wearable featured in the television commercials by third parties; I saw one but failed to write down the advertiser for reference here.
Good Signs Abound Heading into the Report
There have been several signals of a superb holiday period earnings report for Fitbit. Fitbit topped Apple's App Chart on Christmas Day, indicating strong holiday sales of its hardware. Best Buy (NYSE: BBY) commissioned a national study to see what shoppers were looking for during the holiday season. The results included the Fitbit Charge HR Rate and Activity Tracker in the top 15 tech gifts for 2015. Amazon (NASDAQ: AMZN) stated the Fitbit Flex Wireless Activity + Sleep Wristband was its most popular selling health and personal care item this holiday season. Amazon was certainly flattering in its review of the product's popularity:
"The Fitbit Flex Wireless Activity + Sleep Wristband, a sleep, exercise, and health tracker that straps onto one's wrist. Amazon sold more Fitbit wristbands this holiday season than it did Philips electronic toothbrushes and Braun electric shavers. The popularity of the little gadget is a pretty clear nod to the growth of the internet of things and growing comfort with mini, wearable computers, as well as the skyrocketing trend in health obsessiveness."
This Quarter's Expectations
Analysts are looking for earnings per share of $0.25 this quarter on revenues of $647.82 million. The estimated revenue range extends from $631.60 million to $676.0 million; look for data above the top of the range to help the stock. The EPS estimate has remained unchanged over the last 90 days. I look for upgrades in estimates between reporting periods, so I wonder if the lack of change reflects uncertainty. Given analysts appear to be carrying mostly favorable opinions for Fitbit heading into the report and target price estimates well above current value (mean target $33; low target $18), they may simply have deferred to raise estimates so as to not raise the bar. The whisper number is said to be $0.34 a share, according to EarningsWhispers.com, indicating a significant earnings beat is in store. Last quarter, FIT beat estimates for $0.10 a share by 140%, earning $0.24 a share. It beat by 162% the quarter before that. An EPS beat of 150% this quarter would result in EPS of $0.37 a share, but this is a simplistic estimate. Still, all signs point to strong earnings generation.
It'll take more than just a good EPS result to lift the shares though, given criticism and doubt about the stock. The short interest in FIT is high at 56% according to the Wall Street Journal. That puts FIT atop the list of most shorted stocks based on percentage of share float. However, it is important to note that short interest appears to have decreased from 85% of the float on January 29th to 56% on February 9th, if we can count on Yahoo Finance data for the end of January. Currently, the short interest would take 6 days to cover on average daily volume. Volume will be higher on Monday and Tuesday, and so there could be a flood to cover on a good report. But what entails a good report?
Fitbit will have to do more than just beat expectations. It is likely expected to beat expectations, given the whisper number and its history, though the short interest in the stock may be betting on a change in that trend. If the news is as good as in the past or meets the whisper, that would be a step in the right direction. Investors will surely look to guidance as well, and the company's conference call must be positive about the company's current market share and sales and earnings expectations. Look for critics to seek flaws in the company's newest product, which looks more like Apple's. The company would do well to focus on what differentiates its gear from its competitors. Discussions about R&D toward expanded health monitoring, to say diabetes for instance, would be highly valuable. Look for optimists to seek answers with regard to the interest of health care providers and health insurers for positives as well. Any new product development announcements toward broader medical use would serve the stock significantly.
Valuation & Conclusion
As far as valuation goes, the stock does not appear expensive if we receive reason from the company to believe in the current analysts' long-term growth forecast for 31% growth. The stock currently trades at 13.7X the conservatively estimated EPS of $1.14 for 2016. Earnings are expected to grow 17.5% in 2016 (again conservative), giving the stock a PEG ratio of 0.8X on those figures. However, PEG ratio is more accurate a value estimate when it incorporates long-term growth expectations against current P/E. If accurate and not impaired by the news Monday evening, that implies a deeply discounted stock at a PEG ratio of 0.52, using the long-term growth estimate and the P/E estimate for 2015, to be more conservative. The valuation of this stock clearly does not reflect a low profile security, as the FIT story is widely known. Rather, it reflects doubts about the company's future. In a case like this, earnings reports go a long way toward justifying or disputing those doubts, and drive big percentage moves one way or another. While I've taken a modest long stake in the security, and see it okay for aggressive investors given everything discussed, I cannot currently recommend it for risk averse investors. As for the long term, any future recommendation will depend on company execution and vision and not on my projection for its potential. I'm going to cover FIT's earnings report as well, and invite relative interests to follow my column here at Seeking Alpha to receive that report.
Disclosure: I am/we are long FIT.
I wrote this article myself, and it expresses my own opinions. I am not receiving compensation for it (other than from Seeking Alpha). I have no business relationship with any company whose stock is mentioned in this article.