The S&P500 (INDEXCBOE:SPX) is up almost 4% since the 11th of February which is very bullish considering that the 2015 October lows were defended quite easily. The S&P500 definitely found some momentum last Friday and that momentum has continued into today (Monday 22nd) with the index up more than 20 handles in pre-market. The line in the sand from my technical analysis (see trend line in chart below) was around $1887 on the S&P500 and once this trend line got breached, many technical traders definitely took long positions with stops being placed at precisely that level.
The next obvious resistance area will be around the $1,950 level and with the momentum the indexes are showing at the moment, it would take a brave investor to short this market at this stage. If indeed the lows are in and this is the start of the bubble phase in equities (which could last at least 18 months) in the US, we have to change strategy and adopt bull market techniques as surprises usually come to the upside in bull markets. Our IBM (NYSE:IBM) and American Express (NYSE:AXP) positions are well in profit but now may be the time to add more. Here are three good contenders, Cisco (NASDAQ:CSCO), Wal-Mart (NYSE:WMT) and Emerson (NYSE:EMR). We are going to be adding to these positions if the S&P500 breaks $1,950 with tight 5% stop losses underneath. Here are the reasons why we are adding these stocks..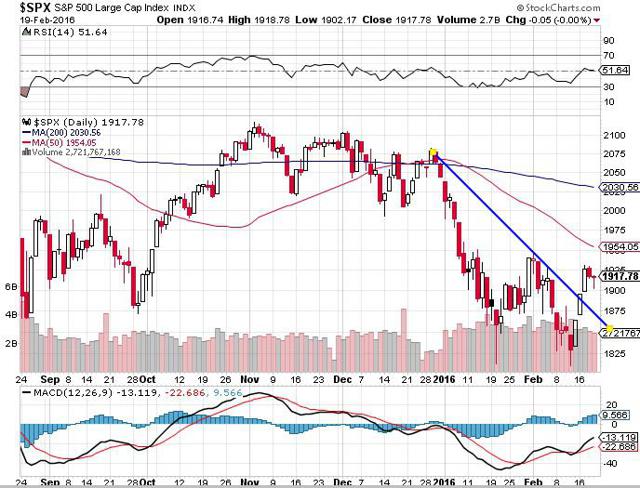 Click to enlarge
Firstly Cisco came out with its second quarter fiscal earnings recently and beat expectations handily. Furthermore it announced top line guidance of 4% growth on the high end which made the stock rally strongly in the after hours market. Moreover the company approved an extra $15 billion in share buybacks as well as a quarterly dividend hike of 24% to $0.26 a share. The stock as I write is trading at $26.55 a share. The reason why Cisco should be on your radar is its low historic valuation despite the recent rally in the share price. The stock is trading with an earnings multiple of around 13 which is still below its 5 year average.
The reason why this stock has basically traded flat for the past 2 years is because earnings growth has been sluggish at best but analysts are still optimistic on earnings over the next few years. This year analysts are looking for $2.30 in earnings per share whereas in 2017 earnings per share estimates are $2.39. Even if we say the dividend payout is ($0.26 x 4 = $1.04), this is still only 45% of projected 2016 earnings so the dividend looks rock solid in my view. On the debt side, the company has more cash on its balance sheet ($60.42 billion) than almost 3 times its long term debt ($21.46 billion). What's the takeaway? The strong rally last week in the S&P500 means that with every passing day, the market and Cisco look less likely to fall. If the S&P500 enters a bubble phase, we ant to be holding a stock like Cisco.
Wal-Mart's fourth quarter earnings were disappointing in the fact that traffic or same store ales only grew by 0.6% in the US. I wrote an article recently discussing how I feel that this stock could easily act as a flight to safety in equities which it has done this far this year as the stock is up almost 6% year to date (despite a profit warning) compared to an 6% decline in the S&P500. Wal-Mart is different than Cisco in the fact that earnings projections for the next couple of years are much lower than 2015. EPS projections for 2016 are $4.37 and next year will be $4.17. These numbers are much lower than the EPS of $4.59 attained in 2015. Based on this guidance, some investors feel that this stock should be much lower but stocks like Wal-Mart always sell at a premium. Why? Well it is a proven dividend aristocrat that has rewarded investors for the last 40 years+ (increased dividend again recently) which means it is far less likely to cut its dividend than a Cisco for example. Therefore you pay for this privilege.
The company will raise the dividend this year to $0.50 per quarter or $2.00 annually. Even if earnings per share do come in as expected in 2017 at $4.17, you are still looking at a pay-out ratio of well under 50% which again makes its current yield look rock solid. Wal-Mart's balance sheet wouldn't be as strong as Cisco's but the company has plenty of equity ($82 billion) compared to its current long term debt of $44 billion. Furthermore analyst's lower projected earnings could come in much higher than expected if we were to see a steep slowdown in the US economy. Anything around the $60 level here would get you Wal-Mart with an earnings multiple of around 13. This stock may not drop further as it has been very range-bound in the past. Wal-Mart brings stability to our portfolio. We already have 100 shares and we are going to use the pullback in the share price to acquire 100 shares more
Emerson is the last of my three picks and probably the most undervalued of the three. The stock has an earnings multiple of just over 12 and a 5 year price to earnings ratio average of 19. The stock has been in free fall since January 2014 (down 33%+) which has caused its price to sales ratio to drop to 1.4 which hasn't been lower since 2008. Furthermore the company's balance sheet is still very strong despite the recent share price drop. Equity of $8 billion+ is more than double the company's long term debt figure. Furthermore the 4%+ dividend yield is secure due to its low pay-out ratio but also due to clear momentum the company is achieving as illustrated in its recent set of earnings results when it comfortably beat estimates on both top and bottom lines.
The impending separation of the network power division plus a meaningful increase in revenues from its oil and gas businesses (which should increase as I'm banking oil will rally alongside equity markets) are big growth triggers for Emerson in my view. This company has raised its dividend for 58 years and I would expect bigger increases once earnings rise meaningfully once more. Furthermore this stock will act a nice hedge against our Valero (NYSE:VLO) position in that it should do very well in an environment of rising oil prices.
To sum up, all of the candidates mentioned above are excellent dividend stocks at the moment due to their valuations and fundamentals. They are all in different sectors. Cisco is one of the cheapest stocks in tech, Wal-Mart should thrive in a recession and Emerson has growth triggers with respect to its network segment and depresses oil and gas divisions.
The portfolio after today will be about 43% invested. This portfolio will be all about increasing trade activity among some overvalued dividend growth stocks like McDonald's (NYSE:MCD) so that over time we can pump more capital into our lower valued dividend growth stocks which by nature should be paying higher dividends - IBM (NYSE:IBM). We need to do this to keep the portfolio diversified as this increases our reward potential going forward as income portfolios are all about share count which we will increase substantially over time.
I'm going to be adding a good few dividend stocks to the elevation portfolio over the next several weeks when I see value. It's imperative that they are not correlated and don't all have similar valuations to ensure income is brought in every month which over time will increase our share count. Follow along by pressing the "Follow" button above. Let's see how quick we can get this to $20k in annual income.
Disclosure: I am/we are long WMT, AXP, IBM.
I wrote this article myself, and it expresses my own opinions. I am not receiving compensation for it (other than from Seeking Alpha). I have no business relationship with any company whose stock is mentioned in this article.