We are big fans of Panera Bread (NASDAQ:PNRA), and we're clearly not alone. Last year it was rated third on the American Customer Satisfaction Index Restaurant Report 2015, coming in behind Chipotle (NYSE:CMG) and first-placed privately-owned Chick-a-Fila. We have been very impressed with the roll-out of Panera 2.0 and, as investors, have been pleased to see the share price rise in line with our expectations. While on some measures the shares may now look to be expensive, we still see strong growth ahead and continue to hold on for more gains.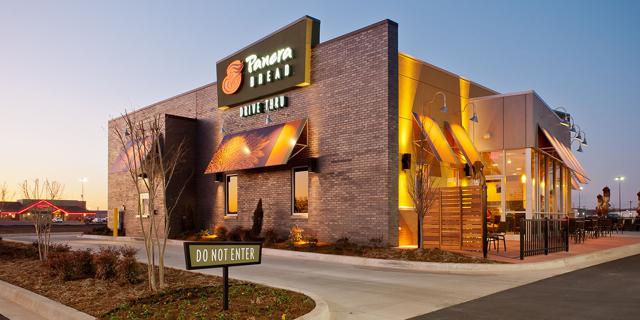 Click to enlarge
In our opinion Panera Bread's third place on the ACSI Restaurant report means a lot more than first meets the eye. As it is a measure of customer satisfaction, we feel it shows that despite prices being higher than some of its competitors, consumers still feel as though they are getting value for money. With disposable income levels rising, and people becoming increasingly time-poor, a company like Panera Bread really stands to benefit.
We were pleased with the last quarter. It may not have set the world alight, but it certainly performed to expectation. Same store-sales increased by 2.3% year over year, with company-operated stores up 3.6% and franchised stores up 1.1%. But perhaps the biggest takeaway from this earnings report was what management had to say on its earnings call.
For the first 41 days of the first quarter, the company has built on its same-store sales momentum, with same-store sales up by 6.4%. Management stated this has been driven by both solid transaction growth and check growth. But there is a lot more to it than just that.
A number of tailwinds have helped the company achieve this level of same-store sales. Price increases which are designed to offset rising wage costs added an estimated 100 basis points to the same-store sales increase. Weather has also been on the company's side. Although the US has faced some freezing conditions in parts, Panera has not been as affected as they were in Q1 of 2014 and 2015. Management also explained that its media spend has been up in Q1 due to the transitioning to its new agency during Q1 2015. Due to the fact that Easter will fall into Q1 this year, we expect it will be a great boost to same-store sales. Which of course, conversely, will be a headwind for same-store sales in Q2 of this year. So, we wouldn't be expecting same-store sales to continue at the high rate of Q1. We'd love this to be the case, but these tailwinds are just temporary.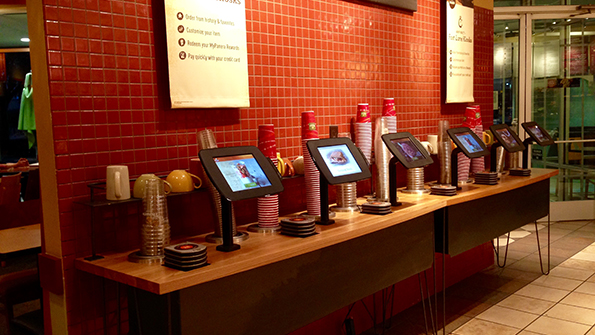 But as Panera 2.0 is rolled out further we expect to see it support same-store sales growth. Panera 2.0 is all about improving the guest experience in a similar vein to the way Mobile Order and Pay works with Starbucks (NASDAQ:SBUX). We see it as being a brilliant way to cut down queuing and increase traffic through stores. Let's be honest, nobody likes queuing, especially when they're hungry. At present there are 410 Panera stores which have been converted, with 304 of those occurring in 2015. We hope to see a similar level of conversions taking place in 2016. Management has earmarked around 200, but we'd like to see a higher rate due to the success of the converted stores so far.
While many may think it could be down to being a bit of a novelty, it actually appears to be the opposite. The converted stores seem to be performing better as the quarters go by. For us, the results of the 2.0 stores have been very promising, and a key reason we continue to hold the shares. Management said this on the call:
"And let's now turn to the 37 cafés in their sixth quarter since conversion. Here, you can see these cafés have a cumulative comp of 16.1%. Let me be clear, that means on a two­year stack basis, these cafés have grown by an average of over 8%. That is 8% each year over the last two years. I'd like to pause on this point for just one moment because it's representative of a very important trend we're seeing. When we shared this data on the Q2 2015 conference call, there were only 13 cafés in their sixth quarter since conversion and those cafés had a cumulative two­year comp of 11.1%. The reality is that with more cafés maturing and with more cafés in the data set, we are seeing even stronger results."
Looking ahead to our full year expectations, we see Panera Bread growing same-store sales by 4.5%. We feel the roll out of Panera 2.0, price increases, and higher levels of disposable income will support this. On the top line, management has guided to 4.5% to 6.5% growth. We feel for the same reasons that the company will produce revenue growth of at least 6.5% year over year. On the bottom line we are expecting earnings per share to come in at approximately $6.64, slightly ahead of consensus.
With the level of growth the company is showing, its strong balance sheet, and positive cash flow, we have no issues paying a slight premium for the stock. 33 times earnings is about fair for us right now considering the levels it has previously traded at when exhibiting similar growth. Based on our earnings forecast of $6.64 gives us a price target of $219.12 for the year. This is upside of 7.6% from Friday's close price of $203.51.
We feel growth is going to accelerate in 2017, so would consider this to be a longer-term investment that provides investors with solid returns for at least the next three years.
Disclosure: I am/we are long PNRA.
I wrote this article myself, and it expresses my own opinions. I am not receiving compensation for it (other than from Seeking Alpha). I have no business relationship with any company whose stock is mentioned in this article.