Revisiting A Hedged Bet Against Brazil
In an article written on August 28th of last year ("Betting Against Brazil? Get Paid To Limit Your Risk"), we presented a hedged bet against Brazil. The bet was the ProShares UltraShort Brazil Capped ETF (NYSEARCA:BZQ), which is designed to generate -2x the daily return of the MSCI Brazil 25/50 index, which, in turn, is designed to measure the performance of the broader Brazilian stock market (we'll get to the hedge in a moment). In that article, we mentioned some of the parade of horribles comprising Brazil's economic and political situations at the time, but it wasn't the news from Brazil that brought BZQ to our attention. It was that ETF showing up in Portfolio Armor's daily ranking of hedgeable securities.
The Daily Ranking
Each trading day, the Portfolio Armor website applies 2 screens to avoid bad investments to every stock and exchange-traded product with options traded on it in the U.S. That's a universe of over 3,000 securities, but the number them passing both screens varies: as of Friday's close, for example, only 393 passed both screens.
The site then uses an analysis of price history and option market sentiment to estimate potential returns for each security over the next several months. Then it subtracts hedging costs, and ranks each security by its potential return, net of hedging costs, or its net potential return (we went into more detail on this process, and how we tested it, in "Backtesting The Hedged Portfolio Method"). In the site's daily ranking on August 28th of last year, BZQ was the 32nd highest-ranked security overall, and the highest-ranking ETF (the top 31 names then were stocks).
The Hedge On The Bet
The hedge on BZQ was the optimal collar below, which was designed to limit an investor's downside risk to a drawdown of no more than 13% over the next several months, while not capping his potential upside at less than 13% (screen captures were from the Portfolio Armor iOS app).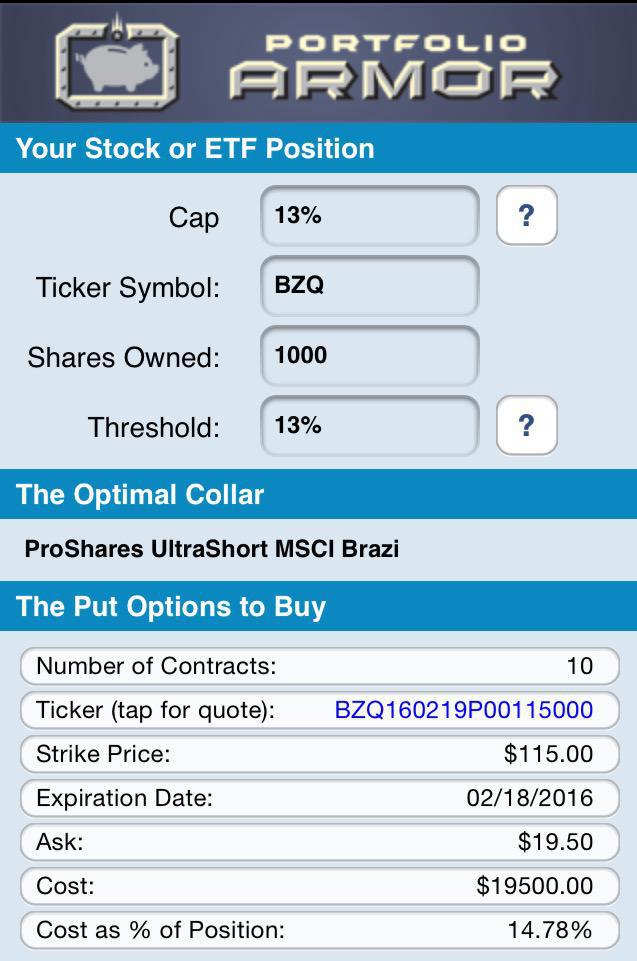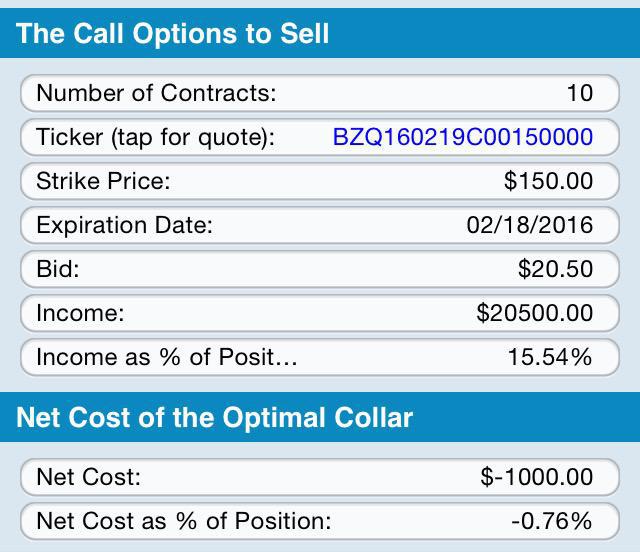 Note that the net cost of this collar was negative, meaning the investor would have collected $1,000, or an amount equal to 0.76% of his position value when opening the hedge. Note also that the cost was calculated conservatively, assuming the puts were bought at the ask and the calls were sold at the bid; in practice, puts can often be bought for less (at some price between the bid and ask), and calls can often be sold for more (again, at some price between the bid and the ask).
An investor who made this hedged bet against Brazil in August would have wanted to exit his position just before the hedge expired, which was this past week. Here's how the underlying ETF, BZQ, traded over that time frame: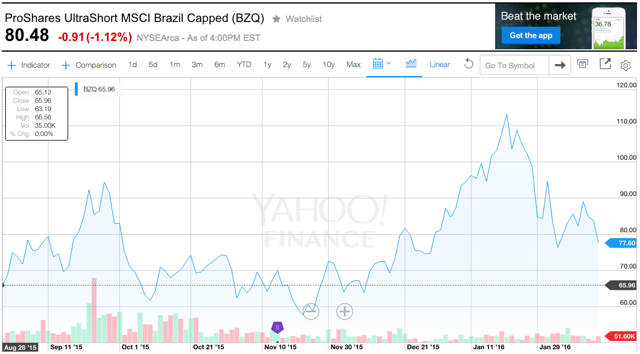 Click to enlarge
That "S" on the bottom in the middle of that chart (via Yahoo! Finance) indicates a split, in this case, 2-for-1, so the strikes on the investor's options would have adjusted accordingly, and his effective number of contracts would have adjusted as well, so that after the split, his hedge would still have protected him against a >13% decline, and would have still capped his potential upside at no less than 13%.
Performance Of The Underlying ETF
Adjusted for the split, BZQ closed at $65.96 on August 28th, 2015. It closed at $81.39 on February 18th, 2016, up 23.4%.
Performance Of The Hedged ETF Position
A hedged investor exiting his position just before the hedge expired would have received nothing for his out-of-the-money puts, as their time value would have been gone, and their intrinsic value would have been zero. The intrinsic value of his calls would have been equal to the difference between the market price of the ETF, $81.39 at the close on February 18th, and the split-adjusted strike price of calls, $75. Since $75 represented a 13.7% increase over $65.96, the investor would have been up about 13.7%, not including the cost of the hedge. But since the cost of the hedge was negative, -0.76%, the investor would have been up about 13.7% - (-0.76%), or 13.7% + 0.76% = 14.46%.
What This Demonstrates
What this example demonstrates is that it's possible to generate decent returns with hedged positions on levered inverse ETFs over a period of several months, even though these ETFs often have negative longer-term performance (in the hedged portfolio method, positions are held for six months or until just before their hedges expire, whichever comes first). BZQ, for example, since its inception in mid-2009, was down about 31% as of February 18th, 2016.
Why It Matters Now
As we mentioned in August, since BZQ was the 32nd highest-ranked security in our daily ranking, it would have been unlikely to appear in a hedged portfolio presented by our website then, since those hedged portfolios are generally drawn from among the top-10 names (sometimes the site has to dig a little deeper in the ranking based on constraints entered by the user, such as how little risk he is willing to take, and the size of his portfolio). More recently, though, levered inverse ETFs have appeared among the site's top names, and have been included in hedged portfolios presented by the site. And that gives those hedged portfolios some positions that can prosper in a bear market.
For example, a hedged portfolio created by the site on February 16th, and presented in the tweet below on the same day, included two stocks, Agnico Eagle Mines (NYSE:AEM) and Hormel Foods (NYSE:HRL), and one volatility ETN, the iPath S&P 500 VIX ST Futures (NYSEARCA:VXX), but the rest of its underlying securities were levered inverse ETFs: the ProShares UltraShort Bloomberg Crude Oil (NYSEARCA:SCO), the Direxion Daily S&P 500 Bear 3x (NYSEARCA:SPXS), the Direxion Daily Small Cap Bear 3x (NYSEARCA:TZA), and the Direxion Daily FTSE China Bear 3x (NYSEARCA:YANG).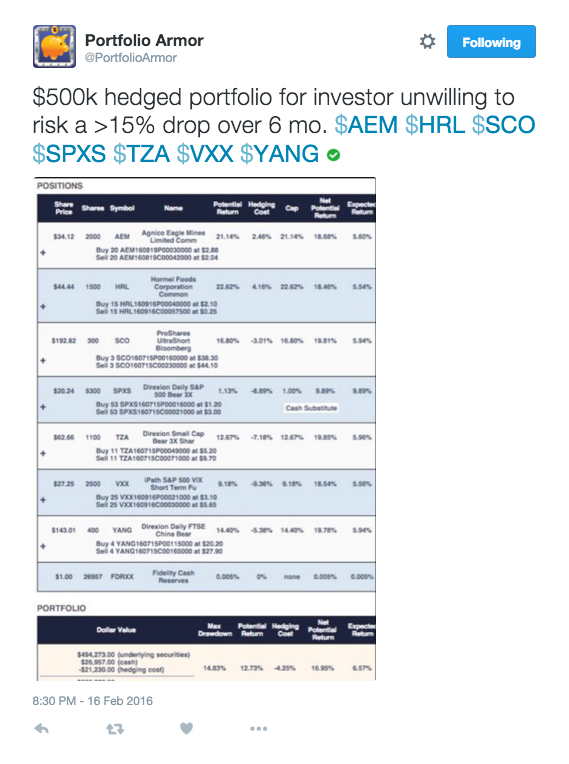 What's interesting about the hedged portfolio above is its bearish tilt, despite the lack of any top-down bearish intent. The site is agnostic about market direction. But because bearish exchange-traded products are part of its universe of securities, it will include them when those names cluster near the top of its daily ranking.
Disclosure: I/we have no positions in any stocks mentioned, and no plans to initiate any positions within the next 72 hours.
I wrote this article myself, and it expresses my own opinions. I am not receiving compensation for it (other than from Seeking Alpha). I have no business relationship with any company whose stock is mentioned in this article.