We've written about Ellie Mae (NYSEMKT:ELLI) quite a few times (our first buy recommendation was in 2012 at $15), and almost every time we could say that they've done it again, beat guidance and estimates, often by quite some margin.
Well, that's exactly what happened, yet again in Q4. We've already explained in previous articles what a great business model they have, below we will argue that there is still plenty of growth possible.
However, we also have some concerns, most notably about valuation after the shares shot up more than 30% in just a week. But let's start by giving a quick summary of the main results.
Results
The Q4 and full year 2015 results were once again rather spectacular, some highlights:
In Q4 revenue grew by 39% year-over-year to $64.9 million.
Adjusted EBITDA increased 34% to $17.1 million.
Net income for the fourth quarter was $4.8 million or $0.16 per diluted share, compared to $4.3 million or $0.14 per diluted share in the fourth quarter 2014.
On a non-GAAP basis, adjusted net income for the fourth quarter was $13.5 million or $0.44 per diluted share compared to $11.5 million and $0.38 per diluted share in the fourth quarter 2014.
Revenue per active Encompass user increased 10% year-over-year to $475 for the quarter.
Seat bookings increased to an all-time high of 16,200, of these sold 8,700 were from new customers, 3,000 came from add-on seats, and upgrades totaled 4,500.
For the year, revenue increased 57% to $254 million and adjusted EBITDA grew 62% to $75 million.
Net income for the full year 2015 was $22.3 million or $0.72 per diluted share compared to $14.8 million and $0.50 per diluted share in 2014. On a non-GAAP basis, adjusted net income for the full year was $52.2 million or $1.69 per diluted share compared to $34.1 million and a $1.15 per diluted share in 2014
Overall, market share increased to 136,000 active Encompass users at year end, a 25% increase over last year.
Guidance
ELLI uses the composite estimates of mortgage volumes as published by Fannie Mae, Freddie Mac and the Mortgage Bankers Association to forecast certain portions of our business. For the year, this composite shows an estimated 11% decline in origination volumes from 2015.
For the first quarter of 2016, revenue is expected to be in the range of $67.5 million to $68.5 million. Net income is expected to be $1 million to $1.5 million or $0.03 to $0.05 per diluted share. Adjusted net income is expected to be in the range of $8.9 million to $9.7 million, or $0.29 to $0.31 per diluted share.
For the full year, total revenue is expected to be in the range of $317 million to $321 million. Net income is expected to be in the range of $22.2 million to $24.2 million or $0.71 to $0.76 per diluted share, and adjusted net income is expected to be in the range of $56.1 million to $59.1 million or a $1.79 to a $1.86 per diluted share.
You see once again, in a shrinking market ELLI is still able to grow substantially. But should you buy the shares? Well, there are a number of arguments in favor of that, let's start with these.
Business model
We have already explained in previous articles (here and here) that we really like the business model so we will be brief here. In essence, ELLI provides a total mortgage origination solution, automating the whole supply network. At the same time it:
Cuts cost and waste
Reduces time, errors and duplication
Simplifies and automates procedures
Automatically assures all regulatory compliance, credit checks, etc.
Basically, before Encompass the mortgage origination process was so fragmented and wasteful that it basically screamed for a solution. ELLI brought that solution to market and everybody involved benefits greatly.
It basically turns something which was a headache, unnecessarily complex and convoluted, expensive and error prone into a much cheaper all inclusive solution that takes all that headache and complexity away from the customer. It really is a killer business model.
Interest rates
With the world economy softening, the possibility that the Fed will chose a more moderate path of rate hikes is real. What's more, Bond yields have declined substantially, and this actually matters more for mortgage rates.
This should be a net positive for the market, even if mortgage origination volumes are supposed to decline somewhat.
Reducing interest rates put the squeeze on bank margins, this could function as an additional incentives for banks to adopt Encompass in order to reduce cost in the mortgage origination process.
Compliance
Listening to the Q4CC it is clear that compliance with all kinds of new rules and regulations (like RESPA-TILA) is a main headache for many players in the mortgage business, and the fact that Encompass automates this is therefore a main, perhaps the main selling point. Here is CEO Corr during the Q4CC:
we've talked about, how costs have gone up dramatically over the last four or five years based on all the demands from compliance and regulation and those costs have more than doubled to get a loan done for a consumer...

It's kind of very much of a virtuous cycle. As we become more successful in all the segments, whether it'd be the enterprise segment, the large segment or the mid-market - that continued success is just driving more and more activity, more business coming our way. The compliance leadership that we have is so critical to the market and they, we see continuing to be critical. And that is a great tailwind for us.
In fact, perhaps the most interesting comment with respect from this came from Richard Kenneth Baldry from ROTH Capital (Q4CC):
the biggest banks to me seemed at risk of falling behind the compliant side of the table, with so many changing regulations, and you're providing those kind of services coming at something like 100,000, 150,000 seats which, the cost to build versus outsource starts to favor you guys.
Clearly, increasing complexity coming from the environment is a strong motive to embrace a total automation solution like the one ELLI is providing.
New growth
The company is in the process of rolling out the strategic partnerships we established with Fannie Mae (OTCQB:FNMA) and Freddie Mac (OTCQB:FMCC) in 2015 and they will start to introduce the acquired CRM platform and initial phases of the next generation of the Encompass platform.
We know that ELLI isn't just growing by adding new customers. Existing customers are adding more seats (3000 in Q4 and another 4500 from conversion of stand alone Encompass to SaaS).
Revenue per active Encompass user increased 10% year-over-year to $475 in Q4.
Cash generation
The company had cash and investments of $139M as of December 31. It generated almost $90M in cash from operations during the year. That's up 115% from $41M in 2014. It's difficult not to see this as a positive..
Now, apart from these strong positives, we also have a few concerns, most of all the valuation of the shares.
Valuation
Basically what the company reports and what analysts use is non-GAAP income. In 2014 this was $34.1M ($1.15 per share), rising to $52.2M ($1.69 per share).
However, on a GAAP basis, this picture changes rather drastically. GAAP earnings in 2014 were just $14.8M ($0.50 per share) rising to $22.3M ($0.72 per share).
So you read that right, GAAP income is less than half of adjusted, or non-GAAP income. What's the difference? From their earnings PR:
Adjusted net income consists of net income plus amortization of intangible assets, impairment loss on intangible assets, and stock-based compensation expense.
Amortization of intangible assets was $5,18M in 2015 (up from $2.779M in 2014). Impairment loss on intangible assets was $562K in 2015 (down from $1.968M in 2014).
That is, most of the $29.9M difference between GAAP income ($52.2M) and non-GAAP income ($22.3M) in 2015 must be stock based compensation and indeed it is a whopping $24.24M ($14.548M in 2014).
Now, we are not making a point about corporate remuneration here, obviously ELLI's management is doing a stellar job and should be rewarded accordingly, but if you scroll down here to the bottom you see that insiders are selling shares on an ongoing basis.
And this adds up. In January 2016 alone there were 32.300 shares sold. In February this accelerated to nearly 66.000 shares and the month still has a week to go.
Basically we see no reason to use the non-GAAP earnings as almost all of the difference with adjusted earnings is stock based compensation. Executives sell this to a large extent and it is then mopped up by the share repurchase program ($75M announced in May 2014).
But despite the latter, share count still increased in 2015 by 660K. And on a GAAP basis, the shares are really rather expensive. With the stock above $80 at the moment of writing and earnings just 72 cents, this is a p/e over 100.
The guidance for 2016 (71-76 cents) doesn't make things better even if the company has a habit of beating guidance by quite some margin.
Even on the non-GAAP basis the shares are expensive with the $1.69 per share in 2015 and the guided $1.79 to a $1.86 for this year. Analysts, on average, expect $2.50 for 2017, but even that amounts to a p/e well over 30.
Apart from valuation concerns, we also see at least some limitations on growth
Mortgage market
While ELLI has been terrific in growing even in a shrinking origination market, what's for sure is that the great refinancing boom is basically over, so it's a purchase dominant market only.
Conversion to SaaS
ELLI started out as a traditional software company with license sales and support. But then it moved Encompass to the cloud, embracing the SaaS model.
This was excellent for the customers, who had no worries and no taxing of their IT systems and personnel. It was also very good for ELLI, as (CEO Jonathan Corr during the Q4 CC):
so typically we're seeing an uptick on this that is somewhere between three to four times what we were making from an on-premise customer.
So existing customers started to shift, and that was a substantial source of additional profitability. But now that shift is nearing to an end and is expected to be completed in the first half of 2016.
US market
As ELLI keeps winning market share, at some stage the size of the US market will start to exert at least some limiting factor. Quite frankly, we don't know where we are, but keep in mind ELLI is the clear market leader.
We still think there are plenty of growth opportunities for the foreseeable future, even if the great refinancing boom is behind us and the conversion from stand-alone Encompass to SaaS as well.
But at least theoretically, share prices discount profits far into the future, and far into the future the company is limited by the size of the US market. The capabilities are really not easily reproduced abroad, due to institutional specifics.
Share price ratcheting up
Apart from our valuation concerns, there is also simply this: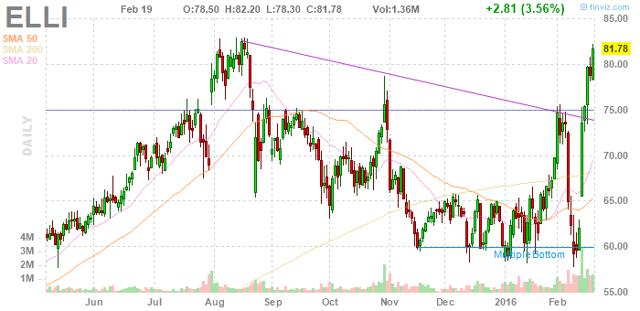 Click to enlarge
That's a 30%+ rally in a week, from $60 to $82. The stock is within a whisker of its all-time high, approaching overbought conditions and we're thinking perhaps this fast and furious move up has to be digested first. If not now, pretty soon.
Looking at the graph, $75 was an important resistance level which could, if the shares do not simply keep on running up, offer first support where one who missed this terrific share could take at least some position. The $60 support has been very strong, we don't think we will revisit that, bar some general market mayhem.
Conclusion
This isn't the first time we express our deep admiration for ELLI. We loved the shares all the way up from $15, with some fortuitous intermezzo's on the way. We think we must be close to another one of these intermezzo's, where the gains simply have to be digested at least for a while.
The shares are very expensive, especially if you, as we think is right, have to consider the GAAP earnings, which are less than half the adjusted ones.
But then again, one simply has to pay-up for business models that generate such strong results, even under adverse market conditions. In the end, we are a little concerned with the present valuation, but we don't think it will get a whole lot cheaper, bar some rather fundamental change in fortunes.
And it is difficult to see, at least at present, where such change would be coming from. ELLI's position is very much solidified. The only thing we can imagine is some general market mayhem.
Disclosure: I/we have no positions in any stocks mentioned, but may initiate a long position in ELLI over the next 72 hours.
I wrote this article myself, and it expresses my own opinions. I am not receiving compensation for it (other than from Seeking Alpha). I have no business relationship with any company whose stock is mentioned in this article.