Introduction
This is part of a series of quarterly reviews that analyze the performance and portfolio characteristics of interesting equity managers running either public (mutual funds) or private pooled investment vehicles (hedge funds) that are not accessible by retail investors. Our aim is to provide readers:
An analysis of the manager's return and risk characteristics.
An analysis of the manager's top portfolio holdings.
An opinion on whether readers should replicate their portfolio.
All analysis is based on a clone portfolio of the manager's top 10 disclosed holdings, which allows readers to replicate the portfolio with ease if desired. It may not be an accurate reflection of the manager's actual investment performance.
That said, it is possible for some clone portfolios to outperform the manager's actual portfolio over time due to the following factors:
No Fee Drag: High base fees and excessive performance fees in some cases eat into returns. Investors can buy the stocks directly to access the manager's stock-picking skill.
No Over-Diversification: Managers typically over-diversify. Returns from the best ideas are usually diluted by a long tail of lower quality ideas. We focus only on the top 10 holdings.
No Fancy Sizing: Managers may have good stock-picking skills, but can be terrible at sizing ideas. Our clone portfolios are equally weighted so each idea has an equal impact.
No Tinkering: Managers typically add or trim positions on the margin too regularly, since after all, they are paid to "actively manage" the portfolio. Quarterly rebalancing in line with 13-F releases reinforces a buy-and-hold discipline and reduces costs.
No Shorting: Shorting requires a very different skill set, which not all managers are good at. Alpha from successful longs can be severely diluted from bad shorts or dynamic exposure management that does not add value over time.
Manager Brief
| | |
| --- | --- |
| Manager Name: | Ruane, Cunniff & Goldfarb |
| Location: | New York, NY |
| Year Founded: | 1970 |
| Investment Style: | Long-only equity, growth orientation |
| Portfolio Manager(s): | Robert Goldfarb & David Poppe |
| Number of Employees: | 51 |
| MV of Latest 13-F Holdings: | $17.5bn |
Ruane, Cunniff & Goldfarb ("RCG") is the investment firm founded in 1969 by William Ruane and Richard Cunniff. According to Wikipedia:
"The history of the Sequoia Fund traces its roots to the late Bill Ruane's lifelong friendship with Warren Buffett. Bill Ruane first met Buffett at a value investing seminar taught by Benjamin Graham at Columbia University in 1950. When Buffett closed his investment partnership in 1969, he advised his clients to invest with Ruane in the Sequoia Fund. In 1970, William J. Ruane and Richard T. Cunniff founded the Sequoia Fund to take on Buffett's former investors. Robert Goldfarb joined the firm in 1971."
In terms of performance:
"In the 45-year period from its inception in 1970 to 2015, the Sequoia Fund earned an annualized return of 14.65% versus the S&P 500's annualized return of 10.93%. According to Morningstar, Sequoia Fund outperformed its large-cap blend-category peers in 332 of the 333 rolling 10-year periods dating back to its 1970 start. The fund closed to new investment in 1982 and reopened 26 years later in 2008. In 2010, Morningstar named co-managers Robert D. Goldfarb and David M. Poppe Domestic-Stock Fund Managers of the Year in recognition of the excellent long-term performance of the Sequoia Fund. As of 2013, the Sequoia Fund is once again closed to new investment."
The Sequoia Fund currently has an AUM of $6.3bn. Its investment philosophy, as per its website:
"The Fund's investment objective is long-term growth of capital. In pursuing this objective the Fund focuses on investing in equity securities that it believes are undervalued at the time of purchase and have the potential for growth. A guiding principle is the consideration of equity securities, such as common stock, as units of ownership of a business and the purchase of them when the price appears low in relation to the value of the total enterprise. No weight is given to technical stock market studies. The balance sheet and earnings history and prospects of each company are extensively studied to appraise fundamental value. The Fund normally invests in equity securities of U.S. and non-U.S. companies. The Fund may invest in securities of issuers with any market capitalization. The Fund typically sells the equity security of a company when the company shows deteriorating fundamentals, its earnings progress falls short of the investment adviser's expectations or its valuation appears excessive relative to its expected future earnings."
Performance Analysis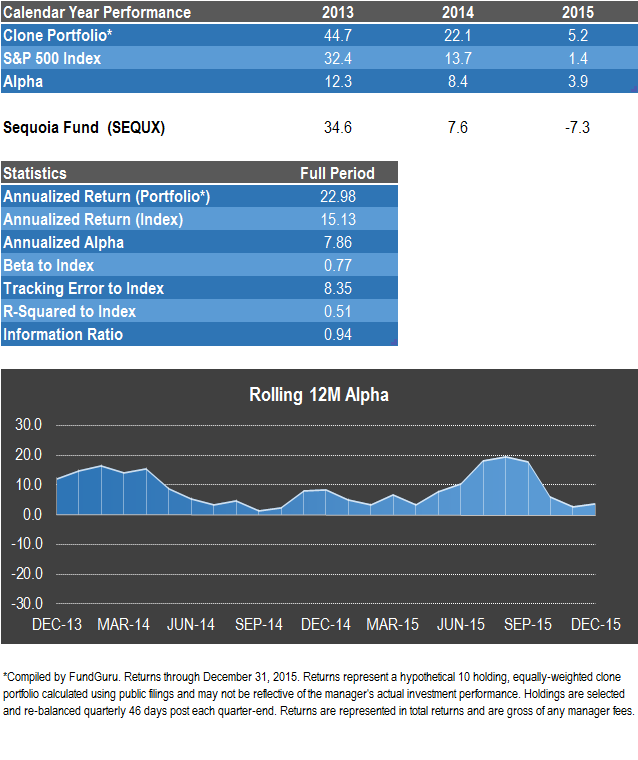 Our clone portfolio returned an impressive +22.98% annualized for the trailing 3 years, compared to +15.13% for the S&P 500. This strong performance was achieved at 33% lower equity beta (0.77) and low correlation to the broader market (0.51).
The clone portfolio also fared much better than the actual Sequoia Fund, which returned +10.30% annualized over the same period. The largest outperformance came last year, when the Fund dropped -7.3% versus our portfolio, which was up +5.2%. This was no doubt caused by the Fund's super-sized position in Valeant (NYSE:VRX).
The manager's alpha has historically been very consistent, although recent observations have been weaker due to the underperformance of some holdings including VRX, which we cover below.
Portfolio Analysis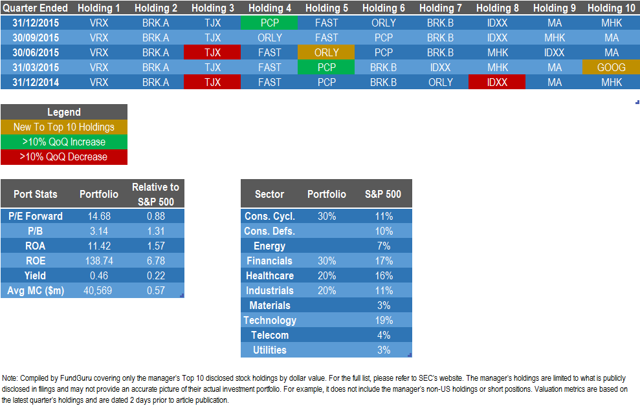 Click to enlarge
Portfolio Characteristics
This is a buy-and-hold portfolio with extremely low levels of turnover. The portfolio currently exhibits a large-cap value orientation. From a sector perspective, investments are concentrated in the Consumer Cyclical and Financial sectors.
It is important to note that our clone portfolio only represents the fund's US holdings. The actual portfolio contains exposure to some non-US companies, as at 09/30/15: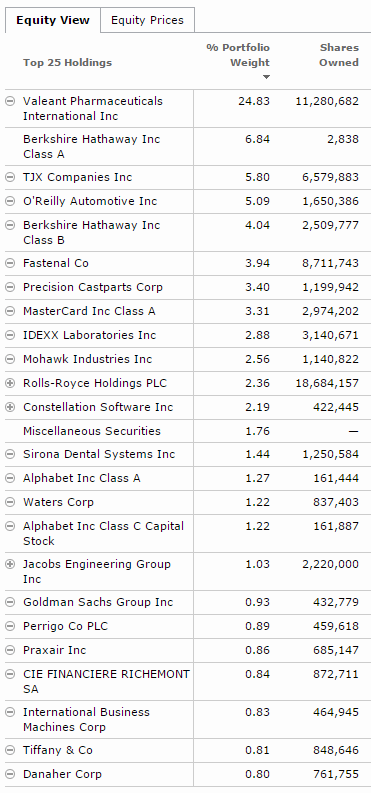 Individual Name Analysis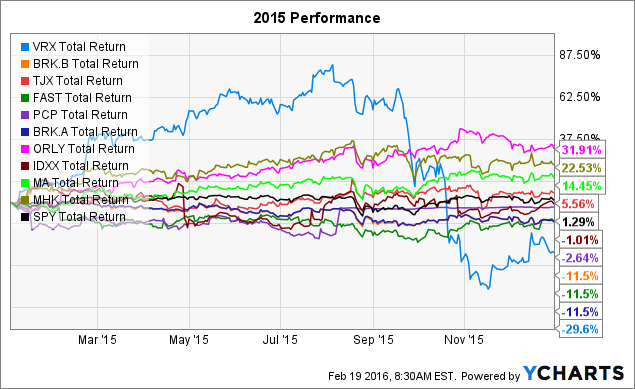 Four out of the portfolio's 10 names outperformed the S&P 500 in 2015. The strongest names were O'Reilly Automotive (NASDAQ:ORLY), Mohawk (NYSE:MHK) and MasterCard (NYSE:MA), which were up double digits.
The largest losers were Valeant Pharmaceuticals, Berkshire Hathaway (NYSE:BRK.A) (NYSE:BRK.B) and Fastenal (NASDAQ:FAST). For a more detailed discussion of VRX, the fund's biggest position, please refer to the manager's Letter to Shareholders dated October 28, 2015.
Out of the current names in the portfolio, we find IDEXX Laboratories (NASDAQ:IDXX) particularly interesting. With a market cap of $6bn, it is a multinational company engaged in the development, manufacture, and distribution of products and services for the companion animal veterinary, livestock and poultry, water testing, and dairy markets.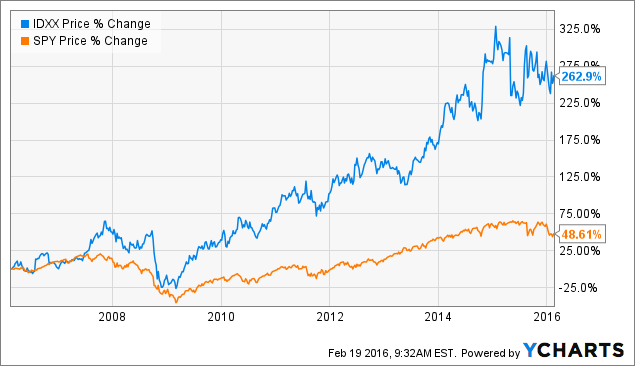 The company has grown earnings consistently over the past decade: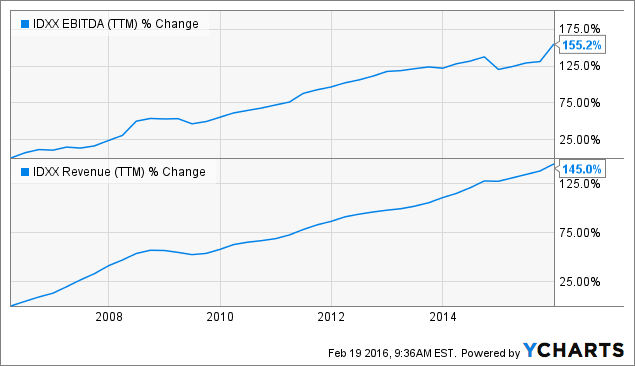 Its attractive business model and niche focus made it the subject of a takeover chatter last year, when Bloomberg reported that Zoetis (NYSE:ZTS), the largest pure play animal health company would be interested in making a bid. The bid never materialized of course, and shares in IDXX have since then dropped slowly.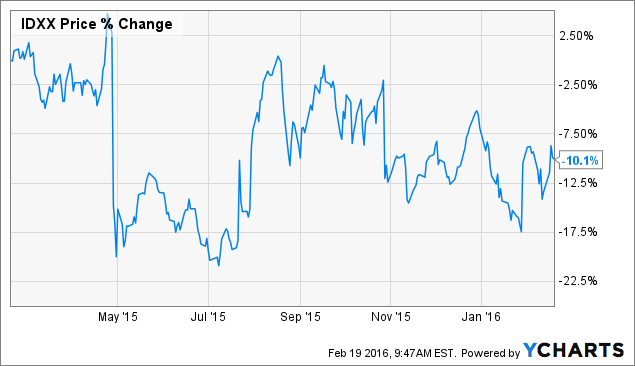 The company's CEO, Jonathan Ayers (Age 59), has been with the company since 2002.
IDXX is a new purchase in Q4 by Fundsmith, another equity manager we covered previously with high alpha. It is a #12 holding on the manager's 13-F filing.
Recent Activity
During Q4, the manager increased its position in Precision Castparts to take advantage of the small spread that existed after Warren Buffett's Berkshire Hathaway announced to acquire the firm for $235 in H2 last year. The acquisition was closed in January 2016.
PCP entered the top 10 in Q2 2009. We estimate that the manager has made 290% on this investment: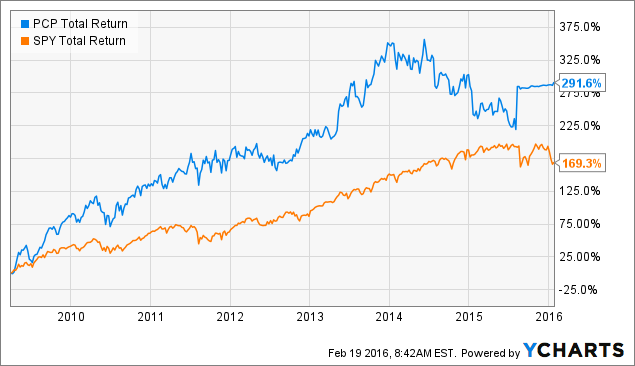 This is how the clone portfolio's holdings have fared YTD: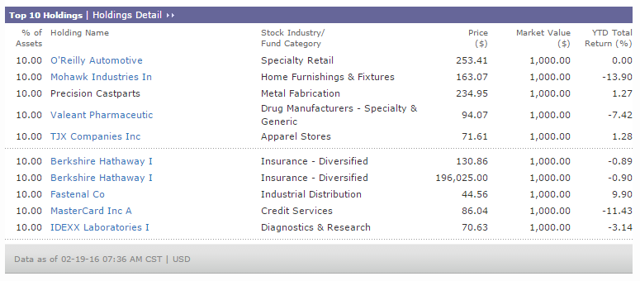 Click to enlarge
Summary Thoughts
We Liked:
One of the longest running funds out there under continuous management and a stellar long-term track record.
Buy-and-hold portfolio with extremely low levels of turnover.
Concentrated, high conviction investing.
Superior clone portfolio performance.
We Didn't Like:
Super-sized positions. VRX represents a disproportionate portion of the portfolio. We believe managers should never size a position this big no matter how confident they are in their thesis.
Bottom Line:
Apart from position sizing decisions, we like the investment approach of Sequoia. The manager has demonstrated consistent alpha over time and we recommend readers take advantage of the recent dip to buy into this manager. Like Pershing Square, we believe an equally-weighted approach would be more appropriate to mitigate potential downside risks associated with "super-sized" positions.
Readers more interested in buying individual names should take a look at IDXX and VRX.
Interested in Following More Alpha?
Follow us now to get live updates as we post new reviews, and/or see our Schedule of Manager Reviews for an up-to-date list of the managers we have assessed so far.
Disclosure: I/we have no positions in any stocks mentioned, but may initiate a long position in IDXX over the next 72 hours.
I wrote this article myself, and it expresses my own opinions. I am not receiving compensation for it (other than from Seeking Alpha). I have no business relationship with any company whose stock is mentioned in this article.