Overview
During the first six weeks of 2016, Union Pacific (NYSE:UNP) has continued to struggle lagging some Class I rail operator peers when comparing intermodal traffic. This includes Canadian and East Coast rail operator peers. The most concerning aspect of this is Union Pacific's performance compared with BNSF (NYSE:BRK.B) as the two directly compete for the same shipping customer business.
Considering total intermodal traffic BNSF's traffic is up 13 percent for 2016, and Union Pacific's traffic is up only 2 percent. Digging a little deeper gives us some insights as to what is driving the poorer performance for Union Pacific. The irony is that Union Pacific is actually having a good start to the year when considering international and domestic intermodal growth in traffic. The primary factor weighing Union Pacific down is the company's exposure to the discontinued business from Norfolk Southern's (NYSE:NSC) Triple Crown service.
But when looking at Union Pacific versus BNSF, two things quickly become clear. BNSF is estimated to be outperforming for both domestic intermodal and international container services. For 53' domestic container service, BNSF is estimated to be outperforming Union Pacific by a multiple of nearly 4 times; for international container service, this multiple is above 6 times.
During this time last year, West Coast seaports were at the climax of the labor strikes so the international container units loaded to rail during 2016 were from a low baseline comparable for 2015. As of January 2016, many West Coast seaports have witnessed loaded import and export international container growth between 30 to 80 percent, while growth for East Coast counterparts has been in the low single digits. This is a stark contrast compared with last year.
It is worth noting that in addition to the direct service taking international containers to further east destinations, a substantial amount of international containers are transloaded right in the Los Angeles Basin and converted to 53' domestic containers prior to their next destination. This occurrence is an area where BNSF is getting a lot of growth versus Union Pacific.
Some of the factors contributing to this could be BNSF's better intermodal network speeds and/or decreasing carload volumes compared with last year. BNSF did not witness as substantial of carload traffic declines as Union Pacific, mostly due to BNSF's increased coal traffic for the year. This has changed dramatically during 2016.
The major seaports with direct rail access include Los Angeles and Long Beach, Oakland and Seattle and Tacoma. Neither BNSF nor Union Pacific have exclusive access precluding the other from gaining market share. Each rail operator has facilities in place to directly serve each of these 5 major seaport gateways. Based on the performance and circumstances, it would appear that BNSF's service and freight rate combination is a strong value proposition versus Union Pacific's.
Investors should continue to monitor this trend as intermodal is a very important driver for Class I rail operators moving forward. This is due to the inevitable continued declines for coal traffic, industrial manufacturing weakness and uncertainties surrounding the energy sector.
Intermodal Is Key For The Long-Term Growth Story
Intermodal revenue as a proportion of total freight revenue is an important part of the Union Pacific franchise business. For the year during 2015, intermodal was the highest revenue generating category representing 20 percent of total freight revenues.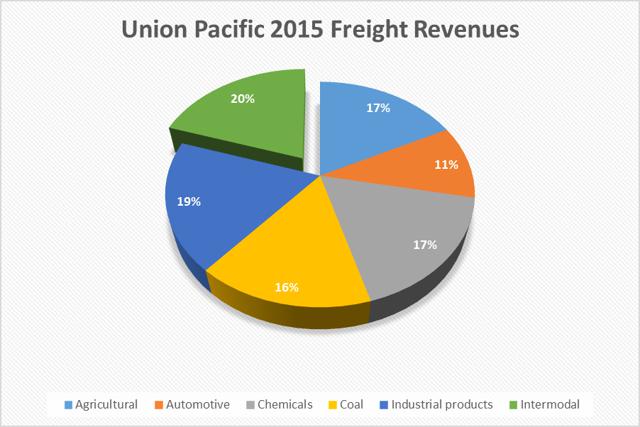 Click to enlarge
Source: Union Pacific financial filings.
For BNSF, the consumer products segment is broken down by roughly 96 percent of the traffic being driven by domestic and international intermodal and the remaining 4 percent being automobile-related carload traffic. It should be assumed that closer to 25 percent of the revenue from this segment is a result from intermodal traffic. This is based on the fact that Union Pacific's automotive traffic was nearly 10 percent of the total, while automotive revenue was 11 percent.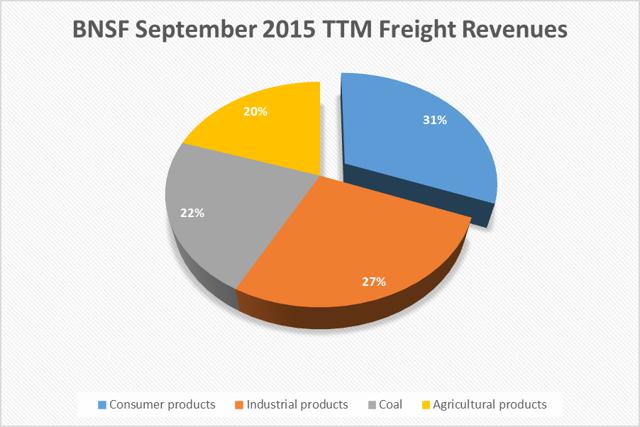 Click to enlarge
Source: BNSF financial filings.
Over the past year, domestic intermodal reflected 51 percent of total intermodal traffic, while international containers reflected the remaining 49 percent for Union Pacific. However during this time, domestic intermodal traffic has continued to grow while international containers have become much more volatile.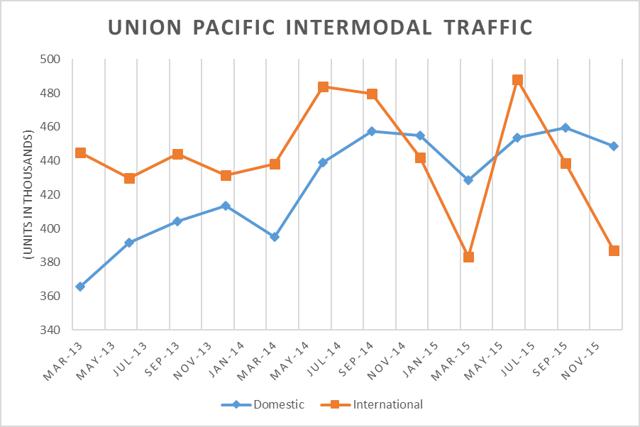 Click to enlarge
Source: Union Pacific financial filings.
For BNSF, the company has yet to report fourth quarter results, nonetheless, the same volatility Union Pacific has witnessed has not played out through September 2015. What is clear from these comparisons is that BNSF's domestic intermodal business trades much more in-line with international container traffic trends versus Union Pacific.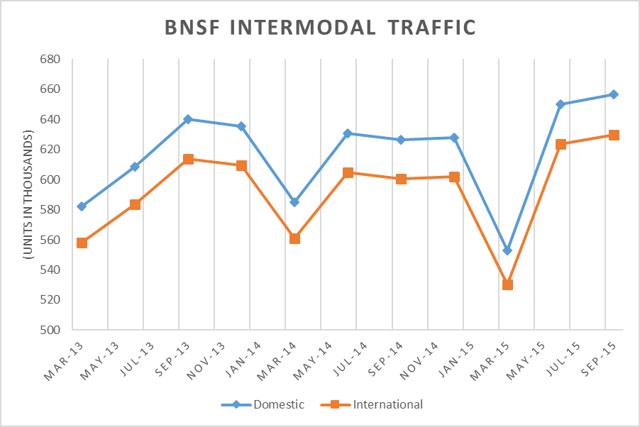 Click to enlarge
Source: BNSF financial filings.
For intermodal services, pricing has remained stable throughout the past year and is expected to remain stable during 2016. Regardless, intermodal growth is one of the few areas where Union Pacific witnessed positive developments during 2015. To date, many Class I rail operators have witnessed further deterioration of their carload traffic. The primary driver on the positive side continues to be intermodal; excluding the Triple Crown service impacts.

Click to enlarge
Source: Class I rail operator weekly rail traffic through week 6 2016.
Intermodal Weekly Traffic By The Numbers
Digging further into the comparison between Union Pacific and BNSF requires the utilization of assumptions regarding financial filing information to get at domestic versus international container splits. As this information is based on quarterly and annual information, the figures below should be considered as estimated adjusted weekly intermodal traffic.
During 2015, domestic intermodal began to decline due to the restructuring of the Norfolk Southern Triple Crown service in the fall. Highway conversion has not been impacted negatively as displayed by the adjusted Union Pacific intermodal rail traffic. When separating out the domestic trailer traffic declines from the Triple Crown service, domestic intermodal was up nearly 2 percent during through week 6 of 2016, while international containers were up nearly 6 percent.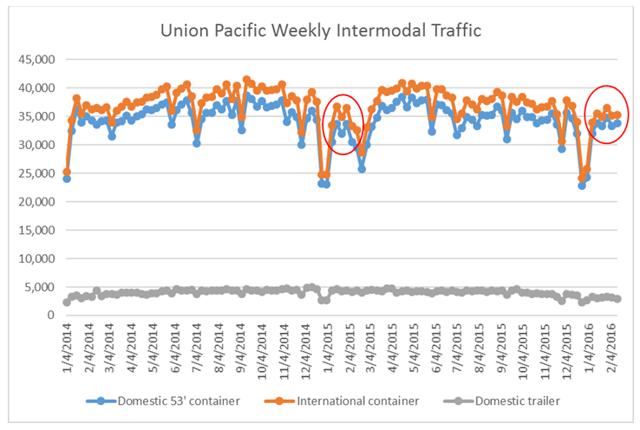 Click to enlarge
Source: Union Pacific Adjusted Weekly Intermodal Traffic
For BNSF considering the same narrative, we can see that the domestic trailer business is down, but not nearly as much as for Union Pacific. In fact, Union Pacific's domestic trailer traffic was down nearly 28 percent during 2016 while BNSF's was down nearly 11 percent as highlighted above.
For BNSF's international container traffic, investors should note two things. First BNSF has a substantially larger international container business than Union Pacific. Second on the domestic side, BNSF has recently overtaken Union Pacific for 53' domestic containers and at the same time, has a more diverse domestic trailer business.
But the most important factor is that BNSF has witnessed estimated 53' domestic container traffic growth of nearly 22 percent and international container traffic growth of 13 percent through week 6 of 2016. This growth has substantially outperformed Union Pacific.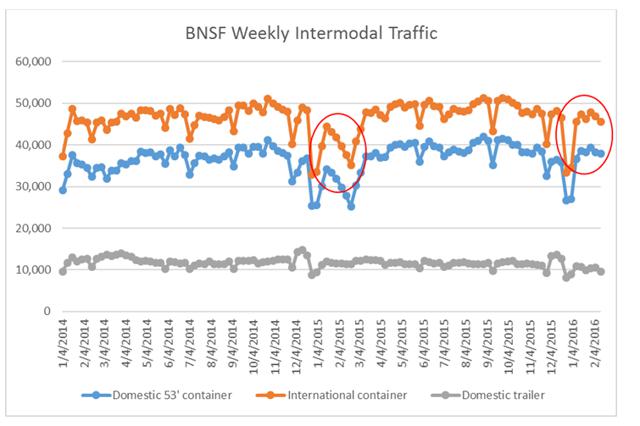 Click to enlarge
Source: BNSF Adjusted Weekly Intermodal Traffic
To this point, the transloading discussion becomes relevant. Recent estimates have projected as much as 25 percent of marine containers being transloaded in the Los Angeles Basin with a substantial majority of these transloaded shipments moving by rail afterward. If these numbers are generally accurate, it can be postured that BNSF is reaping multiple benefits from international container trends through West Coast seaports of which, Los Angeles and Long Beach are key players.
We know that during the fall of 2015, the shift of international container traffic began to cycle back to the West Coast. This was evident with a corresponding decline in the rate of international container growth at both East and Gulf Coast seaports. Not all seaports have disclosed their twenty-foot equivalent unit, or TEU numbers for January, but early numbers out are compelling.
For the ports of Los Angeles and Long Beach, loaded import TEUs for the month of January were up 42 and 30 percent respectively compared with last year. For the ports of Charleston and Savannah, loaded import TEUs for the month of January were up 2 and 1 percent respectively compared with last year. These two East Coast seaports ranked 3rd and 4th only behind Prince Rupert and Miami for TEU traffic growth last year out of the top 23 North America seaports.
The low baseline from 2015 will provide for strong growth during January and February 2016, regardless, this is significant growth compared to East Coast peer results. The other major West Coast seaports including Oakland and the Northwest Seaport Alliance including both Seattle and Tacoma, witnessed loaded import TEUs for the month of January up 76 and 33 percent respectively compared with last year. Loaded export TEUS for the month of January were up 17 and 16 percent respectively compared with last year. The ports of Los Angeles and Long Beach loaded export TEUs for the month of January were up 2 and 8 percent respectively compared with last year.
For the ports of Charleston and Savannah, loaded export TEUs for the month of January were down 6 and 3 percent respectively compared with last year. These are early numbers and we do not have the Port Authority for New York and New Jersey's numbers yet, but it appears that the West Coast should continue to witness strong TEU traffic demand during the first quarter of 2016.

Click to enlarge
Source: All information is directly from seaports unless otherwise noted.
The transition and repositioning of empty containers is part of the business equation as well, but head-haul and back-haul shipments leading to imports and exports is where the majority of international intermodal money is made. Transloading is not perfectly defined, but it plays a major role throughout this process. Based on these trends at seaports compared with Union Pacific and BNSF, BNSF is clearly reaping a substantial amount of greater business for intermodal container traffic growth at the moment.
Investor Perspectives
The relationship with Class I rail operators and seaports is fundamental to growing intermodal business. This is clearly illustrated with the correlation of strong West Coast seaport international TEU traffic during January and substantial improvement for intermodal container traffic at both Union Pacific and BNSF.
However, as the details have provided, BNSF is gaining market share at the expense of Union Pacific's progression early this year. It should be understood that the relationship with seaports is not the only driver for intermodal container business, especially on the retail side, but in today's global economy, it is the major piece of the pie.
Union Pacific management expressed that during the fall/winter holiday season including Thanksgiving and Christmas in the U.S., that several ocean carriers for Union Pacific's customers experienced a challenging environment due to market volume headwinds. This was explained as a result from imports in the Trans Pacific trade lane being sluggish due to weaker than anticipated U.S. domestic retail sales, and beneficial cargo owners, or BCOs speaking to right-sizing their inventory.
From an inventory perspective, there is some consistency with these statements, but the international container business for Union Pacific had it rough all year long, not just during the fourth quarter, with 2015 international container traffic down 8 percent. This year is off to a positive start, but Union Pacific is lagging its core competitive peer substantially while at a lower scale of less than 200,000 international containers per quarter.
Even more concerning is the performance of 53' domestic containers. This is the area where management has continued to emphasize the company's strength, but BNSF has outperformed Union Pacific here substantially, despite Union Pacific's strong start to the year.
When excluding trailer intermodal traffic, Canadian National, CSX and Norfolk Southern all have outperformed Union Pacific at this point in the year. It is early, and as the year progresses, we should see continual positive comparable trends due to weaker baselines from 2015. But this will work well and the same for all Class I rail operators. The key point for the intermodal business is that U.S. West Coast seaports are going to witness some of their strongest year-over-year performance during January and February from the low comparable from last year. BNSF is ahead of Union Pacific at this stage and may remain there throughout the year as a result.
Investors should keep a close eye on how this continues to play out over time. JB Hunt (NASDAQ:JBHT) is aggressively investing in 53' container and chassis equipment this year and is a core component driving BNSF's intermodal business. Intermodal loads for JB Hunt accelerated during the fourth quarter of 2015 and most likely are off to a strong start for 2016. Union Pacific's business prospects for intermodal have improved in early 2016, but the bar has been set higher by BNSF.
Disclosure: I am/we are long JBHT.
I wrote this article myself, and it expresses my own opinions. I am not receiving compensation for it (other than from Seeking Alpha). I have no business relationship with any company whose stock is mentioned in this article.