Houston Wire and Cable Company (NASDAQ:HWCC) stock has been a falling knife as of late, declining 25% since I first profiled it in my personal blog. The company now trades below book value, and at a mere 30% premium to net cash asset value. At such low valuation, estimated around liquidation value in a theoretical fire sale, investors should ask - will the company survive the current market conditions? I believe it will survive, and eventually thrive. Moreover, I believe that management is taking the right steps in this tough environment to build the company for the long term and prepare it for better industry conditions, yet most investors don't give it any credit for doing that.
Valuation and Financials
At $5.6 a share ($92M market cap), HWCC trades at a 0.9x Price to Book ratio. This is the lowest it has traded during the past 10 years (probably much longer, but I have data only since 2006). Even in the midst of the financial crisis of 2008-2009, it always traded in excess of book value, which is impressive given the $7.6M goodwill impairment took in 2013.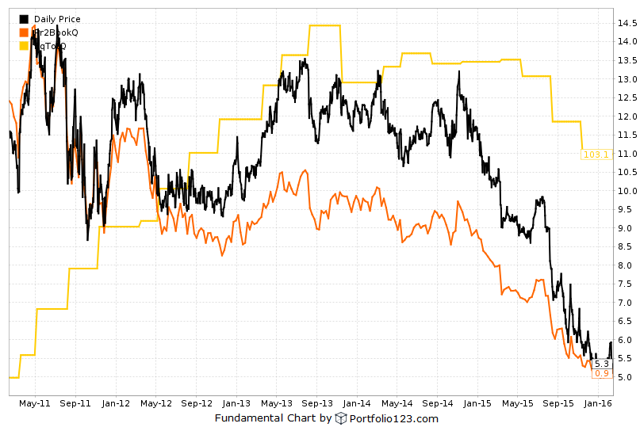 Click to enlarge
Working capital is $108M, 17% above the current market cap, while net cash asset value (NCAV), defined as current assets less all liabilities is 30% below it. When a company is trading at such a low price, which I estimate as being in the ballpark of liquidation value in the theoretical case of a fire sale, and probably significantly below its fair price in the private transactions market, investors should be wary. They should assess whether the company is in distress, and if so, what are its chances of survival.
For perspective, the last time the company traded at today's level was Q1 of 2009. Then, equity value was a mere $80M, compared to $92M today, and revenue was only $255M, 12% lower than trailing twelve months revenue of $327M (after revenue has fallen from a run rate of $390 during the previous four years). In hindsight we know that investors' pessimism and fear in the beginning of 2009, as if the world is going to end, were exaggerated, driving shares to absurdly low levels. The world didn't come to an end, and HWCC emerged and appreciated almost three-fold. Now history repeats itself (or does it only rhyme?) HWCC shares trade at a lower price-to-book multiple today, at 0.9x, than back then in March 2009, when they traded at 1.2x. If you believe that the market was inefficient then, would you think the market is efficient now?
At the current stock market environment, when the Russell 2000 is 11% lower than it entered 2016, and 22% lower than its peak of June 2015, there are quite a few microcaps trading at excellent prices. My approach to playing the current environment is continue holding a broadly diversified basket of stocks, which are both cheap and relatively safe (see my portfolio here). I do not have a crystal ball to say which will do better eventually, but as a group, I am confident that they will outperform. HWCC is among the safest of my holdings. The share price may continue to fluctuate, and may decline further from here, but there is practically negligible risk for the survival of the company or to incurring a permanent loss of capital. When the pendulum eventually shifts, I have conviction that shares would be traded higher than today's level.
Cost Management
HWCC stopped growing its top line in 2011 and revenue plateaued through 2014. In 2015, the revenue line took a big hit, falling -18.64%, -24.65%, and -19% year-over-year for the first, second and third quarter, respectively. Compare that to peers Wesco (NYSE:WCC) with -4.4%, -7.4%, -6.7%, for the last reported three quarters, and General Cable Corp (NYSE:BGC) with -20%, -22%, -41%. Obviously, it is not the only distributor struggling in this environment.
There is no bright spot in the company's business mix, comprising of Maintenance, Repair and Operations (MRO) responsible for 67% of its revenue and declining 11% in latest quarter; and Project Sales, comprising 33% and falling 9%. The company is impacted by its exposure to energy and industrials, the former experiencing a full blown crisis, and the latter merely a cyclical downturn.
Profitability suffered, falling from Return on Equity levels of 13.5% in 2014 to barely breaking even in the three reported quarters of 2015. The hit could have been much larger, had HWCC not managed its costs so prudently. In the good years of 2011-2014, gross margin came in around 22%. Impressively, management was able to maintain gross margins amid falling revenues at 21.7%, 21.7% and 20.6% for Q1, Q2 and Q3 of 2015, respectively. While revenue levels are out of this microcap distributor's control, maintaining such high gross margin is a testament of professional and prudent management. Operating expenses, averaging 16% during 2012-2014, were also kept in check with 17.2%, 22% and 18.3% for the three fiscal quarters of 2015.
The lumpiness of earnings and profitability is accentuated by the method in which the company accounts for its inventory. Inventory is recorded at average cost, while sold at a fair value, which fluctuates with its underlying commodity prices. For example, when copper prices rise, the company's revenue rises as well. When copper prices decline (as they have during the last year), revenue declines as well. Cost of Good Sold (a.k.a COGS) do not change much, since the inventory is recorded at average cost. Thus when copper prices decline, so does gross profit, and as a result - EBITDA, EBIT and net income. Since the company continues purchasing raw materials (i.e. wires and cables made mostly of Copper) even as the price declines, the inventory and COGS figures will slowly be averaged down and decline as well. HWCC held up its gross margins amid the copper price decline since 2011 (fell from a high of $4.5 to the recent price of $2) is notable.
The interesting thing about these dynamics is that it provides a hidden catalyst. Should copper prices (or those of other commodities which products are based on) start to increase, gross margins will surge. Revenue is likely to be increased immediately (assuming the company can roll the price increase to its customers) while COGS lag, reflecting the inventory bought at low prices. Naturally, this won't change the long-term economics of the company, but will create some positive headlines and may draw the attention of momentum investors. My investment thesis is not based on that, but it can give a nice boost to shares.
HWCC has been in business for over 40 years, in which its operations have more or less stayed the same. During these 40 years, there were many up and downs, and HWCC weathered them all. HWCC was able to be profitable even in the crisis year of 2009, when revenue bottomed at $255M, a whopping 30% less than the previous year. Even then, gross margin topped 20.8% and Return on Equity was a reasonable 10%. The year with the lowest revenue which I found records on is FY'2003, when revenue bottomed at a mere $149M level, and even then gross margin came in 23%. EPS was positive, yet only $0.01 a share. It seems that the company can sustain profitability at any revenue level, a comforting fact for a company whose bulk of its revenues are not in its control. Given its long-term history, I believe that management will be able to whether the current storms as well.
Working Capital Management
Management ability to weather the storm is also evident from its working capital management. The company was able to decrease its Account Receivables balance in an impressive amount, from $81.6M in end of Q1'15 to $51.1M in Q3'15, showing also as a decrease in Days Sales Outstanding (DSO) from 116 days to 113 days. It would have been worrisome if AR would have gone up amid declining revenues, attempting to keep revenues artificially high by offering loose payment terms. Credit is due to other distributors taking similar steps, for example General Cable Corp reducing AR from $1007M in fiscal year end 2014 to $687M to 2015, WCC from $1,312M to $1,075M, but not so much with Encore Wire Corp (NASDAQ:WIRE), Anixter (NYSE:AXE) and Balden (NYSE:BDC).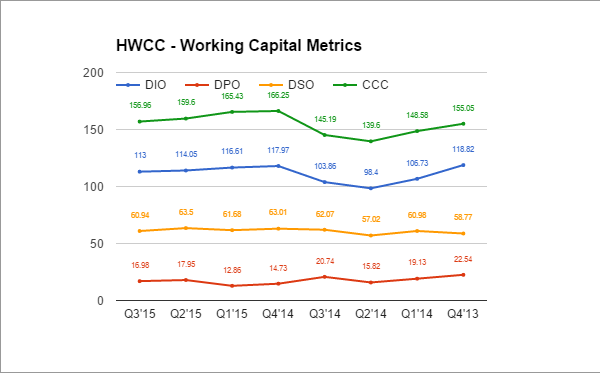 In addition, the figure above, derived from the 8 latest 10-Q, shows that inventory is kept in check, keeping Days of Inventory Outstanding (DIO) fairly constant at lower 60-days levels. HWCC seems to have done some positive work with its suppliers, and stretched Days of Payables Outstanding (DPO) from 12 days in Q1'15 to 18 days in Q2'15.
Capital Allocation
I believe that the highlight of HWCC operations in the midst of the current situation is in its capital allocation decisions. Management actions give me appetite to continue holding HWCC for the long-term, through the inevitable upturn yet to have started. I can see what investors I respect, such as David Nierenberg' and Arnold Van Der Berg found in this company.
HWCC was able to bring in $29M of cash from operating activities during the three reported quarters of 2015, compared to $11M for fiscal year 2014. Contributing to the increase is its remarkable ability to cut down account receivables by $10M since the beginning of 2015, and its inventories by approximately the same amount. The reduction in working capital, a much needed step in the current uncertain environment, while a non-recurring event, helps free up cash which HWCC seems to be using prudently. During the latest quarter it invested $1.4M in its buildings modifications of its Houston facility, now 99.9% complete. By itself, this seems as a long-term oriented investment in the company's future capacity. Management also reduced debt by $15M during the calendar year, bringing it to an acceptable $38.8M, compared to equity value of $103M. It still had ample cash to maintain its $0.06 quarterly dividend, totaling $8M on an annual basis, representing a 4.3% yield. HWCC is also buying back its own stock. In the first 3 quarters of 2015 it had bought $4.6M worth of stock, in addition to $6.9M buybacks in 2014. The buybacks were negligible prior to 2014, yet its dividend amount was twice larger. I like the fact that HWCC opportunistically increased its buybacks while reducing the dividend when shares were on decline. I believe it shows not only shareholder orientation, but also smart capital management.
Management and Notable Investors
CEO Pokluda III has been with the company for 27 years, acting as CEO Since 2012. Nicol Graham has been CFO since 2007. Their stock ownership, Graham's 183K and Pokluda's 123K is too low to my liking. Not holding enough stock is my main heartburn about the company's management. If the stock price is good enough to be the target of the company's capital, I believe it should be also the target of top management's capital.
Some comfort may be found in the significant stake of a value investor which is known to be thorough and careful, David Nierenberg who managed the D3 Fund. Nierenberg owns a stake equaling to 8.7% of his 13F portfolio. He started accumulating shares in mid 2014, and added to his stake consistently throughout 2014 and 2015.
Summary
Prudent long-tenured management, a company with a long-history of doing much the same thing, a long history of profitability, and a very cheap stock price - throw those in together, stir and wait.
The beauty about HWCC is that the value is not dependent on a turnaround with questionable prospects, and there's no time-bomb ticking because the company's earning stay afloat. The company knows well how to overcome a cyclical downturn as it has done during the last 40 years. I believe that Houston Wire and Cable will survive, and eventually thrive.
Disclosure: I am/we are long HWCC.
I wrote this article myself, and it expresses my own opinions. I am not receiving compensation for it (other than from Seeking Alpha). I have no business relationship with any company whose stock is mentioned in this article.
Editor's Note: This article covers one or more stocks trading at less than $1 per share and/or with less than a $100 million market cap. Please be aware of the risks associated with these stocks.