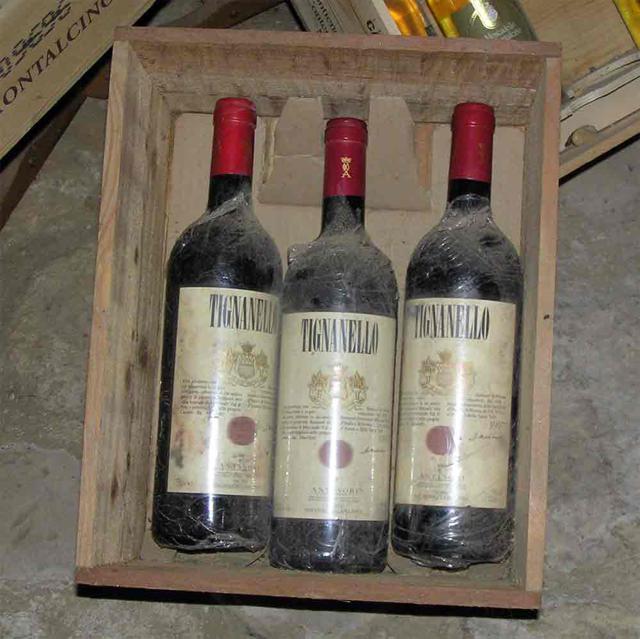 Click to enlarge
(Source: Wikipedia)
Making a mistake is painful; admitting a mistake more so. The following is a repost of an article I previously wrote on Altria (NYSE:MO) and retracted due to errors. The dividend analysis that follows is the same objective analysis previously posted, but the discussion of the implications of Altria's future dividends has changed to be in line with the facts. I'd like to thank contributor Patrick Gunn for covering for me at the time of the article.
The best stocks over the past 30 years are unequivocally dividend stocks, as reported through the 44 stocks that have gained over 10,000% return over the past three decades. Altria is one of them. I've previously written two articles on the company and hold a bullish outlook.
With the environment today looking increasingly bearish, investors have been flocking to consumer staple stocks that offer dividends. While other stocks have fallen to the chagrin of growth stock investors, MO has increased. But not everything is jolly: MO was also included in the bloody Q4 season, missing its estimates.
While some dividend companies pay their dividends with strong levels of income and cashflow, other companies literally defend the dividend to the death, going into debt to maintain the dividend. Today, we take an in-depth look at Altria's dividend.
MO: The Dividend
First, let's talk about the history of Altria's dividend. Anyone looking at MO's dividend history will see two significant dividend cuts. In fact, MO has never really "cut" its dividend but instead engaged in two spinoffs. That said, looking at the dividend history is misleading.
I made this mistake as well, primarily because the "dividend cuts" happened during the time of the 2007-2009 market crash. What actually had happened was Altria spinning off both Kraft Foods - now Mondelez International (NASDAQ:MDLZ) - and Philip Morris (NYSE:PM). That is, Altria was compartmentalizing its business - and therefore giving KRFT and PM stock to its shareholders - at a time when most other companies were truly slashing dividends.
The cut in MO's dividend payout corresponded to the percentage of the business that was spun off. Therefore, holders of MO did not get hurt by the dividend cut. Moving forward, Altria continued to raise dividends.
Despite these facts, MO cannot be considered a dividend aristocrat. Nevertheless, phrases such as "dividend aristocrat" are semantics. MO has continually given more to its shareholders each year, whether in the form of dividend raises or spinoffs.
Still, new investors should note that buying MO today puts you in a position worse than previous investors: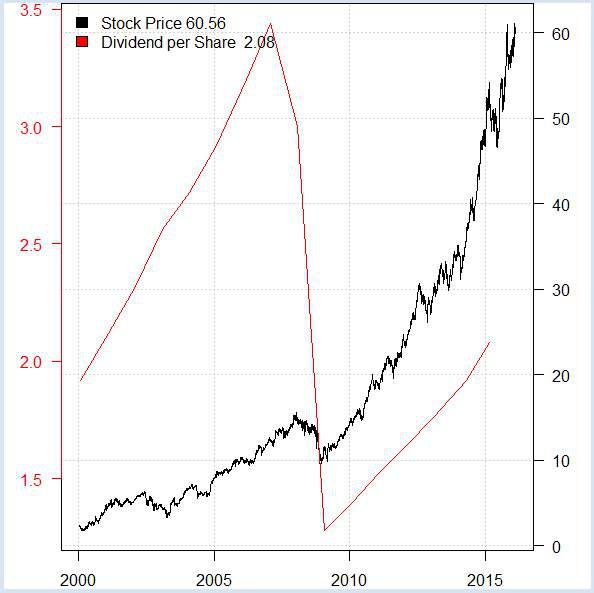 Likewise, those holding MO now should be more wary of buying more shares of MO. The reason should be apparent, but if not, here's the short version: The stock is at an all-time high but the dividends are barely half of what they were before.
The spinoffs of 2007 and 2008 barely put a dent in MO. But they certainly put a dent in MO's dividends. Those who invested prior to 2007 saw dividends higher than today and received free shares of PM and MDLZ and continue to get the equivalent of pre-2007 dividends via the dividend payouts of PM and MDLZ.
In short, new investors are getting a bum deal dividend-wise. However, some investors would consider the pros of MO to outweigh this one con. MO has shown consistent growth in its stock price and in dividends as well as protection against market crashes and corrections.
The safety of MO coupled with its dividend growth make it rare in this market, possibly justifying its price. And most amazing of all is that Altria has made this happen without initiating share buybacks, which artificially inflate stock prices regardless of the fundamentals: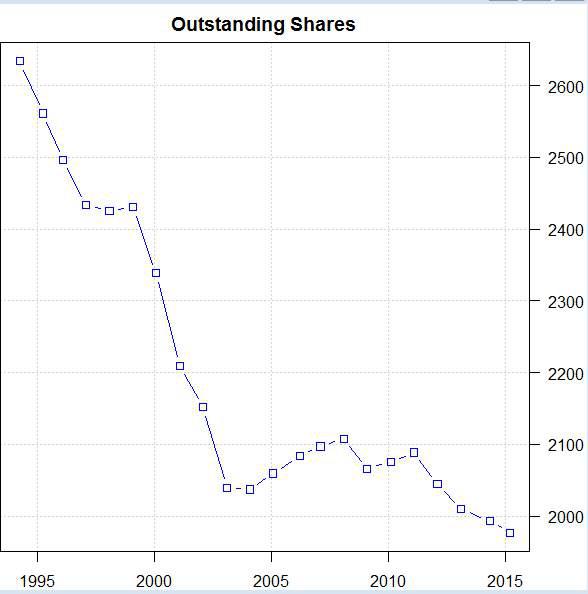 The main concerns for new investors should be the price and the "bum deal" aspect. If you are a dividend investor, the price is painful, as it has led to a lower dividend yield: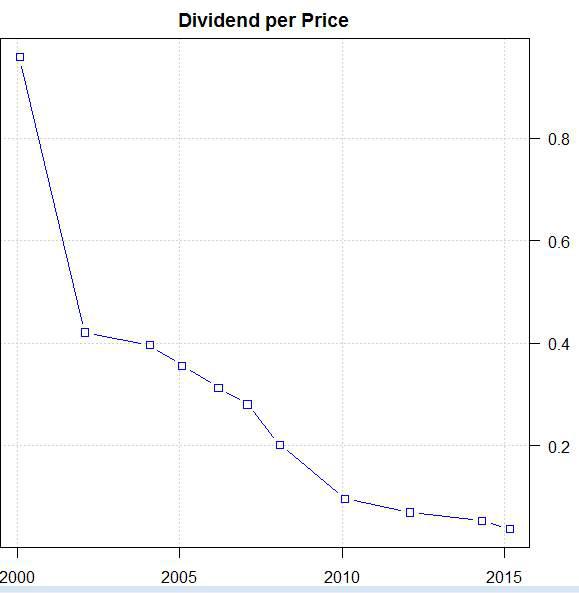 The bum deal aspect is mainly a psychological one. If you care about the past, then you are truly getting in too late compared to earlier investors who once saw 8% yields. Nevertheless, the generous $0.045 dividend increase given in 2015 has brought the yield back up to 3.6%, making MO especially attractive for these rocky times.
But MO's dividend payout and yearly raises are stable, a fact that is perhaps a saving grace for dividend growth investors. We will graph the dividend payout versus Altria's income: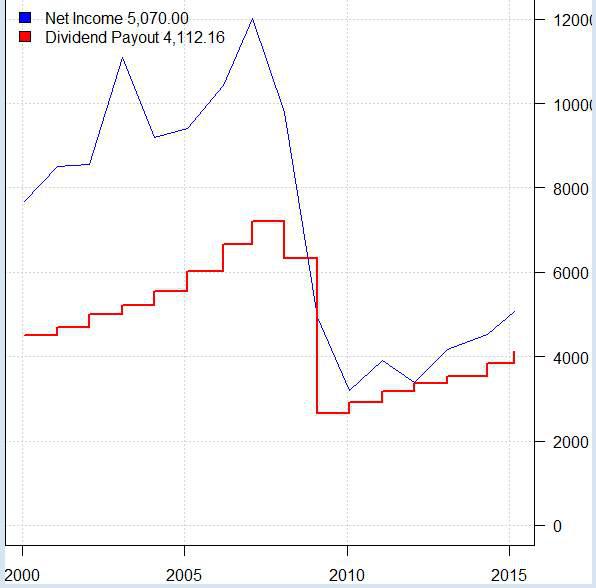 We see that the income has always covered MO's dividend. That is, if the day ever comes when Altria must decide whether to sustain the dividend, it will have the income to sacrifice other uses of funds in favor of maintaining the dividend. In regards to dividend raises, a company that can consistently increase its income can also consistently increase its dividends.
Of course, the actual dividend is either paid out from free cash or through debt, not pure income. Altria has been FCF-positive since 2012. However, yearly cash flow is rocky: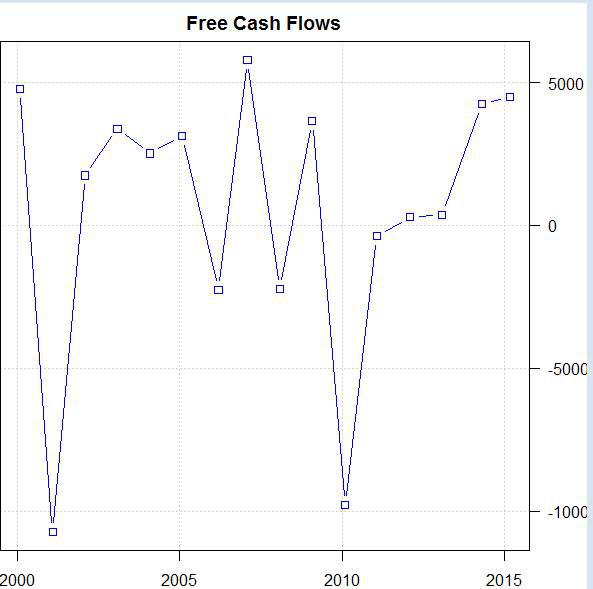 My estimate for usable cash - a 5-year running average of FCF - shows Altria finally looking to have pre-2008 levels of cash. This implies Altria returning to its pre-spinoff days. In other words, Altria is like an earthworm that was cut and has regrown: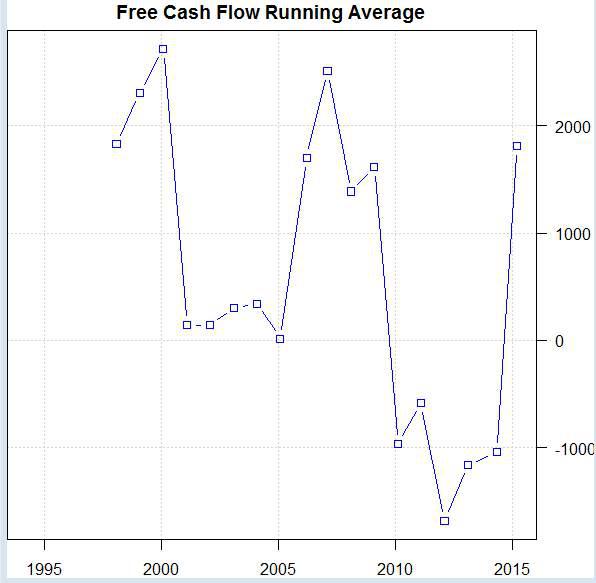 But still - there's the price. In fact, whether Altria will ever return to its pre-spinoff days in terms of value per share is a matter of time more so than a matter of price. Although the spinoffs made a large dent in the EPS, Altria is climbing right back to where it was before, making its large share price merely relative to what it offers: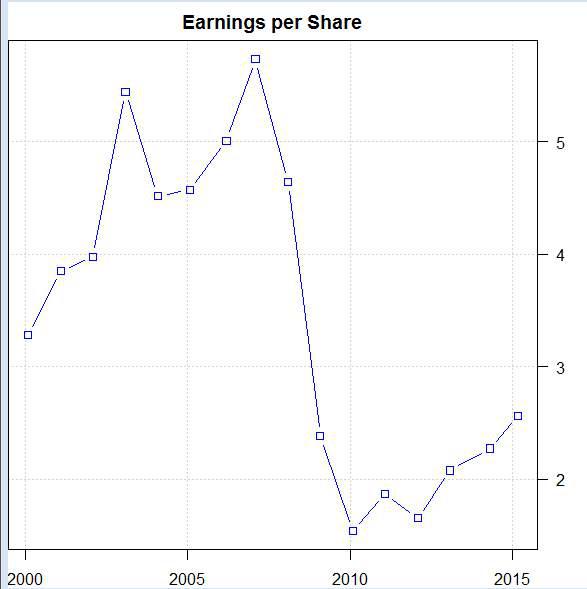 Conclusion
MO's dividend is safe and growing. It is positioned to continue increasing its generous dividend. Nevertheless, the MO you buy today is significantly more expensive than the MO one decade ago - and this MO offers less in terms of dividends.
Thus, the main downside of owning MO at this time is its price and how you feel about that price. The stock price has gotten ahead of the dividend fundamentals when you think retrospectively. However, in a market where pretty much everything looks expensive, MO's price is something you must "get over."
MO investors have little reason not to hold (moreover, they are psychologically attached to this stock after obtaining so much in the past decade). But new dividend investors ironically have little reason to buy. The price is out of hand in regard to what it offers.
That said, the company is well-managed and will likely move forward much as they have done in the past. Still, new investors cannot expect MO to do anything crazy, such as doubling the dividend, as the income-to-payout margins and free cash flow won't allow it at the moment. The comparison of MO's dividend-to-price (let's call it a "deal") now versus that of the past simply shows MO not to be nearly as good of a deal as it once was.
To put another way, MO's "bum deal" is a psychological issue reliant upon making comparisons to what you "could have" or "should have" done in the past. Nevertheless, if you want a stock that can whether a market crash, sustain its dividend, and afford to continually raise its dividend, you are going to pay for it. You'll be buying MO's 2000 dividend for 2016 prices, but in exchange you get 16 more years of an impressive track record.
As for whether that track record is worth double the stock price… Sometimes aged but expensive wine is the safest choice for an important meal.
Request a Statistical Study
If you would like for me to run a statistical study on a specific aspect of a specific stock, commodity, or market, just request so in the comments section below. Alternatively, send me a message or email.
Disclosure: I/we have no positions in any stocks mentioned, and no plans to initiate any positions within the next 72 hours.
I wrote this article myself, and it expresses my own opinions. I am not receiving compensation for it (other than from Seeking Alpha). I have no business relationship with any company whose stock is mentioned in this article.