Investors understandably sold their shares of Sierra Wireless (NASDAQ:SWIR). The machine-to-machine (M2M) mobile solutions supplier touted its revenue potential based on its three business segments. It believes its total addressable market ("TAM") is $20 billion by 2020. Unfortunately, the company's quarterly results suggest otherwise. Sierra Wireless missed estimates for four consecutive quarters. Its fourth quarter results was more of the same. The company also guided lower, but will buy back nearly 10 percent of outstanding shares. The stock may have bottomed at $10, for now, but should investors speculate on improving prospects this year?
Revenue grew 10.8 percent for the full year, but the company based its higher earnings using adjusted EBITDA and non-GAAP figures. The differences between GAAP and non-GAAP are significant.
Sierra Wireless' non-GAAP figure excludes stock-based compensation expenses, acquisition related costs (amortization, impairment, integration costs, and restructuring costs).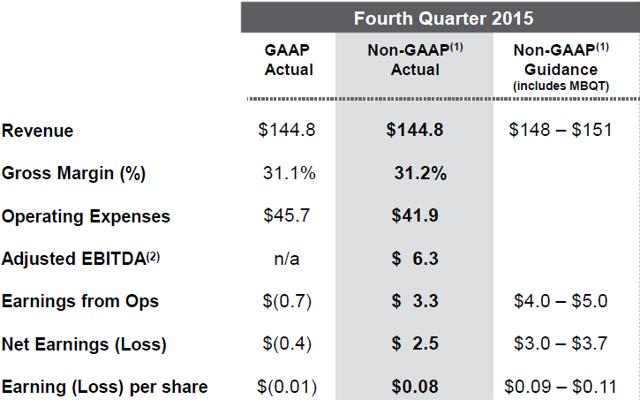 Click to enlarge
Source: Sierra Wireless Q4 2015 Presentation
Fortunately, the company's cash flow improved in the fourth quarter as cash grew by $5.5 million. Sierra Wireless has no debt and $93.9 million in cash ($2.90 per share), but expect the cash level to fall by $38 million after the share buyback is complete. Enhancing shareholder value in this way will pressure management to limit operational expenses and improve profitably on its new business segments.
Growing the Cloud and Connectivity services division is paramount for Sierra Wireless' goal of boosting its profit margin. The company's aim is gross margin above 35 percent and operating margin above 10 percent. If achieved, the company could conceivably meet its $1 billion revenue goal in the long-term.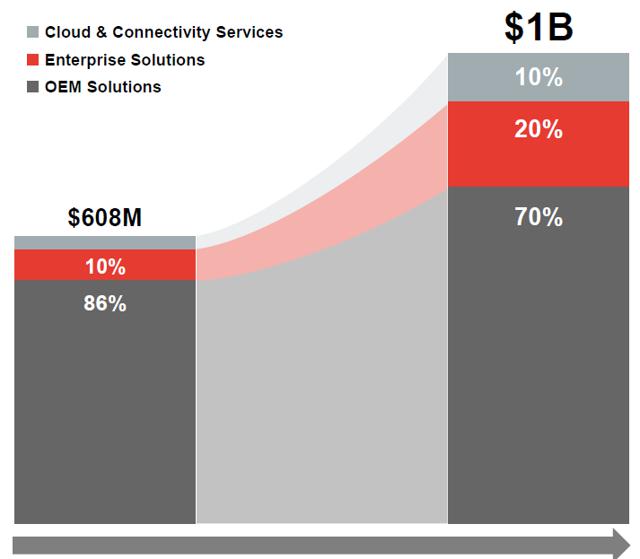 Click to enlarge
The company faces clear challenges in the near-term. Last quarter, demand weakened from various OEM customers. Sierra Wireless faces pressure growing its Cloud and Connectivity unit. It spent $90 million in 2014 for Maingate, $11 million for Accel Networks in 2015, and $15 million for MobiquiThings in the third quarter. If it fails, the company will end up writing down the goodwill value of these acquisitions.
The macro weakness in markets may hurt customer demand for some of the IoT (Internet of Things) projects. At its current valuation of 0.63 times sales, investors are not paying much of a premium if sales of IoT applications take off.
Weak quarter ahead
Sierra Wireless already guided revenue of between $135 million and $145 million in the first quarter. It blamed an order delay from a number of customer types:
For the first quarter of 2016, we expect revenue to be in the range of $135 million to $145 million. This revenue outlook is flat to lower sequentially because of timing of orders from a large automotive customer, the impact from our mobile computing customers continuing to navigate the Skylake processor transition and some demand softness in the OEM Solutions at select customers, which we believe reflects caution on behalf of customers given the uncertain economic environment.
The company is still upbeat for the fiscal year, but investors should take a more cautious stance. Until demand from automotive and PC OEM picks up, probably starting in the second quarter, there is limited upside for its stock.
Fundamentally shifting from the PC OEM market to mobile devices takes time. Sierra Wireless implies this will happen later this year, but this transition may happen slower than management believes. Adoption for LTE-M, or Low-Power Wide Area (LPWA) technology, will not have meaningful commercial volume shipments until 2017 at the earliest. Management expects uptake is bigger in 2018.
Watch Sierra Wireless for now
Sierra Wireless is a big player in the IoT market. Since a resumption in growth is back-loaded for the second half of 2016, expect the stock to stay at current levels. Management must first prove its acquisitions will add to revenue this year and beyond. If it does, the stock will trade higher.
Disclosure: I/we have no positions in any stocks mentioned, and no plans to initiate any positions within the next 72 hours.
I wrote this article myself, and it expresses my own opinions. I am not receiving compensation for it (other than from Seeking Alpha). I have no business relationship with any company whose stock is mentioned in this article.