Applied Materials' (NASDAQ:AMAT) January quarter earnings report last Thursday was warmly greeted by the market, which rewarded it with a 7% pop on Friday. This was despite a 4% y/y decline in revenue and a 22% y/y decline in operating income. Expectations are high for the coming year, and investors clearly expect AMAT to weather the current tech storm.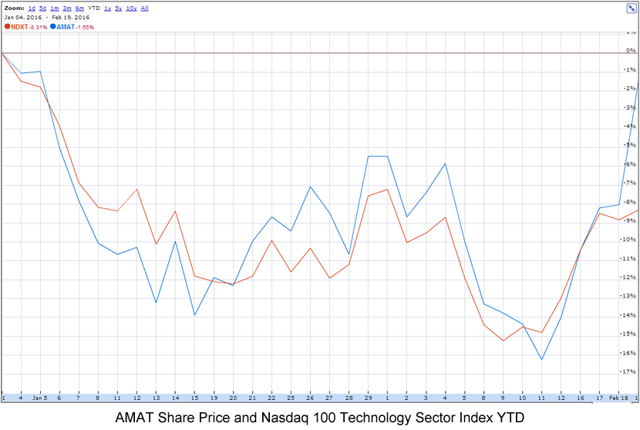 Click to enlarge
Source: Google Finance
Tech Deflation
Since the beginning of the year, many tech stocks have suffered declines, and there has even been talk of a tech bubble, even though conditions are nothing like the Dot Com bubble of 2000. Clearly, there is some deflation going on in the tech sector, and this has put investors on the look out for safe havens.
In the chart above, I show the relative performance of AMAT since the beginning of the year, along with the performance of the Nasdaq 100 Technology Index (NDXT). This may explain the interest in Applied Materials. Its guidance for its April quarter (fiscal Q2 2016) was ho-hum with flat revenue y/y, but during the conference call, management expressed optimism that AMAT would see growth for the fiscal year, with most of it occurring in the second half.
There's reason to believe the optimism of management. AMAT isn't as predictably seasonal as so many consumer electronics firms and revenue can be lumpy as it receives orders for its capital equipment. So y/y comparisons may not be the best indicators. AMAT has posted substantial revenue gains for the past couple of years, however. Fiscal 2015 revenue grew 6.5% to $9.66 billion.
Food Chain
Investors' expectations of growth are coupled with the perception that AMAT sits atop a food chain that renders it insensitive to the vagaries of competition in key electronics markets. Perhaps, the best example of this is the global smartphone market. According to AMAT's latest SEC 10K, its two largest customers are Samsung (OTC:SSNLF) and TSMC (NYSE:TSM). This means that no matter how the top five smartphone vendors do in terms of sales, the important chips in their phones will likely have been fabricated using AMAT equipment.
AMAT supplies wafer fabrication equipment (WFE) to the foundries. Silicon chips of various sorts, including processors and memory chips, are fabricated on thin circular wafers of silicon. WFE is a generic term describing the various types of equipment used to create the intricate patterns of circuits on top of the silicon wafers. Currently, 12-inch diameter wafers serve as the substrate for these circuits, and each wafer can hold 100s of separate chips.
Revenue in the Silicon Systems segment, which builds wafer fab equipment, did suffer a 5% y/y decline to $1.373 billion in the January quarter, which reflects to some degree the slower growth in the smartphone market. However, the race is on between Samsung and TSMC for the next process node at 10 nm, and this is expected to increase revenue in the fiscal second half as the foundries take deliveries on equipment in preparation for production in 2017.
In addition to the foundry business, the expansion in non-volatile memory, especially 3D NAND is expected to spur sales for AMAT. Both Samsung and Intel have been working on 3D NAND, which AMAT CEO Gary Dickerson characterized as a "technology inflection" that will drive growth for AMAT.
Diversification
AMAT has also diversified beyond wafer fabrication equipment into areas such as services, display fabrication, and solar array fabrication. Services posted substantial y/y growth of 7% to $626 million. Energy and Environmental Solutions revenue declined 18%, reflecting a slowdown in the solar industry.
Although the Display segment revenue declined 22% y/y to $213 million, AMAT management expressed optimism that the transition to OLED screens from LCD will drive growth. AMAT believes its products are well positioned to serve the process demands of OLED screen manufacturing. During Q&A, Dickerson stated that compared to LCD, the total available market for OLED processing equipment "is up by about a factor of three" for AMAT.
AMAT sees the near-term opportunity in OLED being smaller displays for mobile, rather than for large screen TV. Eventually, OLED can be expected to dominate all types of screens, but it's still a relatively expensive process compared to LCD for large screens, so it can be expected to expand first into mobile devices.
The New Process Equality
One of the key takeaways from the conference call is that the adoption of 14-16 nm FinFET technology by silicon foundries has been good for AMAT. The FinFET transitor structure is more "materials engineering" intensive, requiring more advanced WFE from companies such as AMAT.
The increasing adoption of FinFET technology by the world's foundries has resulted in a state of relative "process equality" among the foundries and Intel. Although Intel still claims a process edge for its own 14 nm FinFET process, with justification, that advantage decreased substantially once other foundries were able to get FinFET into production.
As the leading foundries now race to 10 nm, Intel's advantage is likely to decrease still further. The new process equality benefits AMAT by virtue of the fact that all the foundries will be buying the most advanced equipment at approximately the same time.
Investor Takeaway
AMAT does appear to be a safe harbor in the current tech storm. It has a modest TTM P/E of 16.9, and relatively high institutional ownership of 85% according to Google Finance. It also has a respectable dividend yield of 2.18%. At the very least, it's a bullish hold.
I'm holding off making a buy recommendation, however, mainly because macro conditions could constitute a barrier to the growth AMAT expects in the second half. There are still indications of slowing in the smartphone and display markets, which could lead to merely flat revenue in the second half.
Disclosure: I/we have no positions in any stocks mentioned, and no plans to initiate any positions within the next 72 hours.
I wrote this article myself, and it expresses my own opinions. I am not receiving compensation for it (other than from Seeking Alpha). I have no business relationship with any company whose stock is mentioned in this article.
Editor's Note: This article discusses one or more securities that do not trade on a major U.S. exchange. Please be aware of the risks associated with these stocks.