Zafgen (NASDAQ:ZFGN) saw troubles with its stock start when a patient in a clinical trial passed away. Those troubles continued when a second death was announced. In fairness, the drug candidate, Beloranib, was being tested on patients with Prader-Willi Syndrome. This disease has a high mortality rate. The first death caused the FDA to pasue the phase 3 clinical trial. The second death brought a halt to the trial, though there was enough data to ultimately release results that were medically significant.
Zafgen stock has still not recovered from the drops related to patient deaths, but the company has moved forward on negotiations about the phase 3 results of the Prader-Willi clinical trial and now with positive phase 2 results from a clinical trial testing Beloranib for those with severe obesity in conjunction with Type 2 diabetes.
The latest results achieved the primary efficacy endpoint, as treatment with the 1.8 mg and the 1.2 mg doses of beloranib resulted in 12.7 percent (p<0.0001) and 13.5 percent (p<0.0001) reductions in body weight, respectively, compared with a reduction of 3.1 percent for placebo. Patients enrolled in both the 1.8 mg and 1.2 mg treatment arms also met a key secondary endpoint, with patients in each dose arm achieving on average an absolute reduction in HbA1c of 2.0 percent compared to a reduction of 0.6 percent for placebo.
It has been my opinion that Beloranib will ultimately gain FDA approval, but will have a restrictive label that could include some strong warning language. The company seems to indicate that the risk vs. reward ratio is something that can pass muster with the FDA.
"In addition to the recent positive efficacy data from our bestPWS clinical trial, these data provide additional context regarding beloranib's benefit-risk profile in the treatment of severe forms of obesity. We look forward to discussing these results with the FDA as we work to establish a path forward for beloranib in Prader-Willi syndrome and other orphan obesity indications."
For investors this recent development may provide a bit more of security and foundation for the equity to build upon. If the FDA approved a phase 3 trial for the indication of severe obesity complicated by type 2 diabetes, it would be a pretty sound statement by the agency that perhaps it agrees that the benefits outweigh the risks. This gives the stock a unique opportunity to respond to the initiation of a phase 3 trial in a very positive manner.
The weight loss results delivered by Beloranib are more impressive than any of the newly branded anti-obesity pills, and even seem to outperform the newly lauched Saxenda from Novo Nordisk (NYSE:NVO). Saxenda and Beloranib are both injections.
Even with more impressive results, the developments in the anti-obesity sector over the past few years have been less than impressive. Simply stated, there has not been much traction with anti-obesity treatments. Where Zafgen does have a distinct advantage is if it can get approved for Prader-Willi Syndrome. This disease is a severe killer, and any treatment that can combat it and extend a patients life will be seen as a positive. Yes, general obesity can be a killer, but the time-lines of death are most often decades away vs a very short life expectancy for Prader -Willi patients.
In my opinion Zafgen is still speculative. There is opportunity here for those that want to speculate on the FDA allowing a phase 3 trial for a second indication. If that happens, it may also drive speculation that Beloranib will ultimately gain approval for the Prader-Willi indication.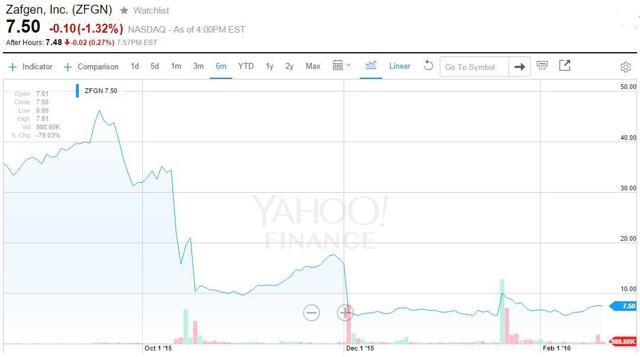 Chart Source - Yahoo Finance
As you can see in the chart above, Zafgen has taken a severe hit in the last 6 months. The stock remains near its bottom mostly on concerns about safety. As I stated earlier, there is now a chance to see exactly what the FDA concerns may or may not be when the company wraps up negotiations on starting a phase 3 trial for this second indication. There exists, in my opinion, a speculative play here, but investors need to be aware a level of risk remains. Stay Tuned!
Disclosure: I am/we are long ZFGN, NVO.
I wrote this article myself, and it expresses my own opinions. I am not receiving compensation for it (other than from Seeking Alpha). I have no business relationship with any company whose stock is mentioned in this article.