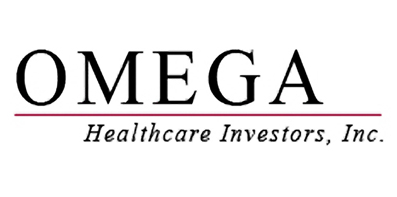 Just like most companies in 2016, healthcare REIT Omega Healthcare Investors (NYSE:OHI) did not get a good start to the year. With investors panicking over everything ranging from China's economic slowdown to the potential for a U.S. recession to a high-yield debt rout, income vehicles were the among the first to get the boot from investors' dividend portfolios in 2016. Omega Healthcare Investors, a healthcare real estate investment trust that has been heavily investing in skilled nursing facilities in recent years, has been hit hard, too.
Year-to-date Omega Healthcare Investors' market valuation has already fallen ~13%, even though the REIT hiked its dividend in January AND closed the 2015 financial year on a strong note.
The correction, on the other hand, opens up a compelling buying window for investors wanting to double down on one of the nation's leading healthcare REITs.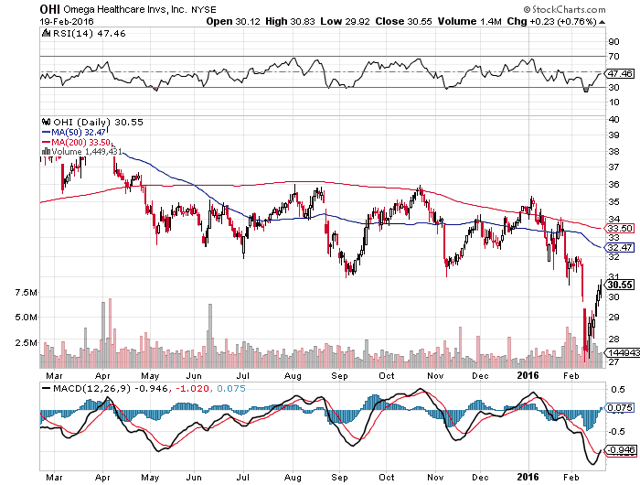 Click to enlarge
Source: StockCharts.com
The correction has gone too far...the healthcare REIT is cheap
One of the key reasons to consider buying Omega Healthcare Investors at this point relates to the REIT's low valuation. To put it bluntly: The REIT is in the bargain bin.
In 2015 Omega Healthcare Investors raked in $455.3 million, or $2.52/share, in funds from operations, or FFO. A year ago Omega Healthcare Investors pulled in $345.4 million, or $2.71/share, in FFO. Granted, results are not totally comparable due to Omega's acquisition of Aviv that was completed in the second quarter of 2015, but the point remains that the real estate investment trust is quite cheap on an adjusted FFO basis.
Omega Healthcare Investors said it had adjusted funds from operations of $564.4 million, or $3.13/share for 2015 which compares to $363.1 million, or $2.85/share, for the same period in 2014.
For 2016 Omega Healthcare Investors guided for adjusted funds from operations in the range of $3.25-$3.30/share. Put differently, OHI sells for just ~9.3x estimated 2016 AFFO. That's really cheap.
As a matter of fact, a year before Omega Healthcare Investors acquired Aviv, in 2014, I contended that the REIT's FFO growth is backing its dividend growth. Further, the company continues to be in a good position to capture growth in the growing market for senior healthcare. The article I penned at the time, in February 2014, was entitled "This Healthcare REIT Is A Bet On Increasing Senior Care Demand And Yields 5.5%".
Attractive REIT yield play
The flip-side of a low valuation is a high entry dividend yield.
Omega Healthcare Investors declared a $0.57/share dividend in January which the company paid last week. Based on a $0.57/share quarterly dividend payout, or $2.28/share annualized, an investment in Omega Healthcare Investors yields an astonishing 7.46% -- a great yield paid by a great healthcare REIT.
Your Takeaway
As is often the case when it comes to investing in real estate investment trusts, I just like them better when they go down in price. Omega Healthcare Investors' correction, in my opinion, has opened up a buying window for opportunistic income investors with excess cash on hand. Omega Healthcare Investors is cheap on a P/AFFO basis, and an investment in this healthcare REIT yields in excess of 7%. Buy for Income.
Disclosure: I am/we are long OHI.
I wrote this article myself, and it expresses my own opinions. I am not receiving compensation for it (other than from Seeking Alpha). I have no business relationship with any company whose stock is mentioned in this article.