By Parke Shall
We have followed the Mannkind (NASDAQ:MNKD) story since the company was dropped by Sanofi (NYSE:SNY) and has fallen into somewhat of a downward spiral since then.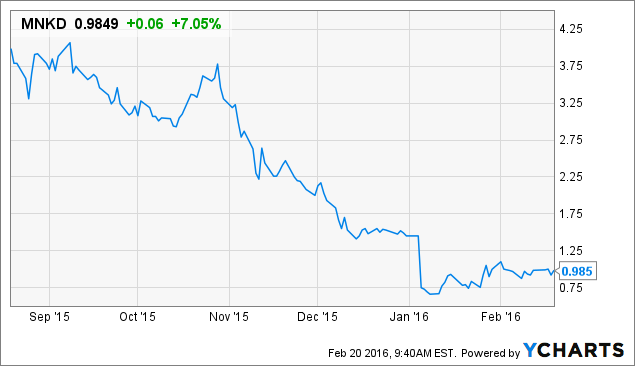 The company's burgeoning debt load is raising questions about the company's ability to continue and whether or not common equity holders will ultimately find any value in coming quarters.
Unfortunately, as we have written several times, we believe that the negatives certainly outweigh the positives for the company at this stage, and its recent questionable partnership agreement and the changing of the guard at CEO have added to our sentiment that the company may not be a great investment.
Further, the company's attempt at soliciting a sale or some type of restructuring when it is clearly not in sellable shape leaves us substantial doubt about what other options exist for the company outside of any type of bankruptcy proceedings that would likely wipe out the common shareholders.
The most recent of problems compounded this week, when it was announced that the founder and former executive of the company, Al Mann, was finally resigning from his position at the company.
LA Times reported,
Struggling Valencia drug maker MannKind Corp. said Friday that the company's 90-year-old founder and executive chairman Alfred Mann was stepping down.

The move comes as the company has been fending off reports that it is up for sale following the loss of its key partner, pharmaceutical giant Sanofi. The French company announced in January it would stop marketing and distributing MannKind's only approved drug - Afrezza, an insulin powder that is inhaled but has been a slow seller.

Mann, a physicist and inventor who has launched 17 companies in five decades, will continue to advise the company, said Matthew Pfeffer, MannKind's chief executive. Mann declined to comment, he said.
This was his name sake company and he was responsible for the ideas and the initial development, as well as cultivating the culture of the company and its shareholders throughout its tenure as a public company. Seeing Mr. Mann leave probably isn't a good sign.
We think the most likely scenario is that Mr. Mann may have wanted to continue pushing forward with his company while, perhaps, the Board may see more realistic options on the horizon.
We think that his new title of Chairman Emeritus is likely nothing more than window dressing from a public relations standpoint. It is clear to us that Mr. Mann will not be participating in any of the company's future endeavors by making key Board decisions. What is very baffling to us is the timing of him stepping down from the board. We are wondering if he had a difference of opinion with other board members, or if he simply has decided to throw in the towel on his company.
Certainly, we can think of one obvious scenario. Mr. Mann may have wanted to push the company forward, but if the current Board of directors was of the common sense conclusion that bankruptcy was the best scenario for the company and the most responsible for the company's creditors, that Mr. Mann may not have wanted to have been a part of this.
Of course, it goes without saying that our analysis is mostly based just on common sense. Mr. Mann may have simply stepped down because of his old age, he may have stepped down to move on to other ventures, but the most likely scenario still keeps us firmly held in our belief that there is a very limited future for the company and that common shareholders may not be left holding much after a restructuring or other type of strategic maneuver.
We continue to believe that the risk is far greater than the reward in owning shares of MNKD, we have no position in the company and we do not plan on taking one.
Disclosure: I/we have no positions in any stocks mentioned, and no plans to initiate any positions within the next 72 hours.
I wrote this article myself, and it expresses my own opinions. I am not receiving compensation for it (other than from Seeking Alpha). I have no business relationship with any company whose stock is mentioned in this article.
Editor's Note: This article covers one or more stocks trading at less than $1 per share and/or with less than a $100 million market cap. Please be aware of the risks associated with these stocks.