Enbridge Equity Partners (NYSE:EEP) reported negative earnings for 2015. And positive earnings. Looking at the GAAP and adjusted net income numbers, it's hard to believe they're from the same filing. Net Income attributable to common and i-units (EEP's normal shareholders) was -$84.8 million in 2015, a loss of $0.25 on a per share basis. After adjustments, net income for shareholders of EEP was a gain $273.5 million, or $0.80 per share. Saying the difference is big enough to drive a truck through understates the case. Over $350 million in adjustments were added to 2015 earnings.
2015 Full-Year Earnings (millions except per share data)

| | | | |
| --- | --- | --- | --- |
| | GAAP Earnings | Adjusted Earnings | Difference |
| Net income attributable to limited and general partners | $132 | $497.6 | $365.6 |
| Net income attributable to common units and i-units | ($84.8) | $273.5 | $358.3 |
| Net income per common unit and i-unit | ($0.25) | $0.80 | $1.05 |
That's a big, big difference, especially considering it brings earnings out of negative territory and makes results appear not all that bad given the environment. Still, even on an adjusted basis, net income was down over 10% in 2015 compared to 2014, or 14% on a per share basis, the result of additional share issuance. If you weren't confused yet, there's more. While net income attributable to general and limited partners shrank by more than two-thirds compared to the previous year, after adjustments are made the result shows a 8.1% gain for the year. It's not often you get to see a loss, strongly negative earnings growth, and positive earnings growth all in the same report.
Income Statement Summary (millions)

| | | | |
| --- | --- | --- | --- |
| | 2015 | 2014 | % Change |
| Revenue | $5,146.1 | $7,964.7 | -34.4% |
| Operating income | $681.6 | $1,086.7 | -37.3% |
| Net income | $454.3 | $740 | -38.6% |
| Net income attributable to general and limited partners | $132 | $371.8 | -64.5% |
| Allocations to general partner | $216.8 | $153.4 | +41.3% |
| Net income attributable to common units and i-units | ($84.8) | $218.4 | N/A |
| Adjusted net income attributable to general and limited partners | $497.6 | $460.3 | +8.1% |
| Adjusted net income attributable to common units and i-units | $273.5 | $305.1 | -10.4% |
The list of positive adjustments is a long one. It mostly consists of one-time costs, extraordinary items, and non-cash losses -- changes in derivative values from hedging activity, asset impairment, etc. Here's the full list: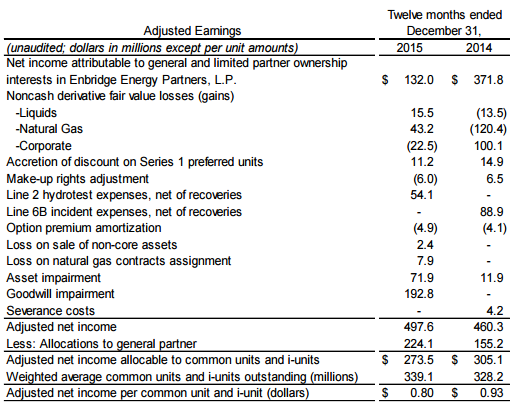 The major adjustment comes from goodwill impairment, which accounts for a $192.8 million addition to 2015 adjusted net income. EEP had accumulated $246.7 million in goodwill from acquisitions of natural gas assets. In the third quarter of 2015, the entirety of this goodwill was wiped out. While this is a non-cash loss, it is a big one and it extends past just a paper loss. EEP overpaid in the area of a quarter of a billion dollars for these assets compared to their current value. After adjustments however, operating income for the natural gas business went from a $298 million loss to a $24.6 million gain.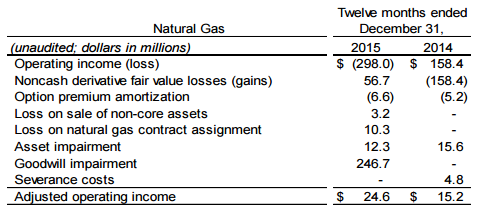 Another interesting feature of this report is that net income attributable to general and limited partners shrank by two-thirds, or grew 8.1% depending on which number you use, but at the same time the allocation of that income to the general partner rose 41.3% compared to 2014. Irrespective of which income number you use, this is clearly a disproportional increase, even compared to the 17% expansion of distributable cash flow. As is the case with most MLPs featuring a general partner, the best cuts of meat go to management.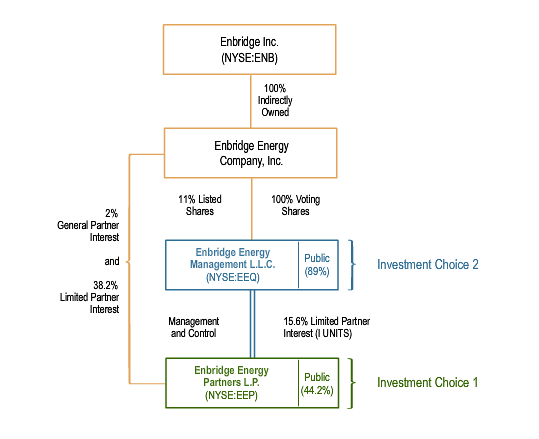 While full-year distributable cash flow was up 17% from the previous year, the distribution per share rose just under 5%. This distribution increase however, comes with a caveat. The 2015 distribution coverage ratio was 0.92. Enbridge Energy Partners is not generating enough cash to cover their distribution and this is expected to worsen in 2016 when distribution coverage is projected to fall to between 0.8 and 0.9. The estimated distributable cash flow is in the range of $860 to $920 million. The midpoint of this estimate would mean a 6.2% decline from 2015's $948.6 million in distributable cash flow. In addition to the erosion in the safety of the distribution, there is an anticipated decline in cash coverage as well. EEP will just barely be generating enough cash to pay interest expenses as cash coverage falls from 1.11 in 2015 to land between 0.95 and 1.05 for 2016. This is where the adjustments begin to really matter. When a company is healthy and growing, earnings adjustments are made so you can better gauge how the underlying business operations are doing. But when a company is having trouble covering its financing expenses, those one-time costs and extraordinary items can have a major impact on a company's financial health. EEP simply can't sustain this. Either operations will have to generate more cash, the distribution will have to be cut, or divestments will have to be made to sustain payouts. Growing their way to better distribution and cash coverage levels will be difficult, especially when capital expenditure is expected to decline in 2016 and project completion dates have been pushed back to as late as 2019 on regulatory hang-ups. It will be interesting to see how management handles this if conditions do not improve.
Regardless of whether you pay attention to the GAAP, adjusted earnings, or distributable cash flow, there's no way around the weakening financial condition of Enbridge Energy Partners. The combined pressure distribution payments and increased interest expenses are having on this company will have to be resolved somehow and if earnings and cash flow can't be grown, that resolution may come in the form of a reduced distribution, asset sales, or some combination of the two. There just aren't many reasons to own this stock when there are better positioned, more financially fit MLPs available at attractive valuations. The only possible allure this company may have is a yield in the neighborhood of 15%, but how long that yield remains safe is anyone's guess.
Disclosure: I/we have no positions in any stocks mentioned, and no plans to initiate any positions within the next 72 hours.
I wrote this article myself, and it expresses my own opinions. I am not receiving compensation for it (other than from Seeking Alpha). I have no business relationship with any company whose stock is mentioned in this article.