Vivus (NASDAQ:VVUS) seems to have some new blood of passionate investors that are fortunate enough (perhaps) to have bought this stock at about $1 rather than about $15. In my time covering the company and the sector, I have seen a turn-over of sorts happen with this stock. While these new investors have a thread of speculation running through their investment, they seem to be starting to go down a similar path that was blazed by the previous investors in this company.
Qsymia sales brought up the rear again this week with sales that came in at about 9,300 scripts. Some investors will say that the percentage gain last week for Qsymia was the highest in the group, but that is a hollow victory. Simply stated, sales of Qsymia are floundering in territory that will never make it a profitable endeavor.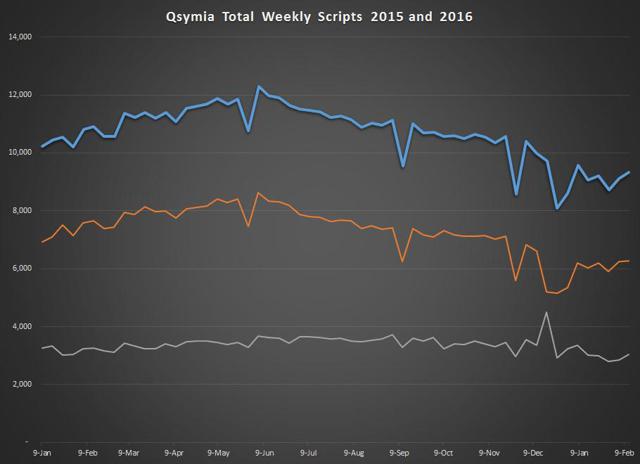 Click to enlarge
Chart Source - Spencer Osborne
On a quarter over quarter basis we see Qsymia pacing at 12.98% lower than what we saw in Q4 of 2015. Being behind the pace of the worst quarter of the sales year is not a good place to be. Q1 is supposed to bring with it weight loss season and the beginnings of a run in sales that does not peak until June or July. Instead, we are seeing the worst sales performance in well over a year. The mantra of Qsymia sales being flat is now getting replaced with sales in decline.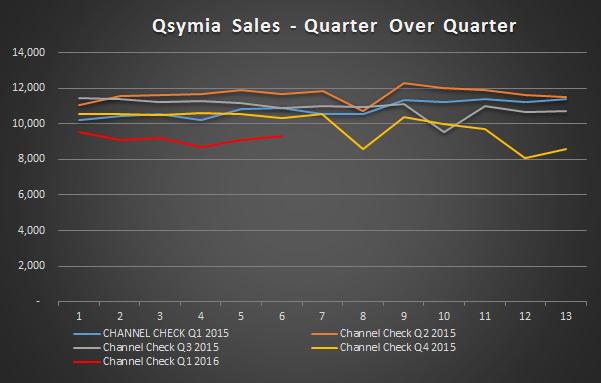 Chart Source - Spencer Osborne
On a year over year basis we are seeing sales down 12.89%. As you can imagine, this will not help in reporting numbers in the Q1 conference call. With the costs already cut to the bone, sales increases are more important than ever to the bottom line. Sales will be even further challenged with the loss of some insurance coverage on Qsymia in 2016. A simple look at trend lines for 2015 and 2016 is very telling.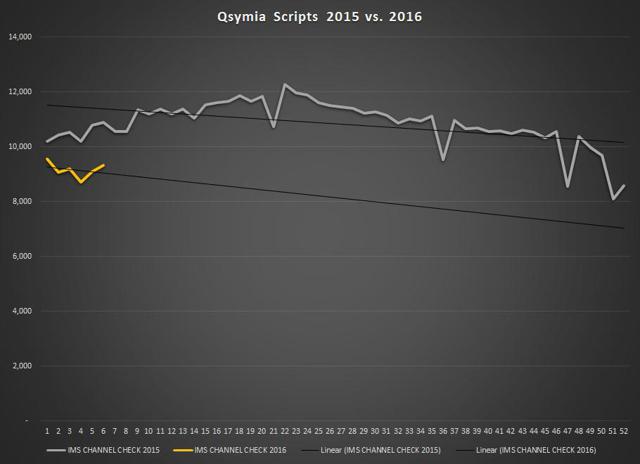 Click to enlarge
Chart Source - Spencer Osborne
In terms of market share, Qsymia still sits below 28% and the lowest share in the space. To its credit, the market share has not dipped over the past few weeks, but the overall trend is pointing to slow market share erosion rather than incremental growth. Losing market share is never good.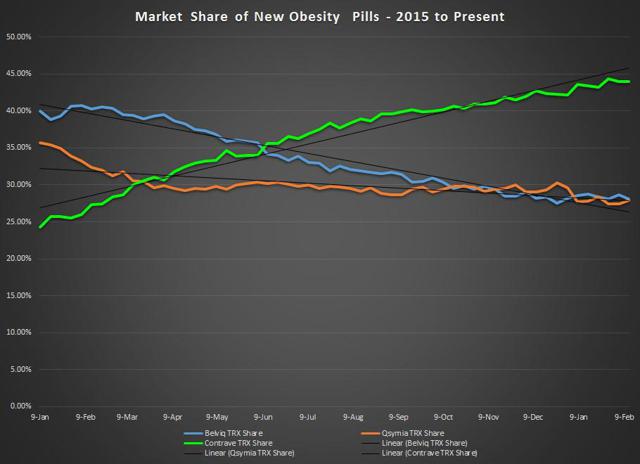 Click to enlarge
Chart Source - Spencer Osborne
Sector growth is a new chart being added to the series. Analysts started off the year with an assumption that the branded anti-obesity pill sector in the U.S. would deliver low double digit growth. At just 6 weeks into the year the overall growth in the sector is just 7.48%. Belviq from Arena (NASDAQ:ARNA) and Qsymia are both seeing year over year declines. That means that Contrave from Orexigen (NASDAQ:OREX) is garnering 100% of the growth in the sector so far this year. For the record, capturing 100% of the growth is a hollow victory for Contrave, as sales are still 4 times lower than what is needed to impress the street and improve the equity.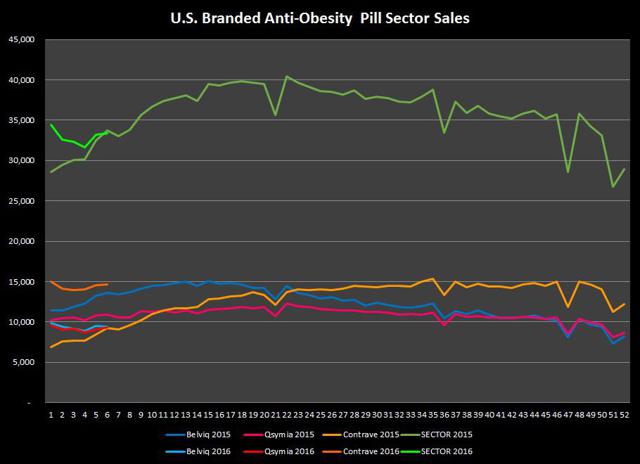 Click to enlarge
Chart Source - Spencer Osborne
In closing, I think that it is important for investors in the sector to understand some research that is happening in the space. The California Technology Assessment Forum has conducted a detailed study of the obesity space. This study gives an in depth analysis of branded anti-obesity pills, injections, devices, and surgery that shows what may be the main reason that the branded anti-obesity pills are failing in the space.
Simply stated the effectiveness of these pills is not high enough to make them a cost effective solution. The methodology used derived a cost ration with the Quality Adjusted Life Year (QALY). A cost of between $50,000 and $100,000 is typically deemed as acceptable. The anti-obesity pills, and even some of the new devices all carry a level above $100,000. The reason that the cost is high is low effectiveness.
Here is some of what CTAF had to say about Qsymia:
"We identified a total of eight good- or fair-quality reports from five RCTs that compared phentermine/topiramate (P/T) extended release combination therapy to a placebo or to phentermine or topiramate monotherapy, all but one of which were conducted in patients with BMI levels between 35 and 39.9. In these trials, patients receiving the initial recommended dose combination (7.5/46 mg) lost 7.8-8.5% of total body weight (vs. 1-2% for placebo), while the range for those receiving the higher dose (15/92 mg) was 9.2-10.9%. Patients who received any dose of P/T experienced greater improvement in obesity-related comorbidities such as T2DM, hypertension, and sleep apnea. We found no studies that had a patient population with mean BMI <35. Overall, 91-95% of patients experienced one or more AEs and 1.3-16.0% discontinued P/T due to AEs."

"We judge there to be moderate certainty of a small net benefit for P/T (Qsymia) in improving weight loss relative to lifestyle modification and/or monotherapy of phentermine or topiramate in patients with BMI levels 35-39.9, and a low certainty of the same benefit in those with BMI ≥40. As with the other medications, certainty was low or moderate because of the modest levels of weight loss and comorbidity resolution observed, balanced against high rates of discontinuation due to AEs with this scheduled medication. We found no evidence on benefits in patients with BMI levels <35.

"Finally, all four of the newer weight-loss medications have been FDA-approved, but benefits are again relatively modest in comparison to conventional weight-loss management. Across all four medications, total weight loss ranged from 3-7% in comparison to placebo or active comparator therapy. In addition, there are limited data on resolution or improvement in comorbidities, lack of information on long-term weight trends, high rates of discontinuation in many studies, and notinconsequential concerns about potential to harm (two of the four are scheduled substances). Of interest to this review, none of the drugs of focus provide any comparative evidence in overweight but non-obese subjects (i.e., BMI 25-30), despite the fact that the labeling for all four allows for use in such patients."

"In contrast, the much more modest weight loss achieved with the vBloc device and N/B (Contrave and the like) pharmacotherapy, coupled with their high implantation and ongoing therapy costs, respectively, resulted in much higher cost-effectiveness ratios (>$100,000 per QALY vs. conventional treatment). Results were more favorable when these treatment options were considered "in sequence" with bariatric surgery for those failing initial treatment, in particular for a "drug first" regimen in which those with successful weight loss at one year continued to receive medication while patients requiring surgery were able to receive surgery after an initial weight loss."
The bottom line here is that none of the branded anti-obesity drugs seem to be resonating with consumers, doctors, or insurance companies. Getting this dynamic to shift will be a massive challenge that essentially means getting the mindset of consumers to take part in getting healthier rather than hoping a simple pill will do all of the work.
In my opinion Vivus is a perhaps a decent speculative play despite the poor sales of Qsymia. The very low stock price combined with prospects on its erectile dysfunction drug make it a consideration for an active trader or mild speculator. The Qsymia dynamic is a weight on this equity. Even if Vivus were to be successful in getting the post marketing CVOT clinical trial reduced, the sales of this drug are still not high enough. Vivus has stumbled along for three years without spending a dime on the post marketing CVOT trial, and sales are trending down. A success in changing the trial requirement will only by it more time. Stay Tuned!
Disclosure: I am/we are long ARNA, OREX.
I wrote this article myself, and it expresses my own opinions. I am not receiving compensation for it (other than from Seeking Alpha). I have no business relationship with any company whose stock is mentioned in this article.
Additional disclosure: I have no position in Vivus