Last week's U.S. equity market strength translated into Asian and European strength Monday. Without any significant disruption from overseas, U.S. equity futures are indicating stocks can continue their upward trajectory today. As I stated in my report It's Time to Buy Stocks, two fundamental factors have shifted in favor of stocks over the last two weeks. An improved Fed rate outlook and better economic indication underlie the latest strength. Also, oil prices seem to be firming with the better economic and Fed rate outlook, which presents a positive feedback loop for equities.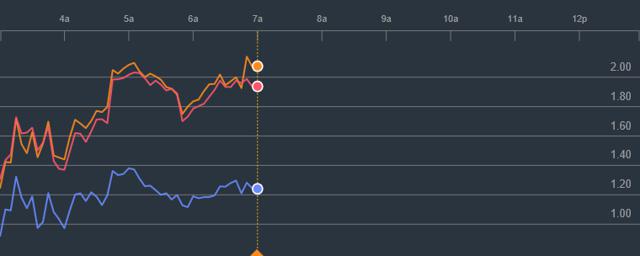 Click to enlarge
Equities Higher in Europe, Germany & UK at Bloomberg
European equities took their lead from Asia this morning, which took its lead from last week's U.S. equity market climb.
| | | |
| --- | --- | --- |
| Regional Markets | 02-22-16 Change | Relative ETF |
| Euro Stoxx 50 | +2.1% | iShares Europe (NYSE: IEV) |
| DAX Index | +1.9% | iShares MSCI Germany (NYSE: EWG) |
| FTSE 100 | +1.3% | iShares MSCI UK (NYSE: EWU) |
| NIKKEI 225 | +0.9% | iShares MSCI Japan (NYSE: EWJ) |
| Hang Seng Index | +0.9% | iShares China Large-Cap (NYSE: FXI) |
| CSI 300 | +2.2% | Deutsche X-Trackers Harvest CSI 300 (NYSE: ASHR) |
U.S. equity futures were indicating higher this morning. Only two economic data points stand in the way, with the Chicago Fed National Activity Index due at 8:30 AM ET and the PMI Manufacturing Index Flash due at 9:45 AM ET. With not much expected from manufacturing and a market that has grown accustomed to that prospect, the Chicago Fed's measure of the economy carries the load. That said, the PMI data has stood above ISM's measure of manufacturing and has actually indicated ongoing expansion in manufacturing. The last read at the end of January showed this measure at 52.4, down from mid-January's 52.7. Economists anticipate it will read modestly better today at 52.5. Any measure above 50.0 signifies expansion in manufacturing, and any data at or above consensus will give energy to equities today.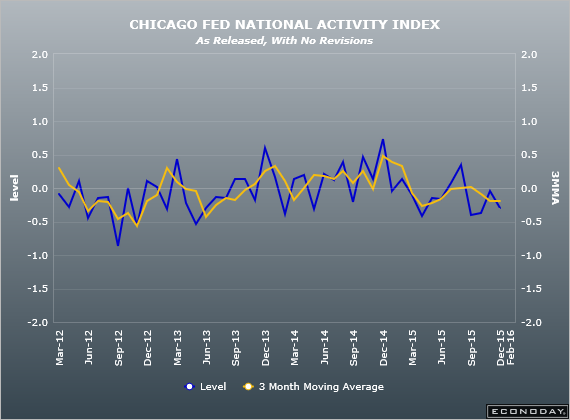 Data from Bloomberg & Econoday
The Chicago Fed measure has not indicated above water much for a year now. For December, reported last month, this data measured -0.22, with the 3-month moving average at -0.24. As long as we do not see deterioration this morning, I expect we will be okay. Given recent data, I anticipate the measure will not stray far from last month's mark and could be better.
Oil prices are higher this morning, with WTI Crude Futures up 3.6% to $30.70 and Brent Crude Futures up 4% to $34.34. That is impressive considering the Dollar Index is higher as well, up 0.9%, with the euro and British pound both down versus the dollar on Brexit speculation. London Mayor Boris Johnson said he would campaign for Britain to leave the EU in a June referendum. Gold Comex futures are off 1.9% on the dollar's gain.
Underlying nascent strength are two key fundamental changes for the U.S. market. First, the irresponsible talk of Negative Interest Rate Policy (NIRP) has been replaced with a better Fed rate outlook, where less than four rate hikes are now expected for 2016 and nothing for the March meeting. At the same time, recent U.S. economic data has been better than just two weeks ago, with positive signals from Retail Sales, unemployment, prices, industrial production, and in oil rig count data. Housing data showed some slippage last week, but not enough to raise concern, at least not with me.
| | |
| --- | --- |
| Market Sector | Early Indication |
| SPDR S&P 500 (NYSE: SPY) | +1.1% |
| SPDR Dow Jones (NYSE: DIA) | +1.0% |
| PowerShares QQQ (NASDAQ: QQQ) | +1.1% |
| iShares Russell 2000 (NYSE: IWM) | +1.1% |
| PowerShares DB US Dollar Bullish (NYSE: UUP) | NA |
| SPDR Gold Trust (NYSE: GLD) | -1.3% |
| United States Oil (NYSE: USO) | +4.6% |
Thus, with factors aligned in favor of stocks after having deeply depreciated them on the previous worse environment, stocks seem clear to rise. Perhaps the improved economic outlook and Fed perspective are also helping to lift oil prices now. And, a positive feedback loop of oil price gain in turn serves to support further equity gain. Good times are here again for equities. I follow the market regularly and invite relative interests to tag along with my financial column here at Seeking Alpha.
Disclosure: I/we have no positions in any stocks mentioned, and no plans to initiate any positions within the next 72 hours.
I wrote this article myself, and it expresses my own opinions. I am not receiving compensation for it (other than from Seeking Alpha). I have no business relationship with any company whose stock is mentioned in this article.