By Brendan Gilmartin
Priceline.com (NASDAQ:PCLN) is scheduled to report 4Q 2011 earnings after the close of trading on Monday, February 27, with a conference call to follow at 4:30 p.m. EST. Priceline.com shares recently touched the highest levels since the tech bubble back in 2000, and will likely see volatile action when it delivers results for the recent quarter.


Outliers & Strategy
Key measures:
Non-GAAP Earnings Per Share: Priceline.com previously reported both a GAAP and Pro Forma EPS figure. More recently, the company changed to Non-GAAP Earnings Per Share .
Revenues: See comments below regarding revenue guidance. Estimates are at the high end of the company's range.
Adjusted Earnings Per Share Guidance (1Q 2012): The forward outlook is critical for Priceline.com.
Given the recent run-up in Priceline.com shares, look for Non-GAAP EPS and revenues to come in toward the high end of forecasts. Also note that guidance typically drives the price action in the shares after the results are released.
In its prior release, Priceline.com indicated it expects 4Q 2011 revenue increasing 27% to 32% year over year ($731.32 bln). That would equate to about $928.77 mln to $965.3 mln. The estimate is $968.32 mln. (Source: Yahoo Finance)
Priceline.com also indicated it sees Non-GAAP net income in the range of $4.90 to $5.00 per share. The current consensus is at the high end of that range at $5.05 (high estimate on the Street is $5.45).
The consensus for next quarter is Non-GAAP EPS of $3.73 on revenue of $1.02 bln.
Priceline.com cautioned back in November that, "growing economic uncertainty, including concerns relating to potential sovereign defaults by Greece and other European states, may subject operating results to greater variability in the future."
Recent News
02/24: Barclay's maintained an Overweight rating on Priceline.com with a price target of $600, according to StreetInsider.com. The firm expects 4Q results to top estimates, despite forex headwinds, based in part on solid demand from Europe and Asia.
01/23: Credit Suisse reiterated an Outperform rating on Priceline.com, but slightly lowered the price target from $720 to $710, suggesting the 4Q numbers may come in "tight," according to a post on Benzinga.com.
12/14: Goldman Sachs initiated coverage on Priceline.com with a "Conviction Buy" rating, according to a post on Barron's.com. The firm noted that it expects revenue growth to offset increased spending, has the "best mix" of packages among online travel companies, and the best exposure to markets overseas. The firm reportedly carries a $610 price target.
Technical Review
Priceline.com recently spiked to a 52-week high of $595.84 (2/24) and is up 25% YTD ahead of its 4Q earnings release. With the shares near the highest level in over a decade, there is little in the way of resistance from here. Conversely, initial support is at $580, with downside risk to the 20-Day SMA ($555), followed by $520. Note that the Relative Strength Index (RSI) at 75.39 (>70 = overbought) and extended MACD are signs that the momentum may be peaking. The "inverted hammer" candlestick pattern is another potential sign of buyer's fatigue. (Chart courtesy of StockChart.com.)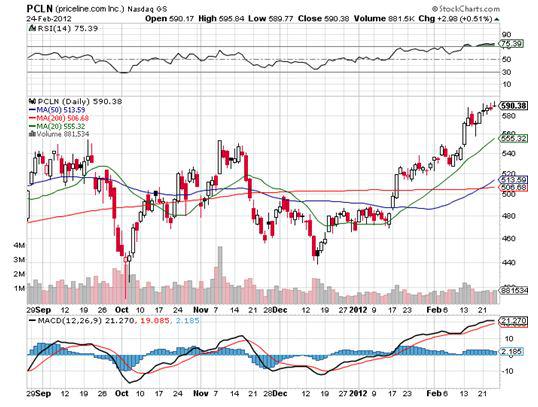 Click to enlarge
Summary
Priceline.com recently soared to the highest level over a decade, thanks to increased bookings, particularly in Europe, Latin America, and Asia, along with its competitive edge over other online travel services. Technically, however, the shares look to be pricing in a strong report, implying that any missteps in its quarterly release could set up the shares for a pullback.
Disclosure: I have no positions in any stocks mentioned, and no plans to initiate any positions within the next 72 hours.
Disclaimer: By using this report, you acknowledge that Selerity, Inc. is in no way liable for losses or gains arising out of commentary, analysis, and or data in this report. Your investment decisions and recommendations are made entirely at your discretion. Selerity does not own securities in companies that they write about, is not an investment adviser, and the content contained herein is not an endorsement to buy or sell any securities. No content published as part of this report constitutes a recommendation that any particular investment, security, portfolio of securities, transaction or investment strategy is suitable for any specific person.