The past week has brought a welcome respite to investors who have suffered a very rocky start to trading in 2016. Over the past five trading sessions, the S&P 500 has clawed back a third of its deep losses over the past two months. The stabilization of oil prices and no further bad news coming out of China have definitely been positive factors in that rise. In addition, markets were due for a bounce off of oversold levels.
Even the beaten-down biotech sector has shown signs of life lately. The sector has been mired in its biggest bear market since the financial crisis over the past six months. However, it has rallied over five percent off its recent lows. Hopefully, a bottom has formed and we can head higher from here. This certainly seems possible. Large biotech stocks are selling at their cheapest valuations since 2011 and scores of small biotech companies are selling for less than the net cash on their balance sheets after the collapse in that part of the market.
I continue to believe the most prudent way to play any rebound in this trounced sector is to concentrate the majority of one's "buy the dip" money into the more stable large-cap portion of this space, especially with values being more available than they have been in five years. Amgen (NASDAQ:AMGN) is one such large stock that should be a core holding in any well-diversified portfolio. It offers a rare combination of attractive traits in this market. The stock provides growth, cheap valuations and a generous dividend yield. Add in a deep pipeline and extremely solid balance sheet, and it's hard to find much not to like about one of the original biotech pioneers.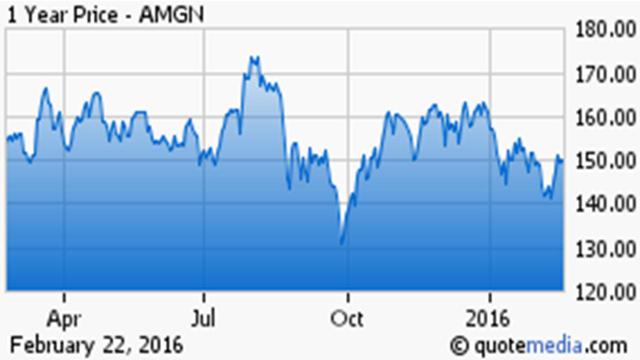 Click to enlarge
Amgen is currently going for more than $25.00 a share off its 52-week highs, which is an attractive long-term entry point. Amgen's main products include Neupogen, which stimulates neutrophil (white blood cells that defend against bacterial infection) production in cancer patients whose natural neutrophils were destroyed by chemotherapy. Combined with Neulasta, a long-acting white blood cell stimulant, this franchise produces almost $6 billion in annual global sales.
Next up is Enbrel, which is approved to treat rheumatoid arthritis, psoriatic arthritis, and chronic plaque psoriasis. It is approaching $5 billion in annual sales and its patent was recently extended to 2028. Rounding out the company's core product portfolio is Epogen, which is a genetically engineered version of human erythropoietin. It has annual sales of over $2 billion, even though it has been hampered by Medicare pricing for dialysis patients. The company also owns Aranesp, a recombinant protein that stimulates the production of red blood cells in predialysis and dialysis patients, and does just under $2 billion in global sales.
The company has announced success in a late-stage study around its bone-forming antibody. The company also recently launched Repatha, which is the first new type of cholesterol drugs in over a decade. It is competing against Praluent from Regeneron (NASDAQ:REGN), but should provide peak sales of $2 billion according to most analysts in the years ahead. The company is also at the forefront of the budding biosimilar space. It plans to launch five biosimilars between 2017 and 2019 that it believes should eventually produce some $3 billion in annual sales.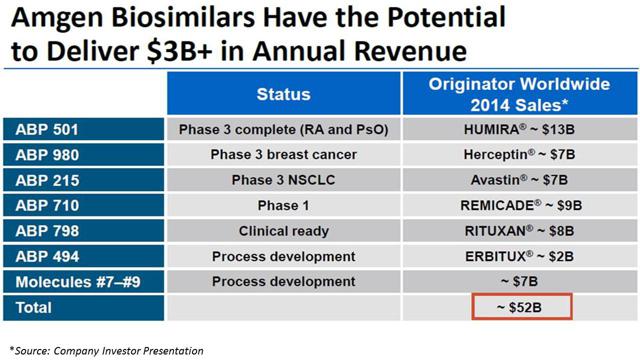 Click to enlarge
Amgen also has a robust pipeline with 12 compounds in Phase III trials that could accelerate growth and support a resilient, but largely mature, drug portfolio. There are some exciting milestones on the horizon in 2016.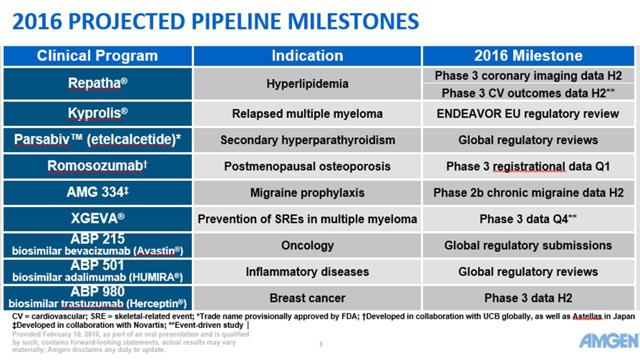 Click to enlarge
Amgen is currently seeing revenue growth in the low- to mid-single digits. The company should deliver earnings growth in the mid-single digits in FY 2016, which will accelerate to over 10% in FY 2017 as new products gain traction. The company also yields over 2.5% after recently announcing an over 25% dividend hike.
Amgen has easily beat earnings estimates for at least six straight quarters, so these consensus estimates will likely to turn out to be somewhat on the low side. Given the company's pipeline, steady growth, generous dividend yield, and history of beating quarterly estimates, the stock is attractively valued at less than 12.5 times next year's projected earnings. The 16 analysts who cover the company have a $186/share price target on AMGN, implying 25% upside. That seems to be more than a reasonable bogey over the next 12-18 months. I recommend accumulating shares of AMGN.
Disclosure: I am/we are long AMGN.
I wrote this article myself, and it expresses my own opinions. I am not receiving compensation for it (other than from Seeking Alpha). I have no business relationship with any company whose stock is mentioned in this article.