Company Overview
When asked why he works for Unisys (NYSE:UIS) during an interview at Business Rockstars, Tom Patterson, the company's vice president and general manager, had no difficulties describing the company's superiority over the competition. It is hard to deny the arguments mentioned sound rather convincing:
The company has been around for more than 100 years.
It managed to survive and connect every technological wave with large businesses and governments, as well as to remain among the first companies to introduce "Any new types of business aid."
Governments and world's major corporations all use Unisys: "They've got the best customers in the world".
The company is leading in the areas of cloud, big data and cybersecurity, as it "Takes the security equation and turns it upside down."
It would be foolish to question the intelligence and experience of Tom Patterson. What can be questioned though, is the power of Unisys' competitive edge. A cocktail of good technology and a decent sales pitch shall continue bringing new customers to the company given its reputation, but it cannot exclude the possibility of underperformance periods, subject to which the company is right now. In addition, if the company has all the best corporate and governmental clients, where is the potential for future growth? And finally, where is the competition in that case?
Not so far behind, it turns out.
Prolonged Turnaround
Unisys remains quite strong at striking new deals. The recent NASA contract, announced on February 4, might be worth as much as $38.4 million in the best-case scenario. Unfortunately, the company seems to have reached its full potential many years ago. Its revenues and net profits have been subject to extreme fluctuations despite the numerous new contracts the company keeps announcing. The turnaround story is getting quite old.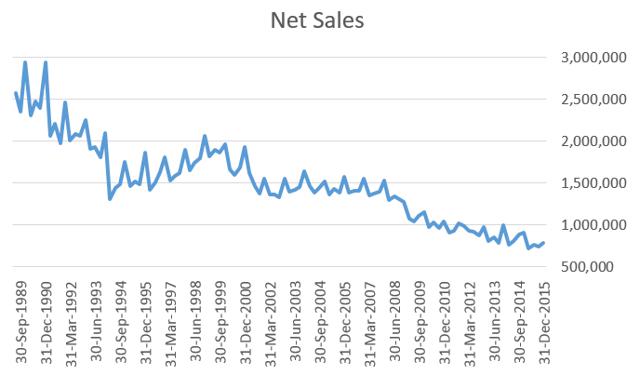 Net Sales of Unisys (In $ Thousands), Quarterly, June 1989-Present. Source: Thomson Reuters Eikon.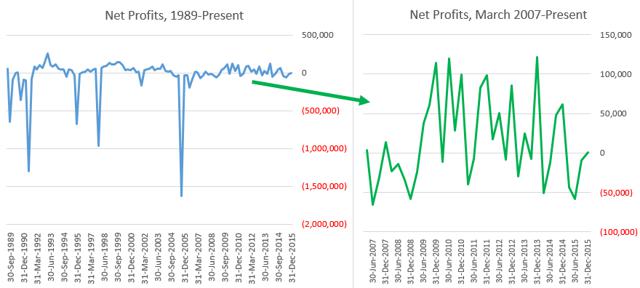 Net Profits of Unisys (In $ Thousands), Quarterly, June 1989-Present. Source: Thomson Reuters Eikon.
The table below summarizes the available data (From PR Newswire) on the main contracts the company has signed since 2013. It can be concluded that the rate of new contract announcements peaked in 2014. Even though it is difficult to make number-specific conclusions here due to the contracts' nature (the final value of the contracts might be subject to significant fluctuations; potential value has only been disclosed for a small part of the total Unisys' contract pool), it is hard to deny that the company has not been doing too well over the last two years. While the efficiency of the company's products is unquestionable, the efficiency of its contracts has been quite arguable.
Meanwhile, as the company is slowing down the new contract announcement process, what can be expected from its revenues going forward given that it currently fails to proceed with its turnaround while working on its existing contracts? Moreover, can the company expect to return to profitability growth while the corporate profits are declining? Finally, can it at least maintain satisfactory financial performance to prevent the stock from falling further?

Unisys' Number of Publicly Announced Contracts and Maximum Total Value of the (*) Contracts Value of Which Had Been Disclosed, 2013-2015. Source: PR Newswire.
On the opposite side, Unisys has already managed to sign five new contracts during the first two months of 2016 (As opposed to only 3-4 contracts over the same period in 2013-2015). The related effect remains to be seen.
Competition and New Product Development
One might argue that the company's underperformance is only seasonal, as it can be attributed to the high pace of new product announcements happening lately. Indeed, the company has managed to introduce (while continuing earning new awards and customer appreciation) a wide variety of new cutting-edge products in 2015. If the new product development would be to slow down in the coming quarters, it would be reasonable to expect higher margins, as well as higher probability of the company proceeding with its turnaround. Unfortunately, this argument does not hold because of the already decreasing R&D costs.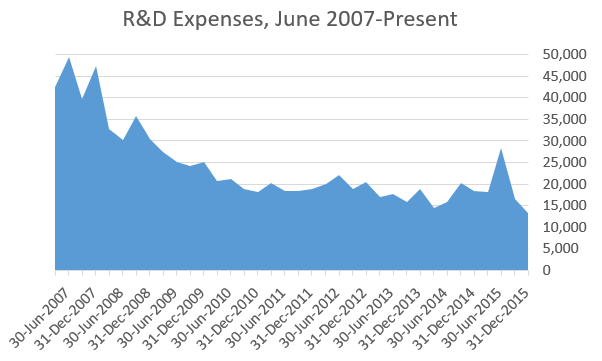 Research & Development Expenses of Unisys (In $ Thousands), Quarterly, June 2007-Present. Source: Thomson Reuters Eikon.
In addition, the frequency of new product-related PR announcements has actually been experiencing a slight decline throughout the 2015. However, since the company tends to announce O.S. upgrades and additional features for existing products, as well as given that it frequently announces multiple products at the same time, conclusions regarding the current rate of innovation (and its profitability) will only be possible to make in the future.
Rising competition in the field contributes to the list of potential concerns, suggesting lower chances of the company postponing new product announcements in the coming years. It also makes me question the company's ability to sustain its competitive edge while significantly cutting its R&D budget, but this might be attributed to the company's reliance on its service business.
Key Business Areas Are Getting Increasingly Crowded
The majority of Unisys' revenues come from cloud and infrastructure services (46.5% as of the latest quarter), according to the company's presentation. While the company is currently struggling in this field, the rapidly-increasing usage rate of Amazon's (NASDAQ:AMZN) Web Services is starting to enrage Microsoft (NASDAQ:MSFT) and Google (NASDAQ:GOOG) (NASDAQ:GOOGL), increasing the chances of additional pressure and cost-cutting in the field. Meanwhile, how competitive the company really is if its piece of the cake is diminishing while the cake itself is growing?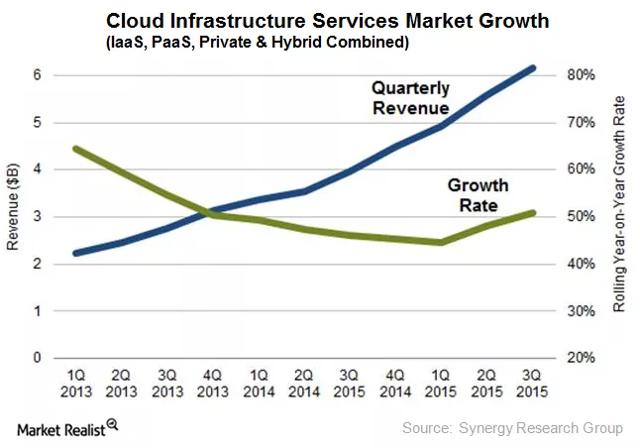 Source: Market Realist.
It is possible to mention the seasonality of the company's revenues in the technology segment, which might suggest that the segment which has been demonstrating notable growth over 2015 will most probably underperform during the coming quarter, and historical net margins show that the December quarter is usually the strongest. While the two-year performance of Appliance Services segment looks strong, it is not yet capable of offsetting the falling revenues in cloud and technology.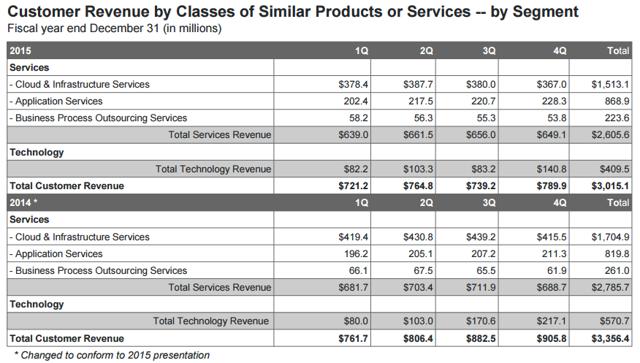 Source: Company's Presentation.
Diversification has also proven to be of low benefit for the company.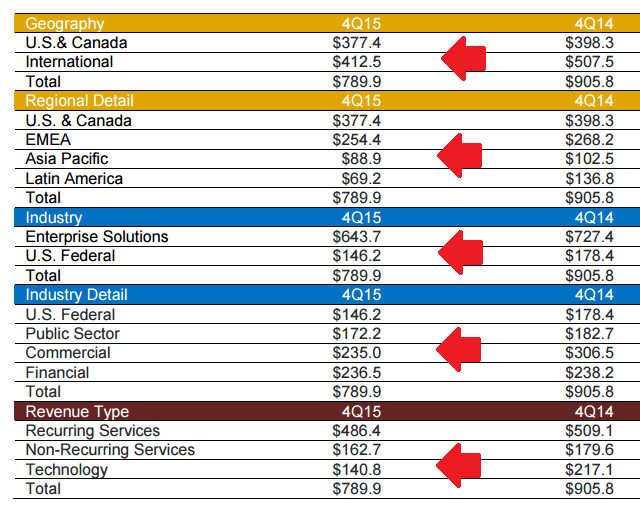 Source: Investor Relations Snapshot from the Company's Website.
New Appointments, New Costs
On the bright side, the company's ongoing turnaround might benefit from the numerous new appointments it has made over 2015. The list of the newly-appointed managers includes the following people:
Kelly S. Cook - global head of Unisys Commercial
Michael J. Morrison; Tony Windever - vice president and general manager (OTCQB:BOTH), Enterprise Solutions, U.S. and Canada
Mark A. Forman - global head of Unisys Public Sector
Jennifer L. Napper - group vice president of the Department of Defense and Intelligence Group, Unisys Federal
Tarek El-Sadany - senior vice president, Technology; CTO
Casey Coleman - group vice president for civilian agencies, Unisys Federal
Neil Gissler - senior vice president, Services
Tom Patterson - vice president, global security solutions
Peter A. Altabef - president and CEO (Effective January 1, 2015)
At the same time, the leadership transition can also result in additional uncertainty concerning the company's ongoing turnaround. While the management changes demonstrated no clear contribution to the company's bottom line over this short period, I conclude that sufficiently more time is needed for this factor to become a potential catalyst and start working out (which might not be the case).
Continuing the subject of new appointments, in the beginning of February, the company announced opening of a new office in Augusta, Georgia. It is hard to deny that the long-planned decision may pay off in the future, as the location will move the company closer to 1 of its largest clients - Augusta is already home to the Cyber Center of Excellence at Fort Gordon and is the future home of Army Cyber Command, according to the company's federal president. Nevertheless, the ambitious plans to hire nearly 700 new employees over the next years will have a notable impact on the company's bottom line in the medium term, supporting this short thesis.
On March 12, 2015, the company announced establishment of a partnership with ServiceNow (NYSE:NOW), aim of which is to deliver new integrated service management solutions. While the two companies have been successful in development of new product lines, of note is the fact that ServiceNow has been experiencing sluggish top-line performance lately. Just as a matter of coincidence, I have written a quite successful short thesis on this stock back in October.
Underperforming the Competition
There has been seemingly no cost-cutting lately, and the competition might weigh on the company's ability to improve its margins in the coming future.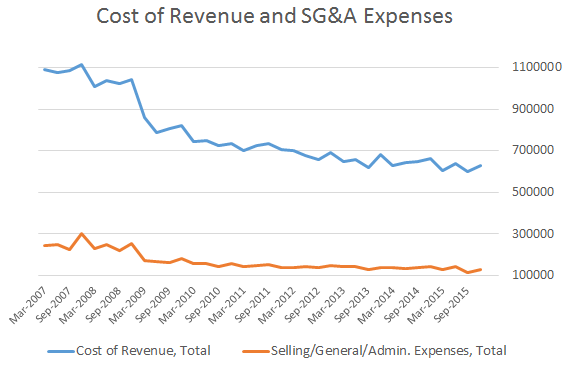 Cost of Revenue and SG&A Expenses of Unisys (In $ Thousands), Quarterly, June 2007-Present. Source: Thomson Reuters Eikon.
Returning to the topic of competition, Unisys is clearly lagging behind its competitors in a variety of metrics. However, increasing asset turnover is a bright sign.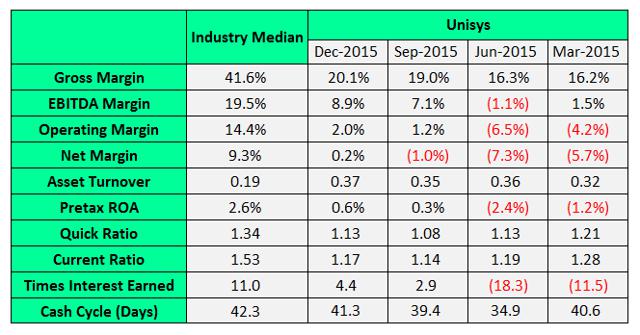 Source: Thomson Reuters Eikon.
The company's financial performance has not been ignored. Not only did it underperform the S&P 500 over the course of the last two years, but its main competitors as well.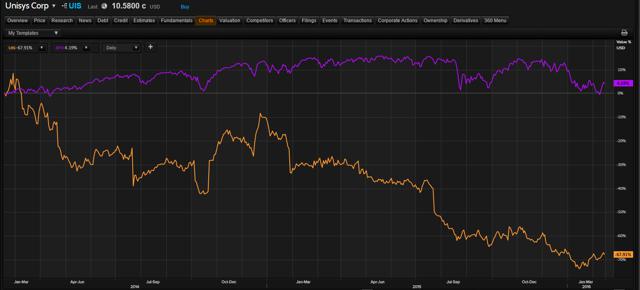 Two-year Performance of UIS versus the S&P 500. Source: Thomson Reuters Eikon.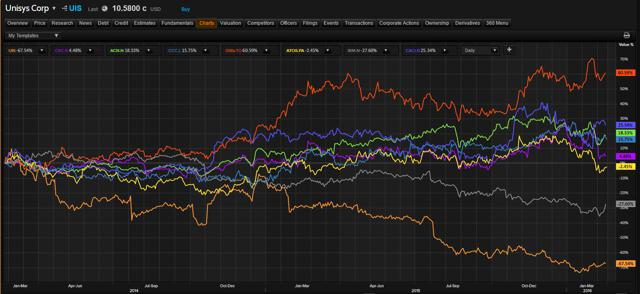 Two-year Performance of UIS versus Peers. Source: Thomson Reuters Eikon.
Before discussing the quality of the company's balance sheet, it is important to mention the negative book value per share, which places Unisys into an even worse position when compared with its peers. With no profits, an incalculable price/book and an EV/EBITDA of 7.9, the stock is clearly overvalued when compared with its competitors, especially if one takes into account the difference in operating performance. While the low EV/sales might look confusing for a second, it can be explained with a quite straightforward question: How much would you like to pay for a stock with a book value of -27.61 and falling revenues in an increasingly competitive environment given that it is also quite overvalued?

Relative Valuation of Unisys Shares. Source: Thomson Reuters Eikon.
Additional Areas of Concern
Unsurprisingly, return on equity has been red for years, but the recent values are incalculable because of the negative equity, which is persistent since 2008. In addition, both return on assets and return on fixed assets turned negative in the previous quarter and accounted for -4.59% and -12.3% during the latest quarter, respectively.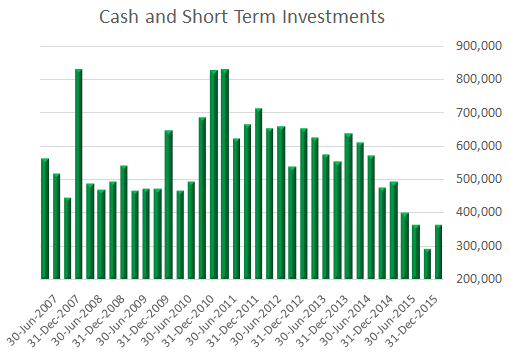 Cash and Cash Equivalents of Unisys (In $ Thousands), Quarterly, June 2007-Present. Source: Thomson Reuters Eikon.
The company's cash position is deteriorating, but it is still sufficient to cover its total debt of $312.3 million (As of the latest quarter). However, the total cash position accounts for only 37.63% and 10.37% of current and total liabilities, respectively.
Moreover, of note is the fact that on September 25, 2015, the company decided to cancel its public offering of $350 million of senior secured notes it had announced just 4 days before. The company clearly expressed concerns in the market conditions: "Current terms and conditions available in the market were not attractive for the Company to move forward." While it is too early to expect liquidity problems in the nearest future, Unisys has clearly demonstrated that it has been cut from a pretty convenient source of financing - number of diluted average weighted shares has risen by 13.26% since December 2014. Most importantly, it has just demonstrated the real institutional investors' sentiment regarding its stock, suggesting that it would be reasonable to expect additional downside if more investors suddenly wake up from the negative equity nightmare.
Speaking of institutional holdings, it can be concluded that large investors are mainly tolerating the company's poor financial performance for the time being. As long as institutional holdings remain quite high, the potential downside in case of largest investors divesting could be immense.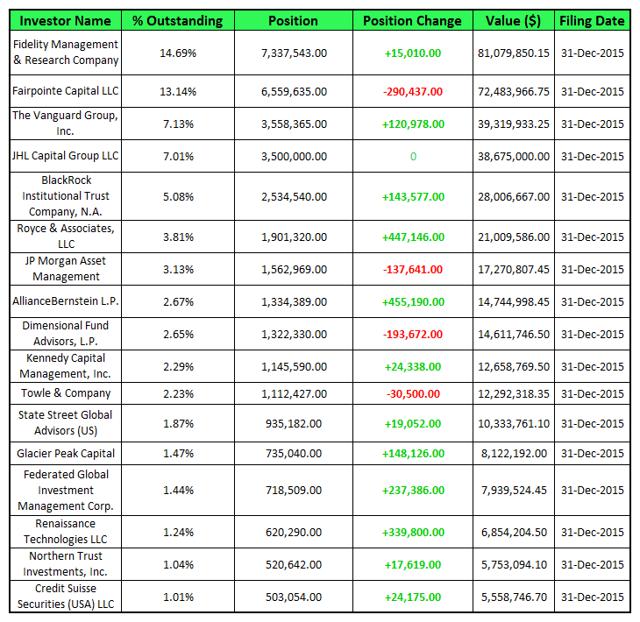 Largest Institutional Holders of Unisys Shares as of December 31, 2015. Source: Thomson Reuters Eikon.
Earnings "Surprise" and Investor Sentiment
The stock has demonstrated a quite volatile earnings performance, making it quite difficult to predict its actual earnings going forward. What is more clear, however, is the fact that the share price will mostly suffer should earnings disappoint again. While the latest earnings release did not produce a negative seven-day price reaction since it outperformed the Non-GAAP estimates, it has actually produced a -89.5% earnings surprise for its GAAP estimates. Despite gaining almost 27% at one point, the stock retreated and finished the earnings announcement day with a 10% gain.

Historical EPS Estimates for UIS (GAAP). Source: Thomson Reuters Eikon.
While the stock has gone up by more than 7% since its latest earnings release, it is difficult to come up with potential catalysts for the coming weeks and even months. Trading volume has been below average during the last three upside days, share price movements during which averaged a gain of 2.59%.
Even though the latest earnings estimates do not mean that analysts will be more successful in making predictions in the future, it is a good idea to check what the expectations for the next quarters are. As of February 20, the mean revenue estimate for the next quarter stands at 658.15, 16.68% lower than the latest quarter's reading (Eikon data). Revenue surprises varied between -3.9% and +4.6% over the last five quarters, making it 1 of the most accurately-estimated metrics of Unisys. It is important to note, however, that revenue misses were widely ignored during the last two earnings announcements as investors mostly focused on Non-GAAP EPS.
Meanwhile, what can be said regarding the stock's sensitivity to increases in panic-boosted market sell-offs? While the short thesis can be treated as an isolated case of an underperforming company, I would also like to outline the impact that the current market conditions have on the stock.
Since the 1st of July, average performance of UIS during the down days for S&P 500 has been -1.75%. During the days when S&P 500 has been falling by more than 1%, UIS has on average been experiencing a 2.67% decline.
Conclusion
The company's case demonstrates a prolonged turnaround that has seemingly no end unless the business conditions significantly improve in the coming years. Quarter-to-quarter profit fluctuations are likely to happen, but the next quarter's results will most probably not deviate too much from the expectations of weaker top and bottom line figures, with seasonality, as well as earnings trend and estimates supporting this statement.
Currently, Unisys does not have many aces up its sleeve:
As opposed to many other high valuation flyers, it doesn't have a story of huge potential to tell in order to lure investors and drive the stock price upward. Instead, what it has is an aging, weakening turnaround story which most probably will not have finished by the end of this business cycle.
Rising competition in the company's key business segments is going to have a bite on the future profits. Even though Unisys remains quite competitive and continues partnering with other companies and attracting new talents, the short-term stock performance is most probably going to be hard-pressed by the falling revenues, seasonality and volatile stock market performance.
The hunt for quality has begun. There are 2 main aspects of stocks that are being sought right now: deep value and bottom line growth. If the market enters a serious correction, the stock has all chances of getting crushed should the volatility spikes increase. If the market maintains a cautious trend upwards, the stock might experience negative impact coming from the flight to safety. Deep value and bottom line growth or negative value, overvaluation and falling revenues? Unless you can predict the future, the choice is obvious.
The question that still remains is, how far will the stock go?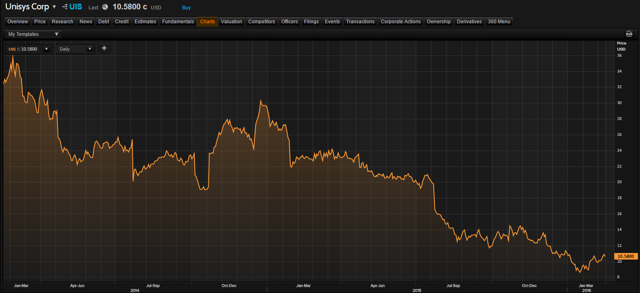 Source: Thomson Reuters Eikon.
While the UIS options trading volume is quite low, July 15 put options with strike prices of $8 and $9 look extremely cheap, which was 1 of the main reasons this article has been written.

As of February 19, 2016. Source: Nasdaq.
I assign a Short rating on UIS.
Disclosure: I/we have no positions in any stocks mentioned, but may initiate a short position in UIS over the next 72 hours.
I wrote this article myself, and it expresses my own opinions. I am not receiving compensation for it (other than from Seeking Alpha). I have no business relationship with any company whose stock is mentioned in this article.
Additional disclosure: Not an investment advice. I am not an investment advisor.