Digital coupon marketplace RetailMeNot (NASDAQ:SALE) has been absolutely destroyed over the past couple of years. The company's shares continue their freefall despite the fact that SALE's transformation into a mobile company is progressing nicely. Back in November, I said SALE was still on track to deliver results that made it cheap at $9 but since that time shares have fallen to a low of $5.52. After a recent bounce we're back over $7 but SALE remains very cheap. Q4 earnings pushed the stock down by more than a quarter but SALE has recovered most of that lost ground at this point. So with SALE continuing to fall, is it still worthy of a long position?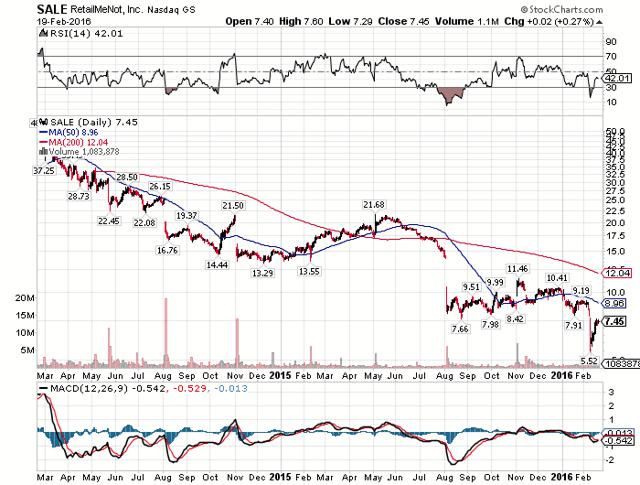 Click to enlarge
My bullishness on SALE was based upon two things. First, the company's massive stock repurchase program was good for almost 13% of the float when it was announced late last year. Second, the company's guidance raise in Q3 was a nice surprise and that gave me faith that the company's earnings trajectory was more plausible. SALE's fundamentals haven't deteriorated - in my view - anywhere close to the amount that the stock has despite the Q4 report.
Revenue fell 5% Y/Y in Q4 for SALE but this was expected - the company's revenue has been shrinking ever since more and more users began using its mobile platform. It is obvious that SALE's business is better suited to a mobile platform rather than a desktop one and customers are affirming that every day as they move en masse to the mobile platform and away from the desktop.
Desktop revenue fell 21% and still makes up 63% of total revenues but the mobile platform is functioning much better. In-store and advertising revenues rose a whopping 57% and mobile online transaction revenue rose 19%. This is consistent with what we saw from SALE in 2015 so none of it was overly surprising, but the market reacted very negatively to SALE's 2016 guidance.
The company forecast a ~7% loss in revenue for 2016 and well below consensus estimates as well. While I don't like shrinking companies any more than the next guy, again, we know SALE's business mix is shifting. Wouldn't it be worse if SALE were just losing desktop customers in droves but not picking them up on the mobile side? The stock is acting like SALE is going to go out of business in the near future but that just doesn't make any sense.
It seems investors forget that adjusted EBITDA in Q4 was 37% of revenues. That is an incredible number for any business and it means that SALE doesn't really need that much revenue to make a lot of money. I'm always attracted to any business that has margins like this and with margins continuing to be very high despite the fact that the company's sales base is shrinking, I think it speaks volumes to SALE's potential. While total visitors fell, its mobile unique users rose 9% again in Q4. SALE's problem is not that it doesn't have any customers - it is simply going through a transitional period.
Guidance for EBITDA margin was 24% for 2016 so if we take the midpoint of the revenue guidance we get a projected EBITDA value of about $56 million for this year. With an enterprise value of just $197 million, SALE is trading for under four times EV/EBITDA for 2016 assuming the company just hits the midpoint. That is an insanely low valuation for a company that is producing flat earnings for the next two years and one that I'm sure strategic buyers are noticing. Indeed, management knows the stock is cheap and upped its previously authorized $100 million repurchase program to $150 million.
The company spent $53 million on buybacks in 2015 so it should have $97 million left as of the end of last year. That amount is good for 24.9% of the current float and considering the strength in the company's balance sheet (roughly 50% of its market cap in cash), it can act quickly on these repurchases while the price is very low. Repurchasing that level of stock would provide an enormous boost to EPS, something that the company's shareholders would certainly appreciate. Right now, given the uncertainty that surrounds the business, I think this is the single biggest catalyst for an up move.
Analysts have been very busy cutting price targets on SALE, something that always happens near a bottom. The action off of the $5.52 low certainly looks like a bottom to me as the sellers took control and buyers capitulated. But since that time, SALE is up huge (relatively speaking) and it seems that investors are realizing the results weren't as bad as they seemed. The valuation has gotten absurd as the company's EBITDA margins will remain at least in the mid-20s and its massive, unencumbered cash hoard will allow it to buy back a lot of stock this year. While I didn't like guidance for 2016 it wasn't nearly as bad as it could have been and at under 4 times EV/EBITDA, I just can't see selling. The buyback will work wonders for generating EPS this year and in 2017 so I'm sticking to my bullishness here.
Disclosure: I am/we are long SALE.
I wrote this article myself, and it expresses my own opinions. I am not receiving compensation for it (other than from Seeking Alpha). I have no business relationship with any company whose stock is mentioned in this article.