Cel-Sci Corporation (NYSEMKT:CVM) is on the verge of several significant milestones and inflection points during the first several months of 2016. During 2016 potential investors in CVM can expect to see a long-running Phase III trial for their lead (and only) anti-cancer candidate drug fully populated, a Phase I trial against HPV related perianal warts in immunocompromised patients completed for that same drug candidate, and the resolution of a long and drawn out legal action against a former Contract Research Organization - CRO.
I have had a few online correspondences with other interested parties during the last two quarters that have caused me do a bit more background reading and expanded thinking on CVM. I will attempt to more completely summarize some of the history, remaining risks, time lines, and expectations for each of the Phase III trial, the Phase I trial, and the effects of the legal case for CVM and its shareholders; extending upon a previous set of articles I have written on CVM. My hope is that writing this article helps others assess the risks and potential rewards that CVM could bring over the next couple of years, while giving me a chance to organize some of my own thinking about what is, and is not, likely to be happening for CVM during the remainder of 2016.
Immunotherapy and Cancer Treatment:
It's all about changing the paradigm we have gotten used to in cancer treatment. Standard treatments for cancer (standard of care, or SOC) have centered on surgery to remove tumorous masses (when possible) and treatments with chemotherapy agents that semi-selectively poison or inhibit fast growing cells and/or targeted radiation treatments. Most readers are familiar with the side effects of standard chemotherapy/radiotherapy on patients either through direct experience or via watching a friend or loved one go through such treatments.
While these methods had provided a large improvement in patient survival and acceptable outcomes, they are harsh, non-selective in their action, and often result in long-term damage to the patient's health. We are at the beginning of what appears to be a 'revolution' in cancer treatment as immunotherapy moves from theoretical and laboratory pre-clinical testing, and into clinical testing and regular use. There are several subclasses of cancer immunotherapy, but the common theme among them is that the patient's own immune system is stimulated to better recognize, to target, and to react to cancer cells.
One very prominent case in recent news has been the apparent 'cure' of former U.S. President Jimmy Carter. Mr. Carter reported during August of 2015 that he had an extremely aggressive melanoma (cancer) that had spread into his brain and to other organs. His prognosis was not good, and most people (including former President Carter) thought that Mr. Carter was soon to die. In former President Carter's case, he was treated with a new drug (Ketruda) that has a mode of action that blocks a cellular pathway known as PD-1. PD-1 normally restricts the immune system of the patient from responding to and attacking melanoma cells. Ketruda is used in concert with other drugs like Ipilimumab that collectively prime the immune system to recognize and selectively destroy specific types of cancer cells. Ketruda is marketed by Merck & Co. (NYSE:MRK), while Ipilimumab is marketed by Bristol-Myers Squibb (NYSE:BMY).
There are several immunological treatments for cancers now on the market, or that are moving steadily through clinical testing. Dendreon's Provenge was approved during 2010 to become the first FDA approved immunotherapy treatment against Prostate Cancer. Dendreon itself filed for bankrupt during 2014 and its assets were liquidated in 2015. However, Provenge is still available as an immunotherapy through Valeant Pharmaceuticals (NYSE:VRX). We can expect the numbers of immunological anti-cancer treatments to continue to increase as other drugs move through clinical trials in upcoming years.
The real questions left for individuals interested in investments in this sector involve where to place their investment dollars, rather than if it is good sector in which to make an investment.
CVM's lead drug candidate Multikine as an Immunological Anti-Cancer treatment:
Cel-Sci's lead drug candidate, Multikine®, is also immunologically based, and is a proprietary mixture of 14 cytokines that act together to in cell to cell communication in immune responses. These cytokines appear to work by stimulating the immune system's own innate responses to help destroy cancerous cells and other sources of infection, inflammation or damage. Unlike Provenge or Ketruda, Multikine acts to more generally stimulate the patient's immune system, is not specifically tuned to a specific cancer type and does not need to be 'trained' to recognize a specific cancer cell type. As a non-specific treatment that modulates a general anti-cancer response, Multikine could have broad applicability in treating a variety of cancers if it proves successful in the Phase III trial that is just about completed.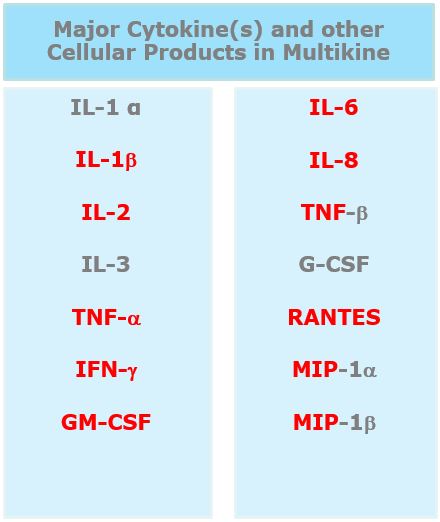 The graphic above indicates the 14 cytokines included in Multikine and is taken from the Cel-Sci website. Several of these proteins are known to be required in modulating normal immunological actions against cancer cells.
A Bit of the History of Cel-Sci:
Cel-Sci has been around for quite a while now - and in the opinion of many individuals assessing the success or failure to date of Cel-Sci - that history with no product to show for it explains a large fraction of the risk they see. CVM was started in 1978, and went public in 1983. In that 30+ years of developing the company to the state it is in currently, there has been little to show for shareholders, several rounds of dilutive financing, and a large amount of capital spent on constructing, equipping, and validating the production facility needed to produce effective and quality controlled quantities of the proteins that make up their Multikine product.
A lot of shareholders' money has been spent, a lot of promises made, and only now in 2016 is Cel-Sci within sight of having drug and treatment that could (finally) generate some revenue. A full discussion of the path that Cel-Sci has taken to get to their current state is beyond the scope of this article. Part of the history (biased toward the company's viewpoint) is related on the corporate website. The reminder of the history can be gleaned in pieces from a variety of other sources. Many of these other versions and interpretations of their corporate history are far from complementary. At least some of the complaints have some merit.
Potential investors should review all viewpoints, and should view an investment made in CVM at this stage as risky, but with a large compensating reward IF Multikine does receive approval as an add on treatment to SOC for Head & Neck Cancer. It would seem likely that - if approval as a pre-treatment for this particular cancer is received - Multikine would receive support as a treatment addition for other forms of similar cancer. The market potential could be huge, or Cel-Sci could still result in a complete bust.
Cel-Sci Company's Cold-Fill Manufacturing Plant:
CVM completed construction of its unique, cold-fill manufacturing facility for Multikine during October of 2009. The completion of this facility during 2009 was instrumental in letting CVM begin to move forward with their large Phase III trials with the complicated mixture of biologically active cytokine proteins that constitute Multikine, while maintaining those proteins at a temperature that insured that their activity could be maintained and lot to lot quality insured. The completion of, equipping of, and validation of this facility took years, and tens of millions of dollars of capital. While the facility was needed in order for the Phase III clinical testing to go forward, the expense of doing so explains where much of the company's capital has disappeared over the last decade. Whether this will be money well spent in the long-run, or not, will be determined by whether, or not, Multikine receives FDA approval after the end of its long Phase III trial.
Manufacturing of Multikine at this facility finally allowed CVM to begin its Phase III trials for Head & Neck cancer after many years of delay after completing Phase I and II trials, and the company announced that it has successfully produced and filled its first lots of Multikine during August of 2010. Additionally, this facility gives CVM the capability of manufacturing sufficient quantities of Multikine to complete both sets of ongoing clinical trials, and to directly control production if/when Multikine is approved for use as a cancer treatment.
The question - of course - is will Multikine ever make it to FDA approval?
The Ongoing Clinical Trials:
Phase III Trial:
CVM has a large and ongoing Phase III Clinical trial for Multikine as a pre-treatment for patients displaying advanced primary head and neck cancer. Currently the trial has enrolled over 700 patients, of an anticipated 880 needed to provide the statistical resolution required by their experimental design. Unfortunately, the company anticipates needing to replace approximately 100 of the patients that were enrolled under a previous Contract Research Organization (see the short paragraph that follows for details on the related litigation), and this will likely push completion of enrollment back until October of 2016, rather than the anticipated June or July of 2016.
The SOC for Head and Neck cancer is a combination of surgical tumor mass removal, followed by targeted radiotherapy, or radiotherapy combined with chemotherapy. Multikine is administered to the area surrounding the tumor in the three weeks immediately prior to that patient receiving the SOC.
The goal of adding Multikine to the SOC is to both reduce the size and extent of the tumor mass prior to surgery, and to destroy any satellite metastatic regions immediately outside of that tumor mass by enhancing the patient's own immune response against those tumor cells. The Multikine therapy is intended to activate the patient's immune system against the tumor prior to the patient's immune system being impaired by the less selective radiotherapy and/or chemotherapy treatments. The Multikine treatment is not specific for any particular cancer-related gene, or any particular type or class of cancer. The treatment could have an extremely broad applicability to anti-cancer SOC, and the market for the treatment, if successful, could be enormous.
Investors should also keep in mind that while the Phase III study population is on schedule to be filled before the end of 2016, the primary and secondary measures that will be used to determine the success or failure of Multikine as treatment for cancer will very likely take 2-3 years to be finalized. Unless Multikine + SOC produces remarkable increases in survivorship over SOC, investors should probably not expect to see FDA approval of Multikine as an add on treatment until at least 2018.
Phase I Trial:
Multikine is also currently being tested in a Phase I Clinical study as a treatment for perianal warts caused by Human Papilloma Virus (HPV) in HIV-immunocompromised patients. This clinical study was initiated in late 2013 under a Collaborative Research and Development Agreement (CRADA) with the U.S. Navy and has proceeded slowly. During 2015, CVM announced that this Phase I study was being expanded to include work done at the University of California at San Francisco under the direction of Dr. Joel Palefsky, who is the head of the AIDS Malignancy Consortium, HPV Virology Core Laboratory. The AMC has extensive experience in clinical testing for AIDs-related cancers. Results of this Phase I trial were initially (under the CRADA) expected during 2015, but recently CVM's management has revised the expected completion of this study and data release for some time during 2016.
Multikine is not, strictly speaking, exclusively an anti-cancer medical treatment. Multikine's general applicability as an immune system enhancer could be illustrated by these tests against HPV warts in immunocompromised patients.
The Current Litigation:
I have previously reviewed the background of the current Arbitration in detail and will only go into detail on the minor changes in status since the previous court dates were moved to "March" of 2016. I invite readers to review those previous articles and the comments attached to it for insight into investor sentiment.
On February 9, 2016 the Cel-Sci CEO Geert Kersten, gave a presentation (registration required) for the at the 18th Annual BIO CEO & Investor Conference. During this presentation Mr. Kersten made statements about the pending case that might be of note to potential investors in assessing the risks against potential short-term rewards.
First, Mr. Kersten suggested that the litigation was going well, and that during the discovery phase the amount of damaging information against the old CRO (Inventiv) was accumulating. Mr. Kersten suggested that - because of accumulated damages, it was more likely that 1) they would do well in the case, and that 2) the amount that Cel-Sci could receive in damages could be quite high - as much as $150 MM. Obviously, there is no guarantee that Cel-Sci will win or be awarded this level of damages. However, the effect of such an award would have obvious and positive implications for the corporate bottom line while they finish up the work needed for their current Phase III and Phase I trials of Multikine.
Second, in previous communications to shareholders, a very specific date for the court to being the Arbitration hearings had been stated. That specific date was to be March 1, 2016. However, during the presentation, Mr. Kersten made a more general set of statements that the case was to be heard during "the Spring." This announcement has caused some concern on the part of shareholders, including myself.
The next day (February 10) I wrote to Mr. Gavin de Windt, Cel-Sci Associate Director of Operations for clarification on this point. Mr. de Windt indicated that the previously indicated "March 1" date was a working date, and was not intended to be viewed as a 'hard date'. Mr. de Windt also indicated that he could not provide me with any additional information on when the arbitration was to go forward into court, as "we are very close to trial". "The arbitration hearing on the merits (the "trial") is expected to commence in the spring of 2016."
The fact that the 'trial' doesn't have a hard date has some negative connotations for investors as it does increase the perceived level of risk. Obviously, the longer the litigation drags out, the more likely it is that CVM might have to do additional dilutive capital raises in order to keep the Phase III and Phase I trials moving forward. However, the potential that CVM could see an award of considerably over the base $50 MM that CVM sought in the suit also raises the stakes for potential speculative investors.
Putting it all together:
As of February 18, CVM has a Market Capitalization of approximately $70.15 MM. This value is up a bit from the end of 2015, but is still viewed as a risky bet by the market in general. Over the last few months, CVM has traded in a range of around $0.38 - $0.55 / share, but has been on slow uptrend since January. No new dilution has been announced since November, Phase III enrollment numbers have been fairly steady, and no new and unanticipated negative news has been reported.
During the most recent quarterly report, Cel-Sci actually reported a much lower quarterly operating loss (approximately $5.8 MM) for the quarter that ended in December 2015 relative to the approximately $10 MM reported for the same quarter in 2014. A large part of this net difference is due to an approximately $2.3 MM decrease in obligated legal fees because of the litigation agreement with Lake Whillans. Despite this agreement, and despite continued in-kind financial support from their current CRO for the Phase III and Phase I trials, CVM is still running a large quarterly deficit with no source of income other than dilutive sales of stocks and securities, and is a year or more from an obvious source of revenue.
The importance of the upcoming Arbitration with InVentiv for shareholders cannot be underestimated. An award of $50 MM or more to a company with a current market capitalization of only about $70 MM, that is at least a year (likely more) from generating any revenue, and that burns through cash at greater than $20 MM per year would be very good for the corporate and for the individual shareholders' bottom lines. At the least, such an award would increase market confidence that CVM will be able to complete its Phase III testing and head into FDA review without needing to dilute shareholders' equity extensively to do so.
As I pointed out back in November, before it was known that the Arbitration date had been pushed back until sometime this Spring, a lot is riding on how this case works out, and when it gets resolved. If anything, the importance of a favorable result for Cel-Sci has gone up since last Fall.
Disclosure: I am/we are long CVM, NNVC, HEB.
I wrote this article myself, and it expresses my own opinions. I am not receiving compensation for it (other than from Seeking Alpha). I have no business relationship with any company whose stock is mentioned in this article.
Editor's Note: This article covers one or more stocks trading at less than $1 per share and/or with less than a $100 million market cap. Please be aware of the risks associated with these stocks.