Twelve days ago, Chesapeake Energy (NYSE:CHK) NYSE: crumbled under an unsubstantiated rumor that the company was about to file bankruptcy. The stock gapped down from $3.06 opening up at $2.56 and trading down to the $1.50 level a massive 50% sell-off with trade being halted 5 times in the first two hours.
I have been trading over 20 years and have never seen a stock halted 5 times in one day. In my opinion, it was obviously the big shakeout; the kind that destroys the mind of an investor or trader. On that day oil was trading at $26.50 and downward momentum felt like it would never end.
Look at this Chart showing the 50% drop and slight rebound.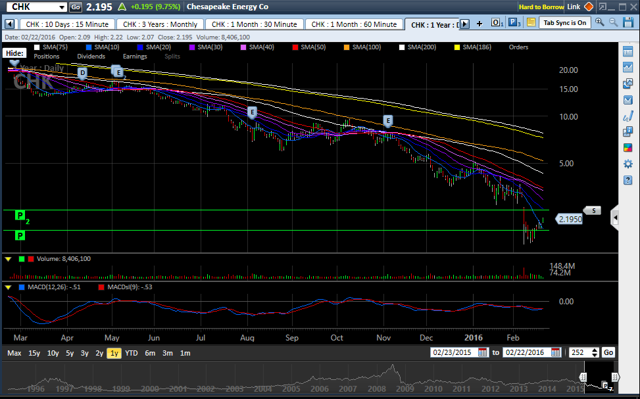 Click to enlarge
The downfall of Chesapeake Energy has been front and center with big money placing their bets on both sides. The imminent bankruptcy fears were rebutted by Chesapeake with the company releasing a statement stating that Kirkland and Ellis LLC had served as council for several years and there were no plans for filing BK. You can view that press release here.
The market didn't seem to care as the damage had already been done. The stock traded between $1.50 and $2.04 for the remainder of the week. Keep in mind this was a $20 stock within the last year, and was trading at the $5.50 level just 60 days ago.
As a trader; when I see long term multi decade lows, followed by a 50% drop in a single day then I BUY all I can. The recent debt buybacks tell me that the company is not looking to File BK.
Management has been buying back corporate bonds in order to shore up their balance sheet. Investors can view the multiple transactions on notes tendered by clicking here.
Knowing the way that Wall Street takes your money and how stocks double off of these type of capitulation lows; intuition tells me to be patient into earnings.
I believe that Chesapeake is now a prime takeout candidate and could be swallowed up on the cheap by a player with deep pockets.
In my opinion this stock can double easily from the current price on a little clarity and any rally in oil. My near term target on the stock is $3.50 which would be more than a double from the $1.50 low last week. Investors can expect a bit more clarity on the bond purchases and the credit line draw on the earnings report this week
Chesapeake could easily rally to $5 or $6 on a relief rally and short covering.
Conclusion
Bankruptcy fears in my opinion are totally overblown.
The company has a $500 million note coming due in March which I expect to be repaid on time.
If one thinks the company can survive over the next 24 months, which I do, then Chesapeake is a strong buy on any weakness.
This is how 5 and ten baggers are made in the market. Buy when others are forced to sell.
In my view, the February 8 crash was a margin call event.
Disclosure: I am/we are long CHK.
I wrote this article myself, and it expresses my own opinions. I am not receiving compensation for it (other than from Seeking Alpha). I have no business relationship with any company whose stock is mentioned in this article.