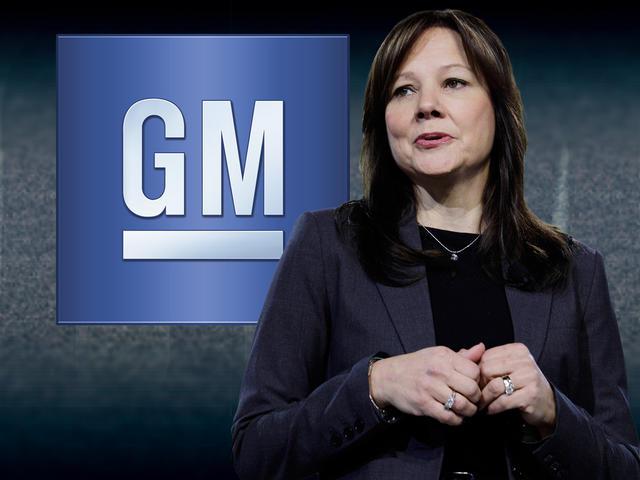 Auto stocks have been hammered for the last few months and things seem to be looking up for bargain hunters. A quick look at the dividend yield curve and stock price of GM (NYSE:GM) will clearly tell you how things have changed in a short span of three months. GM's dividend yield has now touched a mouth-watering +4.5%. The number is so attractive that it is easy to be tempted into taking up a huge position and earning some good returns on the stock.
Having said that, attractive dividend yields cannot be the single important factor that should influence our decision. What if GM's fortunes nosedive and the company decides to cut its dividend in the future, for example?
To understand the ability of GM to keep paying its dividends, let's take a closer look at the financial position of the company and analyze some important metrics that will tell us how high the probability is of them continuing their upward trajectory on dividends.
Yield is important, but it's only a number: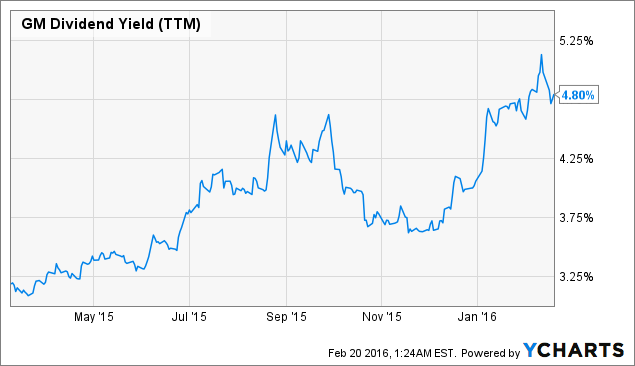 The rut in the current market created by pessimistic analysts has pushed GM's stock price (disproportionately, I might add) to its lowest levels, thereby pushing the dividend yield upward.
After GM's turnaround from near bankruptcy during the great recession, the company started paying dividends since March, 2014. The company has slowly raised its dividends from $.30 in March 2014 to the announced $.38 in March 2016.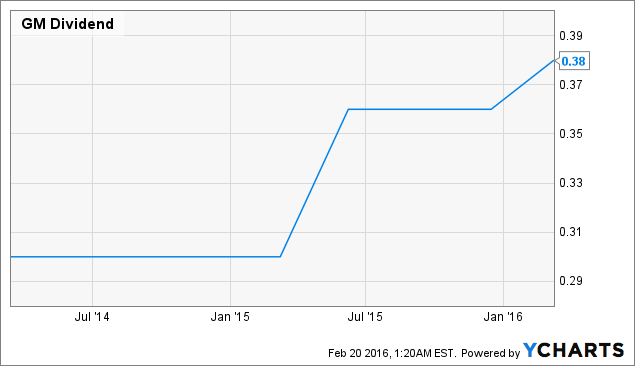 What About Sustainability?
How sustainable is GM's dividend? To understand the company's ability to keep paying dividends, we can look into several factors such as payout ratio, cash flow and leverage.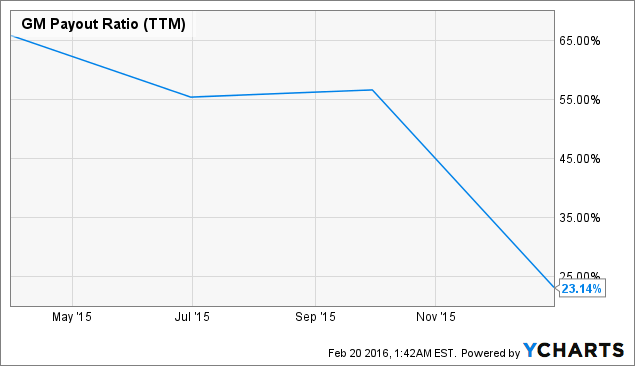 GM's current payout ratio is 23.14% - the company pays 23% of its net income as dividend. So there is plenty of room for them to even increase their dividend if needed.

The problem with payout ratio is that it is based on the accounting earnings of the company, thus it does not truly reflect the reality of a company's ability to pay its dividends. The best metric, therefore, is to use cash flow to gauge the sustainability of the company to be able to keep paying its dividends. This becomes even more pronounced for capital-intensive industries such as automobiles, where the depreciation is far higher than many other industries, thus affecting net income in a like manner.
Cash Flow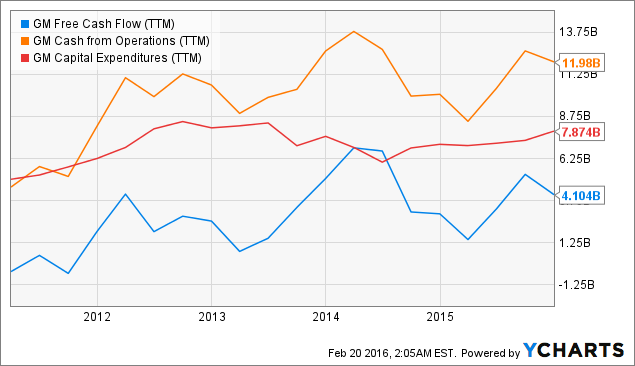 GM's free cash flow and operating cash flow have been inching upwards since 2012, while their capital expenditure has been moving up steadily as well. I do not expect them the cut back or even hold back on their capex spending, considering the kind of competition they currently face in their biggest market and around the world.
Tesla (NASDAQ:TSLA), Apple (NASDAQ:AAPL) and Google (NASDAQ:GOOG) (NASDAQ:GOOGL) may be distant competitors with little to show right now, but the real threats of Ford (NYSE:F), Volkswagen (OTCPK:VLKAY) et al are still there.

Data Source: Morningstar
GM paid 65% of its free cash flow as dividends in 2013 and 43% in 2014, so the company does have ample room to keep its dividends intact for the next two years. How far they increase those dividends will entirely depend on how much their sales grow in United States.
However, looking at the payout ratio from the free cash flow perspective, GM does have some room to keep paying similar dividends even if there is a drop in sales this year or the next - and I don't think that's going to happen any time soon despite the claims of many that we've reached an "auto peak" in the United States.
The Auto Industry is Cyclical but so are the Company's Investments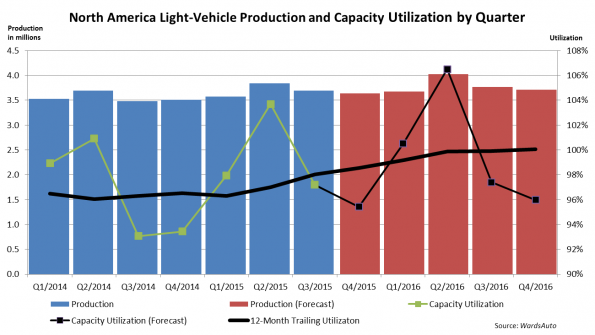 Source: Wards Auto
GM and most other automakers in the United States are either running at full capacity or even higher. In fact, the company has been trying to add capacity in some of their U.S. auto plants; case in point is their investment of $148 million in the Spring Hill manufacturing plant last week.
Things are different in other continents such as Europe and Asia-Pacific, where GM has excess capacity. Looking at their capacity utilization, it now makes sense why GM was planning to export its Buick Envision, a crossover SUV, from China to the United States. If only the Unions could better understand why it's more prudent for GM to use excess capacity elsewhere than increase capacity in one country and let it sit idle during slow growth periods, much of the tension between UAW and GM can possibly be relieved.
Investor-speak: Dividend Outlook Solid for GM; Market Outlook Supports Further Growth
Based on the factors discussed above, I hold that GM will indeed be able to sustain its current dividend payout levels. Furthermore, this is confirmed by the guidance they provided during their 3Q earnings call in January.
From GM's Jan 13 Earnings Call:
General Motors Co. (NYSE: ) today announced an increase to its 2016 earnings per share adjusted outlook to between $5.25 and $5.75, up from the prior outlook of $5.00 to $5.50 provided on Oct. 1, 2015. The company also expects improved EBIT-adjusted, EBIT-adjusted margin and automotive adjusted free cash flow.

Based on this outlook, the GM Board of Directors authorized an increase to the company's existing common stock repurchase program, bringing the total to $9 billion - an increase of $4 billion - while extending the program through 2017. The Board also authorized an increase in the regular quarterly common stock dividend of 6 percent, to $0.38 per share, beginning in the first quarter of 2016.
Moreover, sales trends in the automobile industry and other, external factors such as low interest rates and low fuel prices, and the rising average age of vehicles in America indicate that we haven't reached a peak in the United States yet.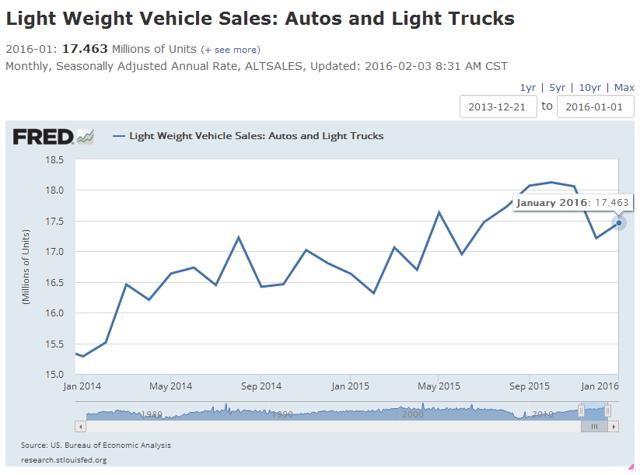 Click to enlarge
In my previous article on the auto industry called Automakers Getting Run Over: Load Up On GM and Ford While The Going's Bad, I outlined why I felt that the stock market's negativity was a good thing for investors looking to add to their GM and F positions.
I do not expect the U.S. automobile market to turn bearish in the next few quarters. I do expect it to either hold at its current 16-17 million sales level and possibly even post modest growth for this year. As long as sales in the U.S. remain within that range - or higher, obviously - GM will stay profitable and its ability to pay good dividends will not be affected.
Please follow me for more insightful articles on major players in several industries including automobile, retail, shipping, e-commerce and more.
Disclosure: I/we have no positions in any stocks mentioned, and no plans to initiate any positions within the next 72 hours.
I wrote this article myself, and it expresses my own opinions. I am not receiving compensation for it (other than from Seeking Alpha). I have no business relationship with any company whose stock is mentioned in this article.