3D Systems Corp. (NYSE:DDD) is a well-known company that operates in the business of manufacturing, designing, and selling 3D printers and providing linked services all over the world. In 2014, the company's revenue hit a level of $650M showing a 5-year CAGR of 40%+. However, LTM 2015 revenue is projected to be about $670M which shows that the company is slowing its growth. This is because the last quarterly results are rather unsatisfactory (Q4 revenue growth was -9%). The company has competitors in several markets: Stratasys Inc. (NASDAQ:SSYS) with revenues of ~ $1B, ExOne (NASDAQ:XONE) with $130M in sales, and Voxeljet (NYSE:VJET) with revenues of around $77M. Hence, 3D Systems is the second-biggest company after Stratasys in terms of turnover in this market. The company follows an aggressive M&A strategy in order snap competition and stay on the cutting edge of technology. Despite that, it has also shown natural growth over the years.
However, in 2013, Hewlett-Packard (NYSE:HP) announced that it would manufacture the first 3D printer based on a new MultiJet technology by 2016 (see Diagram 1). HP may be not be experienced in manufacturing 3D printers but it has one unique competitive point: it is much bigger and, therefore, has deep pockets. Hence, the entire market is going to see some major changes in the next few years.
3D Systems has its competitive advantages as well. First of all, the company has been operating in this market for more than 30 years. This means that there is a lot of experience in the company.
Secondly, it provides solutions not only to manufacturers but also to consumers. Unfortunately, the $1,019 Cube printers are going to be removed from the shelves as management is now focusing on profitability and considers it the only way to succeed in the future. However, the company will still offer products like the ProJet 1200 printer with a price range of $4,000-6,000 (depending on the country), which can be used by small business, start-ups, or primary customers in their needs.
Thirdly, the company has developed its own valuable patents, which make the printers cheaper and help provide better usability. 3D Systems has become a well-respected brand.
Finally, the company is going to enter the Chinese market. Despite the slowing economic growth, this new market is not widely occupied. The cost-efficient technologies that 3D Systems offers may become very popular in this region.
Diagram 1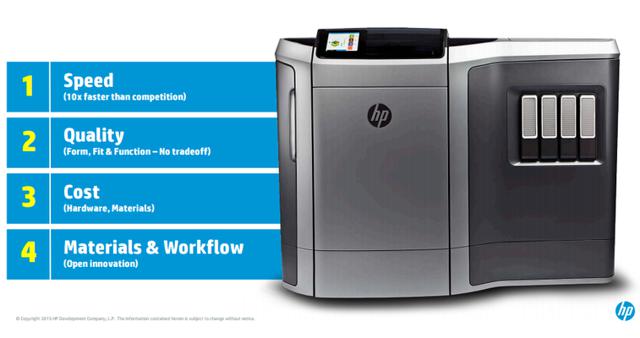 Click to enlarge
Source: data - Morningstar.com, infographics by author
Nevertheless, there are several points of concern I have to point out.
The first point of concern is the bearish short-term trend on the 3D printers market. During the last nine months, the company's revenue has increased by only 3%, while Stratasys' revenue has declined by almost 15%. The decline in revenue growth has an impact on the level of inventories held on hand, especially on the finished goods inventory. As you can see on Diagram 2, the total inventory level has increased by 43%, the while finished goods' growth level was 10 percentage points higher (~54%).
Diagram 2

Source: company's Q3 filings
Secondly, Asia-Pacific sales, the second largest segment in the company in 2014, declined by more than 13% over the time period. The segment has become the second smallest after Germany. In view of this information, the Chinese invasion may be as unprofitable as many people think (see Diagram 3).
Diagram 3

Click to enlarge

Click to enlarge
Source: company's Q3 filings
Thirdly, cash flows from operations are on a declining trend (see Diagram 4). The company's net income is underwater which makes it a major reason why cash flows are negative. The net working capital's increase due to unsatisfactory sales results and rising inventory levels is the second reason why the company burned cash in this time period. High depreciation is the only factor that caused the company to report positive OCF. However, keep in mind that capital expenditures offset cash savings depreciation and amortization benefits.
Diagram 4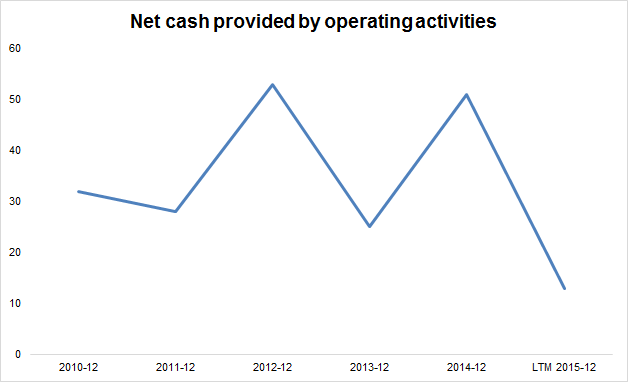 Source: data - Morningstar.com, infographics by author
However, decreasing figures are followed by more rapid fall of the stock price. During the last two years, the company has lost nearly 90% of its value (see Diagram 5). This may be a good chance for those who want to buy shares of a company with the potential to become an industry leader for a cheap price.
Diagram 5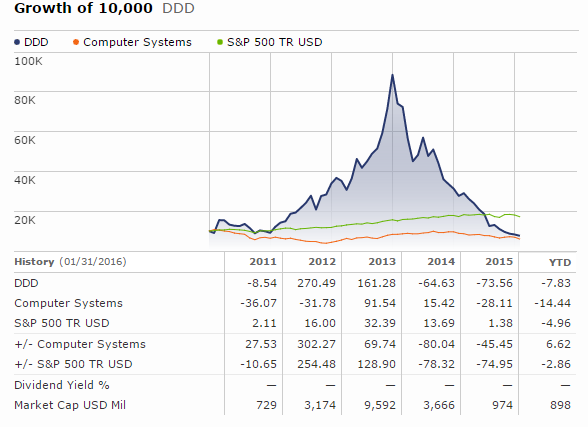 Source: Morningstar.com
DCF analysis
My DCF model is presented in Diagram 6. In Diagram 7, you can see how different metrics of the company are expected to change during this period. I have made several assumptions, which can be easily seen in the "Assumptions" tab of my Excel file.
My model shows that, after subtracting the market value of debt, minority interest and adding back cash and investments, the market value of equity is around $1.2B in the Base scenario. Consequently, the fair value per share is $10.77 per share. It is more than 13% higher than the current price ($8.61 per share).
Diagram 6.

Click to enlarge
Source: data - Morningstar.com, DCF model by author
Diagram 7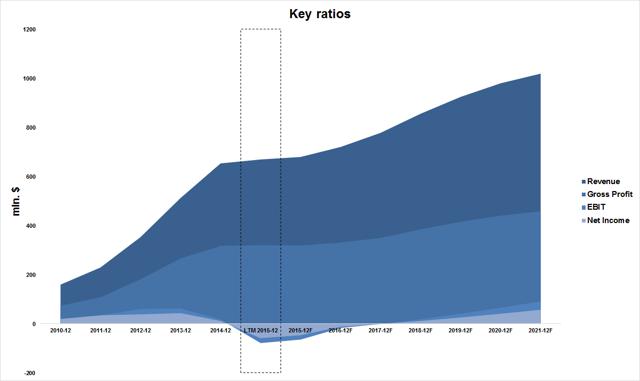 Click to enlarge
Source: data - Morningstar.com, model by author
Sensitivity Analysis
The sensitivity analysis is presented in Diagram 8. According to the Base scenario and the assumptions for the EV/EBITDA multiple and WACC, the price range is estimated to be between $10.0 - $12.0 per share. This price range represents a 6% - 27% upside opportunity.
Diagram 8.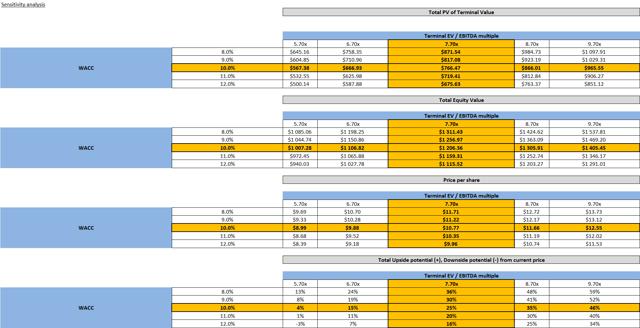 Click to enlarge
Source: data - Morningstar.com, model by author
Comparative Analysis
My comparative analysis is based on two key ratios: P/S and P/BV (see Diagram 9). The P/E ratio is not meaningful because LTM earnings are negative. The P/S ratio shows that the stock is overvalued by 50% on average, while the P/BV ratio shows a 100%-plus upside opportunity. Taking into account the growing nature of the company, the current P/S ratio may underestimate its perspectives.
Diagram 9.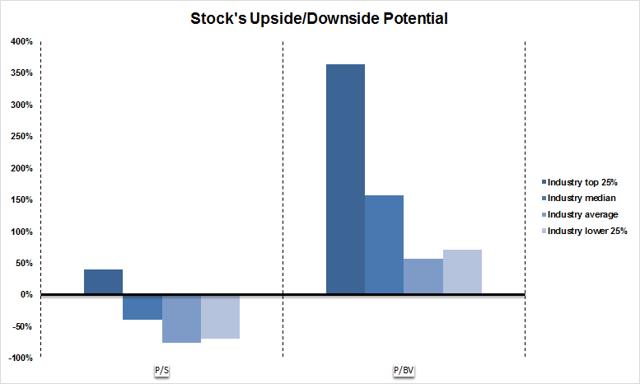 Click to enlarge
Source: data - Morningstar.com, infographics by author
Opinion
Despite the fact that I consider myself a value investor who looks for a significant margin of safety, I think this 3D Systems offers a great opportunity to diversify one's portfolio with a growth stock. I recommend buying this stock and set a target price range of $10 - $12 per share. This price range can be translated into a 6%-27% upside opportunity for the stock. However, as with any growth stock, you should carefully study each quarterly report and investigate any points of concern.
Disclosure: I/we have no positions in any stocks mentioned, and no plans to initiate any positions within the next 72 hours.
I wrote this article myself, and it expresses my own opinions. I am not receiving compensation for it (other than from Seeking Alpha). I have no business relationship with any company whose stock is mentioned in this article.
Editor's Note: This article covers one or more stocks trading at less than $1 per share and/or with less than a $100 million market cap. Please be aware of the risks associated with these stocks.