Despite massive investments in China's semiconductor industry, production is making minimal impact on meeting growing demand, according to the report "Mainland China's Semiconductor and Equipment Markets: A Complete Analysis of the Technical, Economic, and Political Issues," published by The Information Network.
As shown in Figure 1, China produced 113.2 billion ICs in 2015, up from 102.0 billion in 2014, a year-on-year increase of 11.0%. However, China's imported ICs were 305.5 billion ICs in 2015, up from 285.7 billion pieces in 2014, an increase of 6.9% year on year. Thus, the ratio of consumption to production increased to 27.0% in 2015 from 26.3% in 2014 and will increase to 28.9% in 2018, as shown in Figure 2.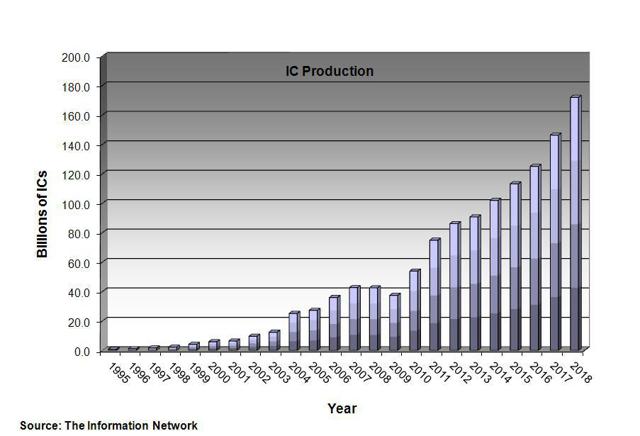 Click to enlarge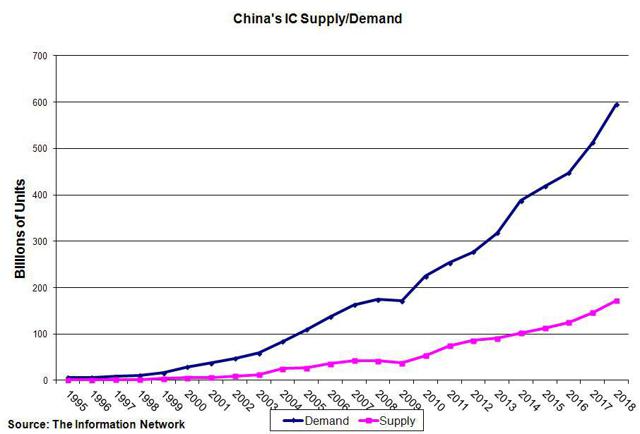 Click to enlarge
To reverse that trend, China needs a massive infusion of investments in IC facilities to reduce the reliance on foreign imports. China recently launched two major initiatives:
The "National Guideline for Development of the IC Industry" program, unveiled in June 2014, is designed to accelerate China's efforts in several areas, such as 14nm FinFETs, advanced packaging, MEMS and memory. China created a $19.3 billion fund, which will be used to invest in its domestic IC firms. Over the next decade, local municipalities and private equity firms could spend $100 billion across China's IC sector.
The "Made in China 2025" program, initiated in May 2015, is to upgrade and increase the domestic content of components in 10 key areas - information technology, robotics, aerospace, shipping, railways, energy systems and vehicles, power equipment, materials, medicine and agricultural machinery.
I noted in an article in Seeking Alpha on February 1 entitled "Through M&A, China Is After The Smartphone/Apple Supply Chain," that China is making inroads towards dominating the smartphone semiconductor supply chain, not only through these acquisitions and the government's two major initiatives, but also by fostering an environment for additional foreign companies to build fabs and manufacture ICs.
For example, Intel (NASDAQ: INTC), Samsung, and TSMC (NYSE: TSM) - are all involved in mainland Chinese fabs. Intel's Fab68 in Dalian began production of logic chips in 2010. Samsung's Fab in Xian began production of V-NAND chips in 2014. TSMC has announced it is seeking approval to build a wholly-owned 300mm foundry in Nanjing, after rival UMC (NYSE:UMC) has invested in a jointly-owned foundry now being built in Xiamen.
Investments were responsible for Mainland China's IC capacity increasing from 220,000 wafers per month in 2004 to 2,592,000 in 2015.
In a comparison with other regions, China's IC design (fabless) segment sales share was slightly above 11% of the worldwide market 2014, behind Taiwan's 17%, and the US with a share of 65%. Market leaders are Qualcomm (NASDAQ: QCOM), Broadcom (NASDAQ:AVGO), and AMD (NASDAQ: AMD). China's Hisilicon was a distant twelfth.
In the IC manufacturing (foundry) segment, China's sales were about 9% of the worldwide market, far behind Taiwan at 72%. Market leaders are TSMC, GlobalFoundries, and UMC. China's SMIC (NYSE: SMI) was a distant fifth.
In the IC semiconductor packaging/assembly segment, China sales were around 8% of the worldwide market 2014, far behind Taiwan's 48%. Market leaders are ASE (NYSE: ASX), Amkor (NASDAQ:AMKR), and SPIL (NASDAQ: SPIL). China's Jiangsu Changjiang Electronics Technology was a distant sixth.
On a revenue basis, China imported 65% of the global semiconductor market production ($218.4 billion versus $335.8 billion), as most electronic products are made in China.
China's domestic semiconductor processing equipment is even worse, where it has almost no presence. Applied Materials (NASDAQ: AMAT) led the market in equipment sales into China, followed by Lam Research (NASDAQ: LRCX), ASML (NASDAQ: ASML), and KLA-Tencor (NASDAQ: KLAC).
Conclusion
Despite the slowdown in its economy, China represents a huge market for the semiconductor supply chain. But the real beneficiaries of China's output and exports are non-Chinese manufacturers.
Disclosure: I/we have no positions in any stocks mentioned, and no plans to initiate any positions within the next 72 hours.
I wrote this article myself, and it expresses my own opinions. I am not receiving compensation for it (other than from Seeking Alpha). I have no business relationship with any company whose stock is mentioned in this article.