In a year in which the bear market has torn into the proverbial flesh of equities and holdings in various sectors, the utilities sector continues to fulfill the characteristic as a defensive stalwart. The Utilities Select Sector SPDR ETF (NYSEARCA:XLU) and the PowerShares S&P SmallCap Utilities Portfolio ETF (NASDAQ:PSCU) are the best-performing U.S. sector ETFs as far as three-month and YTD returns are concerned. These utility ETFs have posted returns of 6.8% and 3.9%, respectively.
The Vanguard Utilities Index Fund Inst (MUTF:VUIAX) is among the best of the best in this reliable sector. After being outpaced rather significantly during the years 2012 and 2013, the fund has righted its ship over the past couple of years.
Based on return performance, the fund was ranked 1st and 2nd in the Morningstar Utilities category in 2014 and 2015, respectively.
The fund's monthly and yearly ratios with regards to return can be seen below. As you can see, the fund has had a consistent level of outperformance for a long period of time.

Click to enlarge
While the fund does not have a distinguishable difference with regards to market capitalization and/or value and growth measurements, there are distinguishable differences in terms of the fund's upside and downside capture ratios versus its benchmarks.
In terms of the upside capture ratio, the Vanguard Utilities Index Fund has always trailed its benchmark in terms of establishing a return when bullish markets are the order of the day. However, the fund has consistently maintained an advantage over its benchmark when it comes to limiting losses during downward markets. As you can see in this chart, the fund's advantage in terms of the downside capture ratio has always outweighed the benchmark's advantage as far as an upside capture ratio is concerned.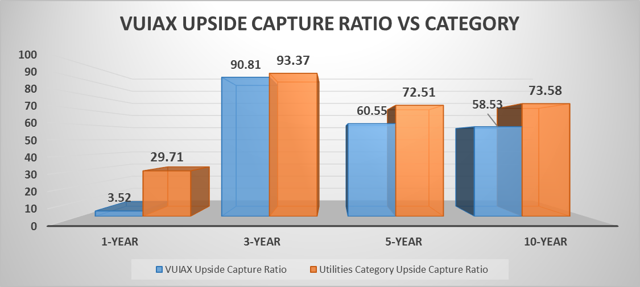 Click to enlarge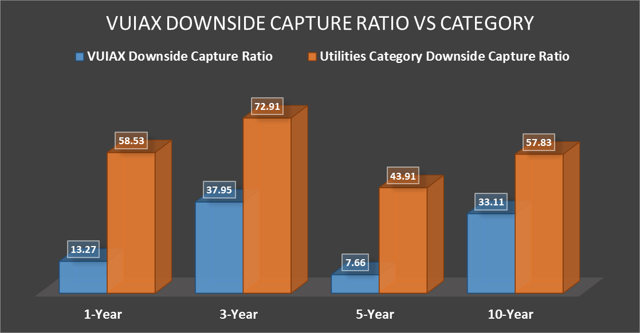 While all of the fund's top 15 holdings in terms of portfolio weight have generated a positive YTD return, the following holdings have amassed a double-digit return so far this year. Certainly, these holdings can be seen as the major movers in the fund.
| | | |
| --- | --- | --- |
| Equity Holdings | Portfolio Weight | YTD Return |
| NextEra Energy, Inc. (NYSE:NEE) | 7.16% | 10.45 |
| Exelon Corporation (NYSE:EXC) | 3.61% | 13.61 |
| Public Service Enterprise Group Inc. (NYSE:PEG) | 2.96% | 11.06 |
| Consolidated Edison Inc. (NYSE:ED) | 2.88% | 11.31 |
| Wisconsin Energy Corporation (NYSE:WEC) | 2.47% | 11.14 |
Of course, the icing on the cake is the fund's dirt-cheap expense ratio. The Vanguard Utilities Index Fund has always had a clear advantage in terms of this expense ratio for years. As you will see in the chart below, the fund's expense ratio is less than 9% of the average expense ratio of its benchmark and less than 10% of the average expense ratio for the Utilities category.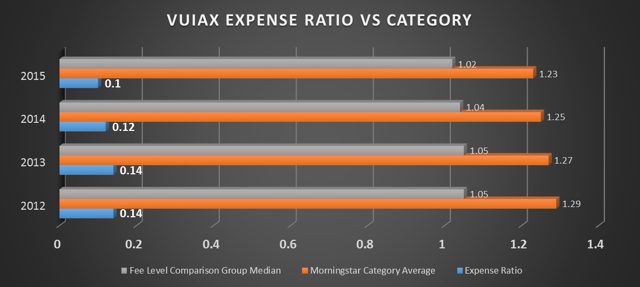 Click to enlarge
Bottom Line
In a category that is already defensive in nature, the Vanguard Utilities Fund Index Inst is a cut above in terms of limiting losses in bear markets such as the one that investors are experiencing all too well.
Although its performance in upward markets can be better, the attractiveness of this fund is significantly enhanced by its expense ratio. Thus, this fund has established itself as a cheap and reliable fund that is worth the investment.
Disclosure: I/we have no positions in any stocks mentioned, and no plans to initiate any positions within the next 72 hours.
I wrote this article myself, and it expresses my own opinions. I am not receiving compensation for it (other than from Seeking Alpha). I have no business relationship with any company whose stock is mentioned in this article.