Introduction:
Even though we are officially in the correction territory, the current market selloff is really masked by the numbers indices show us. For example, the S&P is down 10% from its top and that is substantially masking the common stocks, which are down more than 20% (the Russell 2000 is down ~23% from its high). This imbalance has also to do with sectoral battering - where some sectors with a lesser weightage are beaten much more than the others. While the bashing on energy, materials and financials is understood, one sector, which has been completely whacked and unreasonably so, is biotech.
In most growth-scare inspired downturns, I always suggest finding the silver lining - finding a sector, which is and will keep strengthening its fundamentals, irrespective of what the current scare is about. Interestingly, if you look at the biotech sector, which is down 40% from the highs, you would feel the scare we are facing is something like 'single pill solution to all diseases possible'.
While I do heartily wish that it was the case, unfortunately, it is not. What it is - is a mix of the drop in oil and commodity prices leading to energy debt, possible worsening of bank's loan books, and the global uncertainty driven by economies of China and other oil producing nations. Amusingly, none of these really have any direct effect on the science of drug discovery.
With enormous advances experienced in the science over the last decade, I continue to believe that the sector is one of the most resilient ones to the global economy and its outlook. Unless the scientific discipline fails to live up to our expectations, or there are real steps taken in negotiating drug prices downwards (not just the rhetoric), I believe investing in the biotech sector right now is a great opportunity in the long run.
The start to 2016 has been nothing to write home about. The iShares Nasdaq Biotechnology ETF (IBB), the largest Biotech ETF on the market has fallen ~23% TYD. However, it hit a very interesting milestone last week. In the wee hours of February 11, it hit the 200-day moving average (DMA, sitting at 239) on the weekly chart and bounced back right off it. The last time IBB hit the 200 DMA on the weekly chart was in 2011, which makes the 200 DMA a reliable long-term support for the trend. (Ref: For those not familiar with moving averages, can have a little background here)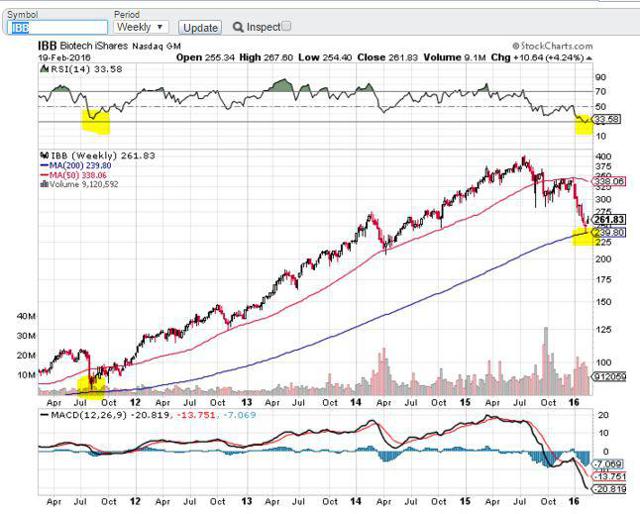 Click to enlarge
Many believe that with the current quarter results overlapping with the strong support, we have seen 'the bottom'. I'm not here to claim it, but I'm here to help you identify concrete steps that will tell us if it indeed has bottomed, and what is the best way to benefit off the bounce back. We will look at the past corrections and let our human psychology from the past (via price actions) tell us exactly what to buy to make the most buck from here.
Historical corrections:
We will be watching several ETFs in this article to arrive at the best vehicle for trading the bounce. However, for benchmarking and historical understanding, we will start with the oldest and the largest Biotech ETF on the market, and that is IBB.
Since its inception on Feb. 5th 2001, the deepest correction it faced was right in 2001-02, where it fell ~60% from peak-to-trough (PTT). For the rest of the 2000s, the biotech sector thoroughly lagged the performance of overall markets, to only gain the previous peak back in 2011. While it certainly did underperform, it proved to be more resilient than the broader markets during the financial crisis. It fell ~36% PTT, as against the S&P 500, which fell ~55% PTT.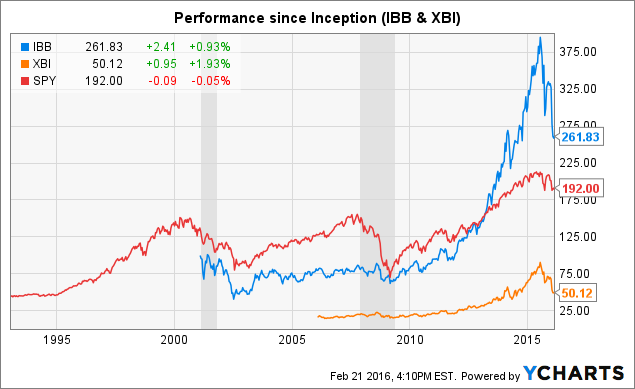 IBB data by YCharts
Coming out of the depressed valuations during the crises and strengthening fundamentals, the sector never visited the bear market territory till about 2014, when it did so for a very brief period. Following were the corrections that took place in between:
2010: ~18% PTT
2011: ~18% PTT
2012: ~15% PTT
2014: ~24% PTT
Putting the current correction into context, IBB has retraced from a high of 400 to a recent low of 239, that is a ~40% PTT correction, which is also the second largest correction the sector ETF has ever seen in its history (yes, even bigger than the downturn in the financial crisis).
Given that 2014's correction is the only case in the last 5 years where the sector was in bear territory, it sets itself as the perfect case study to dive into. We will now study the 2014 case and get very concrete insights into how was the bottom formed and which ETFs bounced first, and why. We will then eventually apply the takeaways to the current correction, to help us identify what exactly to buy, and when.
2014 Correction:
The Bottom:
Riding on its up move, IBB hit the 273 mark on Feb 25th 2014 and from there things started going south. The correction was fast and furious - and barring some up days in between, it went in a straight line down till April 14th, when it bottomed.
What happened on April 14th, and why was the bottom put on that day exactly, you ask? On that day, IBB fell to the 214 mark - which was not only the 50 DMA on the weekly chart, but it also coincided with the 200 DMA on the daily chart. Coincidence? Not if you define it as something that doesn't happen often.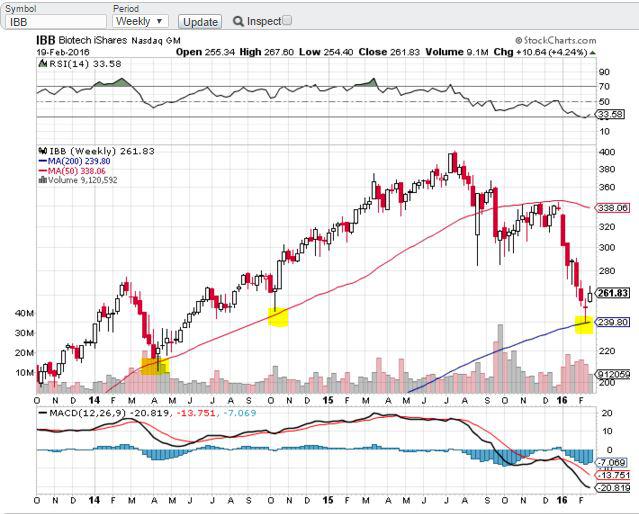 Revisiting the bottom:
The bounce from the moving averages was quick, but not everyone was convinced. It often needs a re-test to make sure that the weak hands (the ones just trading the bounce) are out before a bottoming process (not a point, a process) is concluded - and the same thing happened. IBB quickly gave up gains, but not all of it though - creating a higher low. It continued in a range to fall till May 8th 2014, to be at the higher low of 223, which it has never seen since.
What happened on May 8th, and why was the bottom confirmed on that day exactly, you ask? On May the 8th, it revisited the 200 DMA on the daily chart (which was exactly at 223) and buyers came in - enough to not take it ever back to that level. Coincidence? Again, maybe not.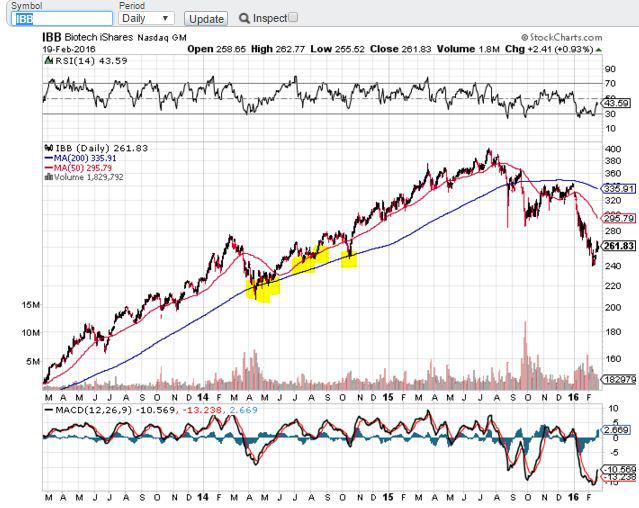 Bounce back to even, and Beyond:
IBB continued to rise and the fear continued to subside in the coming weeks. However, it took almost a quarter for the index to reclaim its previous high of 273, which it did on August 25th, 2014.
It continued to face resistance at the previous high though, while the market correction visited the sector in October 2014. IBB tanked along with the market, till (guess a level here?). Yes, you were right. Till 251 - which was exactly the 200 DMA on the daily chart then (while on up move, it started respecting averages on its daily chart). Coincidence? Once again, maybe not.
The fact that I don't find such reactions (bottom and top formations) on any other biotech ETF, is the reason why I've chosen IBB as a benchmark for our analysis here. Now, with this background though, let's have a look at what XBI was doing.
XBI Performance:
Unlike IBB, which is a market capitalization-weighted index and holds a portfolio which is tilted towards the largest companies in the sector (Gilead Sciences (NASDAQ:GILD), Celgene (NASDAQ:CELG), Amgen (NASDAQ:AMGN), Regeneron Pharmaceuticals (NASDAQ:REGN), Biogen (NASDAQ:BIIB); the SPDR Biotech ETF (NYSEARCA:XBI) corresponds to the S&P Biotechnology Select Industry Index. Thus, it is equal weighted and holds a lot of development stage biotechs, many of which do not have a product to sell yet and cannot be valued on a conventional scale. Thus, this ETF is also known for having higher risk, volatility, and potential for returns. Let's see how this ETF performed in the 2014 downturn:
On Feb. 25th 2014, when IBB topped at 253, XBI did the same at 57. It followed the biotech fall, but took more beating than IBB did. It fell ~29% PTT and created a bottom at 41 on April 14th. Following which, it remained in the range of 41-44, and actually created a new low at $40 on the day when IBB retested its 200 DMA at 223. i.e. XBI created a new low on the day IBB retested its lows (circled in image is the underperformance).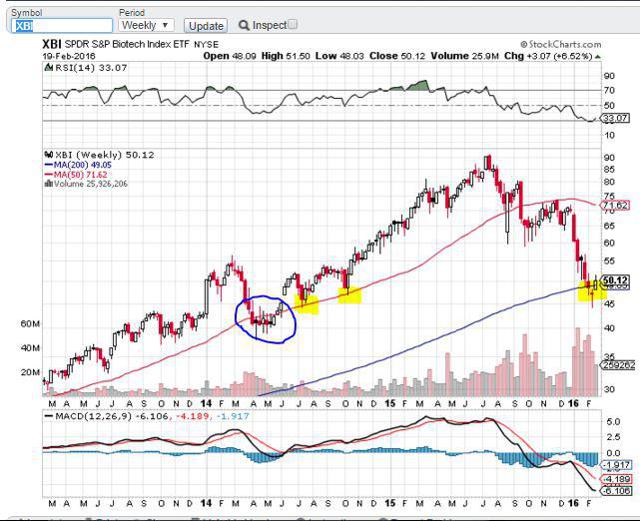 Click to enlarge
Once the bounce started then, XBI continued to stay in a range while IBB was moving upwards, till 2nd of June - when XBI managed to cross the 50 DMA resistance on its own weekly chart (shown above). After the XBI caught up, both the indices started moving in the same direction, with XBI continuing to be more volatile. It is interesting to note though that on August 25th, when IBB regained its prior peak, XBI was still at 53 (~8% from its highs). XBI only managed to cross its previous peak on October 30th and IBB was preparing to cross 300 that day. Looking at the end of the up move that followed though, XBI topped at 90 (on the day IBB topped 400), which was a 125% rebound from the low of 40, as against IBB which gained ~80% from its lows to next peak.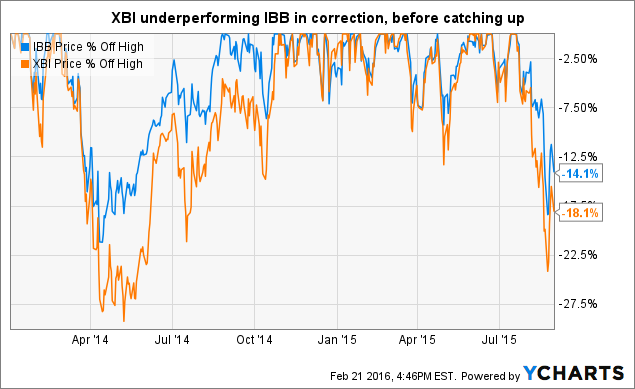 IBB data by YCharts
The bottoming mechanism:
The way I look at it is: IBB consists of large cap biotechs, which have drug portfolios on market and advance pipelines under scrutiny. These are the companies whose cash flows can be predicted and valuations can be assessed. During difficult times, investors not only tend to buy cheap stocks, but also like to protect their downside, in case they're not catching a bottom. With most of IBB's companies having real earnings, it is easier to assess that they've gotten cheap enough to buy. Thus, when the sector falls into a bear territory, investors chose to pick up IBB at the significant DMA levels and stayed away from XBI, which was more risky.
Also, as most companies in XBI do not have real earnings, the value clinical stage companies derive is highly based on market conditions - momentum and the level of market risk. So while IBB was selling off to retest the bottom, investors prepared for it by selling XBI, as it would've fallen much more than IBB if the latter would've broken support. As a result, XBI was creating new lows. Slowly and steadily though, as IBB's bottoming process was reconfirmed with a bounce from its 200 DMA, investors started to watch XBI for its charts and played its up move when it crossed its own 200 DMA. They still preferred buying large cap stocks till IBB reached its previous peak.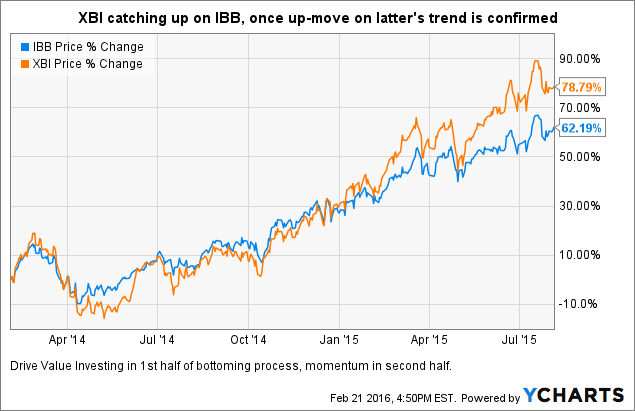 IBB data by YCharts
Once the fear subsided and IBB finally crossed its previous peak, XBI gained momentum and moved up much faster than IBB and highly outperformed the latter in the next up move. In the confirmed and continued trend up, both ETFs managed to always respect their 50 DMAs on the daily as a support, and chug along higher. This went on till July 20th, 2015, when IBB marked another peak at 400 (last was 273). And now again, what we're seeing is the same theme playing out - XBI fell harder (~50%, from 90 to 45) than IBB (40%) in the initial downfall. The same psychology of value-based vs. momentum-based investing is repeating itself. It is time to take cue of what we have learned for the latter half of the bottoming process of 2014 and apply it to current conditions.
2015-16 correction:
This time the initial fall was much more serious. While in 2014, IBB bounced from its 50 DMA on the weekly chart, this time - it did not. It broke the 50 DMA level at 334 during the mini-flash crash of last August (Aug 24th), but it gave hope by bouncing back, that it might hold. In September though, it broke the 50 DMA again convincingly and that was a classic signal to sell, because unlike 2014, it did not bounce back from its 50 DMA or create a higher low. If investors did not sell at this moment, markets gave them another chance - IBB bounced back to hit the 50 DMA level (on weekly) twice, but failed to break through it. This was another classic signal to sell IBB till it reaches 200 DMA on the weekly - which was far away then, but it chased it anyway. It finally did last week at 239.
Has Biotech Bottomed?
Now that IBB has tested and bounced from its 200 DMA (on weekly), I'm calling a possibility of a bottom here (highlighted as yellow on the chart below).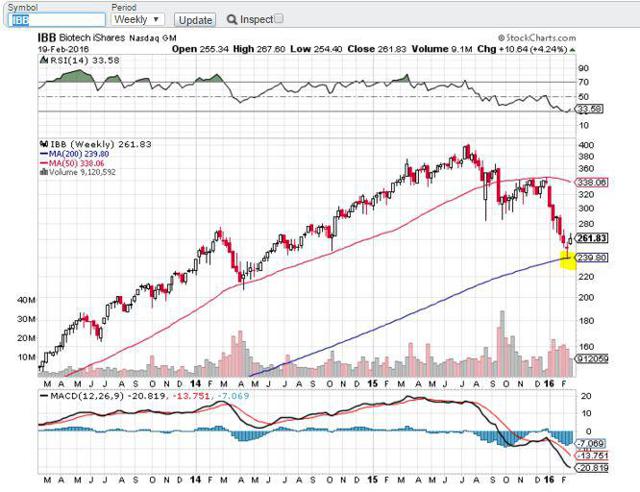 Click to enlarge
We will need to confirm it though. If markets remain stable, I do expect IBB to continue its current bounce back rally (like it did in 2014). However, this steep rally will again need to shake off the weak hands. I hope it sells off again, only to re-test the 200 DMA and bounce back off it. That will be a textbook repeat of 2014, and THE signal that biotech has bottomed. If that breaks though, we will have a lot further down to go again. So while with attractive valuations and the possibility of a bottom at a very apt level in place, I see right now as a favorable time to get in; I will break apart the 'calling the bottom' process in 4 confidence levels.
Levels of Confidence (Inspired from 2014 bottoming process)

1st: IBB bounces back from a notable DMA on weekly chart (200 DMA in this case).
2nd: IBB either holds or successfully re-tests the 200 DMA on weekly.
3rd: XBI starts catching up and crosses its own 200 DMA on the daily (sign of momentum shift into the sector).
4th: Both keep moving up with successful retests of their 50 DMA (on daily).
Notice how in the first two steps, they find solid supports on the weekly, but then start maintaining DMAs on the daily chart in the up move. Every step in this bottoming process will provide increasing confidence, and we will suggest strategies to invest in the bounce in line with those levels.
What to Buy?
The article till now lays the foundation for the thesis that biotech as a sector may have bottomed here. Now, what to buy in order to play the bounce back has a lot to do with your approach and the level of risk you are ready to take. Approach wise, though I hold reasonable holdings in individual stocks (CELG, GILD, REGN, etc), we will be discussing ETFs here in order to see how to play the sectoral move from what we learned in 2014. Risk wise, there are several leveraged ETFs available on the market now and we will briefly lay the outlay how they can be used, but it should be understood that they are very high-risk instruments and shouldn't be used unless you are very risk-prone. A select list of leveraged ETFs are listed below with a quick description of what they do:
List of leveraged ETFs:
The ProShares Ultra Nasdaq Biotechnology ETF (

BIB): seeks daily investment results that correspond to two times (2x) the daily performance of the Nasdaq Biotechnology Index (2x long IBB).
The

ProShares UltraShort Nasdaq Biotechnology ETF (

BIS): seeks daily investment results that correspond to two times the inverse (-2x) of the daily performance of the Nasdaq Biotechnology Index (2x Inverse IBB).

The Direxion Daily S&P Biotech Bull 3x Shares ETF (

LABU): seeks daily investment results of 300% of the performance of the S&P Biotechnology Select Industry Index (3x long XBI).
The P

roShares UltraPro NASDAQ Biotechnology ETF (

UBIO): seeks daily investment results, before fees and expenses, that correspond to three times (3x) the daily performance of the NASDAQ Biotechnology Index (3x long IBB).

The Direxion Daily S&P Biotech Bear 3x Shares ETF (

LABD): seeks daily investment results, before fees and expenses, of 300% of the inverse of the performance of the S&P Biotechnology Select Industry Index (3x inverse XBI).

The ProShares UltraPro Short NASDAQ Biotechnology ETF (

ZBIO): seeks daily investment results, before fees and expenses, that correspond to three times the inverse (-3x) of the daily performance of the NASDAQ Biotechnology Index (3x inverse IBB).
BIS, LABD, and ZBIO are on the inverse (short) side of the leveraged ETFs, i.e. they are instruments which can be used to profit when you're certain that IBB/XBI are about to fall (like when recently IBB tested and failed its 50 DMA on weekly twice was a classic sign). However, as a matter of principle and capital preservation, my strategy will not cover 'investing' in them. We will cover the ones on the long side in our final strategy below.
Strategies:
The point we have established here with certainty is that there is a handsome chance that the bottom for the sector is in, but then we compared the move to that of 2014 and broke down other things that need to happen to confirm the bottom. So, right now - our strategy should be to start putting money on the table, but stage our total investments in 25% (4 parts) each, corresponding to the aforementioned levels of confidence. And then, there are 2 different strategies that I suggest on where to allocate capital in each of those.
Risk Averse Strategy

In this strategy, which aims at limiting risk, we will start with eliminating any thought of all leveraged ETFs. The only instruments we will invest in are: IBB & XBI. Among those, we have established that IBB is comparatively much more stable, predictable and analyzable - qualities, which has made investors flock into it in difficult times in the past. However, once the difficult tides have passed and sailing is smooth, the momentum tends to appreciate the XBI much more till the next cycle-peak is conquered.
Hence, here is what I suggest:
Invest first 25% in IBB now, as 1st confidence level was met last week.
Invest another 25% in IBB, when 2nd confidence level is met.
Invest another 25% in XBI, when 3rd confidence level is achieved.
Invest the final 25% in XBI, when the 4th confidence level is confirmed.
If and when you pull the money out after the next up move, you should follow the LIFO method and exit the last 25% you banked on XBI. This strategy is the safest one that still ensures better return with picking momentum. You start with investing in reasonable value while the times are tough, and you latch onto the momentum, as soon as things are confirmed to turn around. One note I should make however is that, even though the strategy is labeled 'Risk Averse', it should be understood that given how volatile the sector is and how fragile the market sentiment is right now, playing with biotech ETFs is in no way a 'safe' investment in the short term.
Risk Prone Strategy

This is for investors who are willing to take higher risk in exchange for the possibility of substantially higher returns. Thus, in this case, we will be using leveraged ETFs in our strategy, but only when the bottoming process in confirmed. A lot of care should be taken to not hop onto them when things are still uncertain. Thus, in this strategy, we have divided our 4 equal parts in the following way:
Invest the first 25% in IBB now, as 1st confidence level was met last week.
Invest another 25% in UBIO/BIB, when 2nd confidence level is met.
Invest another 25% in XBI, when 3rd confidence level is achieved.
Invest the final 25% in LABU, when the 4th confidence level is confirmed.
Yes, the addition of leveraged ETFs does add to the risk substantially and you have to be more vigilant about the price action to make sure you are prepared to make the exits if things don't go as planned, but it is worth it for those who understand and are ready for the risks that come with it. Taking a cue from the 2014 rebound for example, while IBB rebounded 80% from low-to-next peak, BIB rebounded ~221%, from $33 to $106 (UBIO returns would've been even higher), and you would've been able to score most of the move, even if you waited till the 2nd confidence level.
A note of caution though for this strategy is that you will need to be much more vigilant about the market sentiment and trend. If macro sentiment suddenly worsens and IBB breaks the trend even after achieving the 2nd and 3rd confidence levels, you should be ready to take profits and wait to re-enter the leveraged ETFs later.
Returns in Hindsight:
We are always enviably clever in hindsight, apparently. But this is our chance to look at the hindsight, regain our cleverness and apply it to the present. There are no guarantees that the future will pan out as the past has, but let us for the sake of how they worked, look at what these 2 strategies would've returned if they were applied to the 2014 correction.

As seen from the table, a sum of $100,000, divided in four equal parts and invested upon the identified 4 Levels of Confidence (LOCs) would've turned into ~84,000, and ~$124,000, using strategies 1 & 2, respectively. We have used BIB and not UBIO in our calculations, which did not exist then. Using which, returns could've been even greater. Obviously, we would've not sold them all at the peak, and our returns would've been lesser than 124% as we would've exited sequentially in the LIFO method, it does help to see how well and different those strategies worked in the past. We cannot go back and earn the gains from the past, but I would like to assume that the strategies discussed above has given a good insight onto how we can gain from following this in our present.
Conclusion:
We started with identifying the opportunity the biotech sector is giving us with the current selloff, and went on to list all the corrections IBB has gone through since its inception. We established why the 2014 correction was the most comparable and should be studied in detail to learn what it has to teach us about the psychology behind the bottoming process.
We studied the price action of the 2014 correction in absolute as well as relative terms, which very clearly coincided with 4 data points, which we labeled as levels of confidence. Applying it to the current correction, we found that right now, we are just past the 1st level of confidence, and it is the right time to step in with new capital. Based on achieving further levels of confidence, we suggested 2 strategies to enhance risk-adjusted returns - one each for the risk averse and risk prone investors, respectively.
Disclosure: I am/we are long IBB, UBIO, CELG, GILD, REGN, LABU.
I wrote this article myself, and it expresses my own opinions. I am not receiving compensation for it (other than from Seeking Alpha). I have no business relationship with any company whose stock is mentioned in this article.