Over the past few months, investors have witnessed a downward reassessment of expected returns of Unilever (NYSE (NYSE:UL)(NYSE:UN)) from $2.06 to $2.01 per share, that allowed to rethink perspectives and (later) to respond positively on discreet news.

Click to enlarge
On 19 January, shares rose 3.6% after the publication of results for the 4th quarter and the whole year of 2015. The company was able to increase revenue and profit largely due to innovations and development of existing brands. The 4th quarter showed sales growth of 4.9%, which results from a 2.9% price increase and a 1.9% growth in sales volume (growth is actually lower than in the previous quarter - 5.7%). The company's revenue for the year increased by 10%, including 5.9% as foreign exchange difference. Such indicators were achieved mostly due to the company's entry into the Latin American market and the large volume of ice cream sales in the region. The company also showed improvement in the volumes on other business directions.
At first glance, for the company everything looks good, it is constantly growing and it shows profit. With 3% dividend yield, the company's shares historically look like a stable, conservative and predictable asset. And the majority of investors agree with this, even preferring its shares as an alternative to government bonds. But there is a perception that predictability and stability are not always the same thing. Even for a first-class asset, it could be the wrong price.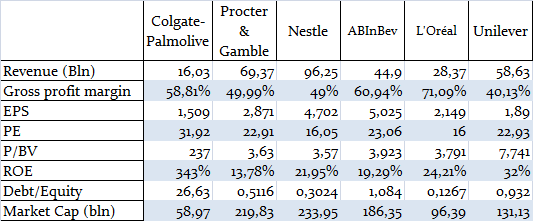 The basic competitive factors show that Unilever is overvalued comparing to the largest FMCG companies. Price to book value for 2015 is 7.68; it means that market capitalization is more than 7 times higher than the value of assets. At the same time, P/B for larger peers, Nestle (OTCPK:NSRGY) and P&G (NYSE:PG), are more realistic. Price to sales of 2.09 show that the potential investor pays $2 per $1 of revenue. Debt to equity for the company is 0.932, which is the largest leverage among the biggest "group of three". Market capitalization is 26% higher than the enterprise value. Diluted EPS is $1.89 which is 19.6% lower than the previous year, and much more lower than comparables. Even considering the high growth rates of cash flow in previous years, there is no evidence that share price is appropriate.
A reasonable suggestion here - the market price is based on the future growth forecasts and predictable stability of retail markets.
But at the same time, FMCG (and particularly Unilever) growth rates decline due to global factors such as market volatility and slowing global economic growth.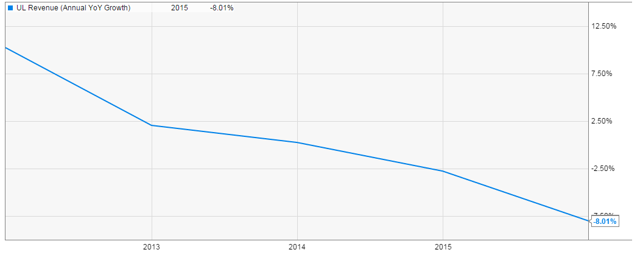 Click to enlarge
Emerging markets grew 8.1% in the 4th quarter 2015, while developed markets showed growth at 0.3%. Both of these figures are lower than the previous quarter and the previous year's. Also, there is a serious decline in Brazil and Russia (more than 3%), and what is more important is that the company is struggling with recession in developed markets in North America and Europe where demand remains weak. Only the situation in China and India has stabilized.
BSE Fast Moving Consumer Goods Index is at its maximum (includes 10 global companies on the Indian market).

Click to enlarge
What is interesting - 58% of Unilever's sales come from Asia and Latin America regions. Let's look at the situation in these markets.
According to the Nielsen Q4 2015 report, only Asia-Pacific and Europe show positive change in consumer confidence since the beginning of the year (0 points and +4 points, respectively). Latin America lost three points, while North America and Middle East/Africa regions declined six points each. These changes affect three main consumer indicators: intentions to buy, personal finances and job prospects.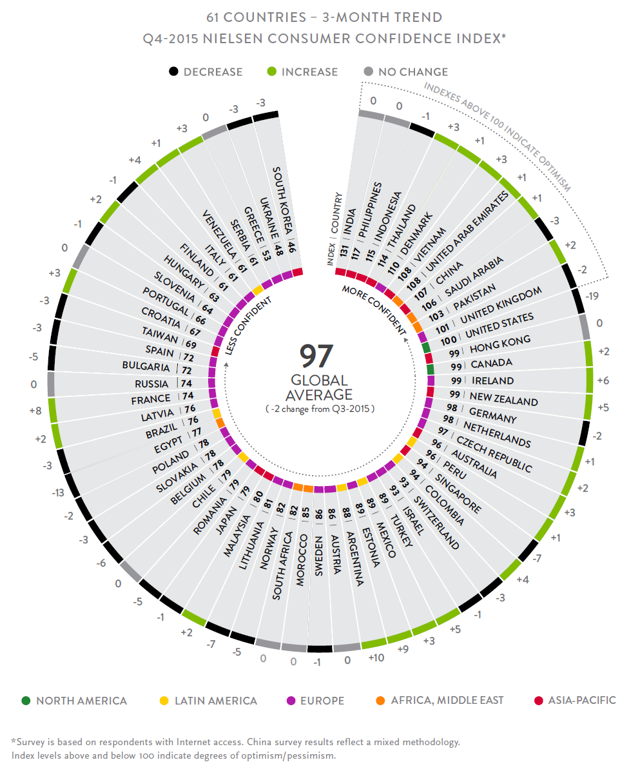 Click to enlarge
It means that the population of the regions with key growth potential for Unilever is beginning to experience difficulties with employment and purchasing power. In addition, it is hard to say that flagship brands are in the low-price segment.
From the point of view of capital circulation - it doesn't raise our hope. CIBC Asia Pacific Index's total return shows a rapid decline.

Click to enlarge
The MSCI All Country Pacific Index is a free float-adjusted market capitalization index comprised of stocks of companies from 12 developed and emerging Asian countries. Decrease of this index and high volatility reflect the tendency of reducing attractiveness of Asia's capital markets.
Besides, this year, the following factors will hinder Asia growth:
Global decline in industrial growth
The economic slowdown will lead to lower demand of Unilever mid-price category products
Local producers of the low-price segment stay on the forefront
Rising inflation in developing countries leads to an increase in the cost of raw materials
Based on these facts, you can make changes in inherent growth rates in your valuation models, where the most important factor is significant slowdown in emerging markets and for Unilever - the geographic distribution and price policy of the product portfolio.
As a conclusion, we can't trust history when it comes to economic events. Most of the factors of company growth will not be able to express themselves in this year and a stable 3% dividend will not (even partially) protect investors from losses due to changes in the stock price.
Disclosure: I/we have no positions in any stocks mentioned, and no plans to initiate any positions within the next 72 hours.
I wrote this article myself, and it expresses my own opinions. I am not receiving compensation for it (other than from Seeking Alpha). I have no business relationship with any company whose stock is mentioned in this article.