General Motors (NYSE:GM) recently reported an outstanding fiscal year with full-year earnings per share increasing 65% year-over-year. Additionally, total net revenue was $5.8 billion higher when holding exchange rates constant. In the earnings release, the company's management recalled the year as record sales and earnings, and a substantial return of capital to shareholders as the company concentrates on strengthening their core business, which is laying the foundation for the company to lead in the transformation of personal mobility. This initiative has the company focusing on connectivity, autonomous, car-sharing and electrification. As a company that is generally viewed as a laggard, it was really positive for me to hear management's forward looking vision and having that never satisfied attitude amid a great year. Things are looking good so far in 2016 as well.
In January 2016, GM reported U.S. vehicle sales of 204K, up 0.5% from the same month in 2015. This is coming off a record-breaking 2015 where the company sold a total of 3.1 million vehicles in the U.S., up 5% from 2014. This came in a month where many of the automakers reported tempered demand due to January's east coast blizzard; however, analysts are still expecting a consistent 2016 in terms of U.S. autosales. TrueCar and Edmunds.com both see the overall industry declining approximately 0.5% from record highs reported in 2015. One of the biggest trends I noted in January's domestic auto sales in the emergence of the Buick, which reported a 45.5% year-over-year gain.
In addition to strong U.S. vehicle sales, GM China showed that new vehicle sales growth in China is outpacing the U.S. The foreign GM subsidiary reported sales of 412K, up 7% from the same month in 2015. This came is coming off a 2015 where the company sold a total of 3.6 million vehicles, a 5.2% increase from 2014. The positive results in China are largely due to SUV sales, which is rapidly growing and accounts for over 10% of all sales for the subsidiary. GM has put a large emphasis in China by introducing 12 new and refreshed models as well as expanding its manufacturing and R&D initiatives in the growing country. While the Chinese economy has been a thorn in the side of many investors, it is exciting to see GM building a sustainable growth platform in this region.
Based on these results and the company's forecasts, management reaffirmed the expected 2016 earnings per share range of between $5.25 and $5.75. Additionally, the company expects improved EBIT-adjusted, EBIT-adjusted margin, and automotive adjusted free cash flow. The keys to meeting these expectations will be a continued concentration on its product as the automotive market undergoes drastic changes, growing sales internationally, and continuing to grow the GM Financial business. While these raised expectations are certainly good news to investors, the company is also committed to returning money to shareholders, which is evident by the $5.7 billion returned to shareholders in 2015. Furthermore, evidence by the low PE ratio, which is below 6 historically and forward based at the time of the article, the stock is cheap at current levels. With the S&P 500 PE ratio sitting around 21 times earnings and GM's predictable industry, the stock is a bargain at current levels.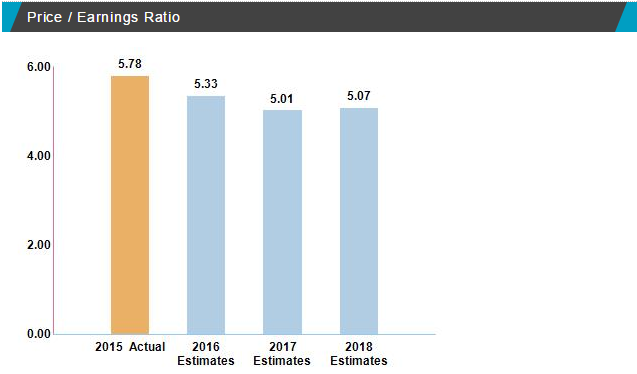 While the company showed above 5% growth in the U.S. and China in 2015, and management has continued to show a commitment to the shareholder, there are certainly threats to this growth. First, analysts and executives foresee another record in 2016, but at a slower rate of growth and at the expense of transaction prices as automakers rely on discounts in a competitive environment. Fearful to the investor, the slowing growth and rising incentives will likely lead to industry-wide profit reduction. This is further evident in the recent report that the level of channel stuffing by automakers is at its highest level since August of 2008, which confirms the likelihood of the aforementioned discounting. GM currently sits at 74 days supply, which is up from 61 days supply a month ago. The days supply and average transaction price will certainly be in focus as 2016 kicks off.
Second, while the company is expecting to continue its penetration of the Chinese automaker market, it is certainly no guarantee. Overall automobile sales in China rose 4.7% to 24.6 million total units in 2015, which marked the slowest pace of sales growth since 2012. This concern was lessened in January 2016 where the industry posted a 9% gain. Third, the company continues to face lawsuits and recalls as a result of a faulty ignition switch, which came long after GM learned of the ignition switch defect. This type of uncertainty and negative press will likely weigh on the company's stock price going forward. In addition to uncertainty around law suits, the entire industry is currently facing an unknown future with companies like Tesla (NASDAQ:TSLA), Google (NASDAQ:GOOG) (NASDAQ:GOOGL), Apple (NASDAQ:AAPL), and car sharing platforms threatening to disrupt the current market landscape. GM has certainly attempted to stay on the forefront of the expected innovation through its partnership with Lyft. While I'm not here to predict the future of automobiles, any type of technology innovation and threats of new entrances is not good news for a current market leader. It is important for GM to stay ahead of the curve.
Despite the threats going forward of new entrants, new technology, and a slowing Chinese and U.S. automobile market, I do believe U.S. automakers, GM and Ford (see my latest article on Ford here), are positioned for growth going forward. The U.S. and Chinese sales reports have certainly been encouraging as well as the increased guidance offered by management. Additionally, with the dividend increase and additions to the share repurchase program, management has proven they are committed to returning value to the shareholder. While there are certainly going to be bumps along the road, I believe GM is a safe investment given its high dividend yield and the current state of the U.S. and Chinese automobile market. And at a PE ratio below 6, it is a bargain.
Disclosure: I/we have no positions in any stocks mentioned, but may initiate a long position in GM, F over the next 72 hours.
I wrote this article myself, and it expresses my own opinions. I am not receiving compensation for it (other than from Seeking Alpha). I have no business relationship with any company whose stock is mentioned in this article.