It's been a heck of a year so far. While buy-and-hold investors have been feeling some pain, even with a nearly 1/3 decline in the VIX, this year's volatility is all good for those of us who sell call options.
February 19, 2016 Options Expiration
My only concerns here were watching Altria Group (NYSE:MO) and Exxon Mobil (NYSE:XOM) for roll out possibilities.
Exxon Mobil
Position: Short Call, $81.00 - Rolled out

Click to enlarge
As the market started to turn up at about 10:45 AM, I placed the order you see above. I was able not only to roll out, but I also rolled UP $1.50.
This is the way things work in an almost ideal situation. About the only way this could have been better would have been with the position only a few cents in the money at 4:15 PM to reduce the amount I paid to close the short leg (XOM closed at $82.50). As it was, I netted a bit over $1.16 on the roll out for a 1.47% yield on the life of the contract.
Altria Group
Position: Short Call, $58.50 - Rolled out

Click to enlarge
Like most of the market, Altria took a hit in early trading, dropping to $60.03, rising into the green about 10:30 AM and then drifting down where it bounced around $60.50 for a while. At that point, my short position still had about $0.65 of time value in it. So I put it on the back burner for a while.
Eventually, I got filled at a fairly reasonable price. Although my income amounted to only about $0.37 or 0.64%, I was able to raise the strike price by $0.50 at the same time. While not quite the score I made on XOM, gradually increasing strikes like this make any eventual assignment a much more pleasant occurrence.
Verizon Communications (NYSE:VZ)
Position: Short Call, $46.00 - Assigned
This position provided a net profit on assignment of a fraction over $1.17 per share or $940.25. Verizon "ran" a bit, and being more than $4.00 in the money, there just weren't any attractive roll out opportunities. So I decided to take the profit and on Monday evaluate my options.
February 22, 2016 - New Positions
Verizon Communications


Click to enlarge
Morningstar has a fair value of $50.00 on Verizon, just about where it sits today. I decided to reenter with a buy/write for 700 shares.
What's that you say? Did Bill buy fewer shares than he had before? Yep.
Over the next several months, I'll be making an effort to adjust what were once approximately equal dollar amount positions to approximately equal income positions. My target income is $1,500.00-$1,600 each. Verizon happens to be the first position to be adjusted because it's 1) at approximately fair value, and 2) happened to be assigned this month.
Consolidated Edison (NYSE:ED)
Position: Short Put, $65.00 - Expired

Click to enlarge
Not at all surprising. This year's volatility has been driving investors to the "slow and steadies." Morningstar has ConEd's fair value at $59.00 so by their estimate, it's more than 20% overvalued here. My original position in ED came at a cost basis of $64.25. At $65.00, ED's yield is a bit over 4.1%; although still somewhat expensive, I can live with that price. In line with my intention to adjust positions to equal income, I wrote six May CSEPs for a net $526.40.
This ties up $39,000.00 of cash, but that cash has already returned about 1.35% for the 88 days until May expiration. With a delta of only -.198 the market thinks these are likely to expire worthless. The 600 shares, if put to me, will produce $1608.00 in dividends, meeting my "equal income" goal.
Merck & Co. (NYSE:MRK)
Position: Short Call, $52.50 - Expired

Click to enlarge
Along with the rest of Pharma (the SPDR S&P Pharmaceuticals ETF (NYSEARCA:XPH) is trading about 37% below its 52-week high as I write this), Merck can't seem to catch a bid lately. After commission and fees, this trade netted $314.62. Unlike XOM and Procter & Gamble (NYSE:PG), this time my strike slipped down a dollar.
Procter & Gamble

Position: Short Call, $82.50 - Expired

Click to enlarge
I was very glad to see this new position expire worthless. This morning's price pop let me move up to the $83.50 strike, netting $311.94 after commission and fees. Like my Exxon Mobil roll out, this was another example of market conditions allowing me to both keep my underlying and move to a higher strike.
Outstanding Positions:
Three positions were unaffected by February expiration: HCP, Inc. (NYSE:HCP), General Motors (NYSE:GM) and General Mills (NYSE:GIS).
HCP, Inc.
This batch of way out of the money calls expires in April. There's no reason to do anything at this point except collect dividends and wait for developments.
General Motors
I wrote this position with the intent that the calls would expire prior to the GM's next ex-dividend date on March 9. I'll either roll out on the 4th or write new March 19 calls (the regular monthly expiration date) on the 7th should this set expire.
General Mills
This new position doesn't expire until March 18. It's in the money, as of Monday, so it will bear watching in the event things begin to get out of hand.
February Income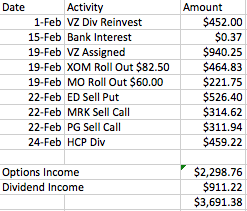 That looks pretty good to me! Once GM and GIS are synced to the regular monthly expiration date, I should easily meet my $4,000 monthly income target even without having Consolidated Edison's dividends coming in.
In addition to adjusting my positions to "equal income", I'm also working to get everything aligned to the same expiration dates so I have a more structured and consistent trading approach. As things stand now, I've got GM at the March 4 expiration, HCP in April and the ED CSEPs in May.
HCP will pay its dividend on the 23rd, but it won't actually hit my account until the next day, hence the date you see above.
Coming Up in March
March 4/7 - Roll out or write new GM calls.
Dividends
March 9 - General Motors goes ex
March 10 - Exxon Mobil pays dividend
March 15 - Consolidated Edison pays dividend
March 24 - General Motors pays dividend
Merck & Co. goes ex
Altria Group goes ex
Expirations
March 4 - General Motors calls expire ahead of the ex-date.
March 18 - All other positions except HCP, Inc. expire.
Disclosure: I am/we are long GIS, GM, HCP, MO, MRK, PG, VZ, XOM.
I wrote this article myself, and it expresses my own opinions. I am not receiving compensation for it (other than from Seeking Alpha). I have no business relationship with any company whose stock is mentioned in this article.