Freeport-McMoRan (NYSE:FCX) announced last week it reached an agreement to sell 13% of its stake in Morenci unincorporated joint venture to Sumitomo Metal Mining (OTCPK:SMMYY) for $1 billion in cash. Is this the right move for the metals and oil producer?
This deal won't add another company to this JV because Sumitomo Metal Mining already had a stake in this project, which, after the sale, will rise to 28% and leave FCX with 72% interest. And considering FCX still has a huge debt load and face weak commodities markets, the company needs to find ways to raise cash: One way includes selling assets, or in this case, a share of its asset to its partner.
During last year, the Morenci project brought in roughly $700 million in operating profits for its 85% share, which includes producing 900 million pounds of copper. So by reducing its share by 13%, and assuming a similar annual copper price and production costs in 2016 as in 2015, the company's revenue will fall by $330 million and the operating profit by $107 million. But given the current low price of copper, Freeport-McMoRan didn't give away its stake in this project at a major loss, as indicated in the following table.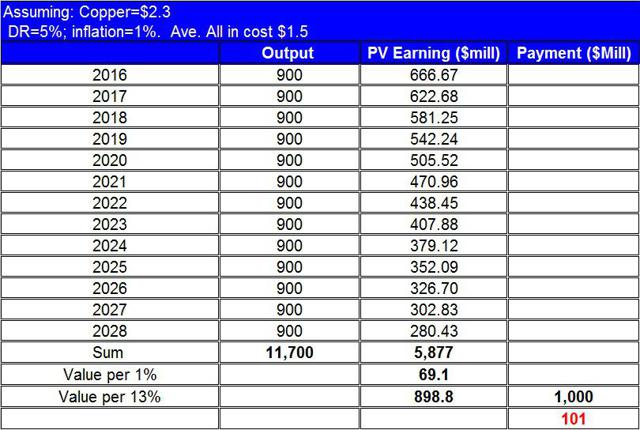 Click to enlarge
Source: FCX and Author's calculations
Based on the above, the NPV of this project is close to $900 million, while the company received for 13% stake a total of $1 billion upfront in cash. The above calculation assumes a total output of 12 billion for FCX's 85% stake over the next 13 years, a discount rate of 5%, copper price of $2.3 per pound, inflation of 1% per annum, and a cost of production of $1.5 per pound. So FCX's stake in this project has a net present value of $5.8 billion and $69 million per 1 percent or $900 million for 13%. This stake would reach a valuation of $1 billion if the long-term price of copper was close to $2.4 per pound, even though currently copper prices are closer to $2 and could remain at this low level for a long while.
The company will need to find ways of increasing its available cash to finance its future debt repayment and perhaps even cut its $20 billion debt load. And, this deal is one step in the right direction. After all, the company should be able to finance its capital spending, which was slashed from $6.4 billion in 2015 to $3.4 billion this year, with its operating cash flow. Perhaps this deal will cut down its operating cash flow a bit, but considering it brought in $1 billion, this could ease some of the concerns investors have over FCX's viability.
Final point
FCX is finding ways of improving its balance sheet and increasing its available funds. The recent deal is a step in terms of valuation. And provides more liquidity that could be used to cut its debt. These steps could help assure investors especially after its debt ranking was reduced to junk status by S&P rating agency. But at the end of the day, it's important to remember that the company's outlook is still grim as long as oil and copper prices maintain their low levels and the debt load remains elevated. For more please see: Does This Producer Have a Silver Lining?
Disclosure: I/we have no positions in any stocks mentioned, and no plans to initiate any positions within the next 72 hours.
I wrote this article myself, and it expresses my own opinions. I am not receiving compensation for it (other than from Seeking Alpha). I have no business relationship with any company whose stock is mentioned in this article.