Earlier this month, Exxon Mobil (NYSE:XOM) reported Q4 2015 earnings which, as expected, looked ugly considering the large decline in the price of oil over the last one and a half years. Exxon Mobil has long been one of the largest repurchasers of shares, spending a net of $89.74B on share buybacks during the 2010 through 2015 period. However, during the Q4 earnings release, management stated that share buybacks were being halted, presumably to preserve cash.
Given the current state of the "patch", I don't think you'll find anyone that would argue with management's decision. Management was left with three choices:
Reduce/stop share buybacks
Cut the dividend
Leverage up the balance sheet even more
Due to the large negative stigma associated with a dividend cut, that wasn't a likely option or even necessary just yet.
The balance sheet had already seen a significant deterioration, with total debt increasing over 150% between the end of fiscal year 2010 and the end of fiscal year 2015. Adding additional debt in order to cover both share buybacks and the dividend didn't make sense.
That left door number three: stop the share buybacks. It's a quick and easy way to preserve cash and doesn't carry anywhere near the same weight in the eyes of shareholders as a dividend cut.
Contrast that with the strategy from 2008 when share buybacks were accelerated during the market fallout of the Lehman Brothers bankruptcy and the beginnings of what's now known as the Great Recession. Management reduced shares outstanding by 7.5% in 2008 alone.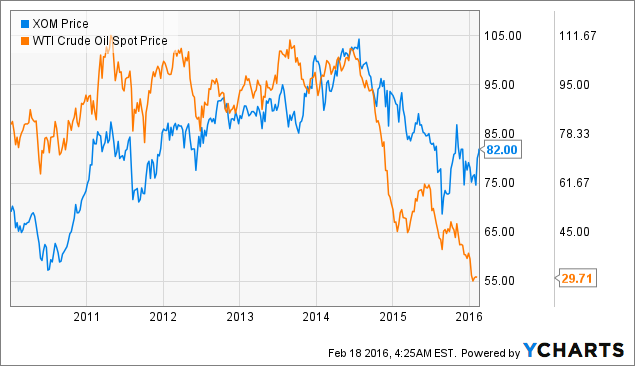 XOM data by YCharts
Oil prices have sunk to lows not seen in more than a decade. The share price hit a low in the $60s in 2015 which hadn't been seen since late 2010. If you're of the belief that oil prices will rebound, eventually, then now should be the time that Exxon Mobil is ramping up the share buybacks not eliminating them.
I want to examine what actually happened in relation to the share buybacks between fiscal year 2011 and 2015, as well as offer up a few alternative scenarios.
What actually happened?
Since the end of fiscal year 2010, Exxon Mobil has reduced the diluted weighted shares outstanding from 4,897M to 4,196M. That's a cumulative decrease of 14.31%.

Reducing the share count increases the earnings per share by reducing the denominator in the equation. The following graph shows the earnings per share as reported, as well as the earnings per share adjusted for the effect of the buyback for fiscal year 2010 through 2015, inclusive.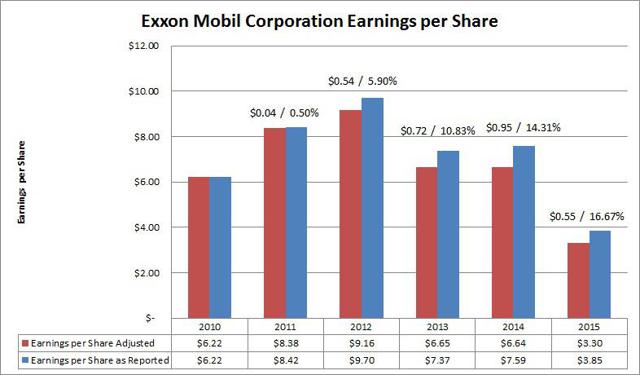 I've labeled the percentage and dollar increase due to the cumulative effect of the buyback.
On the surface that looks great. The share buybacks over the last five years have improved the earnings per share by 16.67% for fiscal year 2015. The net cash used to retire the shares came to $77,690M.
For future reference, here is cash and debt totals for the same years.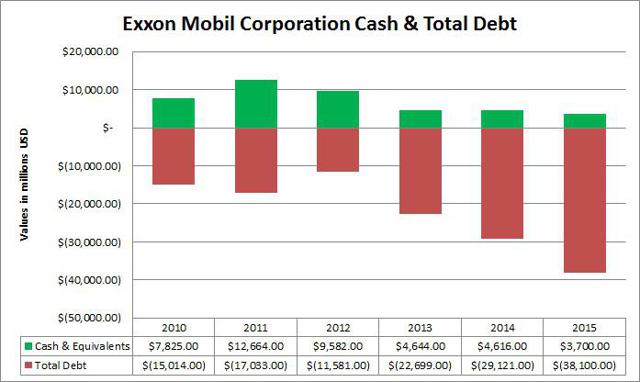 As of the end of fiscal year 2015, debt outnumbers cash and equivalents by a factor of 10 and the current cash only covers 30% of the expected dividend payment over the next year, assuming it is not raised in April.
It's no surprise that something had to give and share buybacks were easiest to cut.
Alternative 1: 1/2 Cash Spent on Buybacks
I wanted to play the "what if" game and offer up two alternatives. The first one we'll examine is if Exxon Mobil only spent half of the net cash used for buybacks during fiscal year 2011 through 2015 and just stockpiled the rest. I've assumed that all repurchases were made at the same time and for the same prices just with half of the cash.
So here's how the share count would look had only half of the net cash been used.

Shares outstanding would have only been reduced to 4,546M, with a cumulative reduction of 7.16% over the same time period compared to the actual scenario of 4,196M or 14.3% reduction.
In turn, earnings per share would have still grown but not quite at as fast of a rate since the buyback is lower. Earnings per share in this scenario would have worked out to $3.55 which is still a solid 7.58% improvement compared to the true earnings of $3.30. Reported earnings as they actually occurred though were $3.85 or 7.79% lower.
While earnings wouldn't have received as big of a boost without the steady and consistent buybacks, the cash position would be sitting pretty.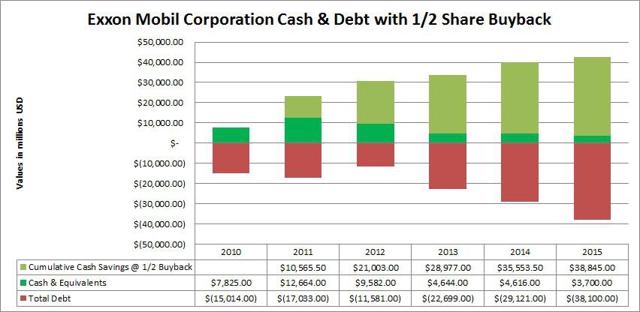 By only allocating half of the cash that was actually used on buybacks, you would still receive a 7% reduction in the share count but cash position would be improved by $38,845M.
Assuming the same amount of debt was taken out, not likely but it's all we can go off of, the cash to debt ratio would now be 1.17 instead of the actual 0.10.
Total cash dividend payments, assuming they were still increased at the same rate, would now cost $13,275.78M annually compared to $12,252.32M as of the end of fiscal year 2015. Cash would now cover the dividend payments for over 3 additional years if the share count and dividend payment stayed the same.
If we assume Exxon Mobil got back to the same cash position, $3,700M, it could repurchase an additional 470.85M shares at Friday's closing price of $82.50. That would bring the share count down to 4,075.65 for a cumulative reduction of 16.77%.
Alternative 2: No Cash Spent on Buybacks
Alternative 2 would be not using any cash on buybacks except enough to counter executive and employee compensation. The share count would remain flat at 4,897M shares; however, the balance sheet would look a lot cleaner.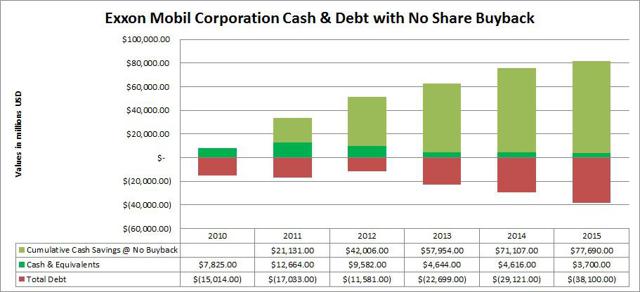 Total cash would increase by $77,690M to $81,390M. Once again, I've assumed that the debt levels would have risen at the same pace as they actually have to $38,100M. That pushes the cash to debt ratio to 2.14.
The total cash dividend payment would increase to $14,299.24M since there would be a higher share count. However, cash on hand could cover 5.69 years of dividend payments if the share count and dividend rate stayed the same. That's a much better situation than what Exxon Mobil currently finds itself in with cash only covering 30% of the annual dividend payment.
Once again, if it used the cash stock pile to do a one-day repurchase of shares at Friday's closing price of $82.50, it could retire 941.7M shares. The share count would be reduced to 3,955.30M or represent a 19.23% reduction.
Conclusion
Admittedly, this is a case of hindsight being 20/20 by comparing shares repurchased during the high point of the cycle to the value at the low point. However, it doesn't hurt to look for better ways to use shareholder funds in the future.
There's not much that I can guarantee you, but I do know that there's a high likelihood that oil prices will rebound at some point leading to increasing profits, cash flow and likely the share price. They will also fall again leading to declining profits, cash flow and share price. And then rise again and then fall again.
As a commodity explorer, producer and refiner there's inevitably going to be fluctuations in the price of the underlying commodities. The truly great companies plan for the natural cycles that are the nature of the beast.
While I like the consistent repurchase of shares that Exxon Mobil employs, I can't help but wonder how it is missing out on a huge opportunity by having to end the share buybacks now.
Exxon Mobil is a Dividend Champion with 33 consecutive years of dividend growth. As a dividend growth investor, the security of and ability to grow the dividend is of utmost importance to me. When the tide of oil price negativity eventually turns I, for one, wouldn't mind seeing a lower pace of share buybacks in the good times in order to ramp them up during the inevitable future downturn.
Note: Data was sourced from Morningstar and Exxon Mobil Corporation's annual/quarterly reports. All charts/graphs were created by the author unless otherwise noted.
Disclaimer: Investing involves risks. Information presented in this article is for informational purposes only and should not be taken as investment advice. I am not a financial professional. Please consult a financial advisor and do your own due diligence prior to investing.
Disclosure: I am/we are long XOM.
I wrote this article myself, and it expresses my own opinions. I am not receiving compensation for it (other than from Seeking Alpha). I have no business relationship with any company whose stock is mentioned in this article.