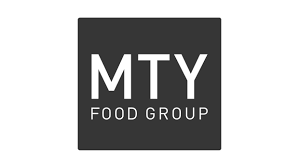 Overview
MTY (OTC:MTYFF) has earned a reputation as a successful capital allocator via the acquisition of roughly 40 small quick-service chains in Canada. The company operates primarily as the franchisor earning a royalty on sales. It has modest capital expenditures and minimal exposure to operational risk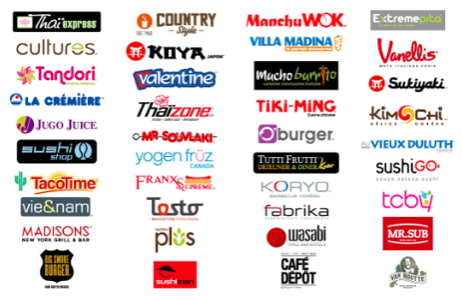 The asset light model has led to a steady increase in earnings per share and free cash flow over time while avoiding significant financial risk (i.e. debt) for shareholders. In addition, unlike many acquirers, management has avoided issuing equity to fund acquisitions instead choose to redeploy only internally generated capital.
However, I'd argue some warning signs are emerging, which suggests the acquisition process isn't as good as it once was. First, even though the stock is not known for high same-store sales, they are lagging peers in recent years. Second, return on invested capital is declining and MTY has incurred asset impairment charges.
Several well-written articles have been published outlining the bullish case hopefully this report, while exploring some negatives, is still additive to your investment research.
Annual and Q4 Results
I'll start by briefly reviewing 2015 results. Last year, systemwide sales increased 20% and surpassed $1 billion for the first time. Management disclosed 97% of this growth was due to acquisitions. Earnings (once adjusted for impairment charges) increase 19% to $1.44 per share.
In Q4, same-store sales declined 1.2% owing to weakness in Western Canada. Management disclosed the decline accelerated in Q4 while Quebec (the largest contributor to sales) and British Columbia were strong. Revenue increased 32% in the quarter while Adjusted EPS grew 24% from 37 cents to 46 cents per share.
As is usual, free cash flow remained robust at $48 million.
Worry #1: Same-Store Sales
Many Canadian chains have experienced challenges growing same-store sales in recent quarters. Economic weakness caused by the oil price decline have caused many to believe that weak same-store sales is a problem across the entire industry.
While it is a challenge for everyone, I would argue it is not a problem for everyone. Some brands and management teams are coping far better than others.
Despite a heavy Western Canada store base, A&W delivered same-store sales above 5% every quarter (albeit with a deceleration in Q4) as product initiatives and store expansion continues successfully. The Keg - an upscale casual restaurant under new ownership - had the best same-store sales of any chain. Even Pizza Pizza (OTC:PZRIF), which like MTY has a Eastern Canada centric store base, is seeing an acceleration.
But at MTY, the largest brands are seeing flat-to-negative same-store sales. While this includes challenged legacy brands like Mr. Sub and Country Style, it also includes the "growth" brands such as Thai Express, Sushi Shop, and Mucho Burrito.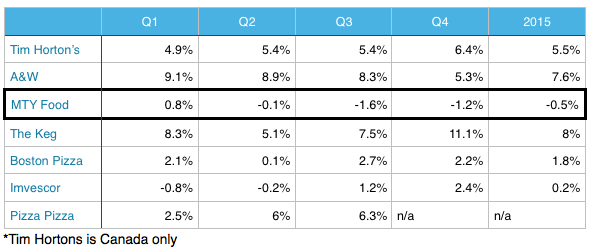 In a super competitive industry like this, generating same-store sales growth is a challenge for every chain but clearly some are doing a better job overcoming that challenge than others.
Looking at the past 5 years, it is becomes more evident that poor same-store sales growth is more of an MTY problem than simply an industry problem.

With that said, the company wasn't built on delivering high same-store sales growth. Good same-store sales are important but not a requirement. Instead, the company was built on harvesting existing businesses for cash and intelligently allocating capital, specifically by CEO Stanley Ma.
Worry #2: Declining Return on Invested Capital
MTY's history is built upon generating cash flow and then redeploying that capital into further acquisitions. Cash flow buys more cash flow. And because they've historically avoided meaningful debt or share issuances, the risk of a "growth by acquisitions story gone wrong" is reduced for investors.
But what if that process is impaired?
The challenge with these stories is it is difficult to know when (or if) the acquisition process is impaired. For a company like MTY, which makes many small acquisitions as opposed to betting the farm, it can take years to show up in the numbers.
Arguably, the strategy isn't working as well as it used to. Despite operating with very low capital requirements and generating significant free cash flow, management isn't deploying cash as well as in the past.

In addition, in 2014 and 2015, the company reported impairment charges on the value of Extreme Pita and Country Style assets - something investors are not used to seeing. While anomalies in the context of their history, it does suggest the financial returns of these acquisitions are unsatisfactory - or in other words, maybe they paid too much.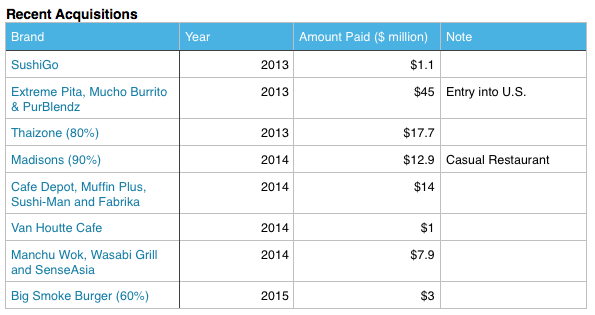 What if they never acquire again?
One way to estimate MTY's value is to assume they stop acquiring and the existing brands are managed simply for cash flow. Below I've presented two simple discounted cash flow scenarios. The first scenario assumes flat organic growth and free cash flow. The second is more negative and assumes free cash flow declines 2% annually.
Note: I've purposely limited the number of assumptions for simplicity's sake.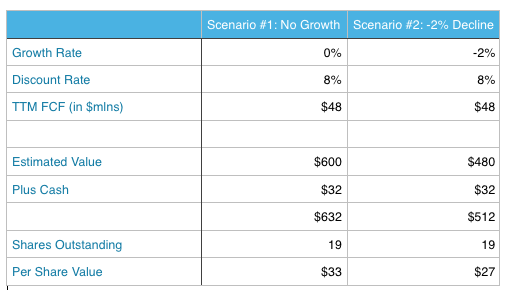 The results suggest, under some negative assumptions, the stock is fairly valued at $30. After all, it is trading at 12x free cash flow with a net cash balance.
However, these aren't high probability scenarios. The company will probably continue to acquire and, over time, can probably deliver modest organic growth from same-store sales and new units. But the above does give you a sense of potential value if a) they stop acquiring or b) sales and free cash flow begin declining.
Below is a more positive scenario. Once again assuming no further acquisitions, if we boost organic growth to 2%, add some operating leverage (5% FCF growth) in the next 5 years and use a perpetual rate of 2%, the business is potentially worth $39.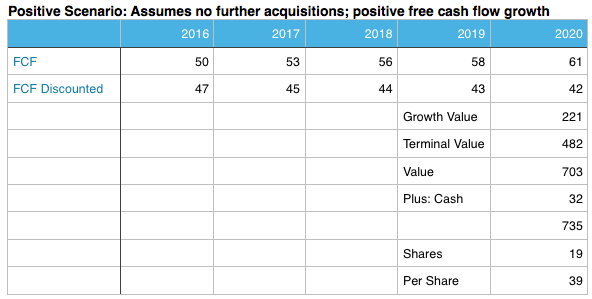 Concluding Thoughts
While I feel declining ROIC and same-store sales are the most important worrisome signs, we could add some more conventional worries. Canadian investors shutter when another chain tries to expand into the U.S. And there is perennial key man risk with respect to Stanley Ma.
Yet the current share price seems to incorporate a lot of those negatives. The business generates a lot of cash, has a net cash balance and trades at just 12x trailing free cash flow. It is only a scenario where free cash flow begins a steady decline that I see meaningful downside risk.
I think the important takeaway is, for a business built on capital allocation, there seems to be some cracks emerging in the acquisition process. If proven correct, it suggests, in my view, the company will not be able to build value as fast as they did in the past.
Disclosure: I am/we are long MTYFF.
I wrote this article myself, and it expresses my own opinions. I am not receiving compensation for it (other than from Seeking Alpha). I have no business relationship with any company whose stock is mentioned in this article.
Editor's Note: This article discusses one or more securities that do not trade on a major U.S. exchange. Please be aware of the risks associated with these stocks.