Almost every investor who has been reading the news since the August crash of last year knows that markets have been fretting about a yuan (Chinese currency, also known as renminbi) devaluation. There are so many hedge fund managers thinking that the yuan will be devalued soon, that it doesn't make sense for me to name them. Almost all of them! This is not necessarily a good sign for them, but they may still be right. Betting against the yuan, even if it does depreciate, does not necessarily mean you make any money. There is quite a high cost shorting the yuan, like most other emerging currencies. Usually when there are too many people believing in a trade, it is often too late to enter the trade. This may be true, but let's look at the fundamental issues, and whether there are real reasons why the Chinese currency may suffer a significant devaluation in the near future or not. After-all, in case the yuan depreciation argument stands on solid grounds, it may be a better idea simply to short the US markets, and that would be much cheaper than shorting the yuan!
China has accumulated a huge amount of debt ever since the financial crisis, but its over-all debt levels are still comparable to, and probably less, than that of the US, and many other Developed economies. China also has quite a lot of firepower left, with over $3 trillion in foreign exchange reserves, and a rather healthy central government debt (compared to Developed economies) of less than 50% of GDP. And since China is not exactly a free market economy, or a democracy, speculating against its official policies is rather tricky. Its official policy, for the moment, seems to be a stable yuan. They seem to have changed their mind since last year, when they declared that they wish to loosen the peg to the US dollar, and rather use a basket of currencies. This change of heart (and mind) seems to have occurred this January - almost a month after they had decided to let the yuan depreciate further against the dollar -when they saw the horrific market turmoil they caused in world financial markets.
Why would a yuan depreciation occur anyway, since their total debt levels are no higher than those in most Developed economies? There is one major difference between China, and any other Developed economy, worth considering in this matter. China, though transitioning toward a consumer economy, still is the most heavily investment based major economy in the world. Chinese economy is not yet a services-based economy, like the US, Japan, or Europe (chart below). it is still very far from it.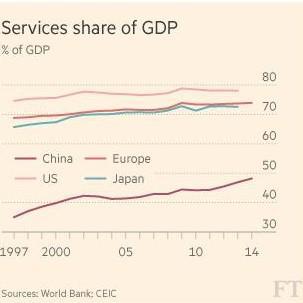 And this is why Chinese authorities seem to be desperately defending the yuan now, because they still heavily depend on the health of their export markets. The chart below shows that despite the fact that China has a much smaller economy than the US, it is by far a bigger exporter than the US, and if you add Hong Kong to it (which is primarily used for mainland Chinese exports) the total Chinese export in 2014 was about $2.87 trillion, while America's share was $1.62 trillion. America can do much better in a situation where other countries are doing poorly, as it has its own sophisticated and large domestic economy, but China is still heavily dependent on other countries. China is still a long way from having built a strong domestic market.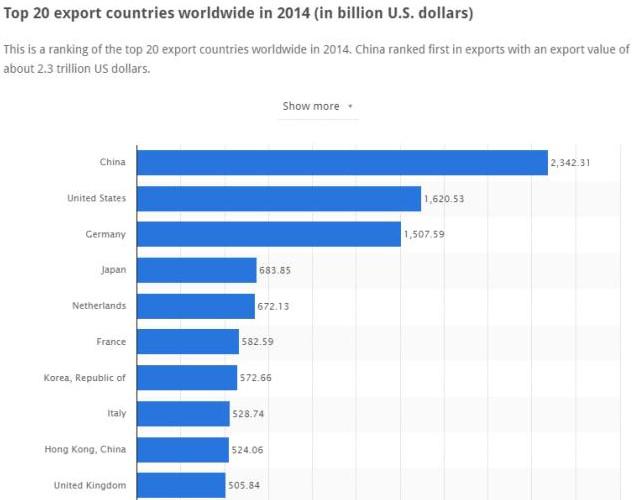 Why is this relevant to a depreciating yuan? It is relevant because it simply shows that the intrinsic value of the yuan is still very strongly linked to China's trade with the rest of the world. This is important only if you believe that China's export markets are going to suffer in the near future. Europe and Japan seem to be having quite a rough time at this moment, as their economies are tethering on the edge of recession. The EU is China's largest trading partner. This is not easy for China. Some other Emerging markets (Brazil, Russia) have been in recession for more than a year. Emerging market weakness hasn't helped China either. Despite all these pressures China seems to be doing relatively OK so far, presenting (though many don't believe them) GDP growth of nearly 7% lately. But if China's export markets, especially the US, weaken further, or perhaps enter into recession, then there is no possibility the yuan will be able to maintain its current strength. Last time when there was a recession Chinese authorities deployed a huge stimulus, building mostly infrastructure, while sending their total debt levels soaring to probably more than 300% (it was reported to have been about 282% toward the end of 2014 and there has been a lot more borrowing since) of GDP at this moment. Next time, when recession hits in China's export markets, it is impossible to pull the same trick, as there isn't much borrowing capacity left. China, in order to protect at least some of its domestic employment (in the event of further export market weakness), will need additional 'easing' (monetary, fiscal etc), which will no longer be available through more indebtedness. They know this, and everybody else knows this. That easing will only become available with printing a significant amount of yuans, which will automatically mean letting the peg to the US dollar go (either completely, or mostly). Chinese leaders are much more mindful of high unemployment, compared to their democratic counterparts. Democratic leaders can simply leave office in case their masses become really mad at them. Chinese leaders do not have the same 'cordial' relationship with their masses. No Chinese ruler has ever been forced, in any way, to leave office, except in a bloody war.
Thus, it is all about the export markets. In case China's export markets will do well in the near future (which I don't believe they will), then the yuan can indeed weather the current storm and stay stable. But if America, Europe, and Japan, stay weak, or even become weaker, it is only a matter of time until China drops the ball and gives up on its strong currency. It may at first prefer to use much stricter capital controls, but strict capital controls imposed on the world's second largest economy in itself can cause a recession in the rest of the world, a recession which would then bring a lot more added pressure to the yuan.
Disclosure: I/we have no positions in any stocks mentioned, and no plans to initiate any positions within the next 72 hours.
I wrote this article myself, and it expresses my own opinions. I am not receiving compensation for it (other than from Seeking Alpha). I have no business relationship with any company whose stock is mentioned in this article.
Additional disclosure: I am short Nasdaq 100 and the Hong Kong Dollar.